"My sister accidentally deleted some files on her Mac and wants me to help her recover them. Frankly speaking, I'm a Windows user; I don't really know how to operate Mac, not to speak of how to recover the deleted files. Can the deleted files get back? And how? Hope to get answer form here. Sincerely thanks."
Although this is a technical world, as time passes by, still lots of users meet the problem like the caption said: How to recover deleted files Mac? Commonly, where there is a will, there is a way. We may not worry about if the deleted files can be found back. Just do your utmost to find the solution.
Here are three ways I would like to share with whom meet this trouble.
1. Search in the Trash Can
The luckiest and easiest way is to restore deleted files from Mac trash can. Click the trash can icon and open it. Files that you've deleted are often sent to the Trash could be preserved there without permanently being erased until you set them to be permanently deleted. Find the files you want to restore, and drag those files to a different location to recover deleted files on Mac.
Certainly, this solution only supply to the circumstance that you do not empty your trash can.
2. Check Time Machine Backup
If you keep a Time Machine backup for your Mac and guarantee that you always permit Time Machine to back up before turning off your Mac, there is a good chance for you to recover deleted files from Time Machine.
In this case, you can simply enter your Time machine backup by clicking the Time Machine icon in your Mac's menu bar, and then selecting "Enter Time Machine". Then you are allowed to navigate to the file or folder you want to restore. Finally, you can click the "Restore" button.
3. With the Help of Third-Party Software
Tried the first two methods, and still didn't find your lost files? Try a third party recovery program - FoneGeek Mac Data Recovery, which is a powerful data recovery tool that can restore deleted files from Mac within only two steps and without any risk. The easy-to-use interface will clearly guides you how to recover your deleted, lost or formatted files form Mac or Mac-based storage media.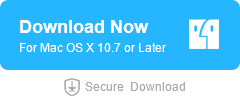 Step 1: Download and install the FoneGeek Mac Data Recovery software on to your computer and then select the location you want to recover lost data from.
Step 2: Click on "Start" and the program will begin scanning your location for the missing files.
Step 3: After scanning, preview and select the files that you would like to retrieve. Then click on "Recover" to save them to a different location.
Rely on FoneGeek Data Recovery for Mac, your lost files can be completely and instantly retrieved on mac. Last but not the least, no matter what kind of action that you implement to recover your files on Mac, sincerely hope you may recover files from Mac as soon as possible by most convenient way!
Friday on Aug 07, 2020, 08:50:36 GMT / Post By Carol J. Lee to Mac Data Recovery
Carol is a technical blogger with rich experience in writing data recovery tips and tutorials. She has over 7-year experience in data recovery technology.

Home
>
Mac Data Recovery
>How to Recover Deleted Files on Mac