One of the most useful functions in MS Word is the ability to lock documents so that they cannot be accessed without the correct password. This feature makes it possible for you to protect sensitive documents and the information they contain. But while this feature may be useful, it can be hindrance when you lose or forget the password.
In this case, you will need to unlock the Word document without password. Luckily, there are many online tools available to help you unprotect Word document and regain access to the locked file. In this article, we are going to share you 5 ways to unlock MS Word document online & free.
Part 1. 5 Best Word Document Unlocker Online Tools
The following are the 5 best Word document unlocker online. All of them are simple and straightforward to use. Just choose your favorite one to getting access to your locked Word document.
1.1 LostMyPass Word Password Recovery
LostMyPass Word Password Recovery is one of the best online tools that you can use to unlock MS Word document online. This tool is very easy to use and you can access it from any browser. However, LostMyPass can only remove Word password for free with a 22% chance of recovery. This success rate is low because it just uses a database of 3 million known passwords to try and crack the password on your document. But if you choose the premium version of LostMyPass, your chances for recovering the password goes up to 61%. This is because the program will use a larger database of more than 20+ billion known passwords.
1.2 ASPOSE Free Online Documents Unlocker
ASPOSE is another free tool that you can use to unlock a Word document online easily. It works well on all popular Word file types, including .docx, .doc, .dotx, .dot, .odt, .ott, etc. You're allowed to unlock multiple Word documents at one time. All you have to do is drop the file into the program and then click "Unlock". The program will then unlock the document, allowing you to download when the process is complete. Please note that this tool doesn't decrypt or recover your password. It only remove the password provided that you enter the right one.
1.3 Password Online Recovery
Password Online Recovery is another online tool that can help you unlock most Microsoft Office documents by simply uploading them to the website. Like most other online tools, this one uses a Brute Force attack method to recover the password of locked Word file. But this tool is only ideal when you want to recover passwords for older formats of Word documents including Office 97, 2000 and 2003. And the file size of Word document is limited to 500MB. While uploading the document to the online tool and unlocking the document is free, you will have to pay $10 to download the unlocked document.
1.4 Remove Password Online Recovery
Remove Password Online Recovery also allows you to unlock any Word document in a few simple steps. All you have to do is upload the document to the program and the online tool will begin unlocking the document easily and quickly. Once the document has been unlocked, you will need to play $10 to access the program. It supports to remove password from Microsoft Word 2010, 2007, 2003 as well as Excel files. This tool use brute-force method to unlock Word document and promises a 97% sucess rate. However, the file or files that you can upload to this tool should not exceed 750MB.
1.5 Password-Find
Password-Find is also a powerful online tool that you can use to remove password protection from Microsoft Office documents including MS Word. Unlike some of the other online tools on this list, this one can also be used to remove editing restrictions from Word document. It is also one of the few online tools that you can use to unlock newer versions of Microsoft Word including Word 2019. The unlocking process is faster than other Word document unlocker tools.
Part 2. Best Alternative to Word Document Unlocker Online
While online tools can be useful, they may sometimes fail to unlock Word document because they don't offer you too many options when it comes to the recovery method. If you would like to significantly increase the chances to unlock the document, we recommend you using FoneGeek Word Password Recovery. This desktop program utilizes four different recovery methods, thereby significantly increasing your chances of unlocking MS Word document. It will also allow you to remove any editing restrictions on the Word document.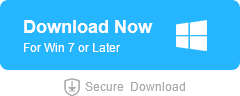 FoneGeek Word Password Recovery is very easy to use. Just download and install the program onto your computer and then follow these simple steps below to unlock Word document to open:
Step 1: Launch the Word Password Recovery on your computer. In the main window, select "Recover Passwords" if you want to recover the opening password on your Word document.
Step 2: Click on "Add" to import your password protected Word document. After that, select an attack mode to recover the password. Each of the modes are useful for certain situations. The attack mode you choose depends on how much information you have about the password.
Step 3: After that, click on "Recover" and the program will begin the recovery process. The process will take a few minutes. Once it is done, you should see the password on the screen. You can then use it to unlock your Word document.
Part 3. Compare Word Document Unlocker Online & Offline Tools
If you are wondering whether you should choose online tools like the ones listed above or an offline tool like FoneGeek Word Password Recovery, we must point out that for several reasons, we don't recommend using online tools. The following are just some drawbacks to unlock Word document online.
Once you have uploaded the Word document to the online tool, the security of the data on the document cannot be guaranteed. You cannot be sure that the tool will remove the document from their servers.

You will need a stable internet connection to unlock a Word document online, otherwise the unlocking process might fail to work.

Most online tools only supports to unlock the opening password from Word document. They are unlikely to help you lift editing restrictions on the file.

Most online tools may only be helpful to you if you are unlocking older versions of Word document. They are unlikely to work with Word 2016 or 2019.

Many of the online tools on this list will also limit the file size that you can upload to their servers, usually 10-500MB.
Tuesday on Sep 29, 2020, 10:08:22 GMT / Post By Harley Terry to Word Password Recovery
Since 2013, Harley Terry has over 7 year' experience in professional Office technology. He has already added more than 200 articles about password recovery for Excel/Word/PowerPoint.

Home
>
Word Password Recovery
>How to Unlock MS Word Document Online [5 Ways]