Pokémon Go is no doubt the world's first and most popular interactive AR game. Fans from all over the globe have positively and widely acknowledged it since it was launched back then in 2016.
However, like many Pokémon Go players, you know how hard finding rare, legendary, and mythical Pokémon is, let alone catching them. Only through raid battles or being in a very special spot that holds significant importance can you find such Pokémon.
This doesn't have to be the case though. In this post, we're going to share the best Pokémon Go coordinates where you can easily find and catch all the legendary and rare Pokémon. Check them out below.
Best Pokémon Go Coordinates for Rare Pokémon
If you're looking to catch rare and legendary Pokémon but you can't find them within your locality, here are the eleven best coordinates in Pokémon Go where you can catch all of them. You can visit the spots either physically or by spoofing your location.
1. Pier 39 in California, USA
Coordinates: 37.809052304099204, -122.41003833017733
Pier 39 in San Francisco, California, is home to the Golden Gate Bridge and Alcatraz Island, two spots that offer breathtaking views. It's not only a very popular tourist destination, but it's also a fairly well-known spot for rare and various other types of Pokémon. You can easily see and catch many different rare and legendary Pokémon here, and even collect items from nearby PokeStops and gyms.
2. Ferry Building in California, USA
Coordinates: 37.79549745047974, -122.39346862386778
Also based in California, specifically, at Market Street in San Francisco, Ferry Building is a popular landmark that's well-known amongst tourists. It's an area that receives a lot of tourists and as such, there are many rare Pokémon actively spawning there. Occasionally, many meetups are arranged there too since it helps players interact with the nearby gyms and also engage in raid battles.
3. Rockefeller Center in New York, USA
Coordinates: 40.758484386474564, -73.97876532478297
The Rockefeller Center is well-known for its various attractions with the yearly illuminated Christmas tree in the winter season. It's a famous tourist spot with also gyms and PokeStops where you can take part in raid battles as well as find some legendary Pokémon. It's also a popular destination for in-game events.
4. Central Park in New York, USA
Coordinates: 40.78255119353044, -73.96561264782036
Central Park in New York is the place to be if you want to complete your Pokedex. Here, you're guaranteed to find some rare Pokémon that only appears in the park vicinity. As you take a walk in the park, you'll encounter various gyms where you can engage in battles and other Pokémon events since there are plenty of attractions including playgrounds, fountains, and other facilities.
5. Chancay Castle in Chancay 1, Peru
Coordinates: -11.573759560741111, -77.27087113271628
The Chancay Castle or rather, Castillo de Chancay, is Located in Peru, South America. It's one of Peru's historic locations due to its traditional and architectural importance, and even its beautiful facade. In this area, you'll not only find a gym but also lots of Pokémon because it's often a hotspot for Pokémon Go players since various meetups and even were hosted here.
6. Farroupilha Park in Porto Alegre, Brazil
Coordinates: -30.036167722156094, -51.216225724344596
Farroupilha Park, also known as Redenção Park, sits right in the heart of the Porto Alegre city of the Rio Grande do Sul State in Brazil. It's a very famous urban park that offers a perfect location for various leisure events and activities such as picnics, festivals, and exhibitions that take part throughout the year. When you're here and you open Pokémon, you see numerous gyms and PokeStops as well as be able to also catch legendary Pokémon.
7. Tokyo Disney Resort in Chiba, Japan
Coordinates: 35.63143974180032, 139.88309035603618
The Tokyo Disney Resort consists of Disney Sea and Disney Land. The area has become quite popular with Pokémon Go players because it offers various promotions and it hosted special Pokémon events as well as the release of some rare Pokémon and in-game items. These events were purposely organized to attract Pokémon players from all around the globe to take part and catch legendary Pokémon as they visit the theme park.
8. Consolação in São Paulo, Brazil
Coordinates: -23.551849918574593, -46.6525879374596
While it's neither a park nor an attraction, Consolação is a well-known area in Sao Paulo, Brazil that's famous for its various traditional landmarks as well as amazing nightlife, and endless entertainment possibilities. Most importantly, you're going to find tons of Pokémon here, ranging from rare to legendary as well as several PokeStops and gyms where you can get special items such as Poke Balls, potions, incense, and berries.
9. Ibirapuera Park in São Paulo, Brazil
Coordinates: -23.587398131444104, -46.65760853101742
Ibirapuera Park is another best coordinates for Pokémon Go in São Paulo, Brazil where you can catch Pokémon. The park has walking paths and plenty of green spaces, as well as several museums and also sports facilities. Because of all these, it's one amazing Pokémon Go coordinates where you'll find and catch rare Pokémon and even interact with gyms that are close by as you explore the different facilities that the park offers.
10. Parque Grande José Antonio Labordeta in Zaragoza, Spain
Coordinates: 41.63306089523858, -0.8954773205252026
Parque Grande José Antonio Labordeta is the perfect destination for playing Pokémon Go. This large city park in Zaragoza, Spain offers tons of legendary and uncommon Pokémon that you can find and catch. It's very popular amongst Pokémon Go players because of its fitness equipment and the fact that they host event and festivals throughout the year.
11. The Royal Botanic Garden in Sydney, Australia
Coordinates: -33.86425956436767, 151.21655435670792
If you're in New South Wales, Australia, then the Royal Botanic Garden in Sydney is the perfect spot to find and catch Pokémon, as well as complete your PokeDex. You should visit it right away because here you get plenty of rare and legendary Pokémon from different categories just within a walking distance. Moreover, there are various gyms around which along with your friends, you can visit and carry out raid battles to take them over.
Best Coordinates in Pokémon Go for Raids
We've shown you the best coordinates in Pokémon Go for catching rare Pokémon, it's time now we catch some raid-only Pokémon and that's what this section is all about. Below we'll share the best Pokémon Go coordinates that can help you easily find raids as well as gyms where you can engage in raid battles along with friends or by teaming up with the other Pokémon players.
1. Aljafería Palace in Zaragoza, Spain
Coordinates: 41.656585080538115, -0.896830659503326
Apart from its historical importance, the Palacio de la Aljafería, otherwise known as the Aljafería Palace is amongst the most visited places/landmarks in Zaragoza by both locals and tourists. What's surprising though is how the local community in this area is super active because of the gym which players often visit for raid battles and also to collect items as well as catch Pokémon found around the area.
2. Walt Disney World Resort in Florida, USA
Coordinates: 28.377381427129375, -81.57009285942098
Like other theme parks throughout the world, the Walt Disney World Resort located in Orlando, Florida, USA is hugely popular among people from all kinds of age groups. It comprises of several theme parks such as Hollywood Studios, Magic Kingdom, Animal Kingdom, and so on. With its humongous size, you'll definitely find multiple gyms where along with other players you can carry out ultimate raid battles.
3. Yoyogi Park in Tokyo, Japan
Coordinates: 35.6716367454595, 139.69662460825487
For hardcore Pokémon Go players, Yoyogi Park is definitely the destination to visit. Here, you can participate in raid battles as the location features a dedicated gym as well as PokeStop, hence you can easily get some common and rare items while overthrowing a gym alongside your friends or some other local players. The park is huge and as such, it has open space where you can walk around and easily catch Pokémon as well.
4. Voortrekker Monument in Pretoria, South Africa
Coordinates: -25.776165039543265, 28.175778411117243
The Voortrekker Monument in Pretoria is the place to visit while in South Africa. It's home to various gyms and PokeStops that you can explore and even take over by organizing a raid battle within the area. You can share the coordinates with some of your friends and choose to spoof together. If you don't know yet, the Voortrekker Monument is basically a huge granite architectural structure that was built back in the 1950s.
5. Stonehenge in Wiltshire, England
Coordinates: 51.17997849943928, -1.8260441473344755
Stonehenge sits in Wiltshire, England, and is part of the many famous landmarks in the United Kingdom. It's actually the ancient civilization that built this architecturally sophisticated structure which has made the area very popular among tourists as well as Pokémon Go players. There's a gym here where you can easily participate in a battle with other active players and also have the opportunity to catch a pretty uncommon raid-battle-only legendary Pokémon.
6. Grand Bazaar in Istanbul, Turkey
Coordinates: 41.01069560095684, 28.96807152701436
While roaming through the Grand Bazaar in Istanbul, you can easily come across many gyms and PokeStops where you can engage in raids and also participate in other local events as well as have the chance to connect with nearby players. This huge, old market is a very popular tourist destination due to its history and countless shops for souvenirs and jewelry.
7. Acropolis of Athens in Athens, Greece
Coordinates: 37.971545489545186, 23.725749692515777
The Acropolis of Athens is one of the many UNESCO World Heritage sites thanks to its most iconic landmarks. It's a more popular destination for locals, tourists as well as Pokémon players. Gyms and PokeStops are scattered throughout this area which makes it one of the Pokémon Go coordinates for easily planning raid battles and collecting tons of items.
Extra Tip: Spoof GPS Location to Best Pokémon Go Coordinates
We understand that you may not be able to physically visit each of these places to catch Pokémon because of various reasons. In such case, using a location spoofer would be an ideal option as you can spoof your Pokémon Go GPS location instead. The best spoofer tool we would recommend here is the FoneGeek iOS Location Changer. It's the best to use if you want to spoof your iPhone's location.
With it, you won't have to physically roam through streets to search and catch Pokémon. It doesn't even need your iPhone to be jailbroken. Furthermore, you can always pause and also resume your movement whenever you want. This tool also offers you multiple modes, plus a joystick to give you better control. Here's how you can use it:
Get your iPhone device connected to your computer once you've installed FoneGeek iOS Location Changer. Click "Get Started" in the main window.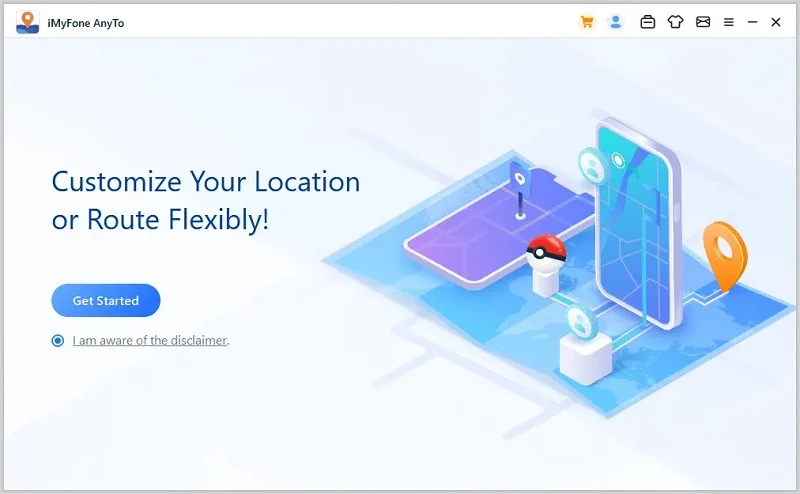 Now click the "Teleport" icon that's at the top-right corner and then enter the specific location where you want to teleport.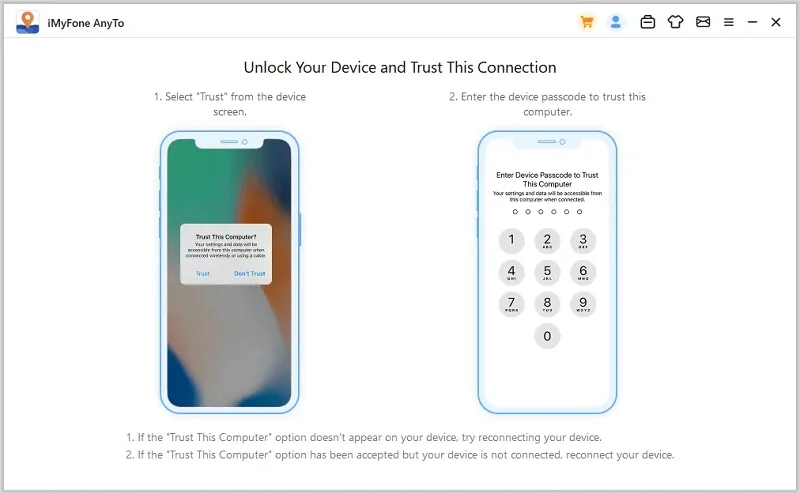 Finally, click on "Move" in order to teleport to your preferred location. Once you do that, the GPS will change to the new location on your Pokémon Go.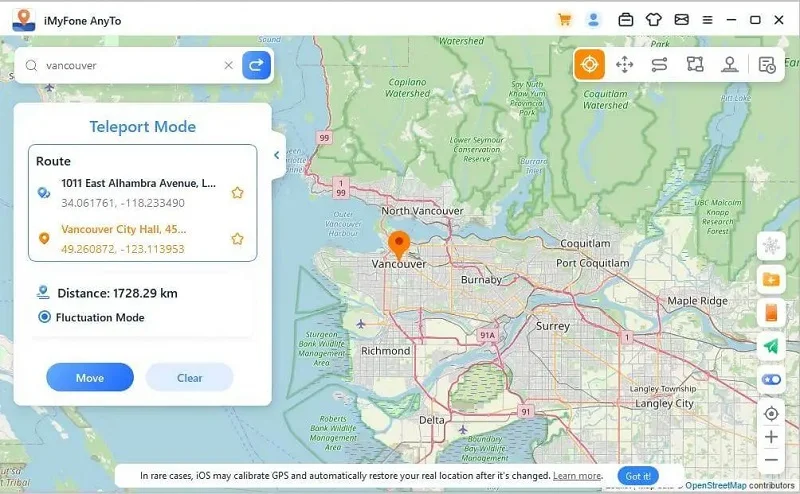 In case you want to pass through multiple spots on the map, then you can simply select the two-spot or the multi-spot route. From there, your device's GPS will move along the whole specified route, which is very useful when you would like to catch rare Pokémon.
Conclusion
Herein, we've given you 2023 best coordinates for Pokémon Go that offer you the best shot at finding and catching rare as well as legendary Pokémon and other items. You, however, don't need to physically visit all these locations as you can spoof your location such that you appear to be at a different location when playing Pokémon Go without actually moving. For the best tool to spoof location, we would highly recommend FoneGeek iOS Location Changer. It's the most reliable tool. If you use it while playing, Pokémon Go won't know or detect if you're really cheating or not.