Considering the ongoing pandemic and resulting lockdown in many areas worldwide, how can you play Pokémon Go without moving?
Considering this situation, Niantic is bringing some significant updates to Pokémon Go to ensure that fans can enjoy the game while in isolation. One of such updates is the modification of Pokémon Go events like community day to support solo play.
Can you play Pokémon Go without moving? Let's dive in to find out.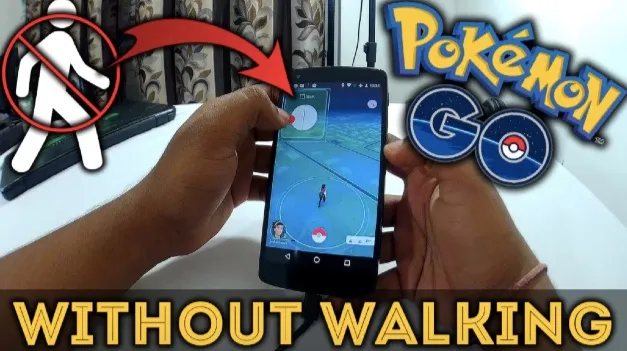 Part 1. Is It Possible to Play Pokémon Go without Moving?
YES, without moving at all, it is possible to play Pokémon Go. Using this method, many people could play the game during the COVID-19 epidemic.
To use this method, you'll need a tool to make the game think you are moving. There are specified tools that can help you do this. You will find out more about these tools below.
Part 2. Play Pokémon Go without Moving on iPhone
One of the best tools we suggest is FoneGeek iOS Location Changer. It is a top-rated professional tool specifically developed for iOS devices to change GPS location without moving. With this tool, you can stimulate GPS movement while at home, you don't even need to step out!
Let's now break down the steps and see how to play Pokémon Go without moving on iPhone with FoneGeek iOS Location Changer:
Step 1. Download and install the tool on your computer. Next, connect your iPhone to computer and click on 'Get Started'.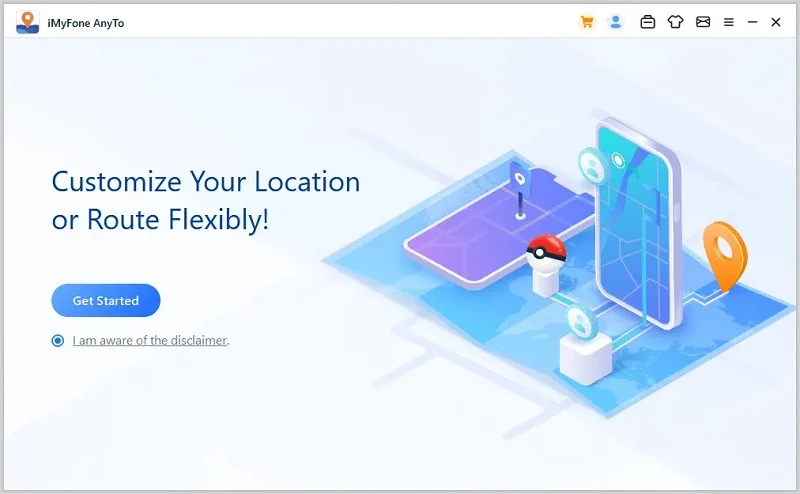 Step 2. A map will be loaded. Choose 'Multi-Spot Movement' option at the upper right hand corner of the screen.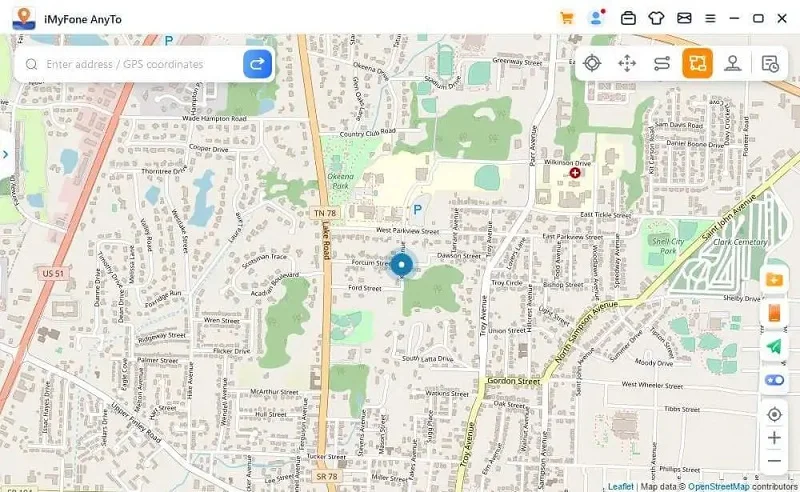 Step 3. You have to select a new location of your choice. It would be best to keep in mind that you have to choose more than one location. Once you have selected your locations, proceed to the map and set the speed and number of trips you will make.
Step 4. Click on the 'Move' icon, and you are good to go.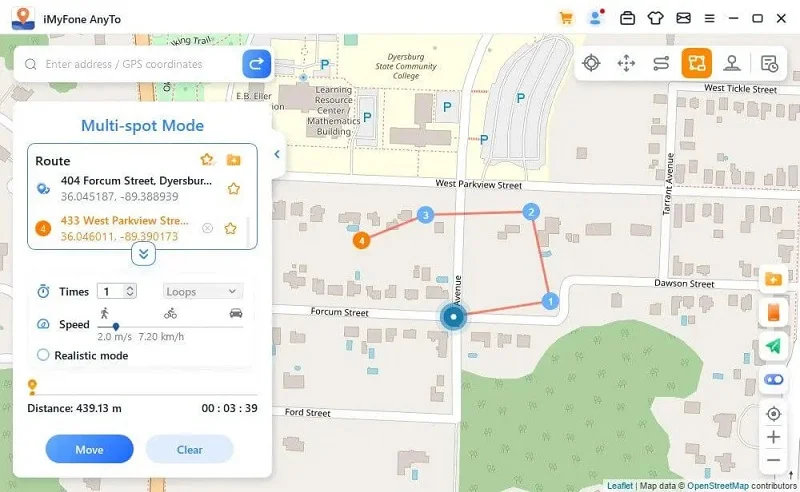 However, it is advisable not to change the location too often as the game developers have a strict policy for Pokémon Go players not to use location-changing tools.
Pros of using FoneGeek iOS Location Changer
Quickly change location and allow you to play Pokémon GO without walking.
Share your virtual address to your friends or family members.
It comes with advanced features such as search location, customized speed, and pause anytime.
Compatible with most location-based apps, such as Pokémon GO, Snapchat, Tinder, WhatsApp, Bubble, etc.
The trial version allows users to change the real location or GPS movement for 5 times FOR FREE.
Part 3. How to Play Pokémon GO without Moving on Android
Using a Joystick, do you know that you can play Pokémon Go on your Android from a fake location? This section will show you how to play Pokémon Go without moving on Android with a Joystick.
Step 1. First, download these apps on your device: Fake GPS Go Location Spooferand Fake GPS Joystick & Routes Go app.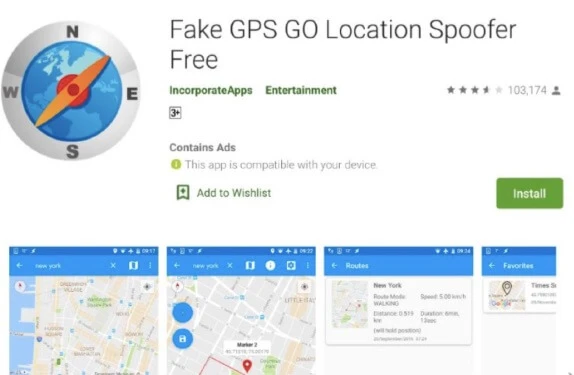 Step 2. Now, switch on 'Developer Options' by tapping on the 'Build Number' option 7 times.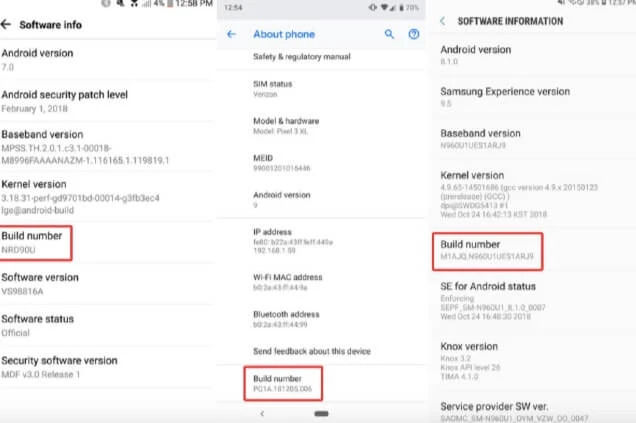 Step 3. Next, go to Settings, click on 'Location' and change the 'Mode' to 'High Accuracy'.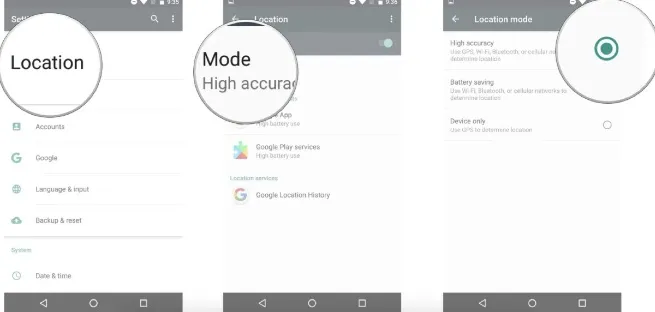 Step 4. Then, open the Fake GPS Go Location Spoofer app. After opening the app, launch the routes and turn on the GPS of your Android device. Use the pointer on the screen to select your preferred location.
Step 5. Enable "No Root Mode" from settings of Fake GPS app. Enable "joystick" in the menu below by sliding the toggle.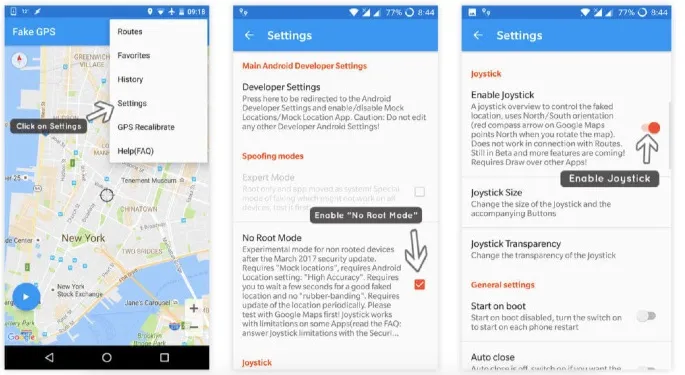 Step 6. Use the red dot on the screen to select the virtual location you want to walk to. After that, click on "Play", open your Google Maps and confirm the change in your location.
Finally, you can open Pokémon Go and catch rare Pokémon on your android device by moving the Joystick to any fake location. Many android users consider these steps a bit more complicated than iOS. But still, give it a go. If you get it right, it is guaranteed to work easily on your device.
Part 4. Useful Tips for Playing Pokémon Go at Home
Now that you have the guide on how to play Pokémon Go without moving on your Android and iOS devices, here are some useful tips for playing Pokémon Go at home.
If outdoor exercise is allowed in your area during the lockdown, you can visit the nearest Pokestops and gyms while you jog.
Keep the game switch while going through your daily tasks. You can effortlessly cover the minimum distance within your home to hatch eggs or catch wild Pokémon post-Niantic's update.
Join online Pokémon Go communities to connect with players worldwide and share tips/resources, etc.
Part 5. FAQs about Playing Pokémon Go at Home
Q: Can you still spoof in Pokémon Go?
A: Yes, you can still spoof your location in 2020 with relevant tools like FoneGeek iOS Location Changer.
Q: What Pokémon is number 83?
A: Farfetch'd is number #83.
Conclusion
From the above steps in this article, you should be conversant with how to play Pokémon Go without walking. Based on popular reviews among Pokémon Go players, FoneGeek iOS Location Changer is one tool you should have in your arsenal to increase your chances of hatching more eggs and catching those rare wild Pokémon Go characters to elevate your gaming experience to the next level!