Are you constantly worried about being tracked by third parties? Well, a GPS spoofing and location faking app can help you a lot in such a situation. By hiding your original location with something different, you can make your online journey as safe as possible.
By using reliable GPS spoofing apps obtainable on the App Store, you can easily simulate a separate location on your iPhone without computer. Today, we will let you know how to fake location on your iPhone without computer, giving you better control over your virtual existence.
Please make sure to use this knowledge responsibly and in adherence with the terms of service of any apps or services you use.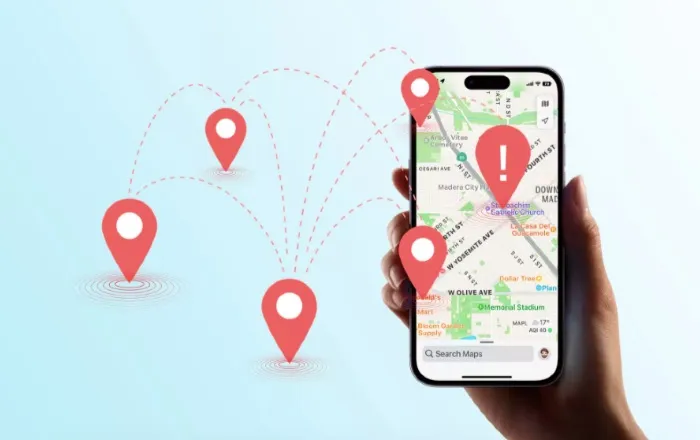 Part 1. Why Spoof Your Location?
There are so many reasons why you may need to fake your location on iPhone. Below we will talk about some of the reasons for why it might be useful for you to fake your location:
Privacy: Keeping your privacy safe is very important nowadays, and changing location gives you the option to keep your actual whereabouts hidden from specific apps or individuals, defending your personal information.
Accessing Restricted Content: Certain apps or websites may have geographical restrictions, limiting access to users from specific regions. By faking your location, you can bypass these restrictions and gain access to otherwise unavailable content.
Enhanced Security: When visiting unfamiliar places, you might not prefer to disclose your real location to strangers or potential threats. Faking your location can help maintain the privacy, ensuring your safety and peace of mind.
Testing and Development: If you are a web developer or tester, you may require to evaluate how your app is performing in various locations. Faking your location facilitates you to simulate multiple situations and check the functionality and precision of your app.
Why is It Difficult to Fake GPS on iPhone without a Computer?
Though it is achievable to misrepresent your location on iPhone without a PC, there are also some difficulties you have to face that can make it hard. Some reasons are included below:
Restrictions of App Store: Third-party apps that allow you to change the location setting have tight restrictions. So not many GPS spoofing apps are available in the app store.
Legal Execution: Fake GPS is illegal in many countries, especially when someone uses it for fraudulent activities. So users need to be concerned about the law and regulations about the location.
Counter Verification: Most apps now require the user's location verification before using or permitting them specific features or content.
If you genuinely need to fake location on an iPhone, there are methods available that do not require a computer. Continue reading to discover the techniques and options at your disposal.
Part 2. How to Fake Location on iPhone without Computer?
Now let's explore the methods that you can try to fake your locations on your iPhone. By following the methods outlined below, you can take control of your virtual presence and protect your privacy.
Using A VPN
VPN is an excellent way to fake your location without a computer and without Jailbreaking your iPhone. VPN typically has so many server locations worldwide that allow users to change location to spot as they prefer. There are many VPN apps obtainable on App Store free of charge.
VPN can switch your IP address so that it displays to be from a different region while allowing specific content that may not be available in your existing location. Let's see how to use NordVPN on your iPhone to change your location.
First, download NordVPN on your iPhone.
Install it.
Choose "QUICK CONNECT" on the display to connect to the best servers.
Change to the location that you prefer.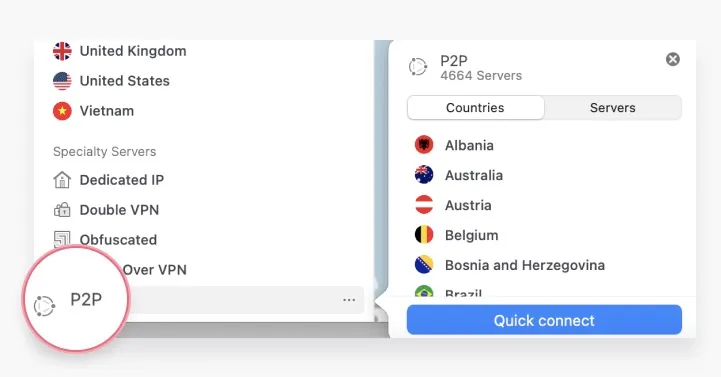 Fake Location via Cydia (Jailbreak Required)
Jailbreaking your iOS system enables you to fake your locations from the device. Here are two methods for faking your location on iPhone with Jailbreak Required.
To forge your GPS location oniPhone, you can make use of an app like Fake GPS, Location Spoofer, or GPS Faker. These apps permit you to change your existing location to any place supported by Google Maps or Apple Maps, and most of them are free to use.
To get started, you'll need to download the latest version of Cydia Impactor from the internet and connect your iPhone to your PC. This will enable you to jailbreak your iOS system and make the necessary changes. Once jailbroken, follow these steps:
Click on the preferred application from your home screen to start it.
Locate the location you want to want to be at.
If you press on the address, a red pin will appear.
Click on the blue tab that occurs in the next screen.
On iOS, you can now select the apps for which you want to fake the GPS location using the spoofer.
When you open the chosen apps, you will see the new location.
Part 3. Spoof Location on iPhone with Computer
If you want to spoof the location from computer, you can effortlessly do so with FoneGeek iOS Location Changer. It lets you change your location to somewhere else fast with just a few clicks. All you need to do is simply download the tool and launch it. Then you can mimic the location in a moment.
Features of FoneGeek iOS Location Changer:
Well-equipped GPS location Spoofing tool.
Customized routes for gaming.
Save and Load Locations for your convenience.
Test geolocation-Based apps to enhance your experience.
Pros:
No Jailbreak Required
User-Friendly Interface
Wide Compatibility
Flexible Movement Simulation
Cons:
Third-Party Software
Paid Software
Potential App Detection Steps to Use FoneGeek iOS Location Changer
Here is how to use FoneGeek iOS Location Changer:
Step 1. Download and install the FoneGeek iOS Location Changer on your PC by following the on-screen instruction and then launch the program.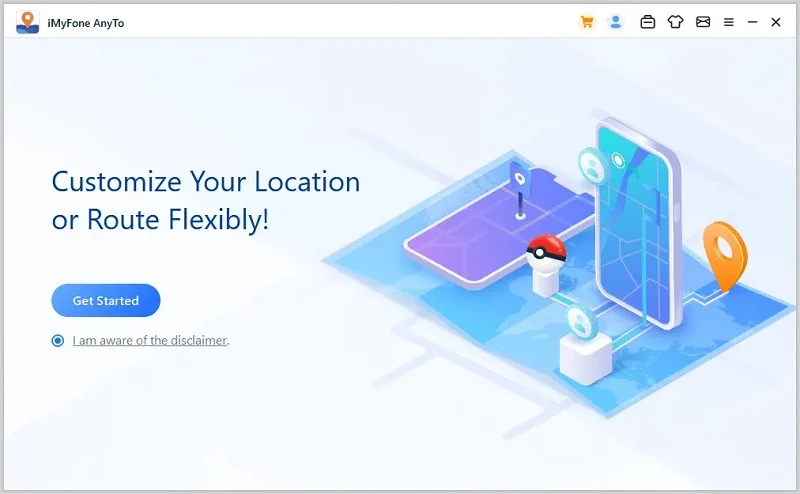 Step 2. After doing that, attach your iPhone to the PC where the app is installed.
Step 3. Now, a map will load with your current location. You will need to select your preferred mode to fake the location. After picking the mode, enter the fake coordinates. Your location should change based on that.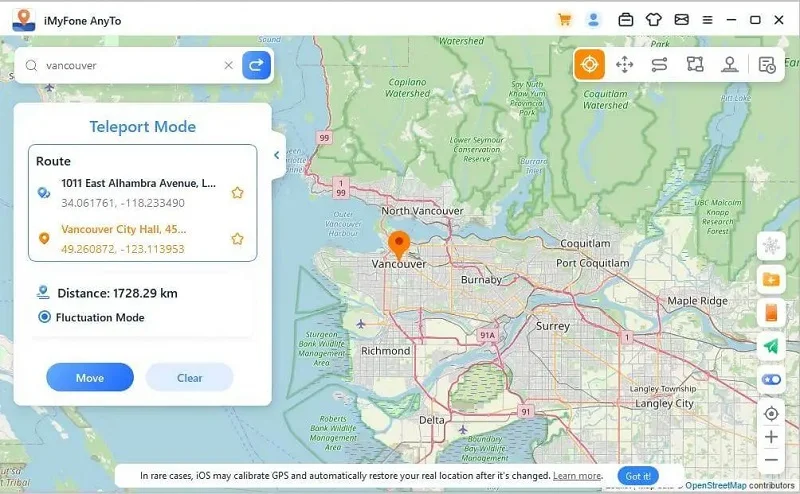 Part 4. Tips for You
Here are some tips when it comes to faking your location on iPhone:
Choose a trusted app: When faking your location, opt for a reputable app with positive reviews and regular updates.
Maintain realism: Select a plausible fake location that aligns with your usual routines and travel patterns.
Monitor battery usage: Faking your location may consume more battery than usual, so be mindful and monitor battery levels.
Disable auto-updates: Prevent automatic location updates by disabling tracking features in apps.
Limit excessive usage: Avoid prolonged or frequent fake location usage to minimize the chances of detection.
Part 5. FAQs
Can I get notifications from the actual location while spoofing my location?
No, notifications intended for your real location won't be received. All notifications will be based on the fake location set in the GPS spoofing app.
How to determine the last location of my iPhone?
The iPhone includes a built-in app called Find My, which helps locate lost or stolen iPhones or iPads. You can utilize the app's map feature to obtain a comprehensive view of the whereabouts of your iOS devices.
Is it legal to use these methods?
It may not be legal to jailbreak your iPhone or using 3rd-party apps to fake or spoof your location. So, it is crucial to research the laws in your area before attempting to fake your location.
Is It Possible to Fake My iPhone's Location Without Using an App or Tool?
No, there isn't an inherent option to fake your iPhone's location without utilizing an app or tool. Third-party tools or apps are necessary to manipulate your iPhone's location.
Can You Detect if someone is Faking Their Location?
It is achievable to catch if someone is faking their location when it is set to "Open" or "On." One way to determine this is by questioning the person about the time and place during a conversation. When confronted with such a question, individuals faking their location may become confused or respond inaccurately, revealing the inconsistency between their claimed location and actual details.
Conclusion
Changing your iPhone's location can be done effortlessly, even without a computer. This article provides a comprehensive guide outlining various methods to accomplish this task. However, if you do have entry to a computer, location spoofing becomes more convenient with the FoneGeek Location Changer program. Go ahead and give it a try for the best performance!