Since Grindr's launch in 2009, it has gained a huge user base, with a community consisting of millions of users around the world. This location-based app has allowed the LGBTQIA+ community to gain more connections online. But like any other app, users can encounter various issues on Grindr that can affect the app's overall user experience.
Don't worry because we're here to help. We've developed an extensive guide to help whenever you encounter problems, such as Grindr not loading, Grindr unable to refresh, registration errors, or difficulties in sending messages. Are you ready to begin? Let's dive in!
Grindr is Not Working Properly? How to Fix
When your Grindr suddenly stops working, you must understand why before finding a solution. This section explores the most common problems you can encounter when the app fails to work, plus tips and solutions to fix them.
Case 1: Grindr Unable to Refresh
Generally, devices automatically refresh any app you're using, ensuring you only view new and fresh content while the app is running. This also guarantees you're seeing updated status and information.
But there can be instances when Grindr does not refresh. And this can exceptionally be a hassle, especially when you want to see new profiles, send and receive messages, and receive notifications or in-app updates.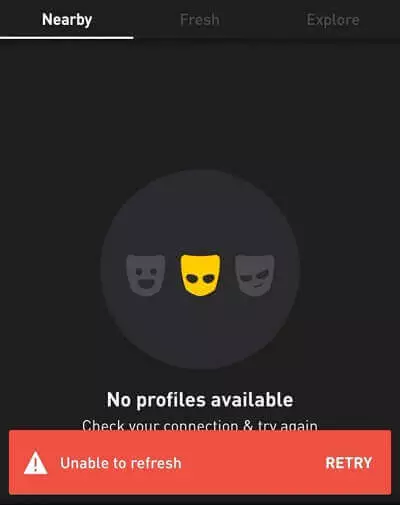 Solution: The quickest way to fix this issue is to force quit the app. This method can also remove other common app bugs, including Grindr not loading properly and messages not being sent. To force quit the app, follow the steps below.
Go to your phone's Settings app.
Scroll down across your applications and look for Grindr. Click on it to view its settings
Click on Force Stop to force-quit the app.
After force-stopping, go to the Storage section and clear the cache of Grindr.
Remove Grindr from your recent apps. Then open the app again, and it should automatically refresh.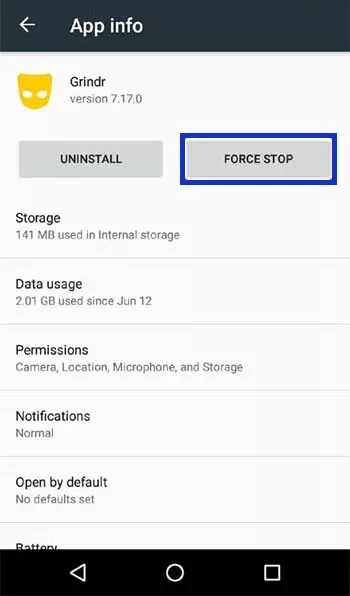 Case 2: Grindr Fails to Load
Grindr not loading is another common issue of the app, but there are no specific reasons why this happens. It can either be an app bug, internet problem, potential virus, or more.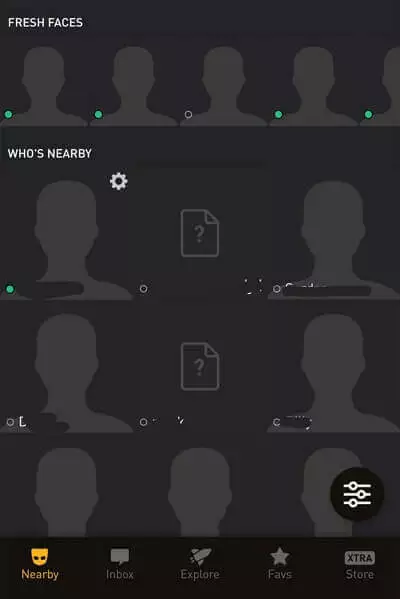 Solution: Fortunately, there are easy ways to check and solve this problem. Your Grindr might start to run efficiently and smoothly again if you try out these steps below.
The first solution is to check whether your device is well connected to your mobile data or Wi-Fi.
You can on Google Play or App Store for recent updates. Try also restarting Grindr because there can be instances when the updates have issues.
You can also uninstall and reinstall the Grindr app.
If all the options fail, try force quitting Grindr by following the steps mentioned in the first scenario.
Case 3. Grindr Registration Error
A registration error on Grindr occurs when you're about to create an account on the app. It's probably a technical issue or an app bug, but the root cause remains unknown.
Solution: If you experience a Grindr registration error, here's how you can follow to fix the issue.
Check whether your Grindr app is in its latest version. Update the app when necessary.
Open the app and check the countries and areas. Check whether your region is part of the blocked locations.
Force quit Grindr. (Simply follow the steps in Case 1!)
Restart your device and reopen the Grindr app.
When trying to create an account again, try using a different email.
Don't forget to switch your VPN off.
If the above measures don't solve your registration error, you can email Grindr Official at support@grindr.com and inform them of your device, email address, and IP address.
Case 4: Cannot Log In on Grindr
Login issues on Grindr is also common, and there are several reasons why you might encounter this. Some of them include failing to enter the right credentials, not updating your account details, or Grindr itself having roblems.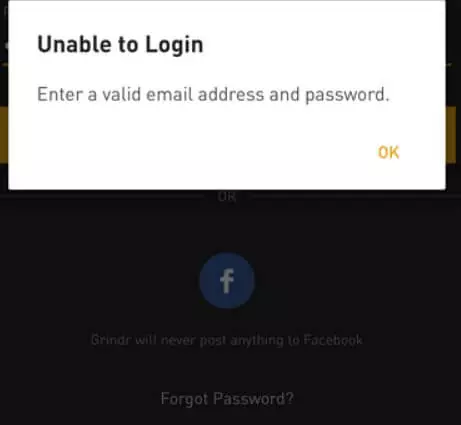 Solution: Before concluding the issue is because of an app bug, you can check the following on your device.
Your phone should be connected to a stable internet connection. This can either be a cellular network or Wi-Fi.
Update your Grindr app to its latest version.
The login credentials should be accurate. Check if your Caps lock key is turned on because Grindr's log-in details are case-sensitive.
Forgotten your password? You can easily reset it through your email. However, when you have forgotten both the email and password used in registering, you cannot recover your old account anymore. This means you need to create a new one.
Another solution is restarting your device or force closing Grindr. Uninstalling and reinstalling the app can also be an easy fix.
Case 5. No Internet Connection on Grindr
When you see the words "No Internet Connection" after opening Grindr or sending messages, your connection might be too weak or broken. Generally, you can try opening other apps that need the internet. If they are also not working, the main issue would be your phone's internet connection.
Solution: Try the following steps to remedy this problem.
Try other online apps. If they are not loading, check your phone's internet connection.
Go to Settings > Connections. You should see whether your device is connected properly to a network or mobile data.
Also, ensure your phone's Airplane Mode is disabled.
However, if only Grindr does not work and other online apps do, the problem is not the connection but Grindr itself. Try force quitting the app as mentioned in the previous solution.
Case 6: Grindr Fails to Send Messages
Naturally, you need to send messages on Grindr because it's an online dating app and a social networking channel. You need a strong internet connection to send and receive messages on the app.
When you're unable to send messages, it's likely because your internet connection is weak or you restricted the app's permissions.
Solution: Check the following steps below to fix this issue.
Make sure your device is connected to the internet.
If you're connected and your messages still won't send, go to your Settings app.
Select the Application section. Look for Grindr and select it to view the settings.
Check whether you have enabled Grindr permissions on your phone.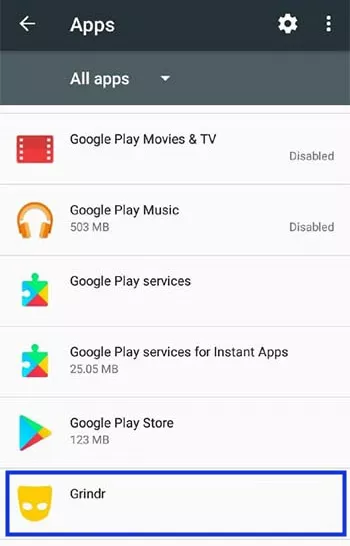 Bonus: Want More Friends? Change Your Location on Grindr!
If you have been using Grindr for a while, you should know it mainly works based on the actual GPS location of the users. But if you've grown bored of the options you view based on where you live, you can switch it up and gain more friends by changing your location on the app.
Grindr has a location service you can utilize to change your location. But admittedly, it's pretty inconvenient. Thankfully, certain apps like FoneGeek Location Changer facilitate easy changing of location whenever and wherever!
It is a location-changing app that allows users to change their GPS location depending on their preferences. It's safe and efficient, allowing you to match more people in your preferred area.
FoneGeek Location Changer's main features include:
Easy changing of your Grindr location to anywhere in the world.
Customize a route and move on it based on your desired speed.
Works well with other social media platforms, such as Bumble, Facebook, and Snapchat.
Compatible with both iOS and Android devices.
Guaranteed no ads will pop up while using the app
To change your Grindr location with FoneGeek Location Changer, follow the steps below:
Download FoneGeek Location Changer on your PC and install it.
Connect your phone to your PC. You will see the Teleport Mode on the top right corner. Click on it.
Select the Location or enter your preferred place. This will change your Grindr location to fake.
Tap on the Move button. This means that all location-based apps will now switch to your chosen fake location.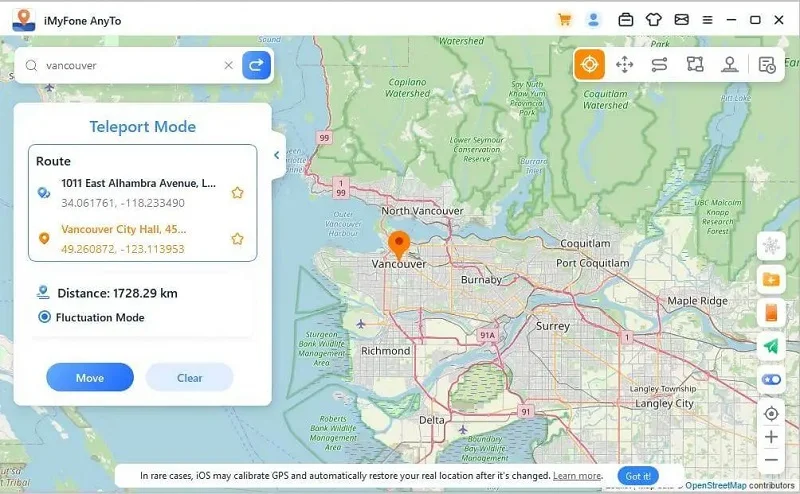 The Bottom Line
Grindr has been a go-to app among the LGBTQIA+ community, and it can be a hassle when encounters issues. Luckily, this guide provided in-depth knowledge on what to do when specific problems on Grindr occur.
To enhance your social connections and find more friends, we recommend FoneGeek Location Changer. This location spoofing app can effectively increase your reach in just a few minutes.
Have you encountered any of the Grindr issues mentioned above? How did you fix it? Let us know in the comments!