Marking locations has never been as easy as using Apple Maps. This app can help you reach where you need to be through easy directions. Also, it is possible to save the location on your favorites list and share it with your loved ones. Simply drop a pin on your iPhone, and you're good to go.
If you've been encountering issues on how to drop a pin on iPhone, this guide is here to help. Let's talk about valuable tips on how you can use this feature, plus how you can change your pinned location on your iPhone.
How to Drop A Pin in Apple Maps on iPhone?
Apple Maps pin is Apple's exclusive feature, which allows you to save your exact location, including accurate coordinates. When your location is pinned, your loved ones can trace or find where you are.
Apple Maps also lets you save a pin every time there's a new place you visit, making it easier to look for the location the next time you plan on visiting it again. To drop a pin on your iPhone, follow the steps below:
Open Apple Maps on your phone. When it opens on your screen, you'll see a blue pin. That indicates where your current location is.
Navigate to the exact location where you want to drop a pin. Then tap and hold that spot.
Select Edit Location. The location's satellite image will be displayed.
Drag the satellite image to establish a precise location.
You can also click Done when you're satisfied with the pinned location.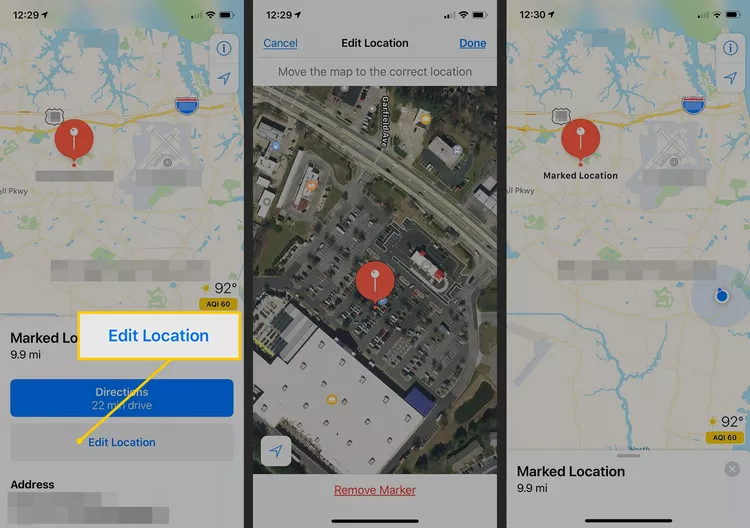 There can be instances when you can't find Apple Maps on your gadget. Chances are you have deleted it or replaced it with Google Maps or other location apps. Don't worry, you can still download Apple Maps from the App Store. Or you can use Google Maps to drop a pin.
How to Pin A Location on iPhone with Google Maps?
Pinning a location is still possible if you prefer Google Maps to Apple Maps. Functionalities are the same in both apps, and you can also see detailed information about specific places and geographic areas on Google Maps.
Satellite and aerial views are also possible, and Google Maps also allows users to observe locations from various perspectives. Dropping a pin using Google Maps works similarly to how it does on Apple Maps, and you can also navigate them more flexibly and reference them when necessary.
To pin a location on Google Maps, here's a simple step-by-step guide:
Launch Google Maps.
Search for the location's specific address or manually look for it across the app until you see the pin location.
Tap and hold the specific spot you wish to pin. You'll see a menu on your screen's bottom-most part where you'll see the location's specific address and exact coordinates.
Click on the location to learn more details, get directions, or add labels.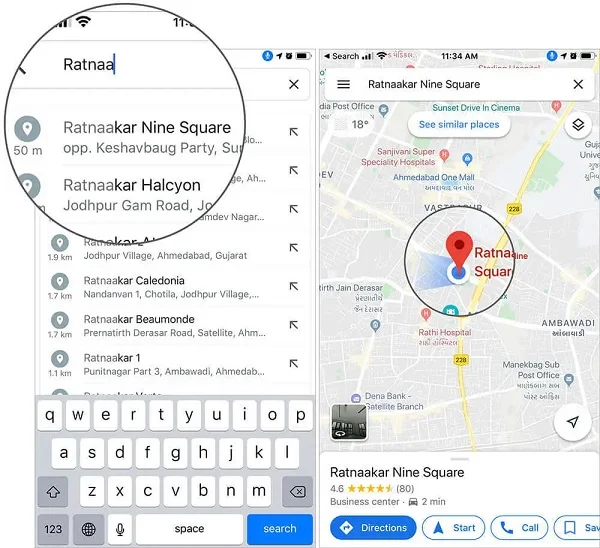 How to Save Pins as Favorites on in Apple Maps on iPhone?
If you want to spend less time looking for the pinned location the next time you visit the place, you can add it to your Favorites on Apple Maps. To do this, the steps are very simple:
Open Apple Maps and select the pinned location.
Swipe up on the designed Marked Location.
Click on Add to Favorites. The location's name will be changed to the nearest landmark or address.
For iOS 11 and 12 users, you can change the location's name after adding it to your Favorites. However, it's a bit different with iOS 13. You need to change the name of the place from the Favorite Locations pane.
How to View Your Favorite Location Pins on Apple Maps?
If you want to check out the pinned locations you've placed on your Favorites list, follow the steps below:
Open Apple Maps.
You'll see a search bar located at the bottom of your screen. Swipe up on it.
Click on Favorites, then tap See All.
Click on a location you want to have displayed on the map. You can also edit or change its name by selecting the Info icon.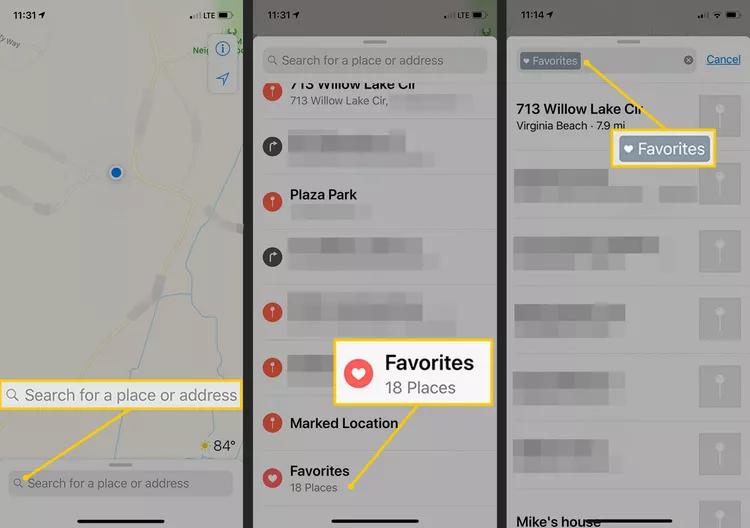 How to Share Pinned Locations with Someone on iMessage?
Did you know you could also share pinned locations with your loved ones on iMessage? This ensures smooth navigation and communication, especially when you want to guarantee safety. Share pinned locations on iMessage through the steps below:
Open Apple Maps. Tap on a pinned location on the app, or choose a favorite location.
Swipe up to the Marked Location pane for more details about the pinned location. You can also click on the three dots on your screen's topmost right corner on the Dropped Pin panel. This appears after dropping a pin.
Tap on the Share option. You'll see various ways to share the pinned location.
Click on the Messages option. This opens your iMessage conversation with a specific person who you'll share the pinned location with.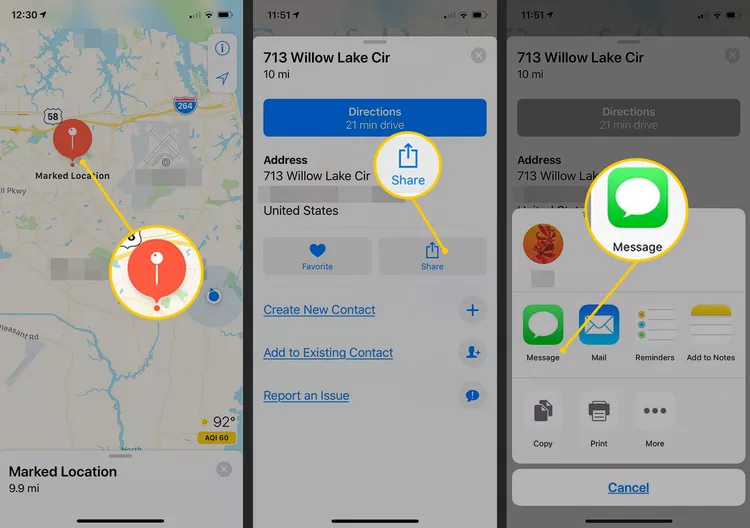 Bonus: How to Change Pin Location on iPhone without Jailbreak
Have you ever thought of changing your pinned location on your iPhone? If yes, you're in luck! FoneGeek Location Changer is a useful location spoofing software that allows you to change your iPhone's GPS location with ease.
This software also allows users to fake their location across various social media platforms, allowing others to think they're in a different place than where they actually are.
The following are FoneGeek iOS Location Changer's key features:
Single-click change GPS location with no root or jailbreak.
Fake location on AR games, social media platforms, other location-sharing apps, and more.
Spoof location on both iPhone and Android devices.
Hide your location and prevent other people from tracking where you are.
To use FoneGeek Location Changer to change your pinned location on iPhone, follow the steps below:
Download and install FoneGeek iOS Location Changer on your PC and open the app. Tap on the Get Started button.
On your screen's upper-right corner, you will find the Teleport Mode icon. Tap on it to input a specific address. You can also zoom the map and drag it across to choose your fake location.
Tap on the Move button. This changes your iPhone location to the fake one you've chosen on the map.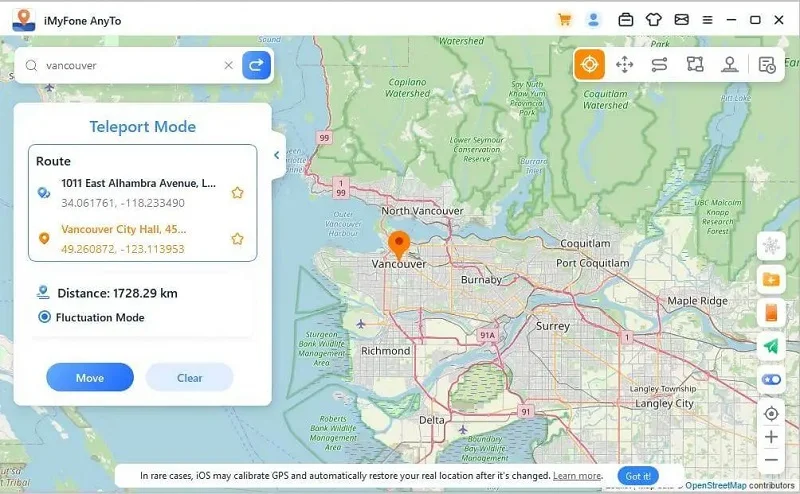 Frequently Asked Questions
Is it possible to drop several pins on Apple Maps?
Yes, you can. All you need to do is follow the steps to pin and mark a location on Apple Maps and repeat them according to how many pins you plan on dropping.
Can I use Apple Maps even when I'm offline?
If your iPhone is updated to the latest iOS 17 upgrade, you can use Apple Maps and view your location without an internet connection.
Are dropping a pin and sharing a location the same?
No. Dropping a pin means pinning the location's exact address and coordinates on Apple Maps for future reference. It does not include sharing where you are in real time with another person.
The Bottom Line
Now that you learned how to drop a pin on your iPhone or iPad, it's time to try it out! This feature by Apple Maps allows you to view your saved locations wherever and whenever. Pretty Convenient, isn't it?
Moreover, FoneGeek iOS Location Changer's change pinned location feature also allows you to conceal where you actually are by changing your phone's location. Thanks to this software, you can effortlessly hide where you are as you desire!
So, have you ever dropped a pin on your iPhone? Or even hide your real location with another software? Let us know in the comments!