If you love playing Pokémon Go, then you know that you have to keep moving to actually catch Pokémon and progress in the game. If you're unable to do this though for whatever reasons, then simulating your presence in different locations can be extremely beneficial. You can catch rare Pokémon and get way ahead in the game fast without physically moving at all. The iPoGo app, a Pokémon Go location spoofing tool, can help you easily achieve this.
With this tool, you can spoof your location in Pokémon Go and be able to catch all those rare Pokémon in far locations while sitting at home. Herein, we'll share everything you need to know about iPoGo Pokémon Go tool, including how to get it and how to use it. Besides that, we'll share you the best alternative of iPoGo, in case you want to consider other options. Keep reading!
What is iPoGo?
iPoGo is basically a app for location spoofing in Pokémon Go. It helps players to change or "spoof" their GPS location within the game, thereby effectively making the game think that they are actually in a different location yet they never really physically moved.
This gives players a whole new advantage, allowing them to catch Pokémon that they could not find in their actual location. It also offers other benefits like allowing players to hatch eggs and even collect rewards from various Pokestops that, otherwise, would have been out of reach.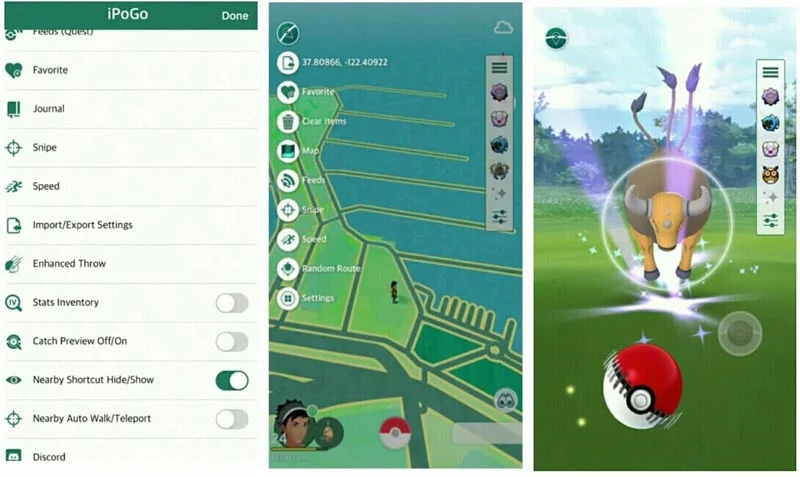 Key Features of iPoGo
Location Spoofing - with iPoGo app, you can change your GPS location in Pokémon Go to catch Pokémon that are hard to reach or rather, far away from your actual location.
Freeze Pokémon - once you enter the screen, the ability of the Pokémon to jump and move will be frozen.
Pokémon Go Joystick - there's also a joystick feature in the iPoGo app that allows you to control and move your trainer around within the game without physically moving.
The iPoGo VIP Key
iPoGo Pokémon comes in VIP and standard packages. As the name indicates, the VIP key is an advanced version of the app. It's a premium plan that includes all the great features of iPoGo. You can get this VIP key by purchasing it directly from iPoGo's official site and you'll then access all the premium features for Pokémon Go location spoofing.
Many players, though, have complained that installing iPoGo is a difficult and complex process. But that wouldn't be a problem because, in this iPoGo review, we'll guide you through all the steps on how to do that.
How to Get iPoGo for Pokémon Go?
iPoGo gives you a full set of tools that can help you climb up the ranks and become the best in the Pokémon Go game. However, to do that, you need to get the iPoGo app first. You can download the app from iPoGo's official website and install it on your device. On the website, iPoGo will suggest several download options from which you'll need to select one. To make things a little more convenient and easier for you, we've listed these options below:
Signulous - comes at $20 per year for each device and it's the simplest way for downloading an iPoGo app.
Sideloadly - ideal for Windows PC users. It's free to install but it revokes after seven days, meaning you'll have to keep on reinstalling the app after every seven days of use.
Rickpactor - another free method but you have to use a computer to do the initial installation, which can be complex to do.
Jailbroken Devices - this method works only if your device is jailbroken, so if you're not sure what that means, then this is not really for you.
How to Use iPoGo in Pokémon Go?
It's vital to ensure your main Pokémon account remains safe. But your account may get banned when using iPoGo and as such, we recommend you set up a new account so that you can use this alt account to catch all the Pokémon.
Here's how to use iPoGo Pokémon after downloading and installing it:
Step 1: Download and install iPoGo
You can download and install the app in several ways. If you've already jailbroken your device, you can get the IPA file from the iPoGo official website. Otherwise, you'll need to use other options such as third-party resources like Rickpactor or Signulous to get the iPoGo app.
Step 2: Log in to your new Pokémon Go account
Once you have the iPoGo app installed on your device, it will sign in to your new Pokémon Go account. After successfully activating it, you should see a floating sidebar from where you can access the iPoGo functions.
Step 3: Change your current location to catch Pokémon
Open the map in iPoGo and try to move with the pin toward the location you want. You can as well use the coordinates or address of your desired location to move there. This action will cause the app to immediately begin spoofing or changing your GPS location.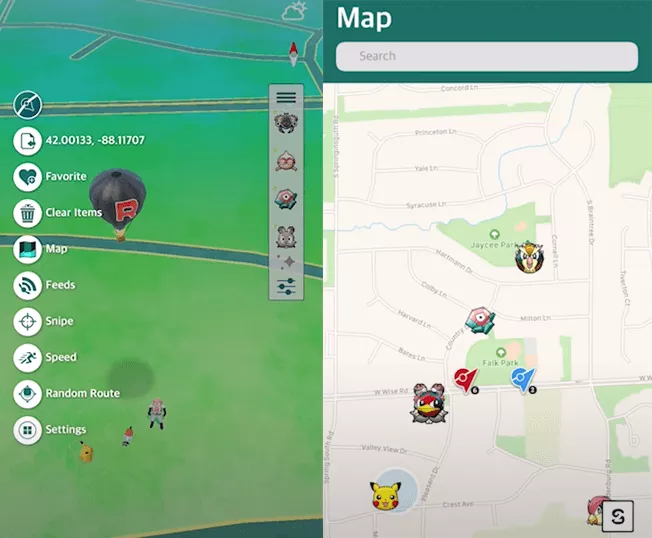 Pros & Cons of iPoGo
Spoofing GPS location is not usually 100% safe. However, from the authentic reviews of various users, iPoGo stands out as a highly-rated GPS spoofing tool right now. It does have several advantages over the others as highlighted below but it doesn't lack some pitfalls too.
iPoGo's Pros
Having to wait through the capture animation can be annoying but with iPoGo, you can avoid that as it lets you skip the animation if the Pokémon isn't shiny.
iPoGo is packed with various premium features such as Pogo Plus, fast-catch, and auto-walk (gpx routes). All these make it exciting to use.
All the features have been tested thoroughly, plus the iPoGo developers regularly update the app to ensure the user experience is always great and the accounts remain safe.
iPoGo's Cons
iPoGo will require jailbreak access on your device if you take this installation route. This can compromise your device's security.
Some prior technical experience may be needed to install the iPoGo iOS app as the process is a little bit complicated.
Crashes frequently - iPoGo tends to crash a bit often due to software issues.
Note that iPoGo can stop working anytime just like iSpoofer. So, you may suddenly lose your money and the progress you've made in Pokémon Go.
iPoGo Pokémon generally goes against Niantic's (Pokémon Go developers) terms and conditions. Its regular use can lead to your main account getting permanently banned.
Best iPoGo Alternative You Must Try
Is there a safer and better option than iPoGo that can be used on both Android and iOS devices, a suitable alternative in case iPoGo doesn't work? Yes, of course. We also tested a much better location spoofing application that comes with a free trial. It's known as FoneGeek iOS Location Changer. This amazing app allows players to directly change or "spoof" their GPS location on their Android or iOS device with just a single click.
The iPoGo app just spoofs the GPS location within the game, but FoneGeek goes a step further as it changes all the location settings on your iPhone/Android. In other words, the location of the player in iPoGo doesn't correspond with the actual location of their phone which is something that can easily get detected by Niantic. So, FoneGeek provides a much safer way to spoof locations.
Main Features of FoneGeek iOS Location Changer
Change your current GPS location to anywhere you want in the world.
Use a GPS joystick to freely control your trainer's movement in Pokémon Go.
Works well on various other location-based apps like Tinder, Life 360, Facebook, and Pokémon Go.
Available for both Android and iOS devices (even the latest iOS 16).
A free trial is provided for every user to build the initial experience.
How to use FoneGeek iOS Location Changer to spoof Pokémon Go (without jailbreak or tweaked app):
After downloading and installing the tool into your computer, launch it, and then click on Get Started. With a USB cable, get the phone connected to the PC.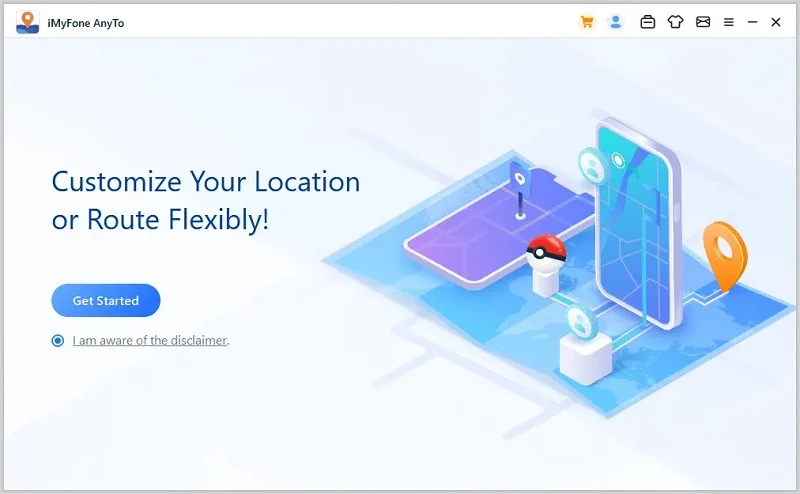 Next, search for the particular region you want to teleport to. Ensure that you've chosen Joystick Mode which is the first option. Now you can freely control the movement of your trainer in the game using your keyboard (you can click the Move option to activate the auto-walk feature).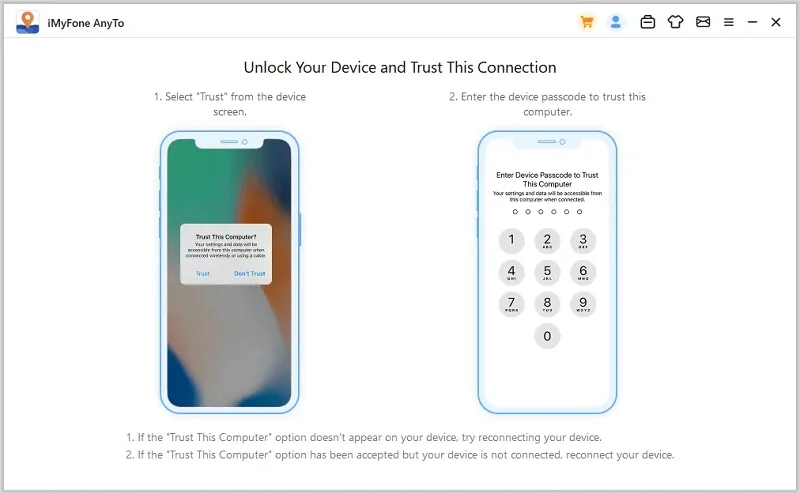 The location change you've just made will get updated to all your iPhone's location settings. Whether it's on Google Maps, Tinder, or Finder, your device will appear to be in this new location now.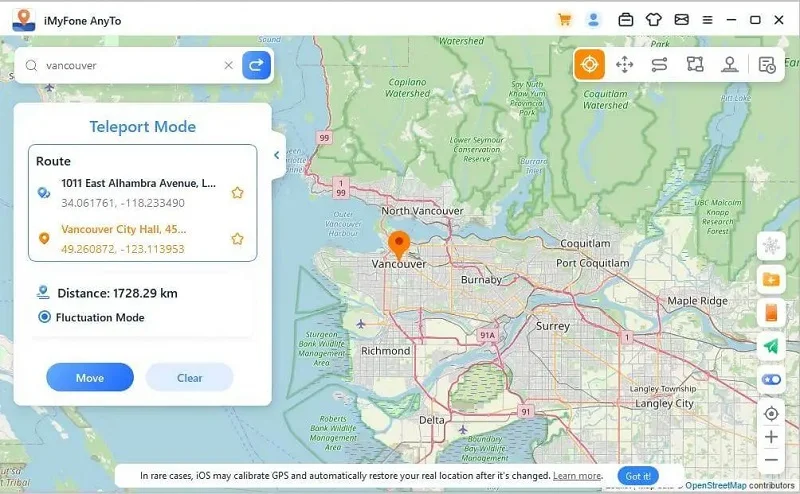 Bonus: How to Get Free iPoGo VIP Key
You can get the iPoGo activation keys for free from various sources, including:
iPoGo anniversary - this is a good avenue you can use to obtain a free iPoGo VIP key.
Reddit - it's possible to obtain iPoGo VIP key for free on Reddit. You can meet a vibrant Pokémon Go community within the Reddit app where they share these iPoGo VIP activation keys free of charge.
Discord - you can as well get iPoGo keys from Discord. You can find several iPoGo-related discord servers where you can easily obtain these activation keys.
YouTube - there are various gaming YouTube channels that frequently share free iPoGo activation keys on YouTube. They are of significant help if you want to spoof your location and access the Pokémon Go game.
Facebook Groups - you can as well find iPoGo VIP keys for free on Facebook. Some groups on Facebook are affiliated with gaming and often post links to premium access to iPoGo for free. You only need to head to Facebook, type "free iPoGo VIP key" on the search bar and click search.
FAQs about iPoGo
1. Why does my iPoGo fail to work?
iPoGo app can stop working due to various reasons. The most notable one is when there has been a recent update to the Pokémon Go app. If this is the case, don't worry. Just leave it for some days to allow the iPoGo app to change the games' system. After a few days, try again. The app should now work.
2. Will I get banned if I constantly use iPoGo app?
Yes, you should but not if you use the app in moderation. Moreover, you should always wait for around thirty minutes before you move to a new location and try to catch another Pokémon.
3. When will iPoGo get fixed?
iPoGo takes typically about 24 hours to get set. This usually happens whenever the Pokémon Go game has been updated, and iPoGo requires some time to modify the game.
Conclusion
Overall, iPoGo is no doubt a good app for GPS location spoofing in Pokémon Go. However, as we've stated several times in this iPoGo review, the app requires jailbreak access on iOS devices. Moreover, by constantly using the iPoGo app, you put your account at risk of getting banned.
Therefore, we advise you to consider a better alternative like FoneGeek iOS Location Changer, which is a safer and more reliable option. It's not just risk-free but also easy to use and it does offer several brilliant features that make your gaming experience amazing. So, download it and have fun while catching all the Pokémon you want without worrying about your account getting banned.