The Pokémon Go game utilizes your phone's GPS and mapping technology to form an augmented reality where you can catch and train Pokémon in real locations. However, having to physically move around the real world so you can catch Pokémon is not always possible, especially if you have a disability or when it's raining, snowing, or when you're just tired.
That doesn't have to stop you from all the fun, though. Yes, with the Pokémon Go joystick and a location spoofing program, you can still enjoy the game without necessarily going outside. Using the GPS joystick, you can control the movements of your Pokémon trainer and take it anywhere in the world to catch Pokémon while still in your house. It's that simple and the fun doesn't stop there, you can even participate in special events, visit gyms, engage in Raid Battles, etc.
So, to help you achieve all these, we're going to share with you some of the best joystick for Pokémon on both iOS and Android devices that you can use straight away. Let's check them out.
What Does Pokémon Go Joystick Hack Mean?
As it's commonly known, Pokémon Go usually relies on your phone's GPS to control your Pokémon trainer character. Therefore, you need to physically move in order for the character to move within the game. That's basically the traditional logic of the game.
However, with the Pokémon Go joystick setup, you can control your Pokémon character's movements in the game using just the on-screen joystick. In other words, it allows you to move your character within the game toward various Pokémons without really physically moving anywhere in the real world.
So, whether you're unable to leave the house because it's snowing or raining, or you're just tired or don't have the time to go out for a morning/evening walk that day, you'll still be able to play and enjoy Pokémon Go and even find and catch new Pokémon that you want.
What that means is that even when you're unable to travel everywhere like in the traditional way, it's possible to still advance in the game when you have a good joystick for Pokémon Go - maybe even faster than before.
Best Pokémon Go Joystick for iOS & Android
The traditional or default way of playing Pokémon Go is basically to go outside to complete the game tasks. But, if that's not convenient for you, you can easily play and enjoy the game just indoors with the help of FoneGeek iOS Location Changer. This powerful tool enables you to change your GPS location to anywhere you want in the world, without any limitations or having to jailbreak your phone.
Furthermore, you can as well simulate the movement of your Pokémon character at a customized speed within the game. Besides that, FoneGeek iOS Location Changer is available for all iOS devices (even iPhone 15/14) and it is also compatible with most Android devices such as Google Pixel, One Plus, Samsung, and Motorola.
Here's how you can mock GPS with the Pokémon joystick using FoneGeek iOS Location Changer:
Step 1: Get your phone connected to a Computer/Mac
Start by downloading FoneGeek iOS Location Changer for free and then installing it on your PC. Launch the tool and head to the Get Started button and click on it. Get the phone that has the Pokémon Go game installed and using a USB cable, connect it to the computer.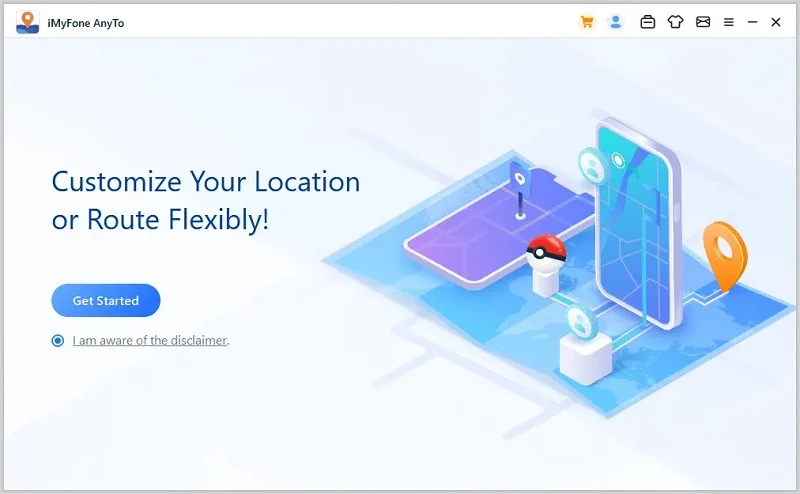 Step 2: Choose a location
When your phone is connected, the program will display a map-like interface. Head to Teleport Mode (the 3rd icon in the upper-right corner) and click on it.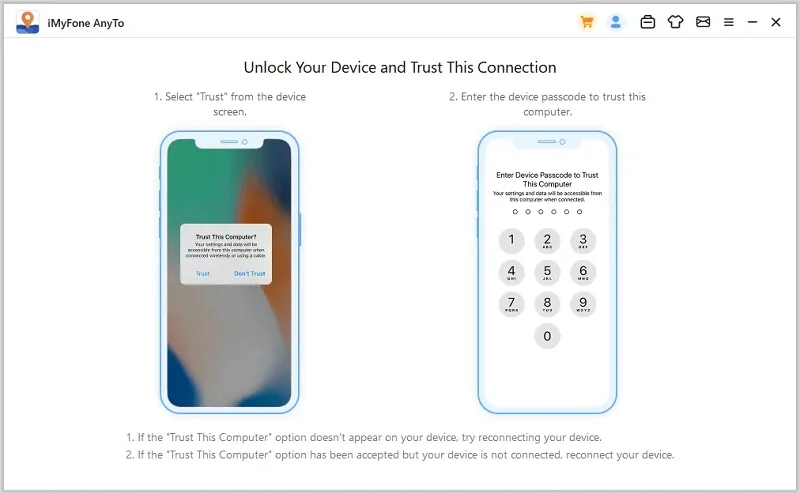 From there, you can now zoom or drag the map to choose a particular location for your game. Alternatively, you can simply type the coordinates or location itself on the search bar. After clicking a location, a sidebar will pop up, displaying information related to the selected location.
Step 3: Pokémon Go Joystick is now set on your iOS/Android device
Once you have a location selected, click on Move. That's all! Your location is now changed with just a single click. You can confirm the location on your device. Even the location within the game is changed too. Therefore, you can travel anywhere you want to easily fake the GPS joystick location.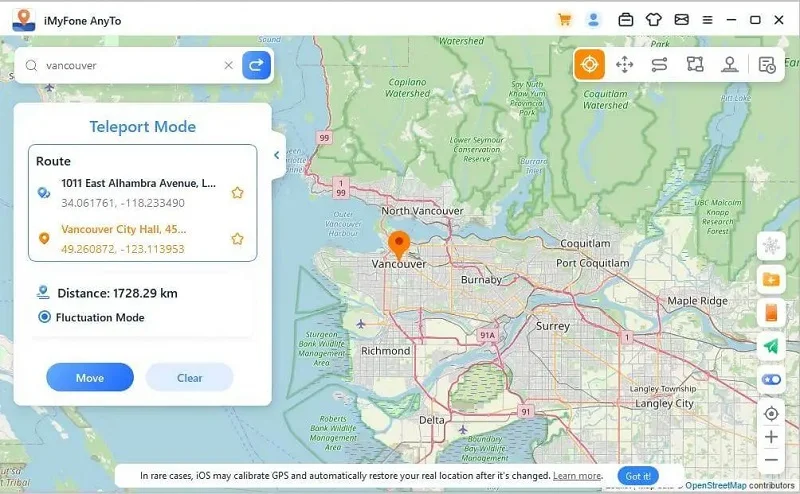 Pokémon Go Joystick Hacks for Mobile Phone
iPogo (for iOS & Android)
iPogo was actually rated as the top Pokémon Go mobile spoofer, featuring a joystick after iSpoofer was no longer available. It's available for both iOS and Android devices but the Android version is still in the Beta phase.
You can get the trial version for free if you join their Discord, however, there's a monthly subscription that costs $5, but you can also buy the app on Signulus with an annual subscription of $19.99.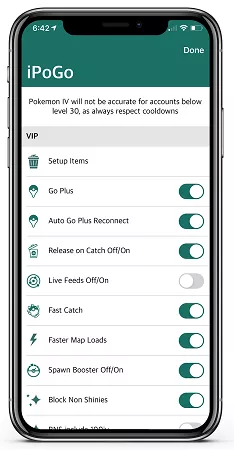 TweakBox (for iOS)
TweakBox is basically a third-party app store that features modified versions of many apps. With it, you can access and play a tweaked version of the Pokémon Go game that has a fake location and GPS joystick. The joystick option enables you to easily fake your locations in seconds and move around while still indoors.
The modified Pokémon Go also utilizes advanced algorithms hence delivering very realistic GPS values. In general, TweakBox is a great app store that you can use to get the Pokémon Go joystick iOS for free - you can install the app directly from Safari.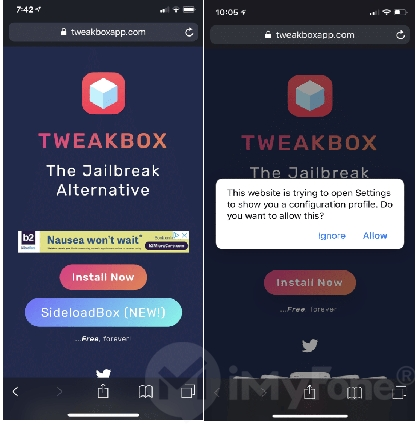 PGSharp (for Android)
The PGSharp app currently stands out as the top Android Pokémon Go Spoofer. It features a native Pokémon Joystick Android which you can use to control your Pokémon character and take it all over the world. The app also offers other amazing features including auto walk, 100 IV feed, and nearby radar.
It works with all Android phones and requires no root. The free version works well, but there's also a standard version with a $5 monthly subscription. It offers extra features like quick catch, find shiny Pokémon only, and live coordinates feed for every Pokémon.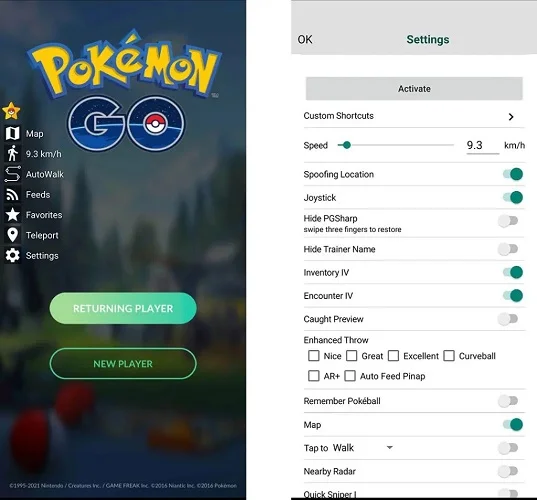 Fake GPS Location - GPS Joystick (for Android)
This Fake GPS Location GPS JoyStick app is purposely designed for Pokémon Go users looking to use an overlay joystick controller to mock their location. It offers up to three different location hack options (Manual, Current, and Last location). This makes it unique, plus you can configure each option according to your exact requirements.
Other exciting features that the app offers include three different speed settings and an automated walk option, which automatically walks your Pokémon character (at your customized pace) to an assigned location.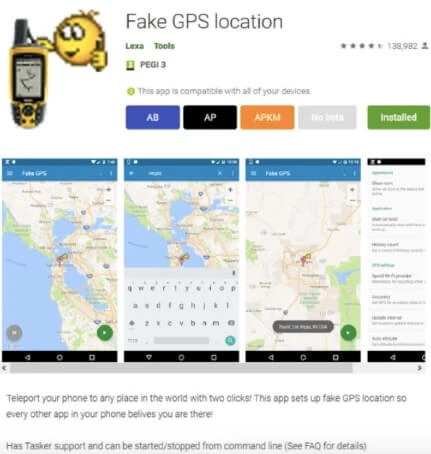 FAQs about Joystick for Pokémon Go
1. What's the best Pokémon Go joystick app?
FoneGeek Location Changer is definitely the best choice if you want to control the Pokémon Go game without any limitations. It's an amazing joystick-supporting app that offers many features and lets you play and enjoy your Pokémon Go game without physically walking or stepping out.
2. Will using the Pokémon Go joystick iOS cause me to get banned?
It's very important to use a safe GPS location spoofing tool when playing Pokémon Go. Faking your location using a joystick for Pokémon Go from an unsecured application will no doubt get checked by Niantic (Pokémon Go's parent company). In case they find that a player has violated their guideline, they will definitely restrict them and even ban them from the game too.
3. How can I use Pokémon Joystick Android on my device?
You can use FoneGeek Location Changer for Android as well to fake location using the joystick for Pokémon Go just like in iOS. You can find many other apps in the Play Store for spoofing GPS in Android devices but you have to be really careful when using them.
Conclusion
Not everyone has the time or is able to get out or travel the world to catch Pokémon every day. If you're one of them, then you can still play and fully enjoy your Pokémon Go game while seated in your home by using any of the top Pokémon Go joystick options we've shared above.
The FoneGeek iOS Location Changer is certainly the perfect option that we would recommend. With it, you can change location on iOS and Android devices quickly and easily, and have all the fun too with its reliable and very effective joystick for Pokémon Go without ever getting out of the house. It simply offers the best way to get the most out of the game, so give it a shot.