Several reasons like playing location-based games (such as Pokémon Go) or accessing geo-restricted content may cause one to change their iPhone's GPS location.
However, while changing GPS location may unlock many possibilities, it's not really a walk in the park. Usually, you have to jailbreak your iPhone/iPad to do it. VPNs do provide an easy alternative, but they also fail to work sometimes.
The best and easiest approach is using a GPS location spoofing tool like Tenorshare iAnyGo, and that's what this post is all about. Below is our detailed review of the Tenorshare iAnyGo, capturing everything you need to know about it, including how to use it and more.
1. What is Tenorshare iAnyGo?
iAnyGo is a great GPS location spoofing tool developed by Tenorshare. You can use it to change the GPS location of your iOS device to anywhere in the world without leaving your home.
It doesn't matter if you live in an urban or rural area. The program tricks your iPhone's GPS into believing it's in a different location. It allows you to fake where you are without having to jailbreak your iPhone. You can use it on either Mac or Windows systems.
Moreover, you can choose one of three locations on the map with Tenoshare iAnyGo tool. It lets you select a location on the map, then designate it as your true location using the default settings.
It also offers Single-Spot and Multi-Spot Movement options for easy movement across the map. Besides regulating your movement, this tool lets you select your desired speed. You can choose from 1m/s to 3.6km/h. According to the developers, the program is 100% secure to use and pauses no risk at all.
2. Key Features of Tenorshare iAnyGo
Tenorshare iAnyGo offers outstanding features which have put it ahead of many similar applications on the market. You can use it to:
Change your iPhone's GPS location anytime, anywhere. With just a single click, you can switch to any location globally. The new location will reflect on every app and service on your iPhone.
Simulate Single Spot Movement. You can focus on just a journey on two points: the start and conclusion points (two distinct locations). It's a feature that's particularly ideal for location-based video games.
Simulate Multi-Spot Movement. With iAnyGo, users can move to many locations. You can simulate a journey/route between two fixed points but have several stops along the way. It's a method that can help map out an exact route for location-spoofing.
Exploit several other practical features beyond the three main capabilities, like saving locations on the map, zooming in/out on the map, accessing historical data/records, and adjusting movement speed. You slide the speed bar on the map to set your preferred GPS movement speed, ranging from 1m/s to 3.6km/h.
3. Tenorshare iAnyGo Pricing
There are four pricing plans that Tenorshare iAnyGo offers for its customers, and all of them are quite affordable and flexible, as you can see below:
1-month plan - supports one PC and up to 5 devices. It's available for $9.95.
1-quarter plan - equally supports 5 devices and one PC but costs $19.95.
1-year plan - covers one PC and 5 mobile devices. It's available for $39.95.
Lifetime plan - supports one PC and 5 devices, which is available for $69.95.
4. Tenorshare iAnyGo Download
The best way to test if this Tenorshare iAnyGo tool really works is to give it a try right now. You can easily download the trial version here. Unlike most similar software, this iPhone GPS spoofing tool has been tested professionally multiple times and confirmed that it contains no Trojans, viruses, adware, malware, or any other malicious software.
5. How to Fake GPS Location with iAnyGo
Tenorshare iAnyGo is very easy to use. It takes just a few clicks to change the GPS location on your iPhone. Just follow these simple steps:
Step 1: Start downloading the Tenorshare iAnyGo program on your Mac or Windows PC. Install and launch it. Once it launches, select Change Location mode if it's not already selected by default.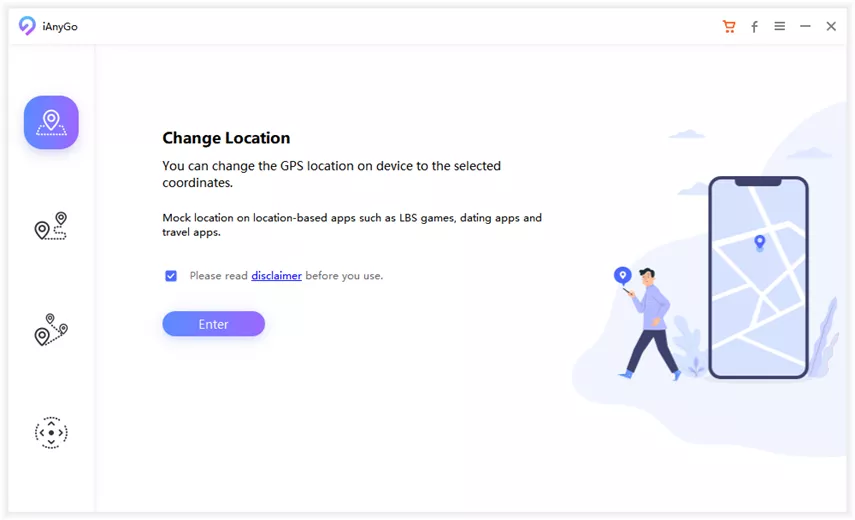 Step 2: Use an original Apple cable to connect your iPhone to the computer. Unlock the device and select the Enter button to starting the spoofing process.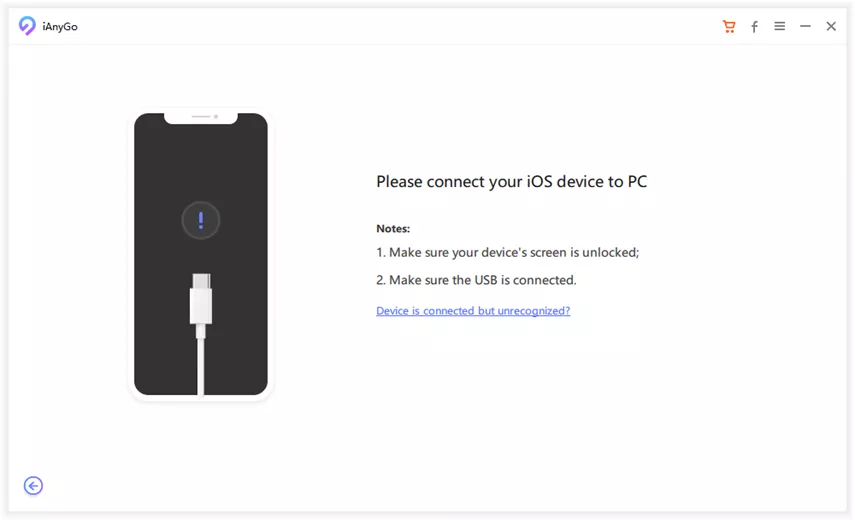 Step 3: Next, select your desired location on the world map displayed on the screen. You can type the address or enter the GPS coordinates in the Search bar.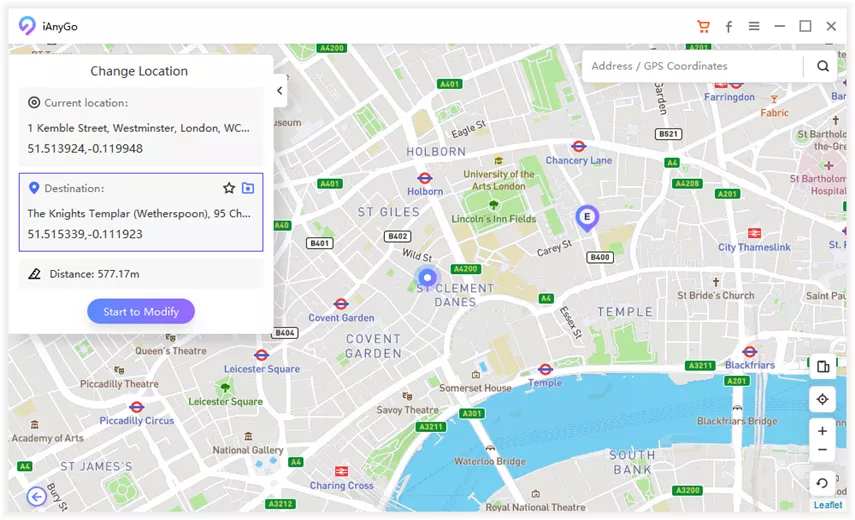 Step 4: Once you choose the location, hit the Start to Modify button to proceed. The program will immediately change your iPhone's GPS location to the new location you selected.
The location of every location-based app on your iPhone, including Facebook, WhatsApp, and Pokémon Go, will also be updated to the fake location. Generally, it's a perfect choice for all location-based games, particularly because of its great features, advantages, and, most importantly, its high-definition GPS map data.
6. FAQS about Tenorshare iAnyGo
What apps Tenorshare iAnyGo supports?
There has been a high demand for location-based Apps over the last decade to the point that they are now must-have apps for almost any smartphone. Tenorshare did well to notice this trend as they have developed their iAnyGo tool to work with all the location-based apps, even the latest ones.
Once you have the iAnyGo installed, you can use it to spoof the location of apps like:
Twitter
Facebook
Instagram
WhatsApp
Telegram
Snapchat
Fitness and workout apps
Location-based games such as Pokémon Go, Ingress, and so on
What devices and system Tenorshare iAnyGo supports?
iAnyGo offers broad compatibility concerning the iOS devices it supports. It's compatible with the latest iOS 16/15 versions and supports iPhone 14/13/12 and nearly all the older models of iPhones and iPads.
Besides that, it works with Mac and Windows systems, which not many location spoofing software do. You can effectively use it with Windows 10/8.1/8/7/Vista/XP (32-bit/64-bit). You can use Mac with macOS 10.11 or a later version if you prefer Mac.
Is iAnyGo Safe to Use?
Yes! Tenorshare affirms that iAnyGo is 100% safe and secure to use as it has undergone rigorous testing by experts, as we mentioned earlier, and was found completely free of viruses.
There are concerns, though, by some Pokémon Go players that they may be banned be caught using this Tenorshare iAnyGo tool. Well, the gadget does keep a steady walking speed when selected at the beginning, and this can limit your Pokémon Go account.
Do you have to pay for iAnyGo?
Yes! A free Tenorshare iAnyGo download is available on the company's official website. You can head there and download this free trial version and try out the location spoofing function to the fullest.
Note, though, that you'll only be able to access limited features with this free trial version. All the software features can only be found in the paid version. Therefore, if you want to access all the features, you must purchase the paid version, or you'll only have limited features.
Does iAnyGo Work with Pokémon Go?
Of course, it does! It's not just safe but also a highly efficient program that allows you to catch Pokémon from any place in the world without going outside. Just make sure you download it from the official Tenorshare website.
7. iAnyGo Alternative: FoneGeek iOS Location Changer
FoneGeek iOS Location Changer is the perfect iAnyGo alternative you can find on the market. If the iAnyGo doesn't work for you, this is the best option. Developed by FoneGeek Software, the FoneGeek iOS Location Changer offers an efficient and secure GPS location spoofing technology that can effectively and easily change the GPS location on your iPhone or iPad to any place you want in the world. It takes just a few clicks to do that. Like the iAnyGo, it's also able to simulate GPS movement and perform other advanced features like customize movement speed, pause anytime, access historical records, etc.
Key Features of FoneGeek iOS Location Changer
Change iPhone/iPad GPS location to anywhere without jailbreak.
Simulate GPS movement between two or multiple points/locations on the map.
Advanced functions - customize speed, pause anytime, access historical records, search location, etc.
Works with every location-based app, such as Pokémon Go, AR games, Ingress, etc.
Broad compatibility - supports iPhone (6 Plus to iPhone 13/14), iOS (7 to iOS 16), and iPad (8/7/6/5 to iPad Pro).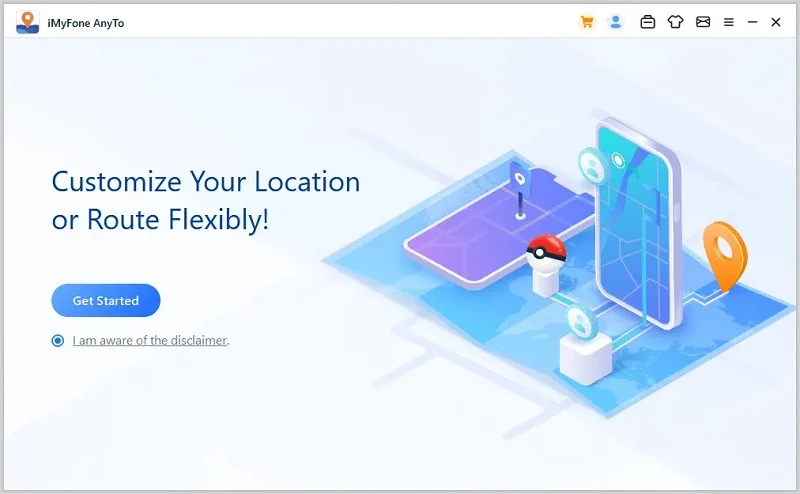 Final Words
From the detailed Tenorshare iAnyGo review above, you would agree that iAnyGo is a great GPS location spoofing tool and allows you easily change your iPhone's GPS location to any place you want in the world. It's very simple to utilize.
However, the FoneGeek iOS Location Changer is superior despite being an alternative option. It's as simple and effective as the iAnyGo at spoofing iPhone/iPad GPS location. Still, its additional functions and broader compatibility in terms of devices make it stand out more. We highly recommend it, especially if you want to do more than just spoofing GPS location.