iPhone offers lots of apps and features that not many Apple users are aware of. One good example is Find My. For many users, the purpose of the Find My app is for locating devices when lost, missing, or stolen. However, most are not aware of the "Live Location" feature in the same Find My app.
If you've come across this feature, then like many other users, you may have wondered what does it mean and what is its purpose. So, what does Live mean on Find My? Well, in this detailed guide, we'll break down everything about this "Live" feature on Find My app, including how to turn it on and off, how to use it, its advantages, and much more. Let's get into it.
What Does Live Mean on Find My?
To put it simply, the "Live" feature on Find My app shows the real-time location of iPhone users that have authorized you to monitor them. Apple servers usually have to constantly refresh to provide the location but you don't have to depend on that anymore. With the "Live" function, you get to instantly check every stop of your family members or friends.
It's a feature that has transformed how other iPhone users show up on your Find My feed. Before, you had to refresh the location of others every time to know their whereabouts. As such, it was quite hard to get people's locations in real-time. With the "Live" function, you get to overcome this obstacle, making it very easy to accurately track other iPhone users.
Moreover, the "Live" feature can be really vital when it comes to security. If you have children or friends that wander around a lot, you can be sure of their location and safety. With the feature, you can monitor their movement and direction, and get even more details like their speed, hence you can easily know where exactly they might be headed.
How to Enable Live Location on Find My
As you've seen, Find My is not just for locating devices. You can use it to find people as well, allowing you to know the whereabouts of your loved ones. It is pretty important, not only for keeping an eye on them but also for their safety.
Now that we've cleared the question, "What does Live mean on Find My iPhone?" it's time to know how to turn on this Live Location feature on the Find My app. Follow these easy steps to do that:
Step 1: Launch the Settings app. Tap on Privacy and head to Location Services. Turn it on if it's disabled.
Step 2: Return to Settings, go to the top, and tap your Apple ID. Then tap on Find My and ensure that Find My iPhone and Share My Locations options are on.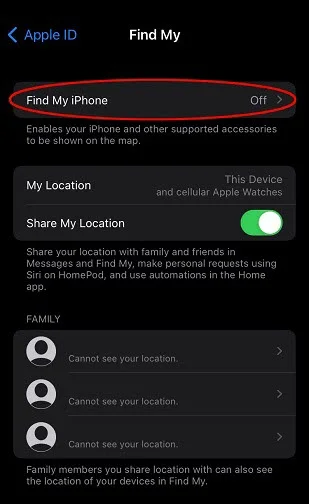 Step 3: Again go to Privacy and tap Location Services. Next, head to Find My and tap it to open it.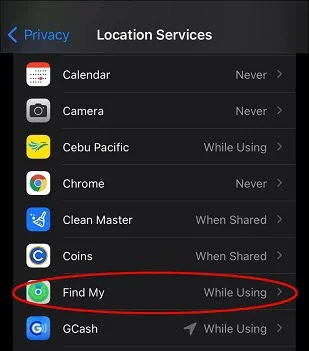 Step 4: Go to Allow Location Services option and select While Using This App. Enable Precise Location if it's off.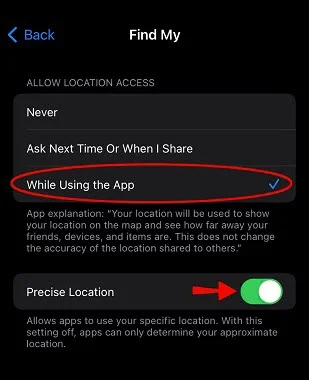 Step 5: Now launch the Find My app and tap on Me (bottom right corner of the screen).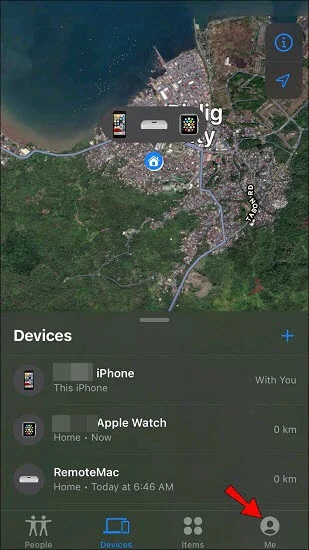 Step 6: Turn on Share My Location. Then restart the app and tap the Start Sharing Location option.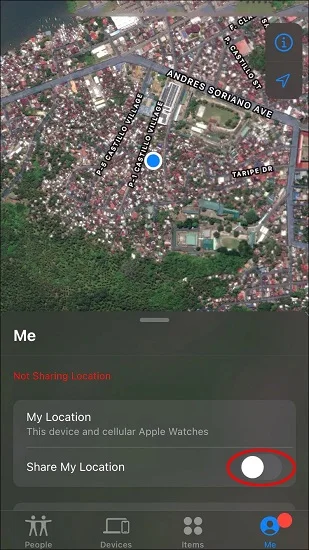 Step 7: Type in the name of the person you wish to share your location with. Then, tap on Send.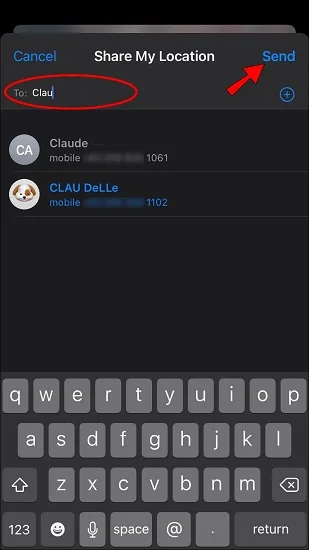 Step 8: Finally, choose the time duration you wish to share the location with the person you've just selected.
After you finish these steps, your Live Location will be successfully enabled and you can share it with anyone you want to.
How to Find People Using Live on Find My
Using the Find My "Live" feature itself is quite easy, hence you won't have any problems finding other people. Follow these steps to see someone that has already allowed you to access and view their location.
Step 1: Launch the Find My app and head to the People section. Check for the particular person you wish to pinpoint.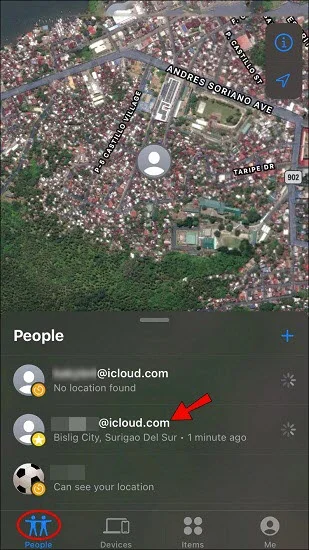 Step 2: You should see their location indicated in the upper section of the map. You can tap on their name to get additional details like their speed and possible destination.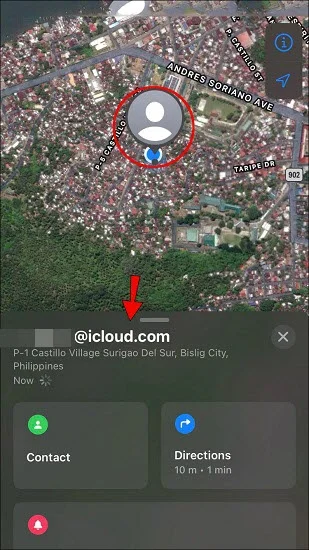 That's how easy it is to locate someone that has shared their location, but what about those that haven't already disclosed their whereabouts? Well, this will require a little more digging.
Step 1: Launch Find My and go to the People section. All the individuals that you've already shared your location with will appear here, but you won't see their location if they have not yet shared it. So, you must send them a request.
Step 2: You can send requests for the Live Locations by heading to the People window and selecting the person with whom you've shared your whereabouts.
Step 3: Head to the Notifications section and tap the prompt that asks you to notify the person you've selected that you want to follow their location.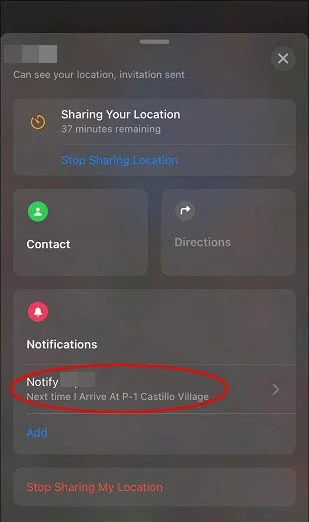 The app will immediately ask the person that you wish to track their live location. They should get a prompt on their screen and if they accept it, then you'll get to see where they are.
How to Find Missing Devices on Find My?
Find My offers great versatility as it's not just people's location, you can also use it to find lost, missing, or stolen devices. Here are steps to finding missing devices on the Find My app:
Step 1: Open your Find My app and tap the Devices option to view the list of all added devices.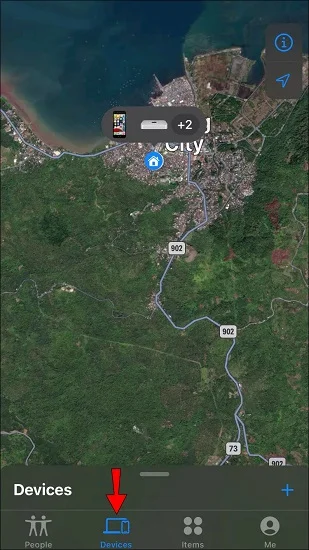 Step 2: Find the missing device and then tap its name. You should now see its location. Besides that, you can mark it as lost or select other options - like remove the device or erase the device.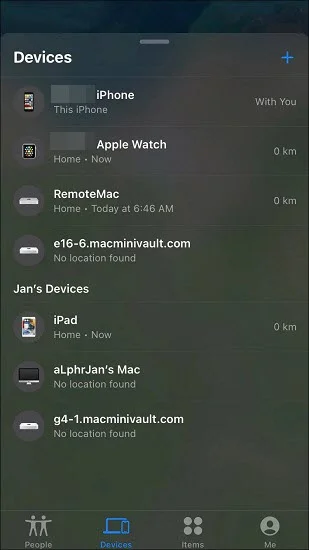 In case you have the notification turned on, you'll get notified when it moves from the registered home address or address of other places like work.
How to Disable Live on Find My
Apple actually made the "Live" feature an integral part of their new iOS ecosystem - you can't turn on Location Sharing without activating Live Location. In short, sharing your location automatically turns on the "Live" function. Therefore, to turn it off, you have to disable Location Sharing. You can do it by:
Open the Find My app and go to the People window.
Select the person that you don't want to see your location.
Now tap on the Stop Sharing Location option when the next screen appears.
Confirm your choice in the dialogue box that pops up.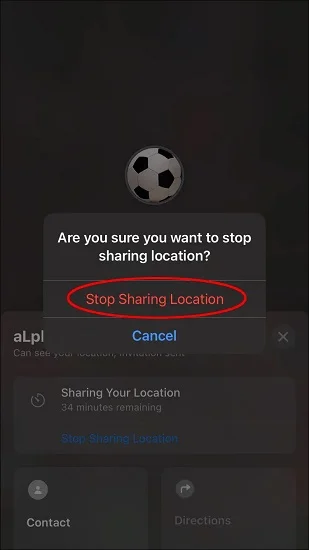 In case you wish to keep your location hidden from everyone, tap the Me window and then toggle the location switch to the grey position.
How to Change the Live Location on Find My
The easiest and most effective way to change your real whereabouts on Live Location is using FoneGeek iOS Location Changer. This is a professional iOS location-spoofing software that allows you to change your iPhone's GPS location. It effectively tricks your iPhone as well as the Find My app to make them think that you're in a different location.
Considering that the Life feature is already set to depend on the GPS location of your iPhone, it will display this fake location to anyone monitoring you. Here's how you can use FoneGeek iOS Location Changer to achieve this.
Download FoneGeek iOS Location Changer. Open it after installing it and tap Get Started.
With your iPhone connected to your computer, unlock your phone and then trust the computer.
Head to the map. Set the location you want and change the speed, as well as other parameters to your preference and then click on Move.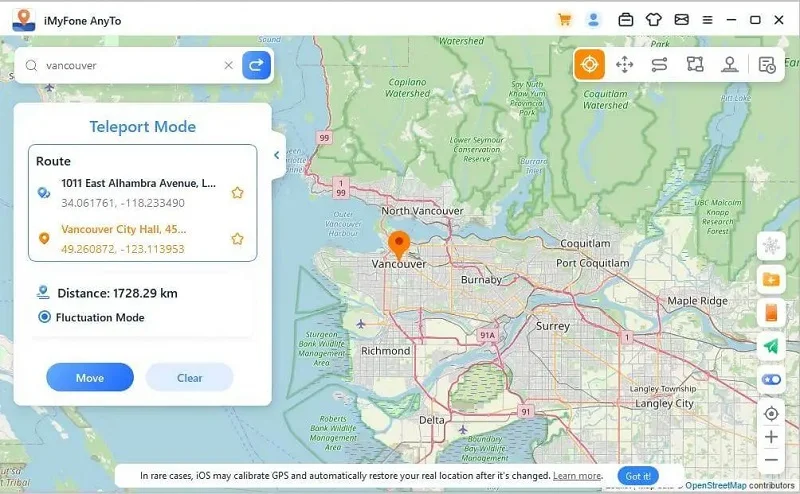 FAQs about the Live Feature on Find My
1. Can I disable Live Location but keep Location Sharing on?
Well, that's not possible. You can't keep Location Sharing active without Live Location being on, since Live Location is set to automatically turn on once Location Sharing is activated/enabled.
2. Is the Live Location the same as the Current Location?
No, it's not. When you share a Live Location, it's not the same as when you share a Current Location. When you share your Current Location, your whereabouts at the exact current period of time is what will be shown. But, when you share your Live Location, your exact and precise whereabouts/location as you move is what will be shown.
3. Is Find My iPhone Live accurate?
Most iPhones' GPS usually has an accuracy of about 20 feet if the satellite signal is strong. But, if the signal is weak, it can decrease to 100 or 1000 feet. Wi-Fi split-up can also cause the accuracy to decrease.
Conclusion
If you're among the many iPhone users that have been wondering," What does Live mean on Find My", then now you know the answer. And also how useful this feature is when it comes to keeping track of your family or friends, whether it's out of concern or just for safety reasons - you get their location and other details in real-time hence saving you from worrying too much. So, enable it now and use it to locate other iPhone users.
You can also change and fake your Live location right on Find My app if you don't want anyone seeing your whereabouts. All you need to do is to get FoneGeek iOS Location Changer. With this software, you can falsify your location anytime whether for security reasons or just for some privacy. Give it a try and see how quickly and easily it works.