2Pac was a legendary rapper whose unique voice was heard by hundreds of millions worldwide. And up until now, it was only possible to hear that voice speaking words he personally recorded.
But now? Now, you can type in any text and have it be read in 2Pac's voice. "How?", you might ask. Enter the AI revolution and AI voice generators.
We're sure you're more than intrigued by all of this. If you want to learn more about 2Pac AI voice generators and how to use them in your projects, scroll down!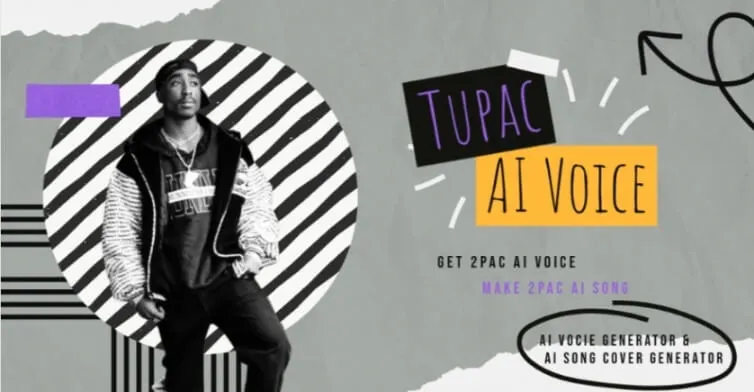 Part 1. Short info about 2Pac
Although almost 30 years have passed since his assassination, 2Pac, whose real name is Tupac Amaru Shakur, is still one of the world's most popular and intriguing rappers. Not many people can boast of this fact, but he managed to stay popular thanks to his charisma, deep voice, appearance, and the social and personal topics he covered in his songs.
The professional career of this fascinating personality lasted only five years (1991 - 1996), during which he succeeded in recording 6 albums and acting in 7 films.
But that's not everything: 2Pac left behind tons of material since he spent a lot of time in the studio, which is why more than 300 songs saw the light of the day after his death.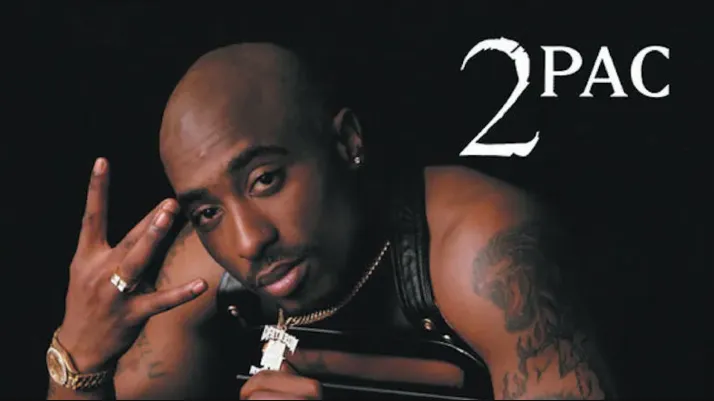 Part 2. Create 2Pac's Voice Using Online AI Voice Generators
#1. FoneGeek Voice Generator
FoneGeek Voice Generator is one of the best currently available online tools when it comes to generating AI voices.
What this tool has going for itself is its multifacetedness since not only can you use it to convert text to speech but to clone your own voice or imitate someone else's with the AI voice cloner.
And it's not only what you can do with this awesome tool; it's also how you can do it: FoneGeek's Voice Generator is operable in more than 3200 different voices and 70 languages.
All that wealth of voices belongs to, well, many famous people such as Rihanna, PewDiePie, Michael Jordan and Joe Biden, and not-so-real characters such as Goku, Mario, and SpongeBob.
The voice we will concentrate on here is, of course, that of 2Pac. Let's take a look at the steps needed to create his voice using FoneGeek Voice Generator.
Step 1. To generate 2Pac's voice with FoneGeek Voice Generator, you must first go to their text-to-speech generator website.
Step 2. To be able to use the tool, you need to have an account registered to this website. Click the "Sign in" button in the top right corner and create an account with your Google or Facebook account.
If you don't want to use either of those accounts, you can register with your email after clicking on "Create account", which is located in the bottom right corner of the pop-up window.
Step 3. After registering, you will be redirected to the aforementioned text-to-speech generator. On the right side, you will see a list of voice model sections such as Musicians, Youtubers, Rappers, and Actors. Click on the Rappers section.
Step 4. On the right-hand side of the website, you will see a textbox in which you can input any text. Enter the text you want 2Pac to speak.
Step 5. Click on the "Convert" button.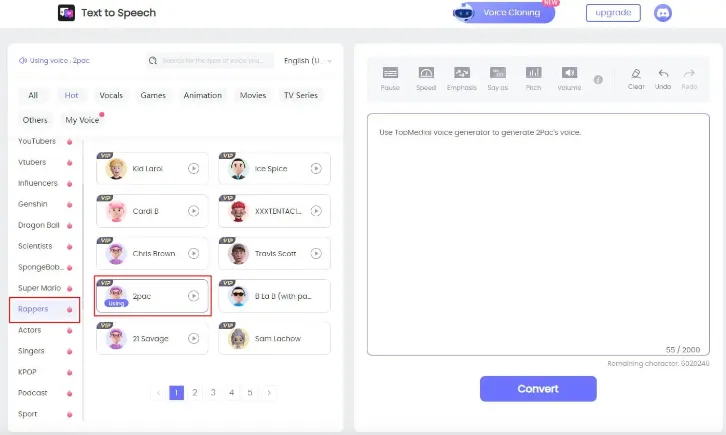 Step 6. Listen to 2Pac speaking the words you entered. Make adjustments to the sample by using tools such as speed, pitch, or volume.
Step 7. Download the sample in formats such as MP3 and WAV.
Step 8. Use the sample in your audio projects or as the audio in your video projects.
#2. Voxmaker
Unictool's Voxmaker is another awesome tool you can utilize to generate all kinds of voices and enhance your audio presence.
In today's modern world, where video and audio content is consumed by almost everyone, the features of Unictool's Voxmaker are more than suitable for anyone creating, selling, or entertaining online.
Similarly to FoneGeek's Voice Generator, it's equipped with more than 3200 voices and 46 languages that will surely meet all your voice generating, dubbing, voice-over, and voice cloning needs.
Voxmaker goes a step further in some regards, though, since this application also has features such as voice fusion (create a completely new sound based on two different sounds you upload), voice-to-voice, speech-to-text, and AI-generated rap.
Here is a short tutorial on how to use Voxmaker to create samples with 2Pac's voice.
Step 1. Head to Unictool's voice generator website. Click on the "Try it free" button to download the Voxmaker. After downloading this tool, install it on your computer and run it.
Step 2. Click on the "Text to Speech" button, which is located on the left side of the app. Type in the text in the textbox you will see in the center. Alternatively, you can import a script in formats such as PDF, DOC, JPG, and PNG.
Step 3. The top right corner of the Voxmaker window features the picture, name, and description of the person whose voice you're using to read the text. Below it is a "Change voice" button. Click on it and type in 2pc into the search bar to get 2Pac voice. Select 2pc and then click the "Use" button, which you can see in the bottom left corner.
Step 4. After buying a plan, click on the "Convert" button to create and listen to a sample in which 2Pac reads the text you input. If you want, you can adjust the sample by utilizing settings such as pitch and speed.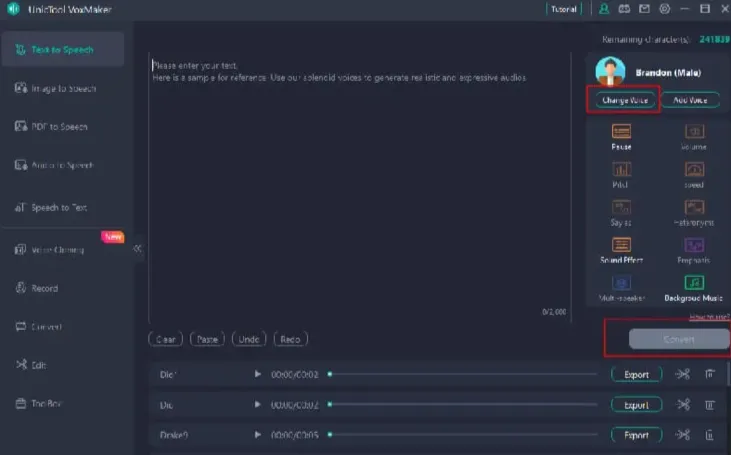 Step 5. Export the sample in one of the MP3, WAV, or AAC formats.
Step 6. Incorporate the sample into your audio and video projects.
Part 3. Frequently Asked Questions (FAQ) Regarding 2Pac's AI Voice
Q1. On which mechanism does the 2Pac AI voice generator operate?
In order to produce a voice that sounds like Tupac, the voice generator uses natural language processing techniques and deep learning algorithms. These techniques and algorithms are fed tons of real voice recordings of Tupac from audio and video content he recorded during his lifetime.
Q2. How can 2Pac's AI voice be incorporated into projects?
As we mentioned in the tutorials part of the article, 2Pac's AI voice can be recorded and downloaded, which means you can add or combine it with any form of audio content you want to create: songs, podcasts, audio for videos, audio movies, music producing, dubbing, voice-over. The possibilities are basically endless.
Q3. How can you clone 2Pac's voice legally?
Cloning 2Pac's voice is legal with tools such as FoneGeek Voice Generator and Voxmaker Voice Generator.
However, if you plan to use his voice in commercial or public domains, you must obtain certain authorization since the legality of replicating Tupac's voice hinges on copyright regulations.
Q4. Is it possible to use AI-generated voices commercially?
Yes. As we just mentioned in the previous question regarding the legality of replicating 2Pac's voice, it is possible to use AI-generated voice for commercial purposes as long as necessary licenses and permissions are obtained.
Q5. Is 2Pac's death associated with any conspiracy theory?
There are several conspiracy theories associated with 2Pac's death, such as him faking his death, government agencies assassinating him due to his political activism and influence, and 2Pac being murdered as a part of the East Coast-West Coast Feud.
However, to this day, all of these and other conspiracy theories have remained just that: conspiracy theories.
Conclusion
Well, now you have two great 2pac ai voice generator free online tools at your disposal with which you can revive 2Pac in a matter of minutes if not seconds.
Not only can you revive him, but you can also be one of those to immortalize 2Pac by using custom-made samples featuring his voice in your projects. Go and have fun!