Drake's catchy lyrics, unique style of rapping, and interesting personality have made him a global icon in the music industry. His distinct voice alone is instantly recognizable by many people worldwide. Now, with the help of AI voice generators, you can incorporate the same iconic Drake voice into your audio projects.
Just imagine how fascinated your audience will be when they hear your audio blogs, podcasts, or videos in Drake's voice. It will be an incredible experience no doubt. To help you do that, we'll introduce the 4 top Drake AI voice generators in this post. We'll look at their features and also share their pros and cons. So, let's go!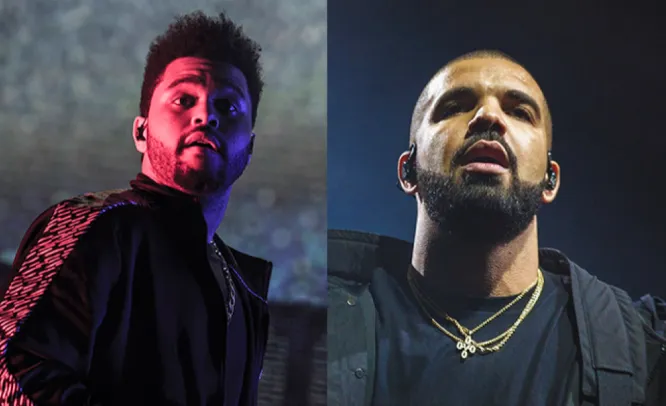 Who is Drake?
Drake is widely known as a Canadian rapper and singer, but he is more than that. He is also an actor, songwriter and entrepreneur. His real name is actually Aubrey Drake Graham, born in Toronto, Canada on October 24, 1986. Before moving to music, Drake was an actor on a Canadian television show called, "Degrassi: The Next Generation".
The smooth melodies, versatile flow, and catchy lyrics of Drake's music, which is a blend of hip-hop, pop, and R&B, have captivated fans all over the world. Some of his successful albums include "Views", "Take Care", and "Nothing Was the Same". All these albums have attained multi-platinum status.
The superstar also has many singles that have topped music charts worldwide, including "Hotline Bling" "God's Plan" and "One Dance". His music career has been truly successful, which has earned him various awards like four Grammy Awards and six American Music Awards. On top of those, he has won 27 Billboard Music Awards.
Drake's interesting personality and relatable lyrics are part of what has made him very popular and allowed many people to connect with his music. He has millions of fans all over the world and enjoys a huge following on social media. There's no doubt that Drake is among the most successful and influential artists of his time. With that brief background about Drake, I bet you now want to try the Drake AI voice. If so, check out the following Drake AI voice generator.
Top 4 Drake AI Voice Generators Worth Trying
To convert your voice to sound exactly like Drake, you need a reliable Drake AI voice generator. Below are 4 of the best options we've handpicked for you.
FoneGeek Drake AI Voice Changer
If you ever wanted to have the same speaking or singing voice as Drake or become various characters with different voices in a game, FoneGeek Voice Changer can help you do that. This special tool offers a diverse range of natural-sounding voice effects that can instantly transform your voice or written text into different personas, creatures, and accents.
It can even transform your voice into the voice of an iconic artist like Drake or a popular character from any movie or TV show you like. So, whether you want to make your videos more charming, embody virtual characters in games flawlessly, prank your friends, or make your everyday conversations interesting, you can rely on FoneGeek Voice Changer.
Key Features of FoneGeek Voice Changer:
Modify Voice in real-time – Transform your voice into Drake's voice in popular gaming and social platforms such as Discord, Zoom, VRChat, Roblox, DAWs, OBS, YouTube, TikTok, etc.
Access more than 600 voice effects, over 400 soundboard options, and over 200 voice memes - you can sound like a cartoon character, a robot, or a monster. It also supports various rapper voices like Drake, Eminem, Kanye, and Snoop Dogg.
Customize voices - create your own unique and personalized voice effects by changing various voice parameters.
Supports most platforms– change your voice during live streams, voice calls, online gaming, or other interactive activities on popular communication and streaming platforms.
Effortless control of voice effects – offers customizable hotkeys and shortcuts that you can use to modify voice effects or switch between different voices instantly.
Advanced AI voice technology- with its powerful AI voice technology, this voice changer generates human-like voices that sound just like the original voices.
Real Drake voice – sound exactly like Drake in your audio recordings with the MagicVox Drake AI voice changer. It accurately recreates the voice of Drake, including his unique vocal style and tone.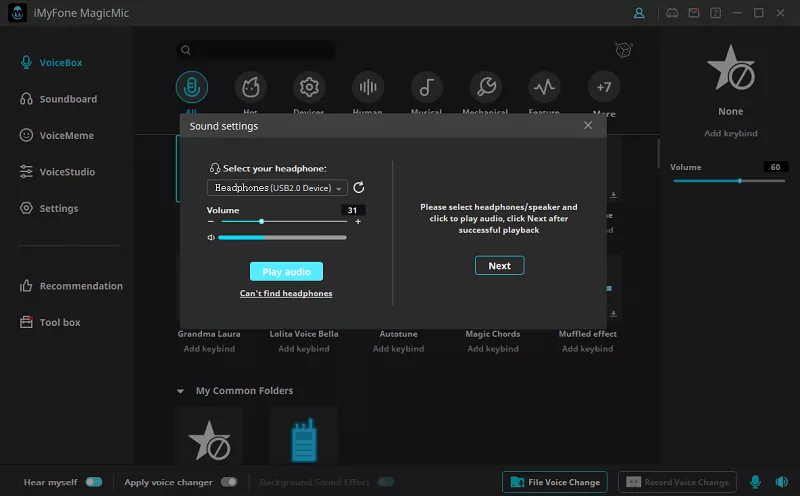 Note
You can do real-time voice change and soundboard with FoneGeek Voice Changer to convert your voice into different characters and effects. While it doesn't have the Drake voice text-to-speech option, it allows you to sound like Drake during gaming or live streaming.
Uberduck
With Uberduck, you don't have to download any software to generate Drake's voice. It's a free online Drake AI voice generator that allows you to create audio or voiceovers with Drake AI voice wherever and whenever you want. The tool itself is secure and you can use it to transform your text or voice into authentic Drake's voice.
Key Features of Uberduck:
Has a diverse voice library – over 4000 voices, including celebrity voices.
Generates authentic celebrity voices.
It allows customization of voice effects.
Integrates easily with other platforms.
New updates are released regularly.

Pros:
You can get great quality AI-created voices, including Drake AI voice.
Offers access to various voices like Super Mario, Duke Nukem, WWE wrestlers, etc.
The voice synthesis process is fast.
Includes a feature for creating AI-generated raps.
Cons:
You must connect to the internet to access it.
It requires registration first to use it.
FakeYou.com
If you want another online free Drake AI voice generator, FakeYou.com is a good option. The AI voices it generates, including Drake's, sound so natural and human-like that no one will suspect they are fake for a few minutes. This web-based Drake AI voice generator gives you over 2,700 voice effects to explore. You can simply select your preferred voice and convert your text to speech in the selected deep fake voice.
Key Features of FakeYou.com:
You'll access over 2,700 deeply customized voices.
It offers various voices of celebrities, cartoon characters, and many popular online figures.
Generate voices in different languages like German, French, etc.
You can get help from the community or live chat.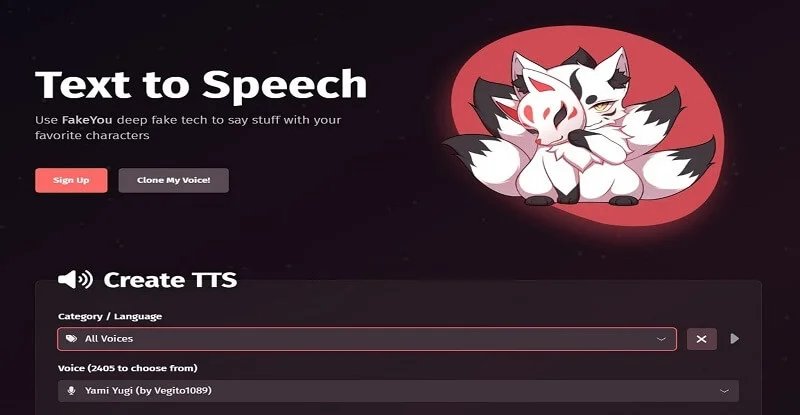 Pros:
FakeYou's simple UI is ideal for beginners and experienced users.
It's a free, web-based Drake AI voice generator.
It has a valid SSL certificate.
You can convert large text files to speech fast.
Cons:
It makes verbal mistakes when converting large text files.
It doesn't allow customization of AI voices.
Voice.ai
For real-time Drake voice changing, voice.ai is the ultimate choice. With this advanced AI voice generator, you can sound just like Drake when streaming, gaming online, or voice chatting. The platform has a large community of users who create their own AI voices. You'll find many different versions of Drake's voice with ratings to help you choose the best one.
Key Features of Voice.ai:
It features a broad range of AI voices, including Drake's voice.
Uses advanced AI algorithms to generate quality voices.
It offers multiple natural-sounding AI voice samples.
You can change voice settings.
It supports various languages and accents.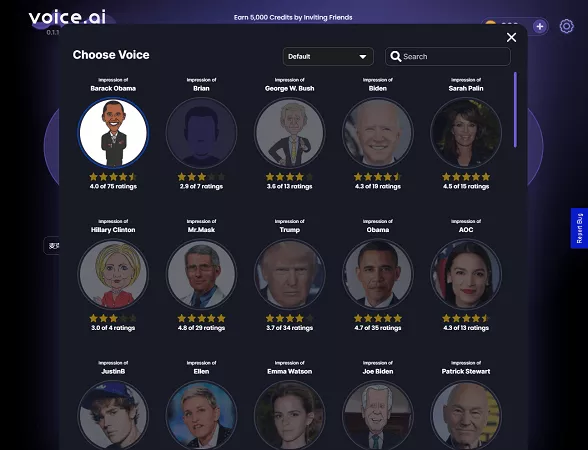 Pros:
It has powerful algorithms that generate Drake's voice for different real-time uses like gaming, streaming, and creating content.
It's compatible with various games to give you a unique voice of different characters or celebrities like Drake, Morgan Freeman, Will Smith, and more.
It allows you to merge different sound effects and produce an AI-generated voice that's unique and personalized for your soundboard.
Cons:
The platform often contains bugs, glitches, or errors.
It's not compatible with Mac computers.
FAQs about Drake AI Voice Generator
Q1. Is there a Drake Song that was AI-generated?
Yes, there is. Drake's songs like "Heart on My Sleeve" and "Not a Game" were AI-generated.
Q2. How can I generate Drake's voice with a text-to-speech online tool?
To create text-to-speech voice of Drake online, you need a text to speech tool or software that has the Drake voice option. A good example is FoneGeek text-to-speech AI voice generator. It provides an extensive variety of AI voices, including Drake's voice.
Q3. Is it safe to use Uberduck?
It's generally safe to use Uberduck. The platform has put measures to ensure user privacy and security. It's also designed to protect user data. Still, though, we recommend you go through their terms of service and privacy policy so that you can know how they handle your data.
Q4. What AI voice generator is ideal for rappers?
There are many ideal voice generators for rappers, but it all depends on what you want and prefer. The most popular option, though, is FoneGeek Voice Changer. It has a diverse range of voices, including voices of top rappers like Drake, and all the audio outputs are realistic and of high quality. Look out for things like the quality of the AI voice samples, customization options, ease of use, and cost when selecting the best AI voice generator for rappers.
Q5. Why is Drake's AI voice cover song going viral?
Drake is highly popular and has a large, dedicated fan base, that's why his AI cover song has been trending on social media. Many people are curious and interested in hearing what an AI-generated cover song by Drake sounds like, which indicates the innovative potential that AI has in music creation. What has made the song even more popular on social media platforms is its unique, shareable nature. The immense cultural impact of Drake on platforms like TikTok and the fact that the song is aligned with current trends and challenges have also fueled its virality online.
Conclusion
Drake's unique and recognizable voice is fascinating when your use it on your audio projects or to create content, whether it's podcasts, audio blogs, or funny video clips. You can make this possible using any of the 4 top Drake AI voice generators we've listed above. We strongly recommend FoneGeek Voice Changer as it an delivers authentic, high-quality Drake AI voice. It also offers AI voices of other iconic rappers such as Eminem, Kanye, and Snoop Dogg. Moreover, it allows voice customization and supports text-to-speech conversion, voice cloning, voice recording, and more. It's simply the best in the market, so try it out.