It's 2023, and nobody's questioning the popularity of text-to-speech (TTS) voice generators since these tools are useful for content creation. Whether it's podcasts, videos, songs, audiobooks, audio blogs, or radio, people need realistic voices for their projects, and TTS technology is more than successful at doing that.
A tool that's quite sough-after and that more and more people are utilizing to create awesome audio samples and incorporate into the above types of audio projects is FakeYou Text to Speech.
Anyone who wants to explore FakeYou up close has come to the right place since, in this article, we will give all the details about it, its pros and cons, how to use it, and its best alternatives. Join us below!
1. What is FakeYou Text to Speech?
FakeYou Text to Speech is one of the best tools for conversion of text to speech available at the moment, thanks to which users can easily produce audio samples.
It uses the popular deepfake technology to create more than 3,000 voices belonging to many famous real people and characters. The audio is real and natural, adding to the platform's attractiveness.
Not only that, all the voices you can find on FakeYou are high quality, ensuring people assemble the best-sounding projects. To make things even better, this tool has a community of users and fans who upload their voices.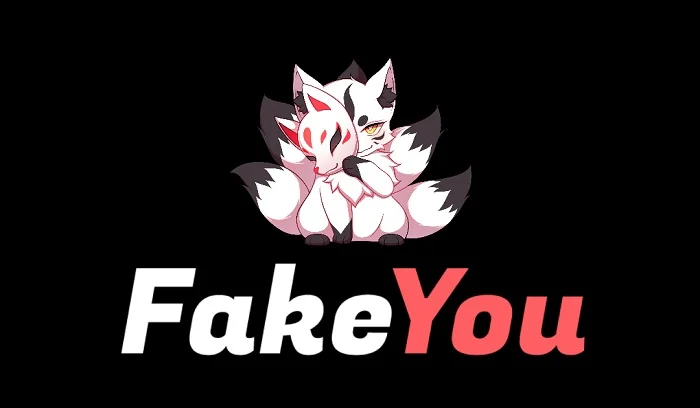 Below is a list of FakeYou's key features:
FakeYou provides top-quality, naturally-sounding, and authentic text-to-speech.
More than 3,200 voices and many audio formats give you much to work with.
Voices are categorized as Anime, Internet famous, Movies, and Real people.
Available in many popular languages, such as English, Spanish, Arabic, and French.
Has an amazingly simple user interface, meaning the learning curve is nonexistent.
Allows users to modify, adjust, and polish audio samples according to their preferences before saving them.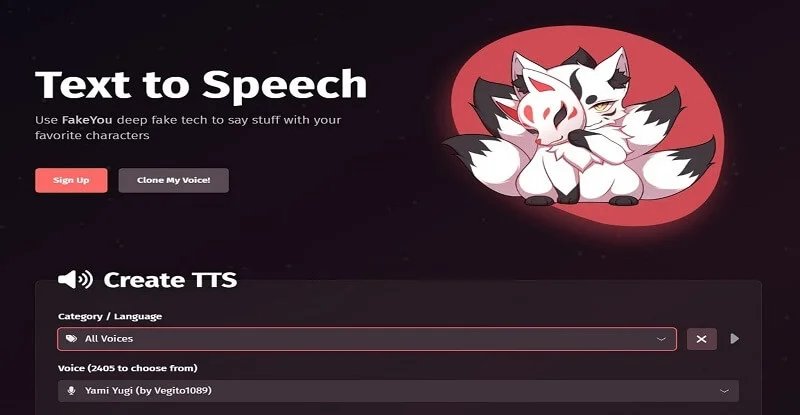 2. Reviews on FakeYou Text to Speech
Okay, now that you've learned about the features of FakeYou Text to Speech, it's time to review this app more closely and list its pros and cons.
Pros
Simple UI combined with the fact that FakeYou is a web-based tool means it's accessible and usable by everyone everywhere.
Since FakeYou is web-based, you can use it regardless of your OS, device, or platform - as long as you have an internet connection, you're good to go.
The hundreds of voices that the FakeYou tool has are customizable and adjustable to fill anyone's needs.
Users can contribute to the FakeYou platform by uploading their voices/models. Thanks to this, the voice database is always growing.
Since FakeYou is sponsored and funded by user and fan communities, it will remain free.
FakeYou allows for enhancements and adjustments so users can refine and improve the output of all voices.
Cons
FakeYou is known to not work or malfunction at times.
Currently, FakeYou lacks recording capabilities, meaning you can only use its text-to-speech functionality.
The speed by which FakeYou converts text to speech may vary depending on your internet connection speed.
3. How to Use FakeYou Text to Speech
We said that FakeYou's simple UI and web-basedness make it easy to use. It's time to demonstrate that in the short tutorial below.
Step 1. Head on to the FakeYou Text to Speech website. Click the "Explore Voices" button to change the language or the voice.
Step 2. Input any text you wish in the text area. Click the "Speak" button.
Step 3. Wait 15 to 20 seconds while the FakeYou Voice Generator processes your request.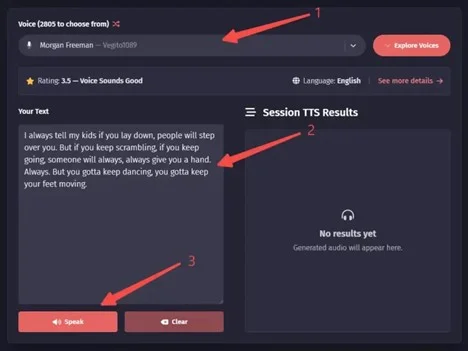 Once it's done processing, you will be presented with a waveform of your audio sample and the name of the character whose voice you used. Click on the "Play" button to hear the audio or "Share & Download" to use the sample you like.
4. Why is FakeYou Text to Speech Not Working?
FakeYou text-to-speech not working is an issue that some users experience every once in a while. If you happen to encounter it, try some of these fixes to resolve it:
Shut down and reopen the browser to check if the problem is related to page loading or if there's some kind of bug that doesn't allow access to the tool.
Get rid of extensions that might interfere with this cloud-based app's functioning. You can uninstall extensions you don't use or disable the ones you need while using the FakeYou voice generator.
Open the FakeYou text-to-speech voice generator in an alternate browser to see if some browser-specific problems prevent FakeYou from working.
Remove antivirus or firewall program(s) since they are known to obstruct normal browser performance, which could cause FakeYou Text to Speech not to work.
Open the voice generator in incognito mode, which doesn't save browsing data or history on your device.
5. Best Alternatives to FakeYou Text to Speech
Let's say you didn't like FakeYou Text to Speech for some reason, but you would still like to play around with a similar tool. In that case, knowing about an alternative to FakeYou TTS would be helpful, right? Well, we're here to help!
FoneGeek Voice Generator
We will start with a very chic-looking tool, the FoneGeek Voice Generator. The aesthetics of this voice-generating app have set it apart and made it one of the best alternatives to FakeYou.
Not only that, FoneGeek has more than 3,200 voices in almost 80 languages. The voices are both real humans and imagined characters, which is why there's no limit to how you can utilize this tool.
The ability to download the audio in many formats and convert it to any of them is another amazing feature of this tool.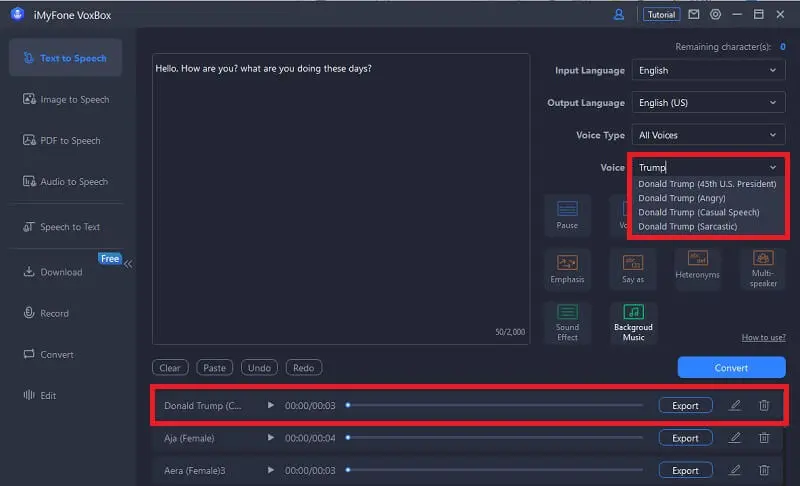 Pros
Comes with speech-to-text conversion, video-to-audio conversion, voice cloning, and audio editing functionalities.
Offers top-notch security for its users, so you don't have to think about your data being leaked or hacked.
FoneGeek's TTS and other functionalities make it utilizable in audio projects.
Cons
The only "bad" thing about it is that it's an app you must install on your computer.
TopMediai
The next best alternative on this list is TopMediai, a cloud-based application in which you can tailor and personalize voices as much as you want in more than 3,200 voices and 70 languages, meaning anyone in the world can use it. Amongst those 3,200+ voices are many famous personalities such as Barack Obama, Cristiano Ronaldo, Leonardo di Caprio, and Shrek.
But that's not all. You can also adjust all those sounds using speed, pitch, or volume settings and make them sound even more natural than they already are.
And if you're not interested in any of that, the good news is that you can generate custom voices. TopMediai has a lot of incredible features.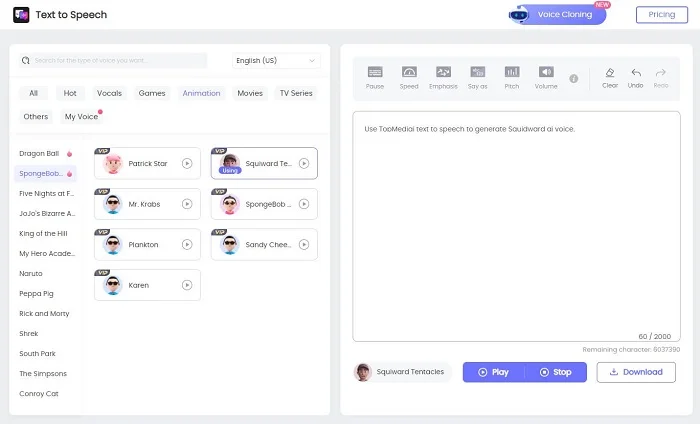 Pros
Lets users customize and design audio clips according to their liking, meaning you can adjust to the requirements of a specific project.
The versatility and adaptability of the TopMediai text-to-speech tool make it suitable for a wide range of use cases and businesses.
Saves time and effort by reducing time spent on voiceover production.
Thanks to the great quality of the voices, anyone can create professional-sounding audio samples.
Cons
You need to have a good internet connection to use TopMediai.
Uberduck.ai
Regular folks don't always appreciate open-source apps because either they're not popular enough or are too hard to use. But that's not the case with Uberduck.ai, which is both easy to handle and quite popular.
However, those are not the best qualities that Uberduck.ai offers: this tool has more than 5,000 (yes!) unique voices, making it one of the richest text-to-speech voice generators in this regard.
The voice richness stems from the fact that regular users can become a part of the community and add to the voice library.
Another thing that makes Uberduck.ai stand out is its API, thanks to which anyone can make and tweak their voices or even deep fake text-to-speech apps. And in high quality!

Pros
Great API, which allows for the creation of completely new and personalized voice-generating apps.
There are lots of prominent features so you can produce first-class quality sounds.
Offers awesome customer support to its users, ensuring no problem stays unsolved.
Uberdruck.ai is a cloud-based tool, so you don't have to store the data on your device.
Cons
The only downside is that you have to pay for the API.
6. FAQs about FakeYou Text to Speech
Is FakeYou Text to Speech safe?
As with any online service, as long as you abide by its terms and conditions, you won't encounter any problems. In other words, FakeYou Text to Speech is safe.
Can you use FakeYou for free?
Yes, you can. FakeYou provides free and premium subscription options. Users who select the free plan will have a smaller number of features and low quality of the audio samples.
Those who choose the paid plans will enjoy more features, high-quality voices, and increased usage allowances. There are three paid plans: Plus ($7 per month), Pro ($15 per month), and Elite ($25 per month).
Can I customize the voice generated by FakeYou?
Yes, you can customize the voice generated by FakeYou in multiple ways. You can speed up/slow down the sample, turn repeat on/off, and change language and gender.
What is the best FakeYou alternative?
There are many text-to-speech applications out there since this technology is quite popular, but the best ones are FoneGeek Voice Generator, TopMediai, and Uberduck.ai.
Conclusion
Thousands of unique voices, lots of languages, trustworthiness, simplicity, and the possibility to use it cost-free are the things that make FakeYou Text to Speech a great voice-generating and cloning tool. If you're working on any audio project, you should utilize FakeYou!
If you aren't a big fan of it, don't fret; there are many great alternatives, such as FoneGeek Voice Generator, TopMediai, and Uberduck.ai. Go and check out them!