Scream is no doubt the best horror movie series in history. In fact, the iconic "ghost-faced" mask that the killer wore during each attack has remained ever-popular. But that's not all. The creepy, distorted, iconic voice of the Ghostface killer has become popular too. Today, people are recreating it for various purposes, including pulling scary pranks on friends, making commentary videos and other fun content.
Others are even using it to hide their original voice while gaming online or during other online interactions. To recreate an authentic Ghostface voice, you need a proper Ghostface voice changer. There's a variety of them out there, but we've narrowed them down to only the best options that do the job effortlessly with great results. So, read on to know more about these Ghostface voice changers.
Who is the Ghostface and the Voice Actor?
What Exactly Is Ghostface?
Well, if you've watched Scream, then you're familiar with the masked Ghostface killer. It's actually a fictional identity that 11 characters have taken on throughout the Scream series. The first appearance of this Ghostface character was in the first Scream movie in 1996. During each attack, the killer wore the iconic Ghostface mask which was terrifying just like his creepy, deep voice. This classic horror movie made a comeback this year on March 31, as Scream VI.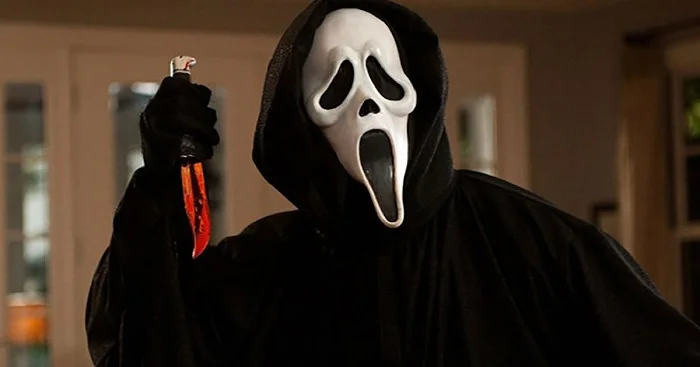 The Voice Actor Behind Ghostface
As said before, the classic Ghostface mask is very popular, but what's even more popular is the Ghostface voice. It has made the Ghostface character an icon in the horror movie genre. But, who's behind this Ghostface voice in Scream? Well, it's none other than Roger L. Jackson who has done it again as Ghostface in the recently released Scream VI. He's not just listed among the greatest voice actors of all time for no reason.
Overall, Ghostface remains to be a horror movie legend. There are millions of Halloween costumes and merchandise of it all over the world. If you want your voice to also sound exactly like the deep and scary Ghostface voice, then you only need the best Ghostface voice changer to do it. Below are some of our top Ghostface voice changer apps for PC that you can consider.
Best Ghostface Voice Changer for Windows & Mac
FoneGeek Voice Changer
There are few Ghostface voice changers that are as versatile as the FoneGeek Voice Changer. It simply offers everything one would look for in a voice changer. The Ghostface voice sounds exactly like the original one with the same creepiness and distortion that makes it terrifying. You only import your audio file and apply the Ghostface voice to it. Also, you can apply it in real-time during online interactions or while playing games online to freak out your friends.
The software has over 125 other voice filters that include creepy sound effects and voices similar to Ghostface like Jigsaw, Vecna, demon, etc. You're allowed to customize all these voices the way you want using the voice studio function. There are even horror background sound effects that you can add to your audio to create your own unique horror environment.
Features of FoneGeek Ghostface Voice Changer
Access to over 125 voice filers and over 600 sound effects.
Ghostface voice plus other similar horror voice effects like Vecna, Jigsaw, etc.
Spooky background sound effects for creating different horror atmospheres.
Apply voice effects to any imported audio file or do real-time voice changing.
Make your Ghostface voice unique to suit your needs using the voice studio function.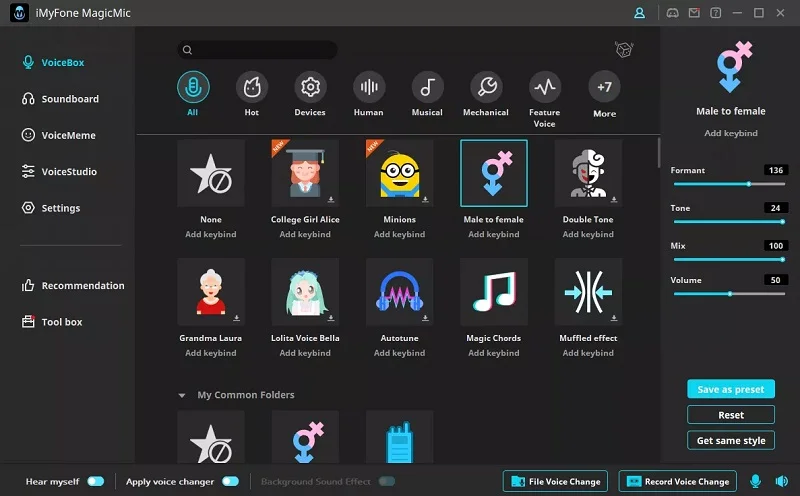 Pros
The provided Ghostface voice is deep, creepy, and terrifying like the original one.
Has a horror theme featuring various other horror voice filters and spooky sound effects.
Lets you do real-time voice changing during calls, online games, and even live streaming.
All the voices can be customized using the sound parameters offered in the voice studio.
You can create a horror environment with many horror background sounds included.
Cons
There are sound effects that don't have the correct name.
The software is quite new and hence not really popular like others.
Voicemod
Voicemod is the best choice if you need a reliable real-time Ghostface voice changer for PC. It can quickly and effectively apply the Ghostface voice in real-time during voice calls, online gaming, streaming, or other online interactions like video calls. Almost all gaming, streaming, and desktop communication apps are compatible with it, including TikTok Live Studio, Skype, Fortnite, and Overwatch.
If you're not into real-time voice changing, you can upload audio files or record sound, then apply the Ghost face voice. There are over 20 other scary voices and various sound effects you can use. You can adjust the pitch to different levels and even add background sound effects to the voices. The software is only ideal for Windows users, though.
Features of Voicemod Scream Voice Changer
Real-time voice-changing during voice calls, gaming, and other online interactions.
Quality Ghostface voice and 20+ other scary voice effects and sound effects.
Upload audio files (MP3 or WAV) or record sound and apply voice effects.
Do voice customization using advanced soundboard and sound changer parameters.
Compatibility with multiple gaming, streaming, and desktop communication apps.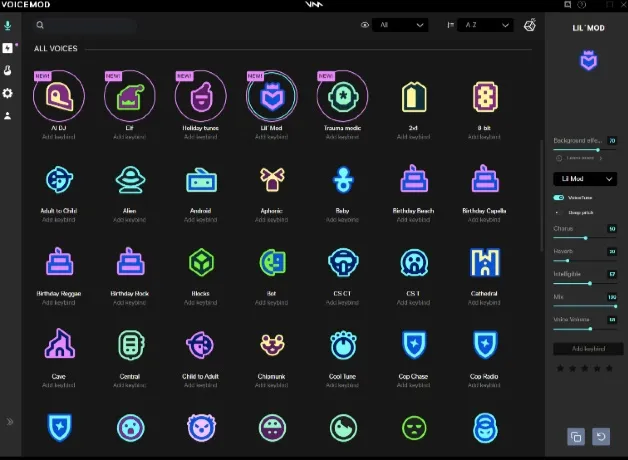 Pros
Allows for quick and easy changing of voice in real-time.
Change the voice to a realistic Ghostface voice or another scary voice effect.
Provides soundboard and parameters for adjusting and improving voice quality.
It's free to use with access to several advanced features.
Modern interface design that's appealing and user-friendly.
Cons
It doesn't work on Mac.
The free plan has limited features.
There are Ads while using the program.
MorphVOX Voice Changer
Screaming Bee is the company behind the MorphVOX voice changer, which is yet another all-around scream voice changer for PCs. Like Voicemod, it allows you to transform you voice in real-time or apply your desired voice effect on your recorded audio file. It easily integrates with various online games and desktop chat programs and sites.
You can edit your voice effects with this voice changer, including removing background noises to enhance the clarity and quality of the scary voice. The software is offered in two versions; MorphVOX Pro (premium version) and MorphVOX Jr (free version). The free version features only three different voice filters - has no creepy Ghostface voice.
Features of MorphVOX Voice Changer
Change voice in real-time or on recorded audio files.
Good collection of voice effects and downloadable sound packs.
Supports further adjusting of voice effects that you choose.
Enhance the clarity of voice effects using an ultra-quiet background cancellation feature.
Add background sound in real-time during voice calls.
Integrates with online gaming, streaming, and chatting programs.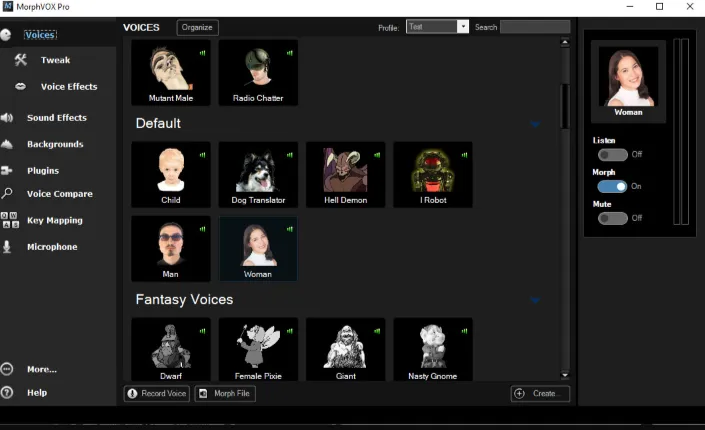 Pros
Quality creepy Ghostface voice and other voice filters.
The MorphVOX Jr version works best for online gaming.
Has several audio packs that you can download separately.
Provides basic and advanced voice editing parameters to enhance the voice effects.
Cons
You can only access 3 voice mods when using the free version.
The creepy Ghost voice is only offered in the Pro version.
Complete beginners may find the interface a bit complex to handle.
Top Ghostface Voice Changer for Android & iPhone
MagicCall [iOS/Android]
For iPhone or Android users, they can use the MagicCall Ghostface voice changer app to prank friends and other loved ones with the frightening Ghostface voice. It has one of the most straightforward, user-friendly interfaces for quick voice changing during calls. The app only takes two stakes for dialing the call and then selecting your desired voice. That's it.
MagicCall offers plenty of voice filters you can change to, including Ghostface voice as well as celebrity voices. Other voices include female, male, traffic, carton, racecar, etc. There's an emoticon section with kiss, clap, laugh, grasp, punch, and various other similar voices. The app also has creepy background sounds that users can add to their Ghostface voice effects.
Features of MagicCall Voice Changer Ghostface App
Make calls with terrifying Ghostface voice to pranks friends.
Play background music during a call.
Plenty of different voice filters, including celebrity voices.
Has various useful background sounds like traffic, concert, birthday, etc.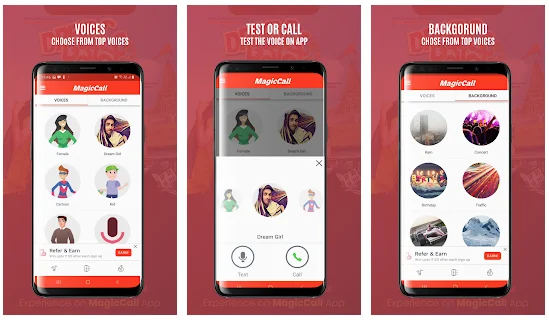 Pros
Simplest scream voice changer app for any beginner.
Works smoothly and there are no data privacy issues.
Offers Ghostface voice and other voice effects for calls.
Cons
It's been having glitches and bugs of late.
The user number is shown at the other end hence making the prank less fun.
FunCalls [iOS/Android]
Just like it's name, FunCalls is a Ghostface voice changer app that offers nothing else but a unique, fun experience. Developed by BNG mobiles, the apps allow users to transform their voice easily in real-time into a scary Ghostface voice or some other common voice filter such as women's voice, helium, animal voice, etc.
What's more, it lets you try out a demo cal first to test the voice effect you've chosen before making the real call with it. You can even use the app to make international calls in your preferred voice effect. It also gives you the option to record your calls with the voice effects and share them with friends.
Features of FunCalls Ghostface Voice Changer App
Modify your voice with scary Ghostface voice in real time.
Includes various common voice effects like women, helium, and animal voices.
Add background sounds to make voice effects more interesting.
Do a demo call to try out the voice effect before actually using it.
Record and download your calls and share them with anyone you want.
Make internal calls in the voice effect you select.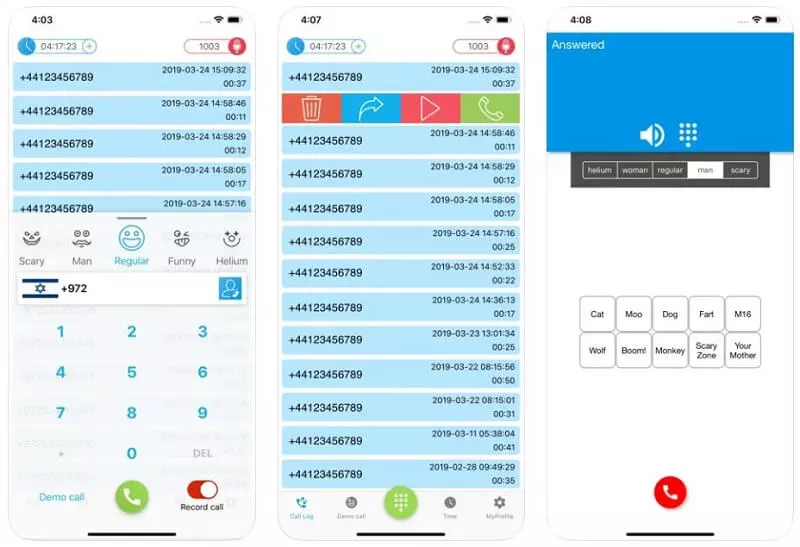 Pros
Has Ghostface voice and other voice effects you can use for real-time voice changing.
Allows you to confirm if the voice effects work before using it in a call.
You can record the altered voice during calls and download it.
Cons
It has limited voice effects.
All the voice effects seem to have a very low volume.
Scary Voice Changer [Android]
Scary Voice Changer is amongst the few scream voice changer apps that are explicitly made for scary voice effects only. While other apps above offer a mix of scary voices and various kinds of other voice filters, the Scary Voice Changer specializes only in scary voices. It has all sorts of scary voices you can use to transform your voice into, including the Ghostface voice.
What's more, the voices sound authentic which makes pranks fun and more believable. The app lets you directly record your voice or upload an audio file and then modify it into your desired scary voice. Even its interface complements the voice effects as all you see are ghost faces.
Features of Scary Voice Changer
Exclusive scary voice effects that sound authentic, including the Ghostface voice.
Directly record your voice or upload recorded audio to change it into a scary voice.
Change pitch and frequency to create a custom voice effect.
Lightweight app for Android devices only.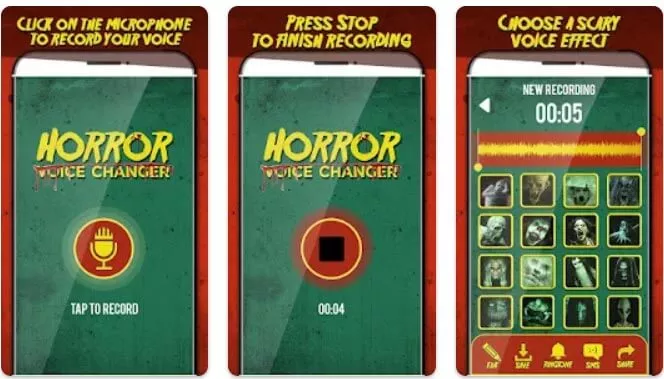 Pros
Has several scary voices you can use to transform your voice into.
All sound effects are of decent quality and sound authentic.
Allows users to customize voice effects by adjusting pitch and frequency.
It's a very lightweight app that takes up very small storage space on the device.
Provides a simple interface for easy recording of voice.
Cons
You can use it for only changing your voice into scary voices.
It doesn't support real-time voice changing.
Scary Voice Changer & Recorder [iOS]
If you're an iOS user, then the Scary Voice Changer & Recorder app should suit you because it's purposely designed for iPhone. Using it is really simple and it comes with a large collection of scary voice effects from the Ghostface voice to spooky screams and animal sounds. Although the app hasn't been around for long like the rest, it works flawlessly on iOS devices and the voice effects are authentic.
Features of Scary Voice Changer & Recorder
Has a decent number of voice effects.
Adjust the speed and the pitch of recorded voice.
User-friendly interface that's easy to comprehend.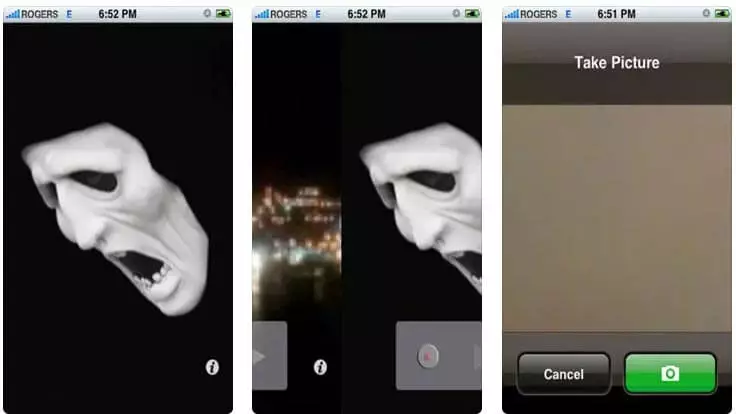 Pros
Quality voice effects for pranking anyone easily.
The speed and pitch of voices can be modified.
Record voice to transform into Ghostface voice.
All the features function smoothly.
Cons
It doesn't have many features.
You can only record your voice.
It has a less attractive interface.
FAQs about Ghostface Voice Changer
We've looked at the best Ghostface voice changers available out there and highlighted their strengths and weaknesses. However, there are still some factors that may not be clear to some people. So, let's get some clarification.
Are Ghostface voice changer apps available?
You can find plenty of voice changer apps and tools for Ghostface out there for different operating systems. Your choice will depend on the device you're using, what you intend to use the voice for, and the features required. Once you have those sorted out, you can choose the most suitable option whether it's online tools, native apps, or hybrid apps.
How can I transform my voice into a Ghostface voice?
If you want to convert your voice to sound like that of Ghostface, then there are apps and online tools that can help you do so automatically. We've highlighted various top Ghostface voice changer apps that you can use and they can all deliver authentic Ghostface voice.
How can I do a head voice screaming?
One way of making the voice scream to sound live is to do real-time vocal exercises as well as several processes such as breath control and relaxation of the body. You'll need to carry out head-voice talking too. It's a process that will take quite a long to perform which means you'll need to practice frequently. For digitized work such as online videos, though, you can recreate this effect using a voice changer app.
How do I make my voice sound creepy?
Well, you can utilize apps and programs that offer the voice-changing feature to have your voice sound creepy, especially when doing digital platform-based functions. Most of them offer a variety of scary voice effects that users can change their voice into during online interactions.
Conclusion
Whether it's for pranks or for creating digital content, you can transform your voice into authentic Ghostface voice using the top Ghostface voice changers listed herein. So, go ahead and select the one that suits your best. However, the best option we can recommend is FoneGeek Voice Changer. It's versatile enough to work on any operating system and offers many advanced and useful features.