Creating a video, podcast, or audiobook with the voice of a president is fascinating, right? Of course, it is. Imagine Joe Biden, Donald Trump, Barack Obama, or even Bill Clinton narrating your video or giving out some hilarious speech that you wrote.
Yes, that's possible. You only need a president AI voice generator, and you can replicate the president's voice you like, including Joe Biden, Obama, Donald Trump, etc. However, picking the right AI voice generator is a bit of a challenge because there are numerous options out there.
Don't worry, though. In this post, I'll share the 6 best AI voice generators for producing president AI voices in 2023. With these amazing tools, you can create realistic voices of U.S. presidents and other world leaders with the same tone and inflection that makes them fascinating. Let's check them out.
FoneGeek Voice Generator: Best President AI Voice Generator
I had heard a lot about FoneGeek Voice Generator, and when I tested it, I quickly realized that the praises weren't a hoax. I fed it with various texts and had President Obama, Trump, and Biden read them. The voices that it produced sounded amazingly real. From the nuances to the tonal variations and inflections, it was like I had summoned the exact voices of U.S. presidents. The tool also has an extensive voice database that includes president AI voices like Biden, Trump, Obama, Bush, and Clinton.
The 3200+ voices can be generated in 46+ languages, meaning you can create diverse content that can reach a wider audience. There are customization options that lets you tweak the voices to your liking, including adding background music to voiceovers to make them more dynamic. Besides text-to-speech conversion, you can even record audio or use a voice clone to generate the AI voices.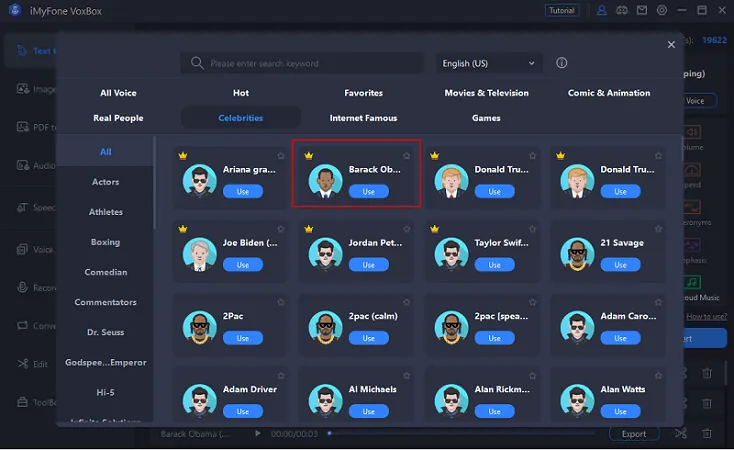 Pros
Generates very realistic voices of various presidents.
Has a large database of voices, including president AI voices.
Offers customization options for enhancing voice outputs.
Supports various input and output formats like WAV, MP3, etc.
Cons
The pricing might be slightly on the higher end for some.
Top 5 Online President AI Voice Generators
Installing software on your device or computer to generate AI voices is not a must. You can use online president AI voice generators instead. Here are 5 top options to consider.
Uberduck.ai
The first time I tested Uberduck.ai, I liked it right away. If you want to exploit the power of AI to create songs and voices, you'll like it, too. While free, this online president text-to-speech generator produces authentic human-like voices. I used it to generate the voices of several presidents and celebrities, and they all sounded real.
The range of voices you can experiment with is also huge, running into thousands. There are voices of presidents like Bill Clinton, celebrities like Morgan Freeman, rappers like Drake, and singers like Lady Gaga. If you want to make your custom voices, you can do that with this Uberduck.ai tool – using its voice conversion technology.

Pros
Free online tool and easy to use.
Generates voices that sound quite real.
Has a huge collection of voices of presidents and celebrities.
Allows you to customize your audio output.
Has a vibrant community where you can access other creators' and voice enthusiasts' work and feedback.
Cons
You can't use the website or access its features without creating an account.
The audio outputs tend to be of low quality.
You may encounter technical problems or some difficulties.
Speechify
The win for me regarding Speechify is the natural-sounding voices it generates when you convert text into audio. I liked its versatility, too. It's a tool for various tasks, including reading emails, books, PDFs, articles, etc. If you need to make voiceovers for your videos, audiobooks, presentations, or websites, it can help you.
I tried the voices of president Obama, Biden, Clinton, and Trump in different languages and accents. They all sounded human-like. The tool has a large library of voices, including those of Queen Elizabeth, Elon Musk, Oprah Winfrey, etc. With these voices, you can give your content that presidential eloquence and authoritative tone that will captivate and persuade your target audience.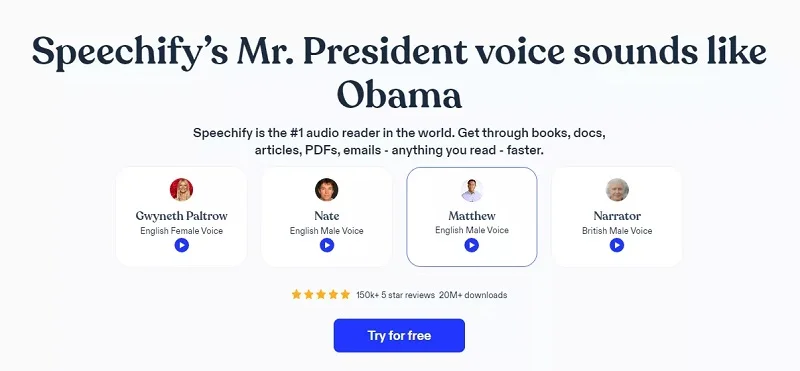 Pros
The AI voices sound natural and human-like.
Offers a large library of voices and languages.
Generates voices fast, and their quality is great.
You can do TTS and voice cloning.
Has options for customizing voices.
Cons
The subscription plans are pretty expensive.
Has little control over voice variation and expression.
Faces ethical issues related to privacy and impersonation.
Murf.ai
The Murf.ai is a platform you'll find quite fun to use. What first stood out was the huge range of voices you can generate in various languages and accents. Once you type your script, there are 120+ text-to-speech voices and 20+ languages and accents that you can choose from to generate the audio you want.
I tried the president's AI voices, and they all sounded like the real thing. These voices will do the magic if you want to add authority and influence to your content or give it a taste of satire and humour. The tool also allows you to adjust the voices' pitch, emphasis, and punctuation so that they can sound even more natural and expressive. You could also sync your content with the voiceovers you create on this platform, as it lets you upload videos, music, and images.
Pros
It has a simple interface.
Provides a broad variety of voices.
The president's AI voices sound real.
Supports voice cloning and includes the option to edit the AI voices.
Cons
It's a pricey tool.
The voice generation time isn't sufficient.
Can experience compatibility issues or latency.
TopMediAI
TopMediAI was the most comprehensive AI voice generator president tool that I tested. The voice library is huge, with over 3200 AI voices and over 70 languages. What won me over, though, was the Real-time Voice Cloning feature. It can create accurate voice replicas from even less-than-perfect audio inputs, something other AI voice generators can't do without quality audio inputs. The AI voices it generates are also pristine. They capture the essence of presidents' voices, from speech patterns to tone and inflection.
The level of customization you can do to the voice outputs with this tool was impressive, too. You can modify the voice's volume, intonation, rhythm, and even linguistic accents, not just pitch and emphasis. Navigating the interface is also seamless due to its intuitive design. As for the pricing, it's pretty flexible. You have various options, like the "Plus-Plan" at $39.99 per month, which is feature-rich and suited for those craving advanced capabilities.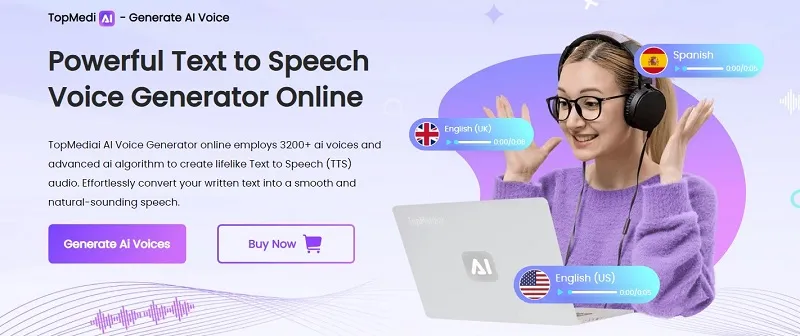 Pros
A comprehensive tool with extensive customization options.
Utilizes a superior voice-cloning technology.
Delivers authentic voice outputs.
Offers various pricing plans to cover diverse needs.
Cons
Beginners may find the range of choices intimidating.
You need a top-tier subscription to access premium features.
Resemble.AI
This list would be incomplete if I didn't include Resemble.AI. What's special about it? It's an extensive library of AI voices. We're talking here of over 200,000 AI voices. It's hard to beat that. Beyond the large voice library, Resemble.AI is a top online president AI voice generator capable of producing realistic, human voiceovers.
Its advanced deep-learning algorithms generate natural-sounding voices that truly capture the essence and even personality of the presidents. Each president's AI voice I tried sounded like a human being speaking, which was impressive. Resemble.AI also allows you to clone your voice, edit audio by typing, and add emotions. You can also transform your voice outputs into various languages or use Resemble.AI's products to detect deep-fake audio.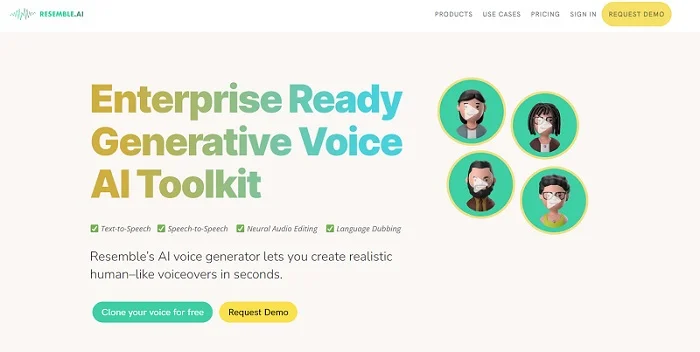 Pros
High-quality voice outputs that sound realistic and expressive.
Using it is simple, and it generates voices fast.
It's flexible and customizable, as well as a safe and ethical platform.
Cons
You have to pay to use any of the versions.
It's prone to occasional errors and glitches.
FAQs about President AI Voice Generator
What does a president AI voice generator mean?
It simply refers to a voice synthesis technology that creates human-like AI voices that sound similar to the voices of real U.S. presidents.
How do these president AI voice generators work?
They utilize deep learning algorithms to emulate, analyze, and replicate the unique intonations, nuances, speech patterns, and other characteristics of the voices of real presidents. The system analyzes vast audio recordings of presidents and then creates a neural network – a digital representation of each president's voice. Therefore, whenever a user inputs text, the system invokes this network to generate a voice using the tone and style of the chosen president, hence producing an eerily realistic voice that resembles that of the real president.
What are the uses of a president AI voice generator?
The president AI voice generators are used for various purposes. If you're a content creator, you can generate president AI voices and use them to create humorous content, from videos to memes. Educators, on the other hand, use them to create learning materials like e-learning content. Video producers can also use the generated AI voices as an alternative to voiceovers instead of getting professional artists. Podcasters, marketers, and even politicians can also use them for advertisements or political campaigns.
Is using a president AI voice generator legal?
If you're using it for non-commercial purposes, probably making personal videos or podcasts, then it's generally considered legal. The problem is using the president AI voice generator for commercial purposes like creating voiceovers for political campaigns or advertisements. In this case, you may need to get proper licensing and permissions before using the voice of any real president – it would be wise to consult a legal expert first.
Can I produce voices in different languages using a president AI voice generator?
Yes, you can. Most of the president AI voice generators offer a large library of languages that users can utilize to generate president AI voices in the language they want. Most of them have 70+ languages that you can choose from. So, you can have the president of your choice speaking in French, Spanish, or Japanese – it's all possible with modern AI.
Conclusion
The 6 president AI voice generators listed above can produce authentic president AI voices you can use in your content. Whether it's Joe Biden's or Barack Obama's voice you want, they will deliver. The online tools work fine, and most have advanced features, but after going through them, I would still recommend FoneGeek Voice Generator. It truly stands out regarding the authenticity of the voices, ease of use, customization features, and overall quality. It's generally a president AI voice generator you can rely on for quality, realistic president voices.