Excel is the most popular software out there for organizing, formatting, and calculating data in a spreadsheet. In other words, Excel lets you view and manage data most easily and efficiently. Among many of its features, Excel enables you to lock a document with a password. This feature is very advantageous when you are dealing with sensitive data and need to prevent unethical access.
While the password protection feature of Excel can be useful, sometimes it can also lead you to hassle. For example, imagine you have added a password to the Excel sheet but later forgot it. This will prevent you from accessing the data on the sheet. In such a situation, you might want to crack the excel password. Well, you have come to the correct place.
In this write-up, we will let you know more about how to excel password. Keep reading!
Part 1. Free Ways to Crack Excel Password
There are different ways to crack an excel password. Some of the ways are free, while others are paid. First, let's begin with the free methods to crack excel sheet password:
Note: The processes mentioned in the article are strictly for cracking excel passwords when you cannot remember them. Utilizing the procedures for unethical use is highly discouraged.
Eliminate MS Excel Password through Google Sheet
Google Sheets is a great alternative to MS Excel, available free of charge. But you will be glad to know that you can also employ Google Sheets to eliminate password protection from Excel worksheets or workbooks. This is the best free and legit method you can consider using. Make sure to take a backup of your Excel file before proceeding to prevent unwanted data loss.
Here are the Pros and Cons of this method:
Pros:
Available at 100% free of charge
You don't need to download any software
100% legit way to unlock
Easily accessible
Cons:
It might not work for all types of excel files
The options are limited
The file structure might not stay exact
Here are the steps you need to pursue to remove excel sheet password by utilizing Google Sheets:
Open Google Sheets. Sign in with your Gmail account to access the service.
Once you are on the Google Spreadsheet's homepage, click "Blank" to open a blank document.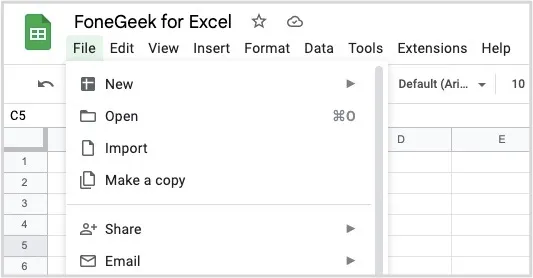 Then click on 'File' from the top-left of the document and select "Import".
Then click "Upload" and upload the password-protected excel file from your computer.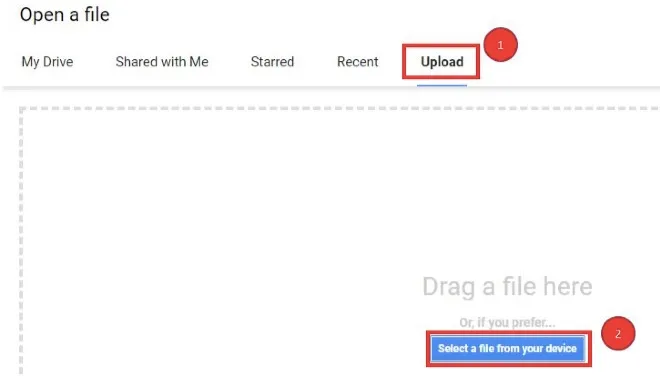 After uploading the protected excel file, you will see a popup screen with some choices. Click "Replace Spreadsheet" and then press "Import data".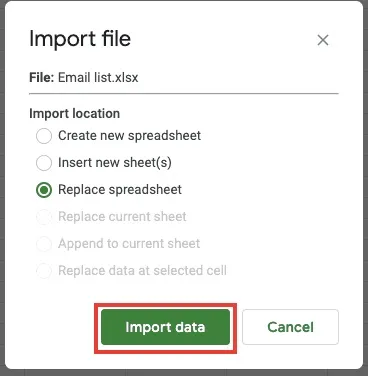 That's it; a copy of your password-protected excel file will be generated on the Google Sheet, which you can edit without any issues. You can either edit it online on Google Sheets or download it to edit offline with MS Excel. To do this, click "Download As" under the "File" option in Google Sheets.
Crack Excel Password via ZIP Software
Another excellent way to crack excel passwords is through ZIP software programs. A lot of us use ZIP software to combine or compress multiple files. It can also be used to remove password protection from your Excel file. Below, you will find the steps to employ ZIP software to crack the excel password:
Download software that enables you to zip. There are many software to do so. Such as, you can use the 7-Zip software.
After downloading and installing the 7-Zip, launch it. Open the excel file on the software. To do this, right-click on the password-protected file, select "Open with", and then choose "7-Zip".
After opening the file, you will find multiple files and folders under it. Find and open the "xl" folder. Then find "Workbook.xml" under the folded. Right-click on it and click "Edit". The XML file will now open on a notepad or other editors available on your PC.

After opening the file on the notepad, you will need to find and remove a tag. The tag is: "". Close the editor once it is completed.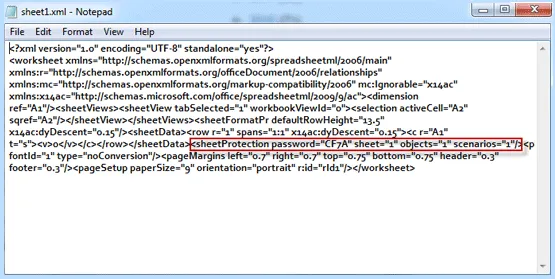 You will see a prompt about replacing the existing file from 7-zip. Select "Yes" to save the changes you have made.
If there is a password lock in the worksheet, you can remove the password by going to xl\worksheets\sheet1.xml and deleting the tag " ".
That's it; the password should be removed from the excel file.
Crack Excel File Password via VBA Code
This is a different method where we will employ Visual Basic Scripting language to sidestep the mechanism excel use to check the password to access the file. The process gives you a temporary password to unlock the file and edit it directly.
Note:
The rocess is suitable for single sheets. Although you can use it on multiple sheets, it will take a lot of time as you will need to code again and again.
Another thing you should note is the process can only work with a numerical password.
Here are the steps to be followed:
Launch Excel and open the Excel worksheet that is locked. To access the VBA code, press the command "ALT+F11" on your keyboard.
Click "Insert" from the top toolbar and click "Module" from the options in the drop-down menu.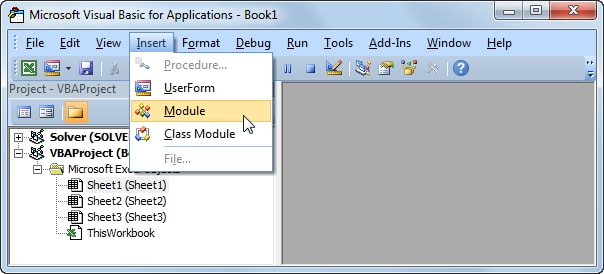 You will see an MS Excel workbook module. Enter the following script code under the "General" window.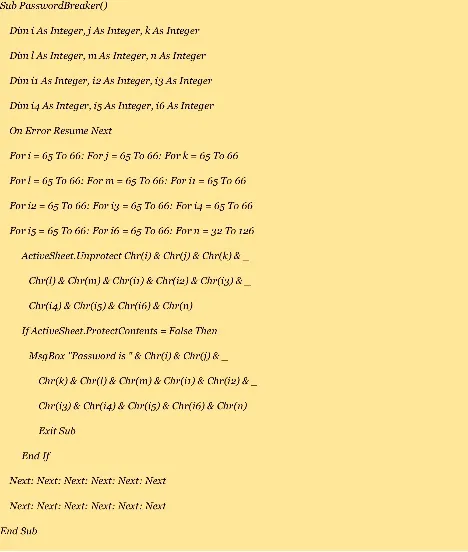 Now press the "Run" button below to begin the process. You can also press the F5 Keyboard key instead of pressing Run.
Once you do so, the process will start and run for a while. Once it is done, you will obtain the password in a small notification window.
Click "Ok" and proceed to unlock the Excel worksheet/workbook to edit it.
Part 2. Paid Ways to Crack Excel Password
There are also some paid tools to crack excel passwords. They enable you to quickly remove password protection from the file with a higher success ratio. Here are some of the best paid tools to crack excel passwords:
Password-Find.com ($19.95/$39.95)
Password-Find.com is one of the best online tools out there that you can consider using to remove workbook/worksheet protection instantly. The software can quickly remove password protection from an Excel file by using highly effective technology.
Here is how to use the tool:
Go to www.password-find.com.
Select "UNRPTOECT YOUR FILE".
Click "Browse" to select the excel file.
Press "Next Step" after uploading the file.
Select "Remove Password" to crack the password or "Find Password" to find the password. Then click "Next Step".
Enter the license key (click "Buy a license" to purchase it) and click "Get full document" to unlock your excel file.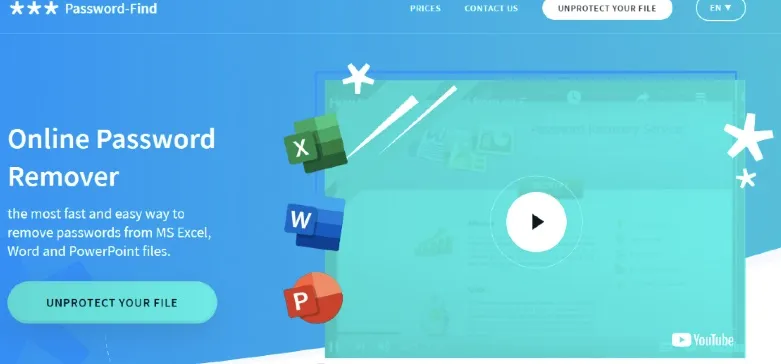 Password-Online.com ($10 Euro)
Password-Online.com is another paid online tool available at a low price and lets you crack excel passwords quickly. It is easy to use and lets you crack the password fast.
Here are the steps you need to pursue to use this method:
Go to www.Password-Online.com and click "Upload your encrypted file".
Upload your file from your PC.
In the next window, enter your email address.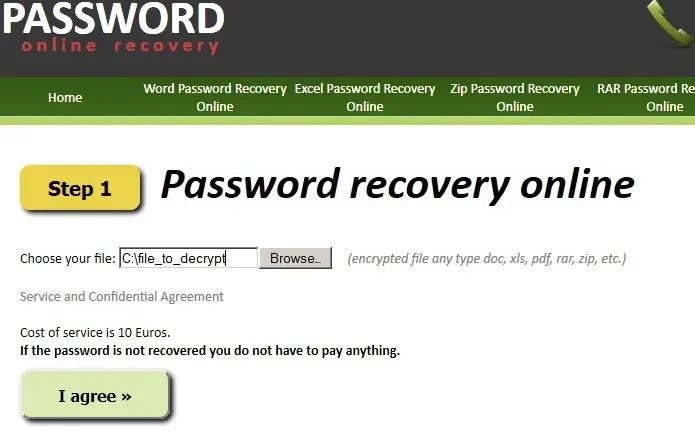 That's it. They will let you know when the process is completed. Once you get their email, you will need to send the payment to access the file.
3rd-Party Software
As you see, the free excel password cracker tools either have limited capability or a low success rate. On the other hand, paid tools are very costly. In this case, you can consider using third-party software like FoneGeek for Excel .
Here is Why You Should Consider FoneGeek for Excel:
A powerful program with four distinct and customized decryption techniques.
Works with all Excel workbooks/worksheets/VBA projects with 100% success rate.
Assure you the data security. No chance of data leakage or data loss.
Pretty easy to use and suitable for people of all experience levels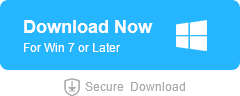 Here is how to utilize FoneGeek for Excel to remove the password restriction:
Download and install

FoneGeek

for Excel. Launch this program and click on "Remove Restrictions" from the available options.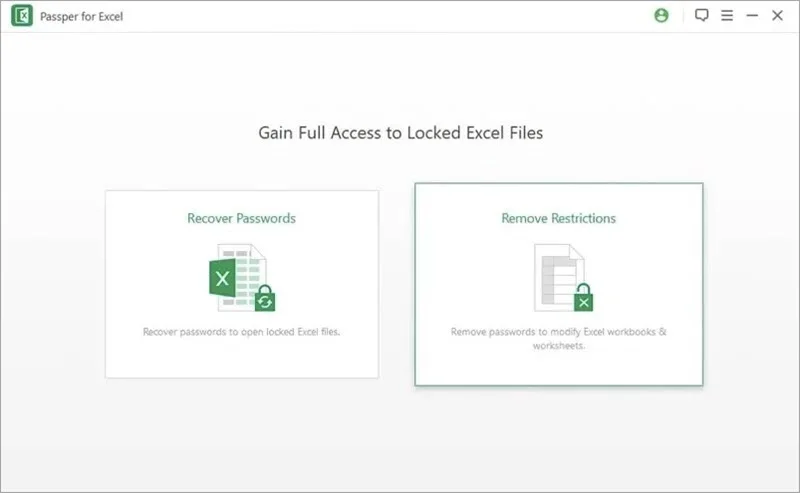 Press the "+" button to upload the password-protected file to the program.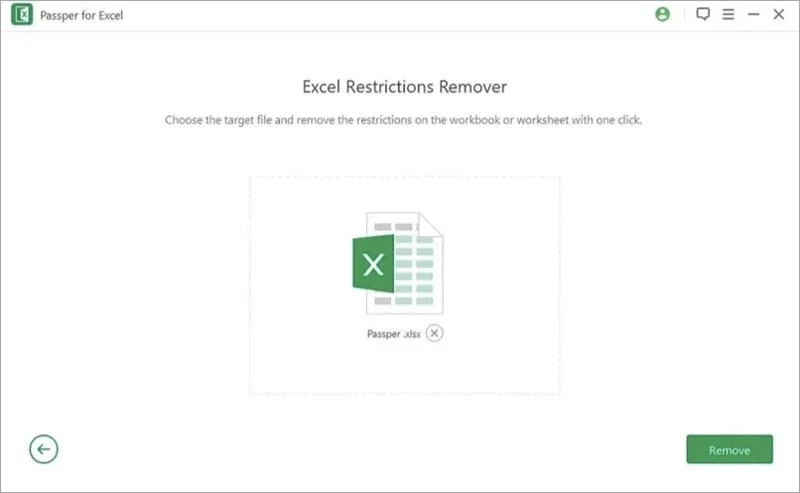 Then, click "Remove" to eliminate all the restrictions associated with the file. The process should be done within a few seconds.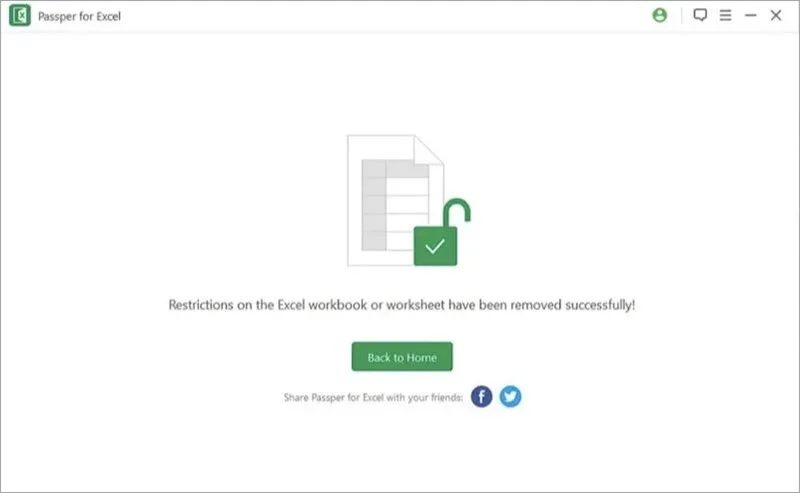 Part 3. Any Difference to Crack Excel Password VBA?
VBA, or Visual Basic for Application, is a feature of Excel that lets the user create and maintain complex datasets like pricing, trading, etc. It lets the users work securely on the management models as well as generate financial ratios on MS Excel. This is why oftentimes VBA is protected with a password.
You will be delighted to know that it is also possible to remove the password of VBA through the VBA password breaker. The goal here is to keep the data secured. So, there are no issues while using tools to remove the password restriction.
Conclusion
We hope the above direction will help you if you are unable to open a password-protected excel file as you forget the password. With the given choices of ways, you should find tools or software to unlock the file. If you want to be fully assured of a successful unlock, go for FoneGeek for Excel. With the qualities it offers, you should be able to easily unlock the file within a short time.