You have an Excel file that's encrypted with a password and you can't open it to view the contents inside because you don't know the password or you've forgotten it. Well, Excel doesn't really offer a command you can use to override the password and open a protected workbook. Even Microsoft doesn't provide any such utility. So, what to do in such a situation? Is there any way to unlock or recover the Excel password?
Yes, there are several solutions to do it. Herein, you'll get to know exactly how to open a password-protected Excel file and get to view the contents inside it. They are pretty simple methods. See them below.
Part 1: Open Password Protected Excel File Without Password
Try Sample/Common passwords
It's pretty simple to open a password-protected Excel file with the correct password. However, if you don't remember the password or don't own the file, one of the first things you can do is to try as many sample/common passwords as you can. Think of all kinds of frequently-used passwords you know.
There's no risk in guessing and trying them because even with many failed attempts, the excel file won't get locked. If this method doesn't work, try the next one.
Remove Excel Password with FoneGeek for Excel
You can use an Excel password recovery tool like FoneGeek for Excel to open your password-protected Excel file when you don't know the password.
FoneGeek for Excel is the best and most effective Excel password recovery software on the market. It can certainly unlock the encrypted Excel file, plus it's quite fast with a 100% success rate. No data in the Excel file gets lost and you can upload Excel files of any size - there's no limitation.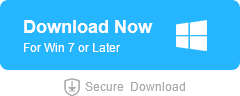 Remove Excel Password with FoneGeek for Excel
You can unprotect the password for an Excel file using this option on FoneGeek for Excel. It easily and quickly removes password protection with just a single click. Moreover, it can be used to remove restrictions from Excel sheets and workbooks, allowing you to modify, copy or print the contents of the Excel sheet or workbook.
Here are the steps to unprotect an Excel sheet without password:
Donwload FoneGeek for Excel. Install it on your PC, then launch it. Click on 'Remove Restrictions'.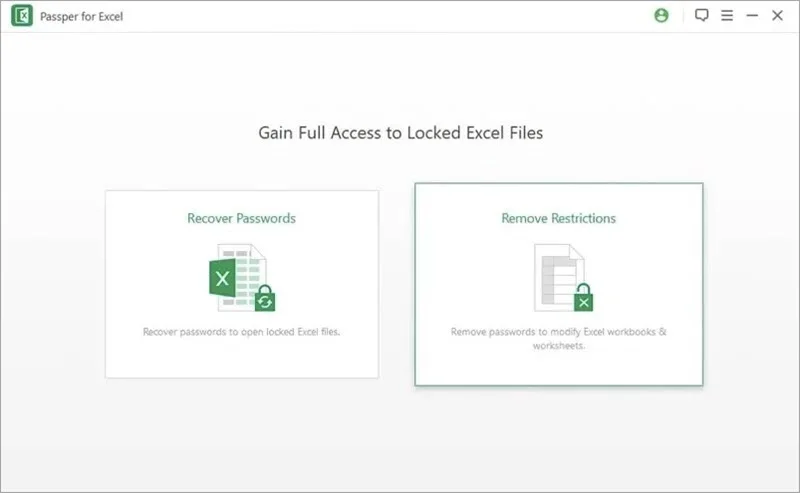 Click the "+" sign to upload your password-protected Excel file.
Now click "Remove" button and wait 3 seconds. That's it; the password protection is now removed and you can open your Excel file.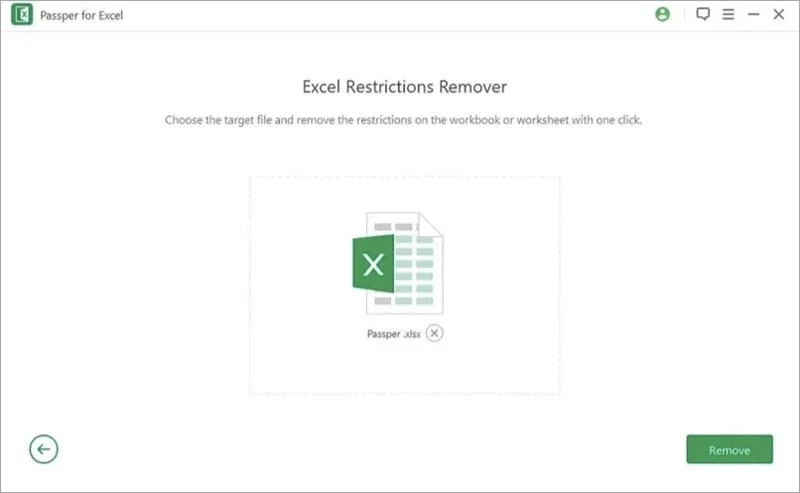 Unlock Excel by Recovering the Opening Password
FoneGeek for Excel is also capable of recovering the password used to protect an Excel file or workbook to allow you to unlock it. The program features 4 attack types which you can choose from to help you. They include:
Combination Attack - combines only those characters you select to determine the password.
Dictionary Attack - uses an inbuilt dictionary to determine the password. Takes less time and is ideal if you don't remember the exact characters you used to protect the file.
Mask Attack - determines the password depending on the information that you know regarding the password. It's faster and ideal if you can recall the number of characters that you used to protect the file.
Brute Force Attack - tries all kinds of combinations. Takes longer and it's only ideal if you can't really recall any character of the password.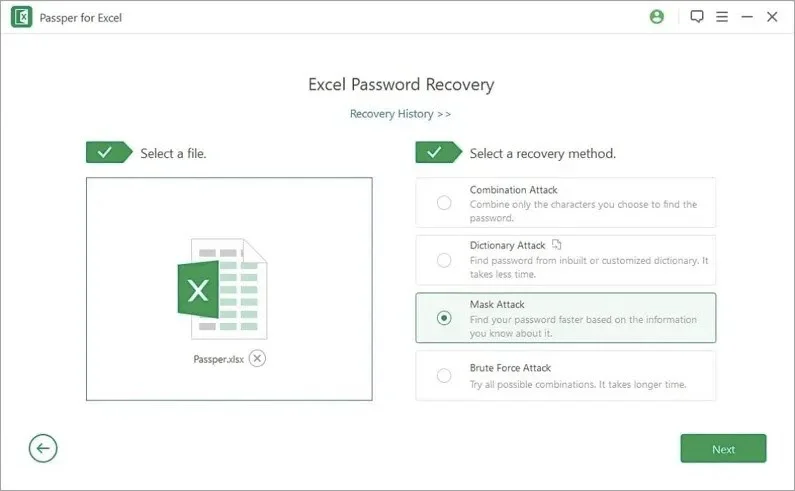 Open Password Protected Excel Worksheet by Changing the File Extension
Another viable way you can open password protected excel files is by changing the file extension of the Excel document. Excel is technically a form of a zip file that's based on Open Office Document standard, meaning it comprises different worksheets plus a configurable XML file.
The XML file carries the encryption key. You can edit the content in this XML file to remove the password protection from the Excel document. From there, you'll no longer need a password to open the encrypted Excel document.
Note: The only unfortunate thing is that you can only use this method on old Excel files. It won't work for anything after office 2010.
Follow the steps below to open password protected excel files by modifying file extensions.
The first thing is changing the file extension of your Excel file (.xls/.cvs) to .zip. This will convert the Excel file into a ZIP file.

After that, unzip/open the created .zip file and then locate the xl folder. Open it. You'll see a workbook.xml file. Open it with the Notepad app.

In the workbook.xml file, search for, sheetProtection. Once you find it, remove all the content starting from "". Save the file and go to the .zip file.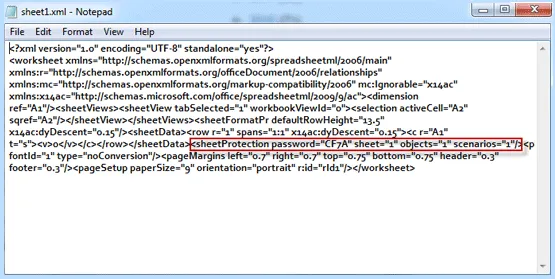 Next, change the .zip file back to the .xls extension like you did in the first step. Do it in the same folder. This will now overwrite the original excel file. You can then open this Excel file and it won't ask for any password.
This is a totally free and secure method. There's no change done on the data in the file. So, give it a try. If it doesn't work, try the next method.
Unlock Excel Spreadsheet via VBA Code
You can equally use the VBA code to unlock a password-protected excel spreadsheet. Developed by Microsoft, Visual Basic for Applications (VBA) is generally a programming language that's provided along with Microsoft Office.
It's used for a wide range of activities including producing charts, evaluating scientific data, predicting and budgeting, and also maintaining lists of various objects. More importantly, it can be used to unprotect Excel spreadsheets. It's quite effective, simple to use, and works smoothly with all Microsoft Excel versions.
The first thing is to open your password-protected Excel file.
Launch the VBA editor by hitting Alt and F11 keys at the same time.
Open the Module window. To do so, click Insert from the context menu of the VBA editor, then Module from the opened drop-down menu.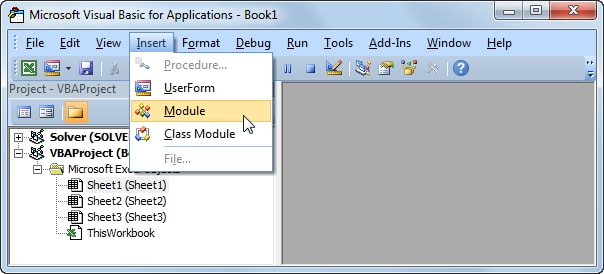 The Module/code window will open. Now, type the lines of code shown below.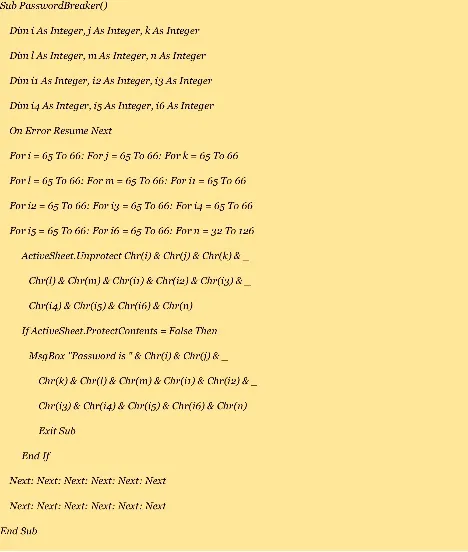 Once you enter the lines of code into the Module window, click "Save". This will save the file in a worksheet which supports macros.
Now press the F5 key to run the preceding actions.
As long you follow the steps above your Excel file will be unprotected using the VBA code.
Open Password Protected Excel Online
The last approach is to open your encrypted excel file online. You can use an online excel password remover tool like Password-online.com which is a paid service that assists with decrypting of passwords for various types of files such as Excel, Word, PowerPoint, PDF, 7zip, and more. Each successful decryption is charged around 10 Euros.
You need to upload the locked Excel file to the Password-online servers to use their service which can be an issue, especially if the file has sensitive data and you don't want it shared with others. The service also has limited the file size you can upload to 500MB. Anything larger than that will need to be split to upload it.
You can visit their website at

https://password-online.com/

. Click the yellow button named "Upload your encrypted file" to upload your password-protected Excel file to the server.
When the file is successfully uploaded, you'll be requested to enter your email address to receive notifications.
From there, you'll get an activation link in your Email box which you click and the service will start to decrypt the password.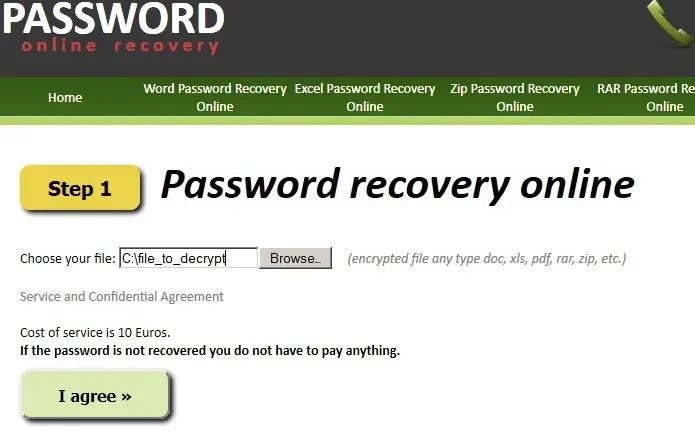 Once the decryption is successful, the service will prompt you to make the 10 Euros payment, after which you download the unprotected Excel file.
Part 2. Open Password Protected Excel with Password
Now you know how to open password protected excel file if password forgotten, but how do you open an encrypted excel document with a known password? Well, it's pretty easy and fast. You just put your password in Excel, then the file will open right away.
First, open the file - head to the folder where the encrypted file is located and double-click right on it. Alternatively, right-click on the file, then click the "Open" option.
Put the password - a pop-up will appear right away requesting you to put the password to unprotect the excel sheet.
Click OK - when you're done typing the password, just click the "OK" button. Doing so will open the file, allowing you to see the content and also work on it if needed.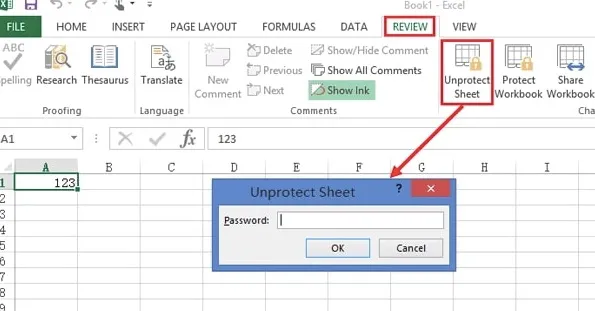 These steps are similar for all Excel versions, it doesn't matter whether it's Excel 2007 or 2016.
Part 3. How to Open a Corrupted Excel File
It's not uncommon to end up with an Excel file that can't open since it's corrupted. The situation can even get worse if you haven't backed up your data already. This doesn't mean that you are permanently locked out though. You can use Microsft Office repair software. It's basically the best and simplest method that allows you to easily access corrupted/fault files.
One of the primary techniques of the software you can use is Open and Restore method. It helps repair the corrupted Excel file manually, plus it doesn't need a backup. Follow these steps:
First, click "Microsoft Office" tab.
Click on the "Open" button.
Select the corrupt Excel files once the "Open" dialog box is displayed.
Click on the arrow and then select the "Open and Repair" option.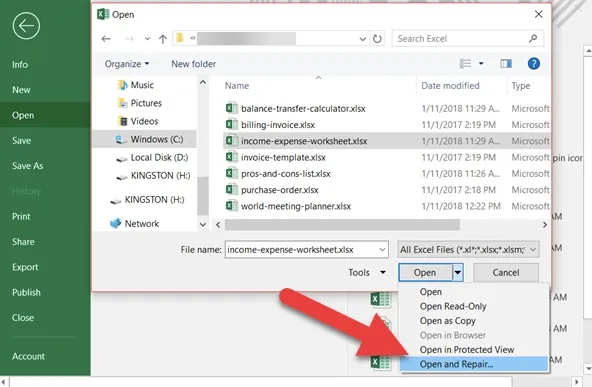 Finally, click the "Repair" option. That's it.
Conclusion
You shouldn't have any difficulty now when it comes to opening password-protected excel file, whether you have the password or not. We've listed several effective methods above that you can try. Choose the one that you think is suitable for you, although all of them should work. You can go with FoneGeek for Excel if you want a quick and safe process without much hassle on your end. It will just take one or two clicks to open your password-protected excel file.