Passwords are designed to keep our activities and data on sites secured and out of the reach of cyber thieves. Microsoft, in particular, takes cyber security very seriously and has embedded the password feature for all its products. With this, our data on Microsoft Excel 2010 is certainly safe.
However, forgetting Excel passwords is something that occurs at one point or another, as there are so many passwords for different sites. The good news is that there are ways to remove password from Excel 2010, and these are fully explained in this article. Read on.
Part 1. Different Excel 2010 Password Protection Types
Excel 2010 has different password protection types. But there are ways to remove them using known passwords. Let's get in.
Password to Open
The opening password is set to prevent just anyone from opening the Excel document. So, only someone who knows this password can open the document, because a notification will popup when you want to open it, asking you to input the password.
To remove this password from Excel 2010, follow these steps.
Open the Excel workbook and click on File. Scroll to Info, under that, go to Protect Workbook. Then click on Encrypt with Password. You will see the old password in a dialogue box.
Clear the password and click OK. This means that you have decrypted the password, or the password has been removed.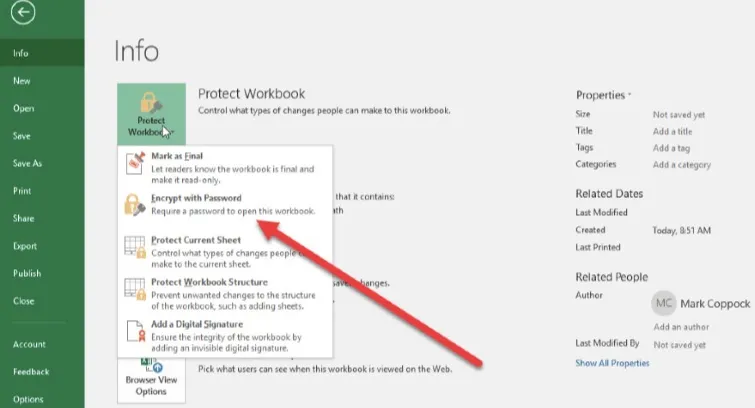 Password to Modify
This is another password protection type that permits you to edit the Excel document. Without this password, you can only read, but can't edit the Excel worksheet. To remove this password, simply follow these steps.
Open the Excel workbook and click on File. Then go to Save as.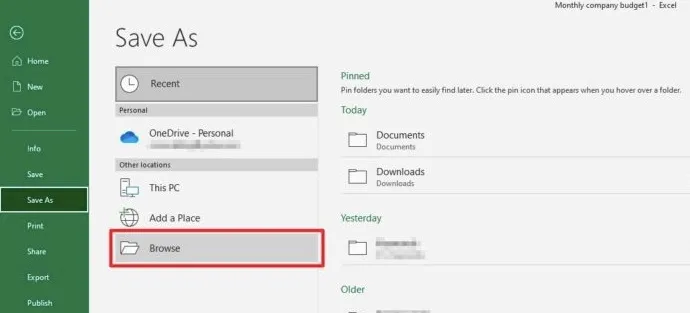 Select Tools and scroll to General. After this, click on the Password to modify box, and clear the password in the box. Then click OK and save the file.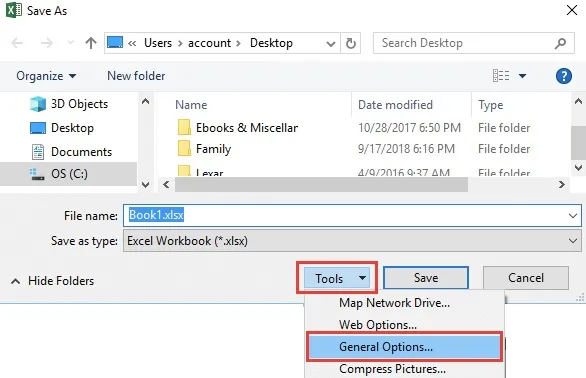 This creates a new file without the modifying password.
Workbook Structure Password
The Workbook Structure password secures the structure of the Excel workbook. Without it, you cannot rename, delete, move, or add new sheets to the workbook. Note that this password does not protect the content of the workbook, but just the structure.
To remove this password,
Open the workbook and select File. Then scroll to Info and click on Protect Workbook. Under this, click on Protect Workbook Structure.
A dialogue box will appear, enter the password here and save the document. The password protection will be successfully removed.

Worksheet Password
This password type prevents anyone from deleting data or moving data on the worksheet. With this password, you can make certain parts of the document editable to other users and secure the rest of the document.
To remove this password, follow these steps.
Open the Excel worksheet with password encryption. On the main menu, select Review.
Under Review, select Unprotect Sheet. Then, enter the password in the box and click OK to decrypt.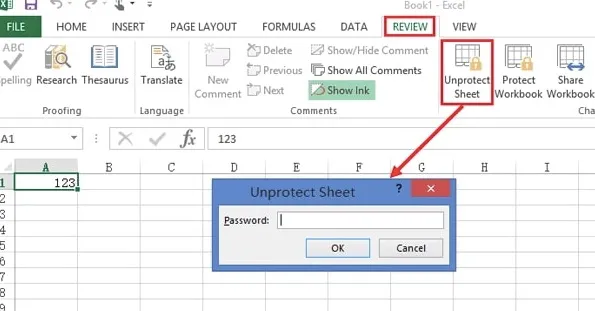 Part 2. Remove Password from Excel 2010 Without Knowing Password
When it comes to removing password protection because the password was forgotten, it can be a bit tedious. But we have a few tips on how to remove passwords from Excel 2010 without knowing password.
Remove Edit Restrictions from Excel 2010 Worksheet/Workbook
There are two ways to remove passwords via removing edit restrictions from Excel 2010 worksheet or workbook.
1st Way. Using FoneGeek for Excel Password Remover
Forgetting the passwords that enable you edit your workbook, like the workbook structure password, modifying and worksheet passwords, can prevent you from working on your files. There are ways to remove these restrictions, and one of the most trusted is to use the FoneGeek for Excel Password Remover.
It allows you to unprotect the worksheets/workbooks in a few seconds, with 100% success rate.
Recover the password to open locked Excel file with 4 attack types.
Simple to use. Everyone can use this tool to recover/remove the Excel password in 3 steps.
100% secure. You can perform the removal process on your own computer. The data privacy is guaranteed.
It supports the Excel files from Excel 97 to Excel 2019.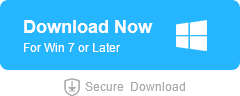 Follow these steps to remove edit Restrictions from Excel 2010 Worksheet/Workbook without passwords.
Step 1. On your PC, download, install and launch the FoneGeek for Excel. Then click on Remove Restrictions.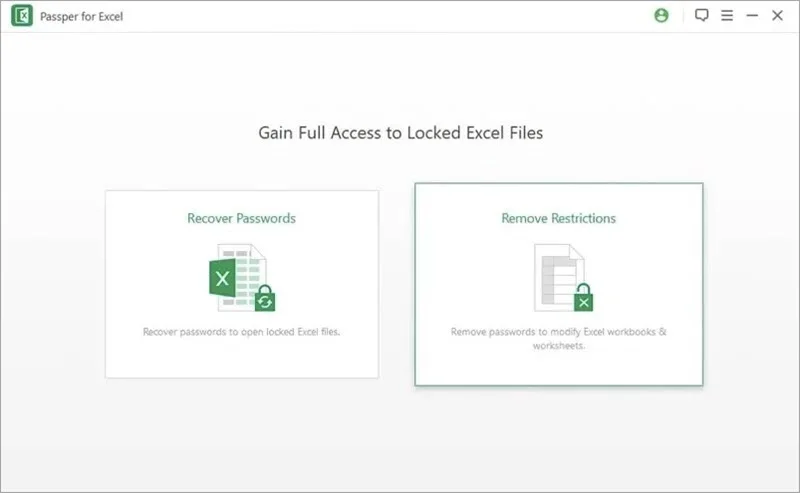 Step 2. Click on the + icon on the screen of the app. Then upload the locked excel workbook you want to unlock.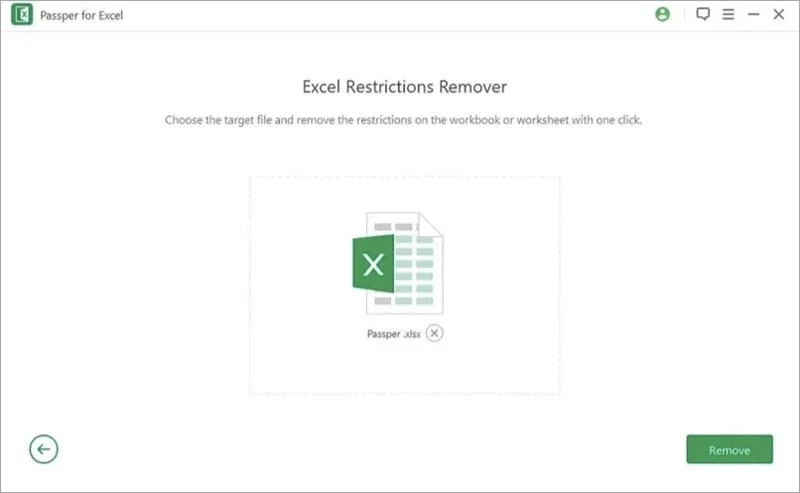 Step 3. Click on Remove to decrypt or remove the password protection. Your Excel document will be free from password protection.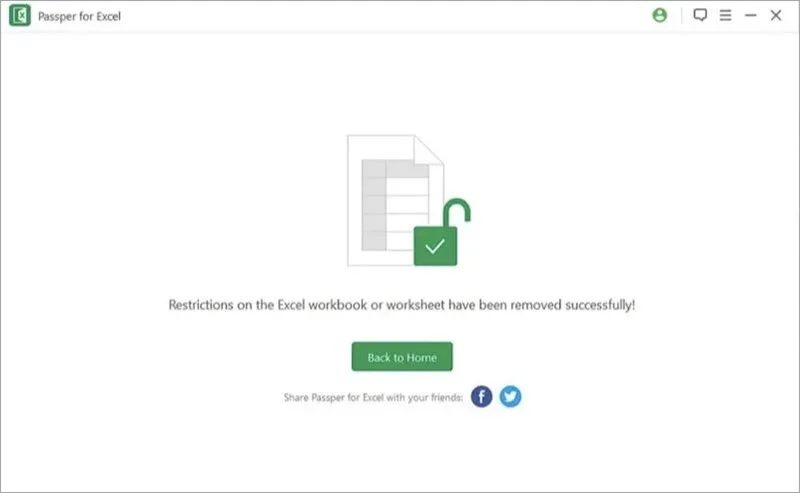 2nd Way. Using 7-ZIP to Unlock Excel 2010
Another method to remove the edit restrictions from your Excellent 2010 workbook when you have forgotten your password is by getting your password back. After installing the 7-ZIP software, you can follow these few steps.
Enable the files extensions by going to Control Panel. Click to Folder, then scroll to View. Under this, disable Hide Extensions for known file types.
Check for the Excel file you want to work on. Rename it to change the extension from .xlsx to .zip.

Using the 7-ZIP software, open the workbook and navigate to xl. Go to worksheets, then extract sheets.XML file.

Open this extracted file using Wordpad or notepad. Look for . Select this tag and delete it.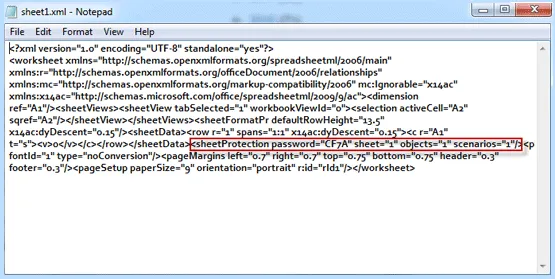 Save the XML file. Move it back to the zip folder to replace the old file. Then close the file, and rename it to change the extension from .zip back to .xlsx.
Recover the Password to Open a Locked Excel File
When you have forgotten the password to open locked Excel 2010, you can recover it back if you don't want to remove the password protection.
1st Way. Recover Excel 2010 Password with FoneGeek for Excel
FoneGeek for Excel can help you recover your opening password for your Excel workbook in just a few simple steps. Additionally, this software does not require an internet connection to work, it works for various document types, guarantees a fast password recovery speed with the Multi-core CPU and GPU Acceleration, and also protects your data.
Step 1. On your computer, download and launch this program. Then click on Recover Passwords from the main window.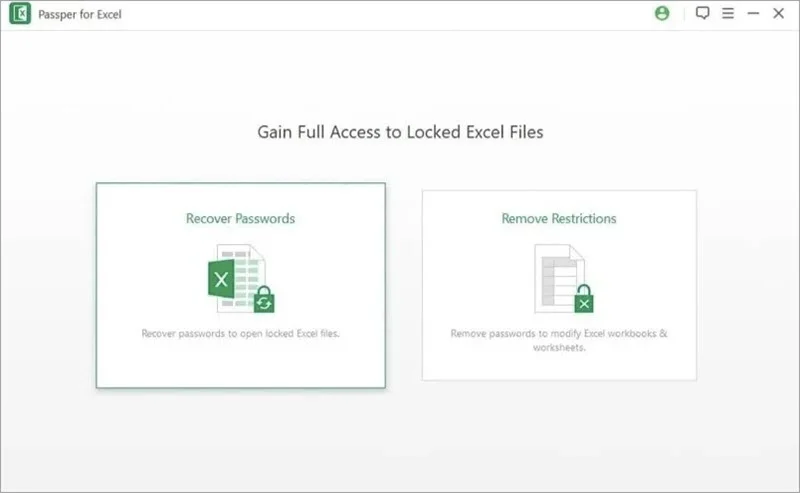 Step 2. Select + to add the Excel file from your computer to the program.
Four attack modes will be shown which can help you know your password. Choose one based on what you can recall about the forgotten password.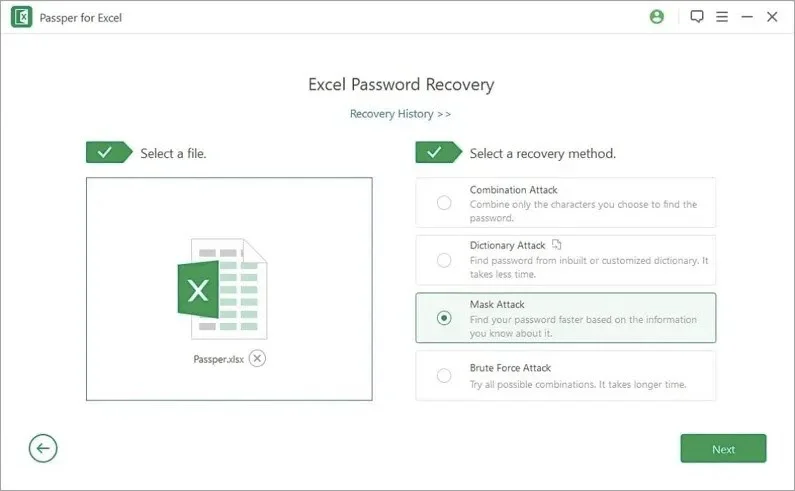 Step 3. After confirming your choice, click on Recover. After a few minutes, your password will pop up. Copy it and use it to open your Excel 2010 workbook.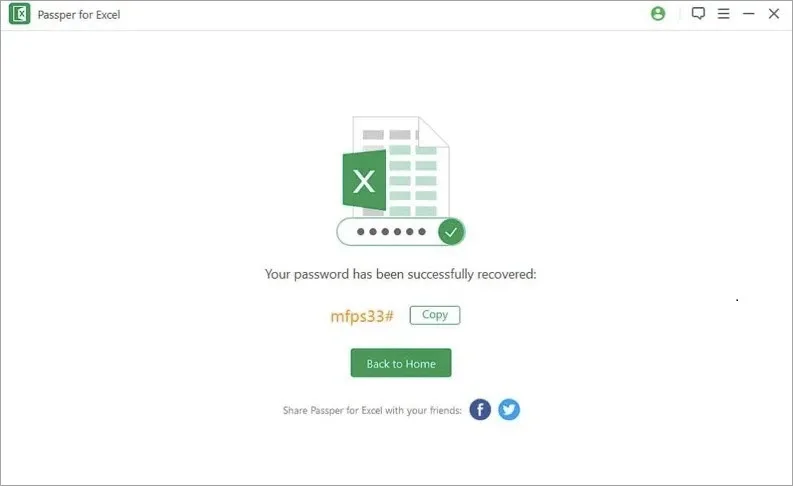 2nd Way. Using Online Excel Password Remover
When you do not want to download and install any program on your computer, you can choose to recover your password by using an online tool. However, it is not guaranteed that you won't lose your data. So before starting, upload all important data to its server.
If you cannot risk losing your files at all, then you are safer with the option explained above.
There are different online tools that can be used, and they all work in the same way. To use an online Excel password remover to recover Excel 2010 workbook password,
Visit the official website of LostMyPass using the browser on your computer.
Under FILE TYPES, select MS Office Excel. Agree to the terms and conditions, then upload the locked Excel document.
Next, the recovery process will begin. After this, your password will be displayed.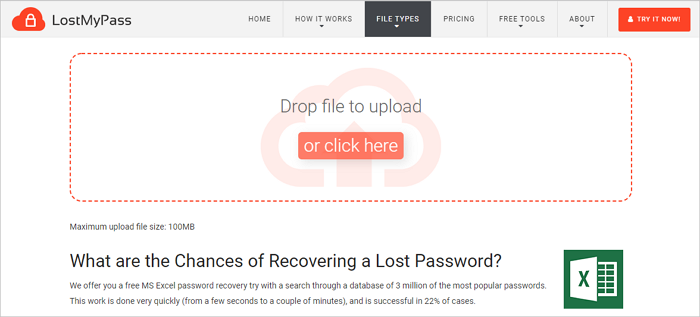 Conclusion
Depending on your choice, there are different ways on how to remove password from Excel 2010 workbook and get access to edit your file. These have been fully explained in this article.
One of the fastest methods is by using tools like FoneGeek for Excel. FoneGeek for Excel can help you remove the passwords from the file and even recover your password if you still want your file protected.

As a professional writer who is interested in technology, Edwin J. Parke has helped thousands of users by offering various tips to solve their problems.

Home
>
Excel
>How to Remove Password from Excel 2010 without Knowing Password