User Concern
"My control center has not been coming up when I swipe down. It's only started happening after I updated my phone. Currently on iOS 13.1.3. My phone also started acting like it was possessed (I think this is called ghost tapping) before I found out I couldn't access control center. Don't know if I should take it in or wait for another update?" - From Apple Community

The Control Center is an important aspect of your iPhone, so we understand how distressing it can be when it doesn't work correctly. In this article, we are going to share with you what to do when your iPhone Control Center won't swipe up in iOS 15.
Reasons Why iPhone Swipe Up Is Not Working
Before we get to the various solutions you can try when iPhone won't swipe up, it is important to understand why this can happen. This will help you avoid the problem in the future and also help you select an appropriate solution.
The Control Center may fail to swipe up because of the changes that you may have made in Settings. The problem is that it can be difficult to determine exactly what settings have been changed, this is also why the "Reset all Settings" option is a popular fix for this solution.
It is also possible that the iPhone itself has a software glitch preventing you from opening the Control Center.
You may also experience this issue on a device that is running low on memory as well.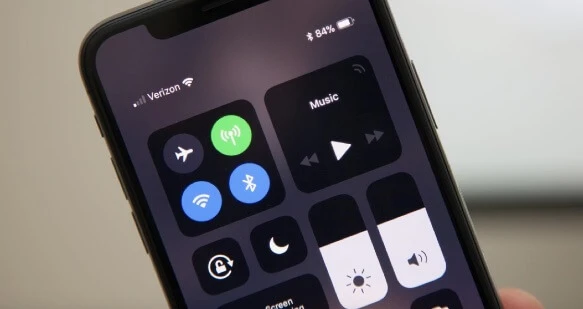 Solutions for iPhone Control Center Won't Swipe Up
The following solutions are useful when the Control Center won't open:
1. Clean the iPhone Screen
There may be too much dust on the surface of your iPhone if you have not cleaned the device for a very long time.
You need to wipe the surface of the device with a dry and clean cloth.
2. Enable Control Center on Lock Screen
If the iPhone 12 won't swipe up to unlock only, you need to check if you have enabled Control Center on lock screen. Here's how:
Run Settings and then click on "Touch ID & Passcode". Enter your passcode.
Ensure that the "Control Center" is turned on under the option of "Allow Access when locked".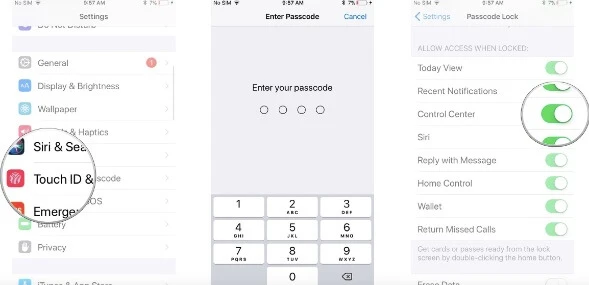 3. Enable Access within Apps
You could also try accessing Control Center from "within an app". But you must first enable this option. Here's how:
Open Settings on your iPhone.
Tap on "Control Center" and turn on "Access within Apps".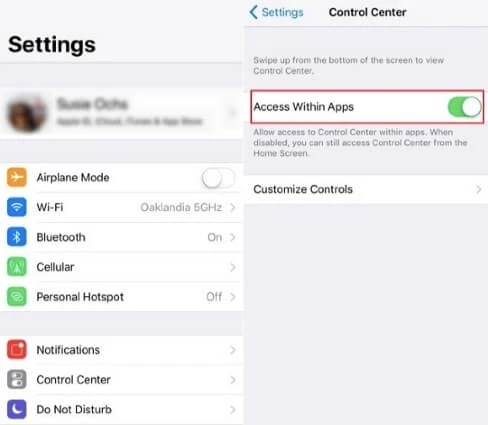 4. Take Off Your Case or Screen Protector
There are some incompatible cases and screen protectors that can cause issues with the iPhone screen including Control Center problems. Therefore you may want to remove the case, the protector or both remove them and check if the Control Center issue is resolved.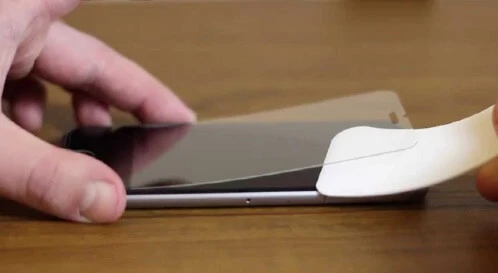 5. Turn Off VoiceOver
You can also fix this Control Center won't open issue by turning off "VoiceOver". To do that, follow these simple steps:
Open Settings and tap on General.
Hit on "Accessibility" and turn off "Voice Over".
Return to the Home screen and swipe up to see if you can access the Control Center.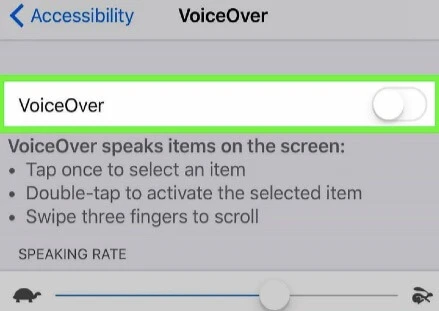 6. Restart or Force Restart iPhone
Restarting the device may help to eliminate some of the settings that are causing the iPhone control center not working issue. Here's how to restart your iPhone:
For iPhones with no Home button - Press and hold the power and volume down button until the slider appears. Drag the slider to turn off the device and then press and hold the power button again until you see the Apple Logo.
For iPhones with Home button - press and hold the power button until the slider appears. Drag the slider to turn off the device and press the power button again until the device restarts.
If simple restarting the device doesn't work, you should try to force restart it. Here's how to do that for the various models: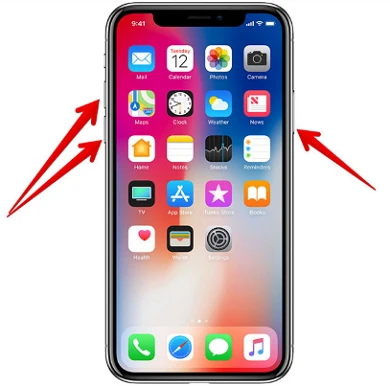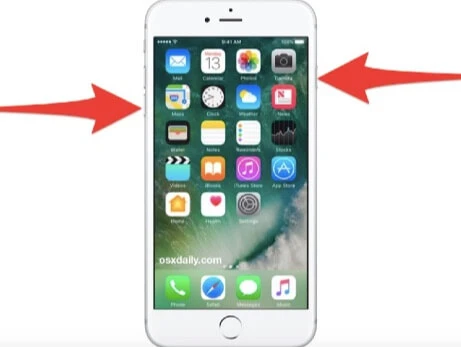 7. Reset the Control Center Items
There may be some items on the control center not working itself that could be preventing it from swiping up. Resetting the Control Center items may therefore fix the device. Here's how to do it:
Go to Settings > Control Center > Customize Controls.
Look for the unresponsive control in the "Include" section and remove it.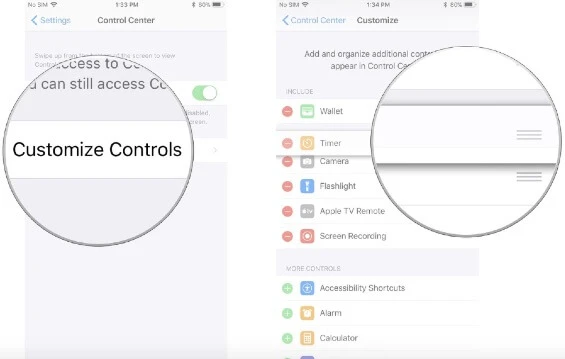 Once you've removed the problematic control, the Control Center should work.
8. Reset All Settings
Resetting all settings may work to fix this iPhone control center not working issue because it will remove all preference settings including those that may be causing the iPhone Control Center to malfunction. Here's how to do that:
Open Settings and then tap on "General".
Tap Reset > Reset All Settings.
Enter the passcode when prompted.
When the device restarts, check to see if the iPhone control center can be opened.
9. Fix iPhone Control Center Won't Swipe Up without Data Loss
The most effective solution is to repair the iOS system. Some settings can damage your iOS system and you may need a tool that helps to fix the issue. Lucky for you, we have FoneGeek iOS System Recovery. This tool is designed to fix this issue and any other iOS issues, such as iPhone stuck on white screen with black Apple logo, iOS upgrade stuck on Recovery Mode. It is easy to use and has a 100% success rate for repairing all system issues. Plus, this program is highly recommended by CNET, Software.Informer, Filehorse, GetDroidTips, Lera Blog and many other media sites.
To use FoneGeek iOS System Recovery to fix this iPhone Control Center won't swipe up issue, follow these simple steps:
Step 1: Download, install and run the program on your computer. Select "Standard Mode" and then connect your iPhone to the computer using USB cable.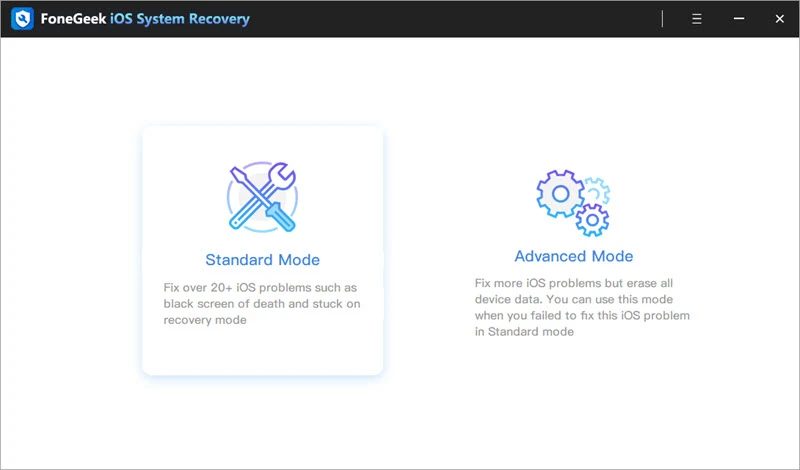 Step 2: Follow the on-screen instructions to put the device in DFU/recovery mode. The program will detect it and offer a firmware suitable for the device. Click on "Download" to download the firmware.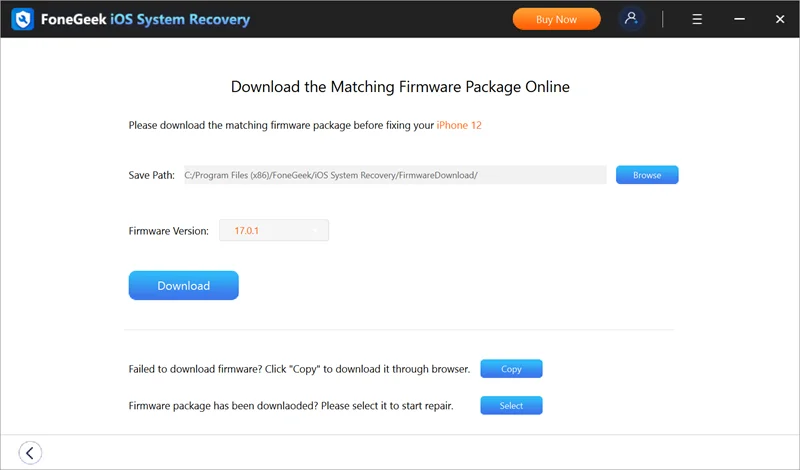 Step 3: When the firmware download is complete, click on "Fix Now" and the device will begin repairing the device. Keep the device connected to the computer until the process is complete.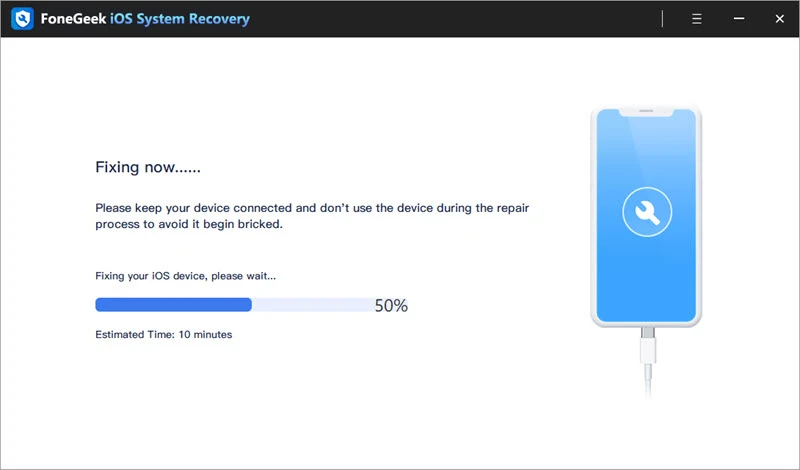 The device will restart when the process is complete and the problem should be fixed.
Check the positive reviews of FoneGeek iOS System Recovery from our purchased users here: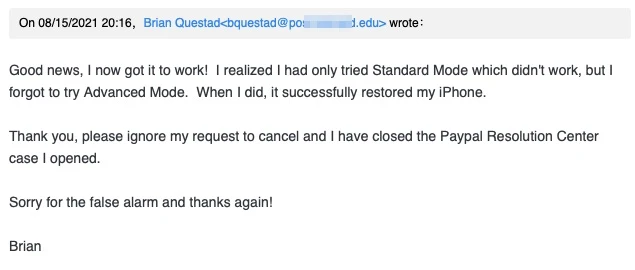 FAQs about the Control Center on iPhone
Q1. How do you get Control Center on iPhone without swiping?
You can bypass swiping to open Control Center on iPhone via Assistive Touch. Pressing the Power button for 3 times to activate Assistive Touch feature. Then click on Assistive Touch icon and tap on 'Control Center' to get Control Center on iPhone.
Q2. How do add buttons to Control Center on iPhone?
Go to iPhone Settings and click on 'Control Center' option. You can see several features under the 'More Control' option. Hit the green '+' icon to add buttons to the control center.
Conclusion
Try the solutions above one after the other until one of them works. You can use the comments section below to let us know if you were able to fix the iPhone/iPad control center won't swipe up problem. Questions on this and any other topic are also welcome and we'll do our best to help.

Joan J. Mims is interested in researching all tips about iPhone, iPad and Android. He loves to share useful ideas with all users.

Home
>
iOS 15
>9 Ways to Fix iPhone Control Center Won't Swipe Up in iOS 15