User Concern
"My iCloud backup was on but it wasn't backing up, so I turned it off and when I tried turning it back on, it won't turn on. And I need to turn it on so I can back up because I bought a new iPhone. So what should I do?"
It is always a good idea to back up your phone to keep data secure. If you are an Apple user, iCloud is a great way to back up your iPhone or iPad. However, you may sometimes find that iCloud backup won't turn on. When this happens, it can be really frustrating.
In this article, we will explain why your iPhone won't back up to the iCloud and how to fix the problem so you can complete your backup.
Why Can't I Turn On iCloud Backup?
To fix the issue of iCloud backup won't turn on, it is better to understand why this happens. And below are some of the common reasons for the problem:
The iCloud Backup on your iPhone/iPad hasn't been turned on.
Your iPhone or iPad lacks Wi-Fi connection.
You haven't plugged your device into a workable source of power.
The backup is bigger than the free storage of iCloud.
The device screen is not off.
Top 7 Ways to Fix iCloud Backup Won't Turn On
Knowing why iCloud backup button won't turn on is not enough. You also need to know how to fix this issue. To help you out, here are 7 ways you can try to make your iCloud backup turn on again.
1. Restart You iPhone/iPad
Restarting your iPhone or iPad can help to fix the bugs causing your iCloud not to turn on. Here are the simple steps to restart your device:
For iPhone X, 11, 12, 13
Press and hold the Side button together with one of the Volume buttons. Wait until the power off slider appears.
Drag this slider to turn the iPhone off.
To turn your device back on, you need press and hold the side button again until you see an Apple logo.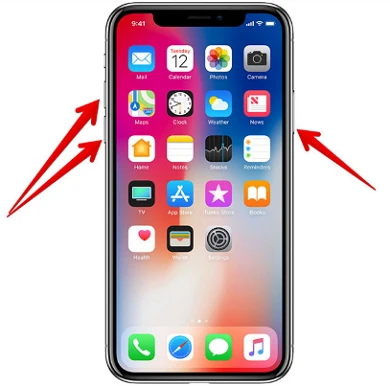 For iPhone 8 and Earlier
Press and hold the Side (or Top) button until the power off slider appears.
Drag this slider to turn off your device.
When your device turns off, you will have to press and then hold the Side (or Top) button until the Apple logo shows.
If your iCloud backup still won't turn on after a simple restart, you can try to force restart your iPhone, which is also called hard reset.
2. Check Your Wi-Fi Connection
Since iCloud can back up a large amount of data in a single backup, the backups can only work over a Wi-Fi connection. For this reason, your device has to be connected to Wi-Fi for iCloud backup to work. Here is how to ensure your iPhone is connected to Wi-Fi:
Open the Settings app on your iPhone and tap on Wi-Fi
Select the Wi-Fi network you want to connect to.
When prompted, enter the Wi-Fi Password and tap on Join.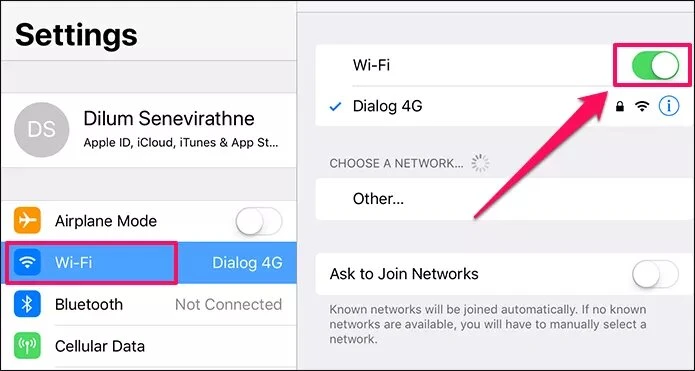 3. Reset Network Settings
The reason why you don't have the ability to back up your iPhone using iCloud may be as a result of a network issue. To fix this issue, perform a network reset. The following steps will help you reset your network settings:
Open your device Settings and tap on General.
Select Reset and then tap on Reset Network Settings.
Enter your device's passcode to confirm the operation.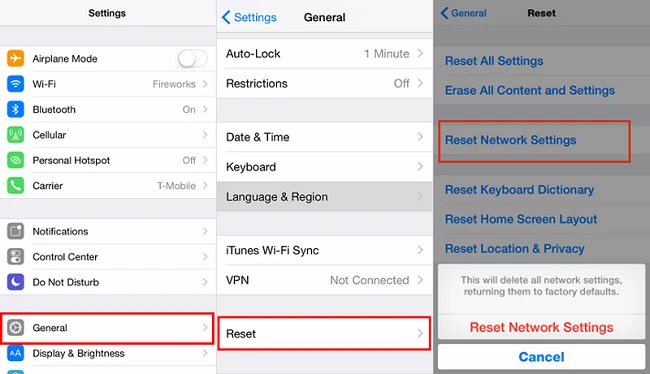 4. Check Your iCloud Stroage
Maybe the reason why your iCloud backup won't turn on is because the space available is not enough. To check your available iCloud storage, follow the steps below:
Check Available iCloud Storage
Open Settings on your iPhone and tap on your name.
Tap iCloud and you will see the space available.
To manage your iCloud storage, just tap Manage Stroage.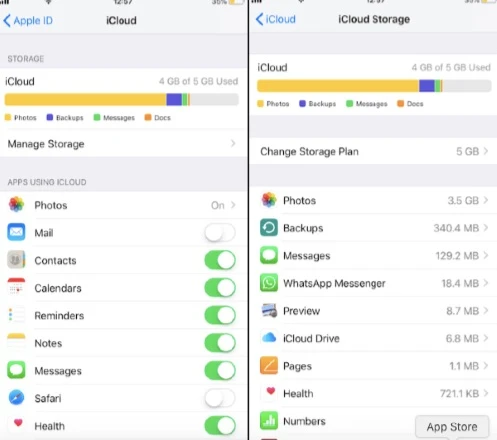 Purchase More iCloud Storage
If there isn't enough storage, you may need to click Delete Backup to create room. If deleting your previous backups is not an option for you, you can choose fewer files to back up. You can also purchase more storage by following the steps below: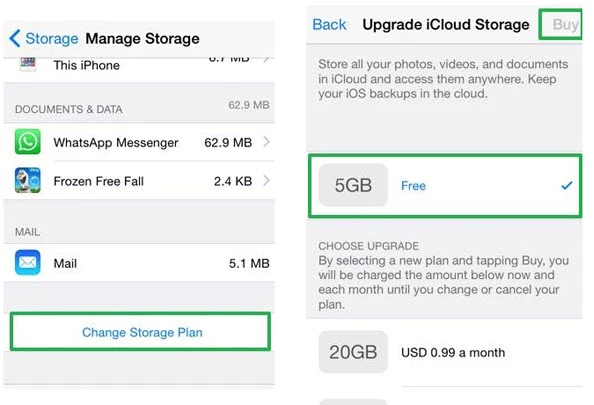 5. Sign Out Of and Back Into Your iCloud Account
Sometimes, the reason why your iCloud backup won't turn on is due to verification issues with your iCloud account. Signing out of and then back into iCloud on your iPhone can help to fix this problem. Follow the steps indicated below:
Open the iPhone Settings and tap on your name at the top of the screen.
Scroll down to the bottom and click on Sign Out.
Enter your Apple ID password as required and click on Turn Off. Then choose the iCloud data you want to keep on your iPhone.
Tap Sign Out again and you will be logged out from your iCloud account after the confirmation.
Use the Apple ID and Password to sign in again. Then check if the iCloud backup won't turn on issue has been fixed.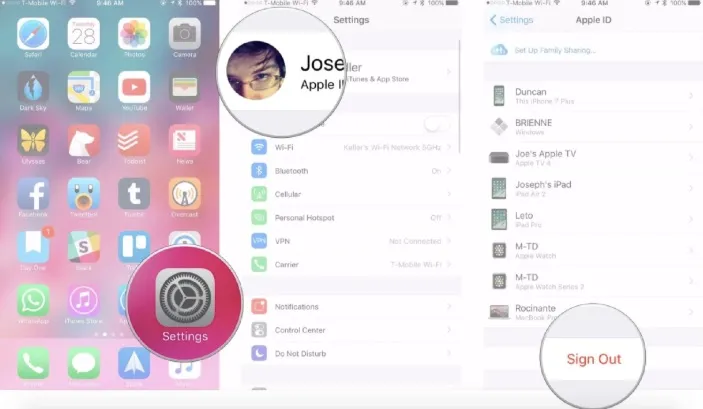 6. Update Your iPhone/iPad
iCloud backup may not work if you don't have the latest iOS system installed. Follow the steps below to update your iPhone:
Open Settings and select General.
Tap Software Update to see if any updates are present.
Tap Download and Install to update the device. This may take a while, therefore, make sure you have enough battery.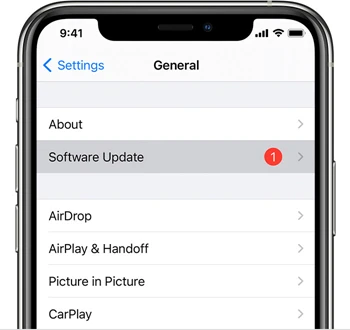 7. Reset All Settings
If your iCloud backup still won't turn on, it is time to reset your iPhone's settings. This process won't delete any data from your device, only the system settings like Wi-Fi passwords will be removed. To reset all settings, follow the steps indicated here:
Launch Settings and tap on General.
Scroll down and tap Reset.
Select the option Reset All Settings and enter the device password to confirm.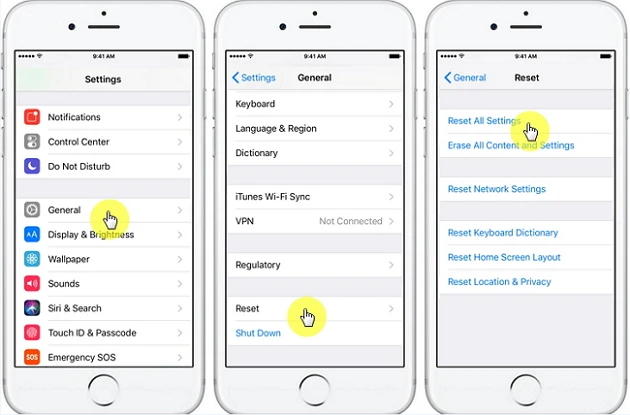 Alternative Ways to Back Up iPhone without iCloud
Way 1: Using iTunes/Finder
iTunes/Finder is another great backup method that Apple offers its users. Using iTunes or Finder is not hard. By following the simple steps indicated below, you should be able to backup your iPad or iPhone with iTunes/Finder in minutes:
Connect your iPhone to your computer and open iTunes (or Finder on macOS Catalina 10.15 or newer).
Follow the onscreen steps if asked to Trust This Computer or for your device passcode.
Click the iPhone button when it appears in iTunes.
Click Summary and tap "Back Up Now". To save your Health and Activity data, you have to encrypt the backup.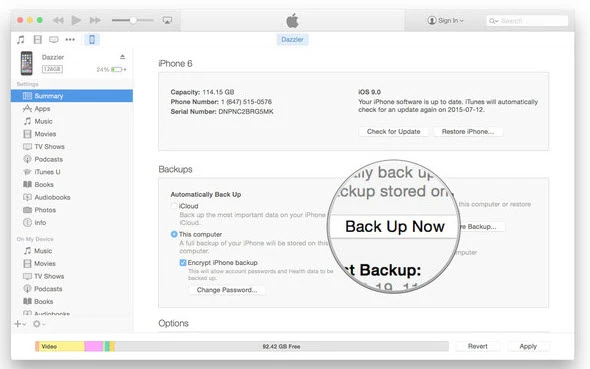 Way 2: Using FoneGeek iOS Backup & Restore
Due to the limitation of iCloud or iTunes, many people now prefer to backup iPhone using third-party tools. Here we recommend FoneGeek iOS Backup & Restore. It provides a flexible way to back up all kinds of data on iPhone/iPad without any limitations. You can either create a full backup or selectively back up the data you need only. What's more, you're allowed to view the data in the backup.
Here's how to backup iPhone without iCloud or iTunes:
Download, install and launch FoneGeek iOS Backup & Restore on your computer.
Connect your iPhone to the computer and when the device is detected, click "Backup & Restore" from the top menu.
Select the file types you need to backup and click on "Backup" to start the backup process.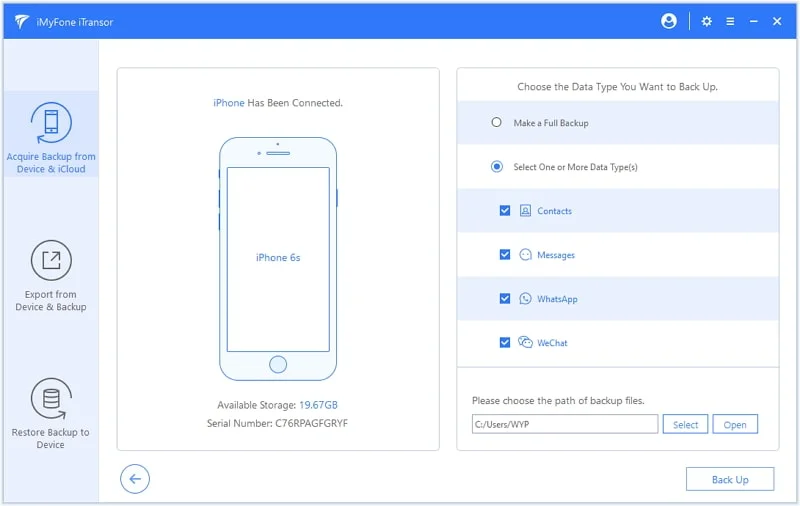 Conclusion
If your iCloud backup won't turn on, you can use the 7 methods we have listed in this article to fix it. Try one method and if it does not fix the issue, move on to the next. Also, you can try iTunes or FoneGeek iOS Backup & Restore as an alternative method for backing up your iPhone data.