User Concern
"I keep getting this iPhone storage almost full error message after upgrading to iOS 16. I tried to clean up, restore and delete apps but its very frsutrating to has this pop up contantly on my phone and it dont let me use the phone and no app works at that moment."
You may see the message "Storage Almost Full: you can manage your storage in Settings" popup on your iPhone every now and then. One of the most annoying aspects of this particular message is that it can keep popping up, preventing you from using your iPhone when you need to.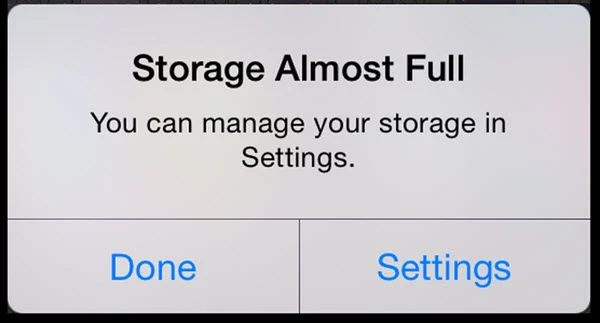 This storage problem can be caused by too much data on your iPhone. All the apps, photos and videos on your device could be taking up too much space than the iPhone can give, causing this message to pop up. But keep in mind that this error is also happening to many users who still have a lot of free space on their iPhones.
If you're using your iPhone normally and get an error message that says your iPhone's storage is almost full, you've come to the right place. In this guide, we will provide you with 10 effective ways to fix it.
Why Does My iPhone Still Say Storage Full When It's Not?
Usually, the data stored on your iPhone can take up a large amount of storage and you will be prompted to storage almost full error message. However, a lot users started seeing this "storage almost full" warning on their iPhone after iOS 16 update. And many of them still have plenty of free storage space on their devices. So, there is a great potential that this problem is an iOS 16 bug and it is best to wait for Apple to fix it in later iOS updates.
How to Check If Your iPhone Storage Is Full?
If you are experiencing this "storage almost full" problem, this first thing to do is to check your iPhone storage to see if it is actually full. To do this, open Settings > General > iPhone Storage, you will see how much storage is still available and what is currently using storage on your iPhone.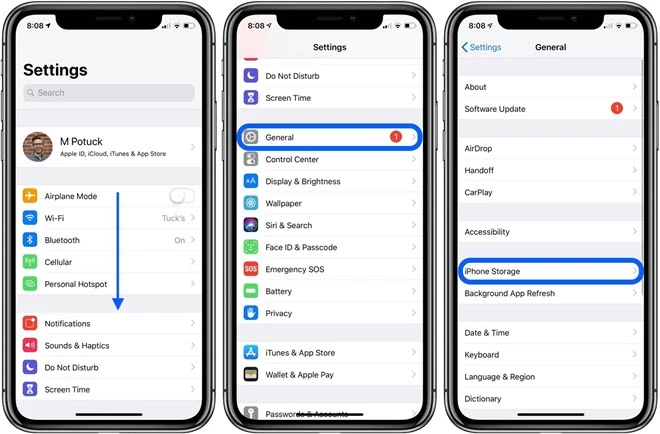 Fix 1: Update Your iPhone
If you have plenty of available storage on your iPhone but still run into a problem like this, remember to check if a new iOS update is available and update to the newest version of iOS as soon as possible.
To check for iOS update, go to Settings > General > Software Update. If an update is available, tap Download and Install.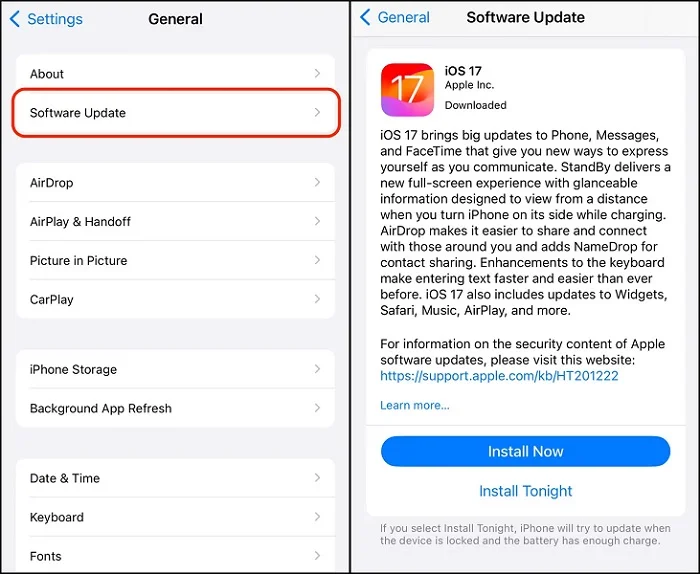 Fix 2: Restart Your iPhone
If your iPhone is already installed the latest iOS version, then you can try to restart the device. Maybe your iPhone is experiencing a small glitch. In this situation, restarting your iPhone might give the device a fresh start and fix the minor problem.
To restart an iPhone, press and hold the Side button and either Volume button (for old iPhones, just press and hold the power button) until "slide to power off" appears on the screen. Then swipe from left to right to turn off your iPhone.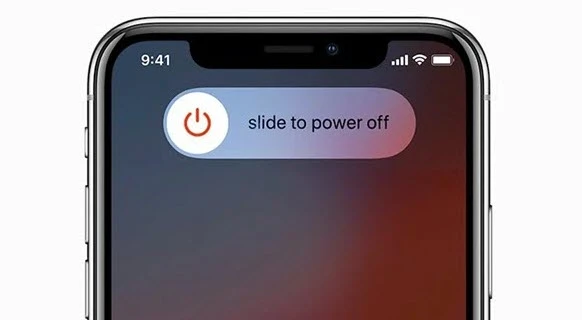 Fix 3: Delete Unused Apps
Another thing you can try when this storage almost full message pops up on your iPhone is to delete some unused apps on the device. Go through all the apps on iPhone Storage and delete the ones you don't need but take up much storage space.
Fix 4: Delete Unwanted Photos and Videos
Most people don't like to delete the photos and videos on their iOS devices. But usually they can take up a lot of space on the iPhone and removing them may create enough space to eliminate this error message. The following are just some ideas if you are not sure where to start:
Look for screenshots you may no longer need and remove them.
You may also want to delete some of those selfies that look the same.
Photos taken using the shutter mode may be identical and can be deleted.
You can also move the photos and videos to your computer using FoneGeek iOS Backup & Restore before deleting them if you don't want to lose them completely.
Fix 5: Clear Safari Cache and History
Safari is one of those apps that can store data (cache) for the purpose of cutting down the time it takes to access frequently visited sites. Cache can take up quite a bit of space on an iPhone when it accumulates over time and when deleted, you can be surprised by the amount of space you gain.
To clear Safari cache and history, go to Settings > Safari > Clear History and Website Data and then restart the iPhone.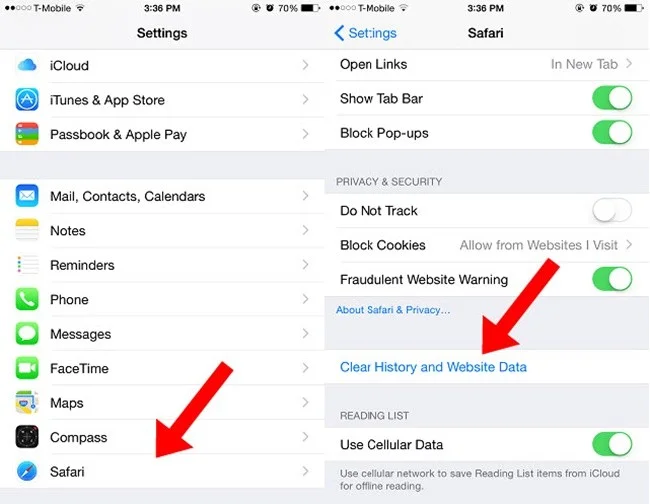 Fix 6: Delete and Re-install Apps
Most of the apps on your iPhone tend to have large amounts of documents and data. These files can take up a lot of the space on the device and since most of them are junk files, they can easily be deleted.
The best way to remove the documents and data from your iPhone is to delete and re-install the app. Go to the App Store and uninstall the apps, and then reinstall them to create space on the device.
Fix 7: Reset All Settings
If your iPhone says storage is almost full but its not, you can try reset all settings to fix the problem. This will not erase the data on the device, however, it will affect the settings and preferences you've set up on your device.
To reset all settings on iPhone, go to Settings and choose General, then click on Reset and select Reset All Settings.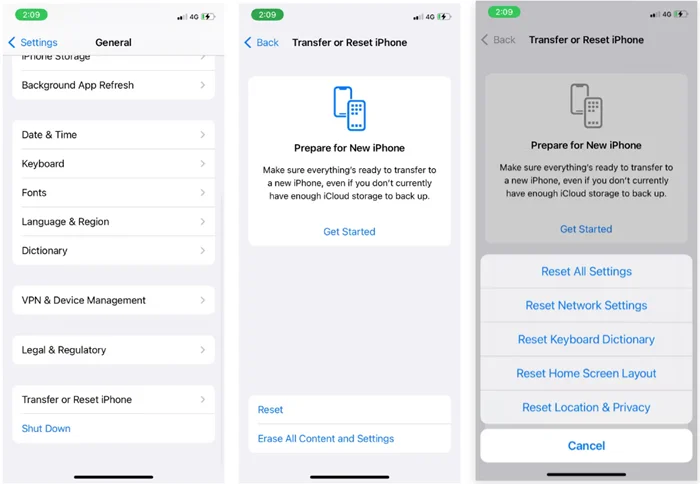 Fix 8: Reset iPhone and Restore Backup
You can also fix this iPhone storage almost full error message by resetting the iPhone and restoring it from a backup either in iTunes or iCloud. It is important to note that resetting your iPhone will cause data loss, so you'd better make a full backup of your iPhone before doing this.
To back up your iPhone in iTunes, follow these simple steps:
Connect the iPhone to your computer and open iTunes. If you are working with a Mac run on macOS Catalina 10.15, just launch Finder.
When the device appears in iTunes/Finder, click on it and then select Back up Now. Keep the device connected to the computer until the process is complete.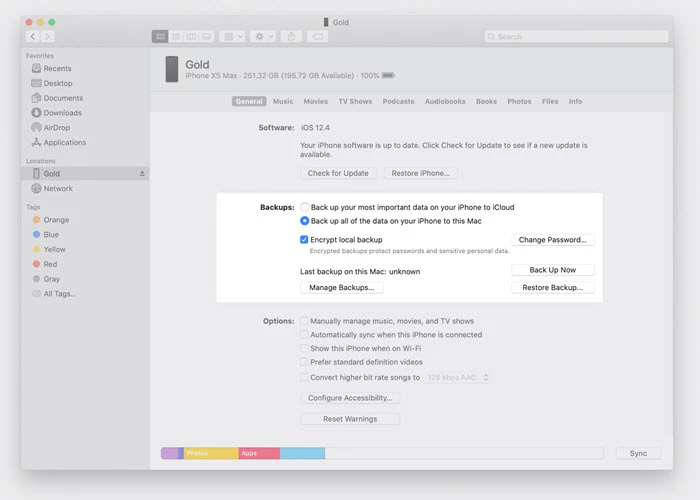 Once the backup is complete, you can restore the iPhone to fix this issue. Here's how to restore the device in iTunes:
Open iTunes or Finder on your computer and then connect the iPhone to the computer using USB cable.
Select the iPhone when it appears in iTunes/Finder and select Restore iPhoneto restore the device back to default settings.
Once done, click on "Restore Backup" and choose the most recent backup. Then wait for iTunes to restore the backup to your iPhone.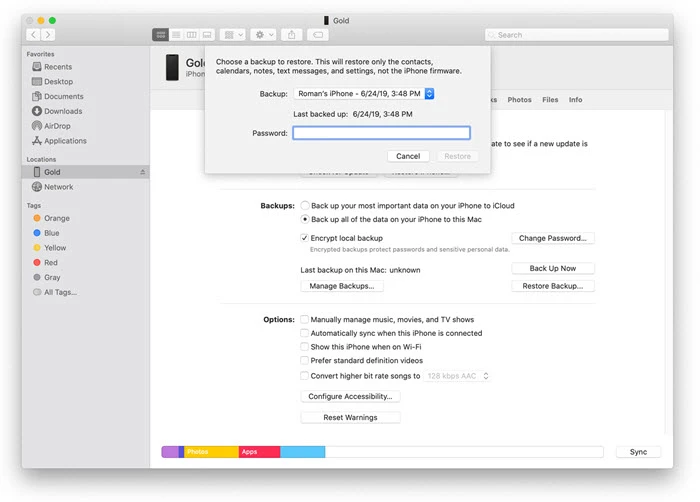 Fix 9: Backup iPhone and Delete Data
If all the solutions above fail to remove this error message, you may want to use FoneGeek Backup & Restore (iOS) to back up all the data on your iPhone to computer and then delete them. The following are some of the features that make it the most ideal solution:
You can back up your iPhone or iPad to the computer in one click, without overwriting the previous backup files.
You're allowed to preview the contents in the backup and selectively restore data from the backup to any device of your choice.
It lets you backup and restore contacts, messages, photos, videos, notes, and app data like WhatsApp, Kik, Viber, etc.
It can also allow you to restore data from your iTunes or iCloud backups selectively.
It is very simple to use, allowing you to complete the backup within a few minutes.
It supports all iOS devices and all iOS versions, including the latest iPhone 14/13/12 and iOS 16/15.
To create a complete backup of all the data on your iPhone, follow these simple steps:
Step 1: Download, install the iPhone Data Backup & Restore tool on to your computer and then run it. From the options in the home screen, click on Backup & Restore to continue.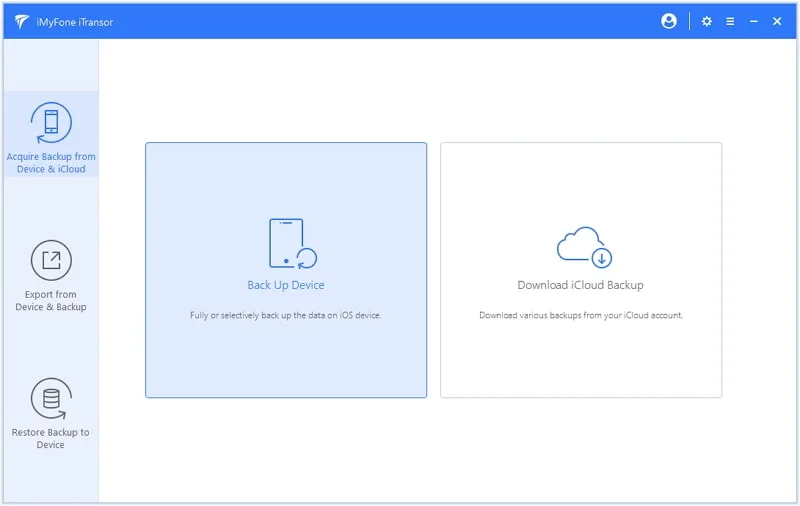 Step 2: Choose Backup and connect your problematic iPhone to the computer via an lightning cable, then wait for the program to detect the device automatically.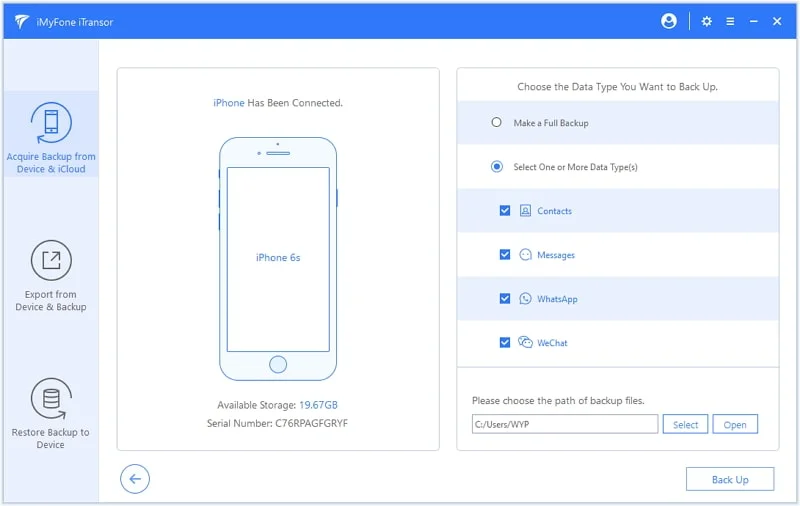 Step 3: Now you are able to select the types of data you would like to backup and then click Backup to begin. Ensure the device connected to the computer until the backup is done.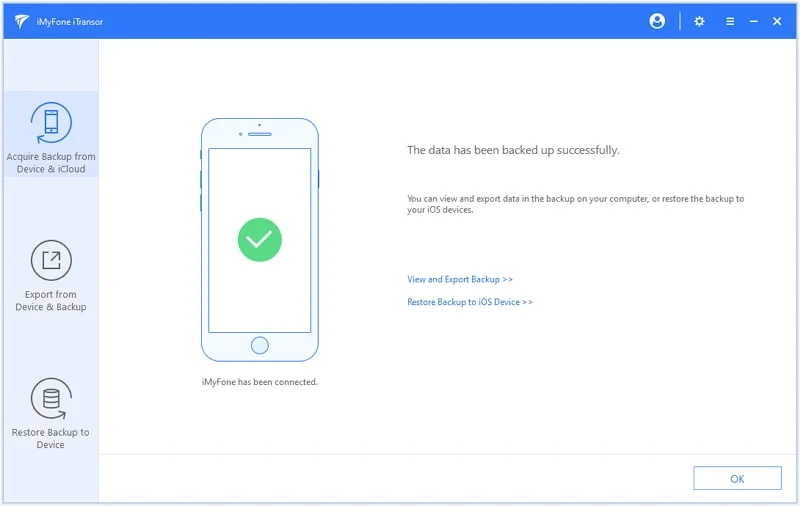 When the process is finished successfully, you can delete all the data on the iPhone and then restore only what you need back to the device and this error message will be gone.