Many users have reported encountering the error 'unable to identify server s.mzstatic.com' when using iTunes or logging into it. It's an error that can be pretty inconvenient as it makes it difficult to connect your iOS devices to your computer.
The reasons behind it are many, like incorrect time and date on your device, presence of malware, corrupted app data, expired certificate, etc.
Don't worry though if you've faced the same error too. You're not alone and herein we'll help you fix it. We'll discuss what this error really means and the different solutions that can help you out in solving it. Let's begin!
What Does 'Unable To Identify s.mzstatic.com Server' Mean?
Apple products are used by many people all over the world and as such, Apple users often run into errors like being unable to identify server s.mzstatic.com in their iPhone, iPad, or Mac Book. In fact, the error unable to identify server s.mzstatic.com is pretty common. Even one of our team members faced the same error with his iPhone 14. He did manage to get rid of it though.
So, what does unable to identify s.mzstatic.com server mean? Well, it's an error that simply means iTunes couldn't communicate with the said server (used to process information) - probably the server's ID wasn't recognized as valid. If you're facing the same error too in your iPhone, iPad, or Mac, you can get rid of it. Just follow the methods and steps provided below.

Different Ways Of Fixing iTunes Unable To Identify Server s.mzstatic.com
Clear iTunes App Cache and Data
Removing all the iTunes cache and data can work very well to fix the unable to identify server s.mzstatic.com issue on your iPhone. Now, how can you get rid of your iTunes cache and data? Well, it's a simple process. Just follow these steps:
Open your device Settings app. Search for the iTunes app.
When you find it, tap on it.
You'll see the Clear History and Website Data option on the following screen.
Tap on the option and confirm it once more by tapping on it. That's all!
Change Certificate Settings
Like many other users, you can experience this error on your Mac whenever you launch iTunes. One way you can fix it is by changing the certificate settings. The caveat is that doing so will bypass your device's built-in security measure for trusting unknown certificates. If you've no problem with that, here's how you can do it.
Start by closing the iTunes app and also the App Store.
Launch Finder and head to Applications.
Select utilities and then click the Keychain Access option.
In the Keychains window, head to System Roots and click on Certificates (under Category).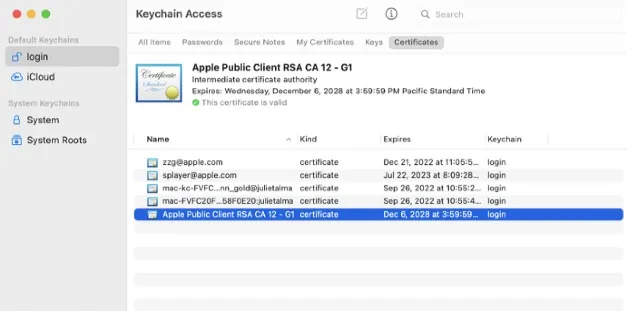 Now, look for the certificates that feature a plus sign in a little blue dot next to them.
Next, open the certificate. Click the triangle beside Trust.
Click on "Set Secure Sockets Layer (SSL)" option and set it to "no value specified".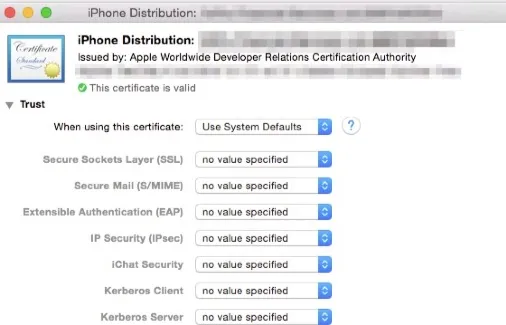 From there, close the particular certificate and open it again.
Head to the "When using this certificate" option and set it to "Use System Defaults".
Close the certificate. The blue dot beside it will disappear.
Go to all the other certificates with the same blue dot beside them, and repeat the above steps for each one of them.
Delete Verisign Certificates
The other way you can fix this error is by deleting Verisign certificates. To do so (On your Mac):
Head to Applications and click on Utilities, then Open Keychain Access.
From the Category section, select Certificates.
Look for Verisign certificates and then export them.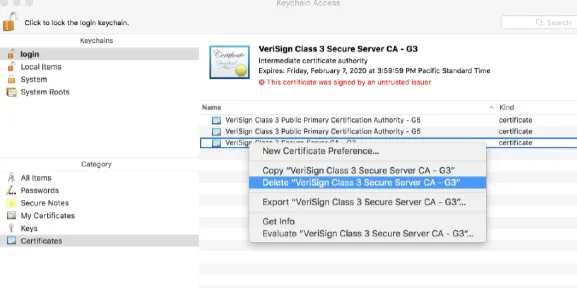 Remove these Verisign certificates from the Keychain Access.
Update iTunes App
Sometimes you may get the error "unable to identify server s.mzstatic.com" because you're using an outdated or old version of the iTunes app. Check if that's so.
If it is, then you should update the iTunes app. This will fix the error.
Launch iTunes in Safe Mode
Opening iTunes in safe mode can help you know where the problem actually lies, whether it's the iTunes app itself or your device software/system. Therefore, go to your Mac computer, open the iTunes app in safe mode and then check if the error, "unable to identify server s.mzstatic.com" occurs. You can do that by following these steps:
Boot up your Mac by pressing the power button and then immediately press the Shift key and hold it.
Continue holding the shift key and only release it when the login screen shows up.
Input your correct login password to enter safe mode.
You may need to put the password once again in case the disk of your Mac computer gets decrypted with a program like FileVault.
Find iTunes and open it while still in safe mode. Check if the error, "unable to identify server s.mzstatic.com" shows up.
If there's no issue in safe mode, it's likely then that the problem is external plugins or your device system. When you're done and want to exit the safe mode, simply restart your computer as usual and you'll be out of the safe mode.
Reset Keychain Login Password
Apple introduced Keychain when it released Mac OS 8.6. It's basically macOS password management, so if iTunes keeps showing the error that it can't identify server s.mzstatic.com, then resetting your Keychain login password may actually fix the error. These are the steps to resetting the Keychain login password:
On your Mac computer, launch "Finder".
Open Keychain Access and head to Applications.
Select Utilities and then click the Login option from the left side.
Select the "Change Password for Keychain Login"... from the Edit menu.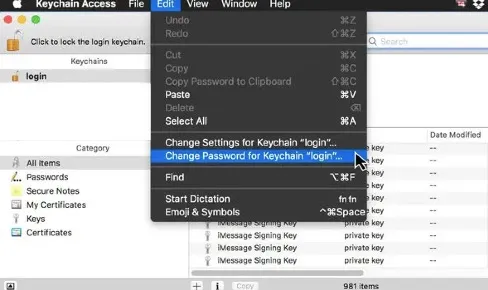 Go to the "Current Password" column and type in your old Keychain password.
Move to the "New Password" section and type in your new Keychain password. Enter the new password once more in the "Verify" section.
Now just click the OK tab at the bottom right to save the changes.
Check the Date and Time
You should check the date and time on your iPhone because if they are incorrect and don't match the date and time of the server, then the issue of unable to identify server s.mzstatic.com is likely to arise.
Therefore, ensure that your iPhone date and time are correct.
Uninstall iTunes App and Install it Again
Reinstalling the iTunes App can help wipe out glitched files that could be causing this error and as such, get your iTunes working normally again. Follow these steps to reinstall the app.
For iPhone or iPad:
Tap on the iTunes app and hold onto it for a few seconds. Tap "remove app" when it shows up.
Now simply flick on the app to delete it.
After some seconds, install the iTunes app again from the App Store.
Just search for iTunes, click on install, and then fill in the required details.
For MacBook:
Go to the Finder window.
Click on "Application" on the left panel.
Now just drag the iTunes app to the trash icon.
Finally, empty the trash by right-clicking on the icon.
Wait a few seconds, then install the iTunes app again from the App Store.
Go to App Store, search for the iTunes app, click install, and then fill in the required details.
Ensure you install the latest iTunes version on your iPhone or Mac.
Check for Malware
Nowadays it's pretty common for devices to have malware which always creates many problems for users. It's the same case with this error as a lot of users have reported that their iTunes was unable to identify server s.mzstatic.com due to malware. Therefore, it's good that you also scan your device to see if it's actually malware causing the same error. Here are some signs that can tell you if your iOS device has any malware.
You find unknown apps on your iPhone.
Too many pop-ups appear.
The battery power keeps dropping suddenly.
Constant crashing of apps.
Increased data usage.
The device heating up, etc.
So, how can you eliminate the malware?
There are many solutions you can implement. The easiest though is downloading and installing an antivirus app that will protect your device.
Note: Ensure you confirm the reliability of the antivirus app first before downloading it.
Contact the Apple Support
If the error still persists after you tried all the above methods, you should now consider contacting the Apple support team. The Apple technicians will be able to identify the cause behind the error and help you to resolve it.
Fix 'Unable to Identify Server s.mzstatic.com' Using FoneGeek
Going through all the methods above one by one can be a bit laborious. However, if you want a quick but effective way, then there are powerful third-party software that can fix the error for you fast. One such powerful software is FoneGeek iOS System Recovery.
It's the perfect tool for solving all iOS-related issues like this error. We highly recommend it as it's optimized to repair iOS and optimize devices no matter the problem they are facing. Even for this unable to identify server s.mzstatic.com issue, it will fix it completely.
Below are steps for fixing unable to identify server s.mzstatic.com using FoneGeek iOS System Recovery
Download and install this program onto your computer, then select the 'Standard Mode' mode.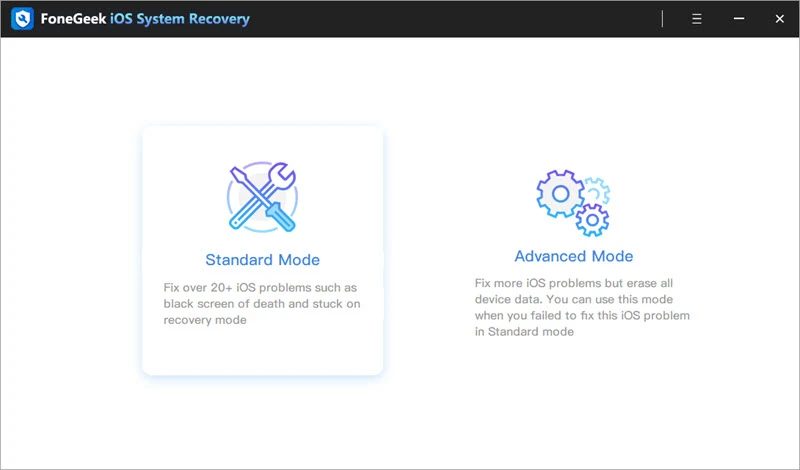 Then get your iPhone connected to the PC.
Next, select a firmware package. Click the Download button after making your selection.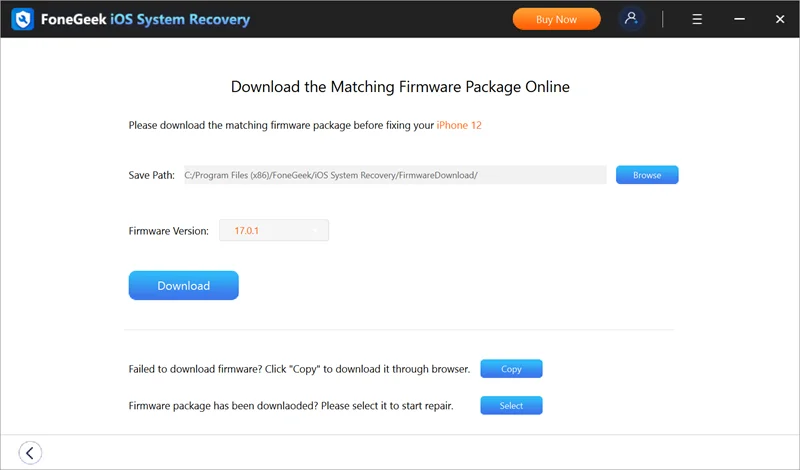 When the firmware completes downloading, click 'Fix Now' to begin fixing the error and other iOS system issues.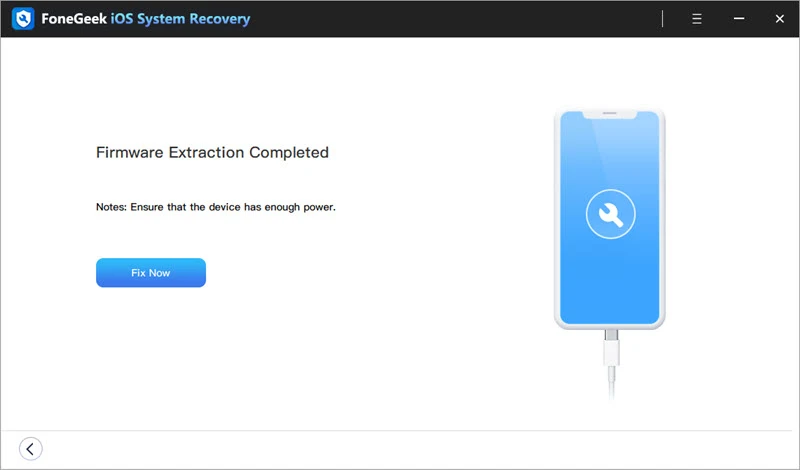 Conclusion
The error "unable to identify server s.mzstatic.com" can be solved easily by trying out the methods we've mentioned above. Trying them one by one may be a bit laborious though. Fortunately, you can avoid that by using FoneGeek iOS System Recovery. This is one software we highly recommend because it not only offers a quick way of solving this error but it's able to effectively fix all possible iOS-related issues. For this iTunes error, we highly advise you use it, especially if you want to save time.