Amazon Kindle is one of the finest places for those who enjoy reading ebooks. It lets you browse millions of eBooks from thousands of authors in various languages. However, one issue of the Kindle is that most of the books on this platform come in mobi or azw format. As a result, it becomes hard to read these books on your mobile or PC in the usual way.
You will be glad to know that several online tools and websites let you convert kindle books to the standard PDF format. Keep going through the below paragraphs to learn more!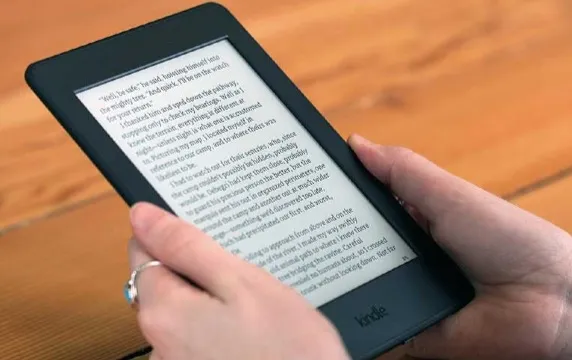 Part 1. Basic Thing First: Download a Book from Kindle
If you have a Kindle account, you can download the preferred ebook to read offline. It eliminates the need of going through the hassle of conversion. Let's see how to download the book.
Open the installed Kindle app on your PC, phone, or Kindle device.
Open the Library section to access the eBooks you have saved.
Double click on the preferred book cover to download it on PC.
Press once on the book cover if you got the Kindle app on your phone.
This will start downloading the book, and it will be ready to view offline within a while.
Part 2. How to Convert Kindle to PDF
3.1 Online-Convert
Website: Online-Convert
Price: Free
Mode: Online
Online-Convert is a free website that lets you convert various types of files. You can also utilize it to convert amazon ebooks from mobi or azw to PDF. Here is how to use this tool to convert kindle ebooks to pdf:
Open the website and press on the Ebook Converter.
Find and open the Convert to PDF option.
Now upload the ebook and press Start.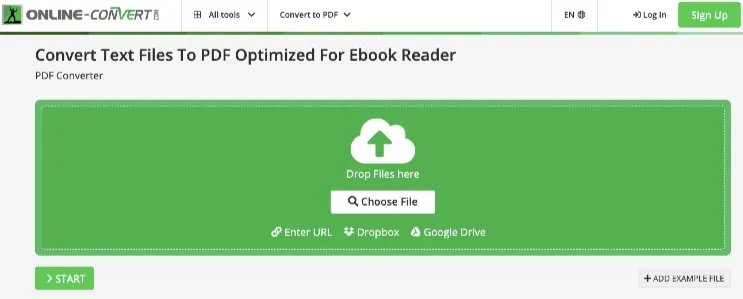 That's it; your file will be converted to PDF within a while, and you can save it on your device.
3.2 Kindle Converter
Website: Kindle Converter
Price: $15
Mode: Offline
The Kindle Converter is a premium computer application that lets you convert your Kindle books to PDF. As a premium tool, it preserves the quality of the book efficiently. Here is how to transform your mobi or azw ebook to pdf through Kindle Converter:
Download and install the app from its website.
Next, go to Add Files and upload the ebook you want to convert.
Now press on Output Format and choose PDF from the list.
Choose the Output folder to pick a location to save the file.
Now press Convert. That's it; you are done!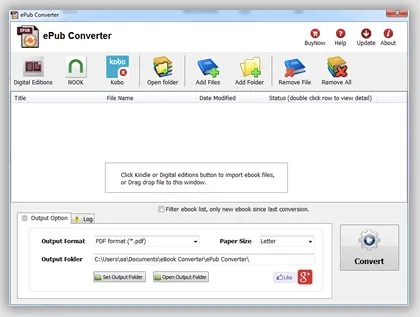 3.3 Calibre
Website: Calibre
Price: Free
Mode: Online
If you are searching for a free computer app that enables you to convert Kindle to pdf easily, Calibre will be an excellent option for you. It also works as an ebook reader and lets you organize the ebooks on multiple devices. Here is how to use Calibre.
Get the Calibre app from its official website and install it on your PC.
Open the Calibre app and press on Add books.
Add the kindle book and select it.
Now press Convert Books and select PDF from Output format.
Press Ok. The kindle book should be converted within a while.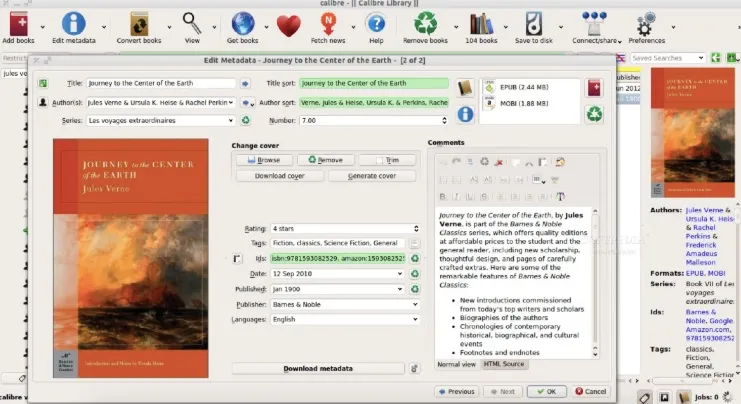 3.4 CloudConvert
Website: CloudConvert
Price: Free
Mode: Online
CloudConvert is a free online tool that lets you convert files between 200+ formats. You can use it for kindle azw, mobi, epub, to pdf conversion. The website is straightforward to use and convert the files within a quick order. Let's see how to use the CloudConvert for Kindle to pdf conversion:
Open the CloudConvert website.
Press on Select File and select the ebook.
Now press the Convert To dropdown.
Select PDF and press Convert.
The ebook should be converted to pdf within a while.
Save the pdf file on your PC by pressing Download.

3.5 Zamzar
Website: Zamzar
Price: Free
Mode: Online
Zamzar is an excellent website to convert your audio, video, image, and documents. It is unbelievably easy to use:
Open Zamzar website.
Import the ebook by pressing Add Files.
Next, press the PDF option from Convert To dropdown.
Press Convert Now.
You should find a Download button after a few seconds.
Press the Download button to save the book as a PDF.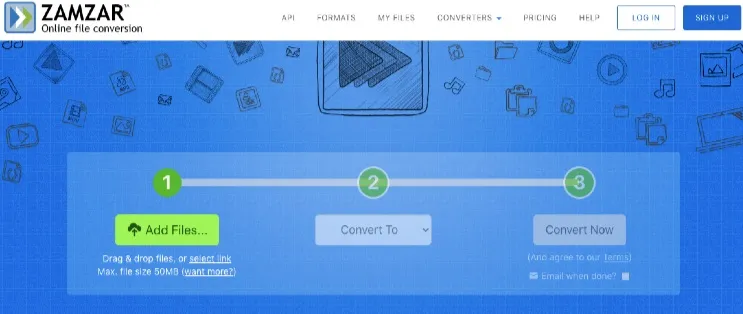 3.6 Epubor Ultimate
Website: Epubor Ultimate
Price: Free
Mode: Offline
Epubor Ultimate is an excellent tool that you can consider using for decrypting and converting ebooks. It's a premium PC application that you can use for converting Kindle, google ebooks, Adobe, and a variety of other formats to PDF. Here is how to use Epubor Ultimate to convert Kindle to pdf:
Get the Epubor Ultimate for your PC and install it.
Import Kindle book and remove DRM at first.
Now press Convert to and select PDF.
Press the Convert to button again to begin converting.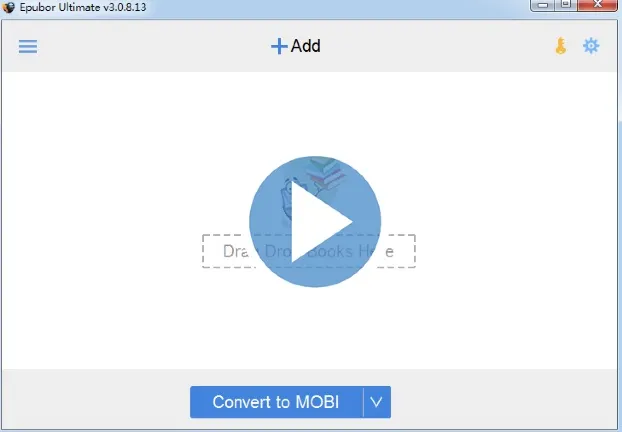 This will convert your Kindle ebook to pdf within a while.
Part 3. Best PDF Converter for Windows and Mac Users
If you are searching for an all-in-one solution for your ebooks, FoneGeek PDF Editor can be one of the best options for you. It is a powerful tool that lets you view and convert various ebook formats. Here are some other interesting features of FoneGeek PDF Editor:
Identify text, numbers, images, etc., quickly with OCR.
Make your image-based PDF into editable and searchable
Support multiple formats, including pdf, HTML, RTF, etc.
Batch convert your document in different formats.
Update font size, modify the structure, add images to pdf.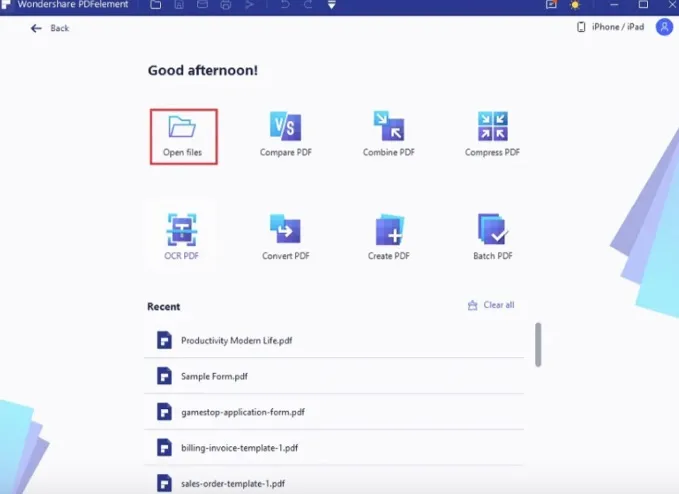 Part 4. Frequently Asked Questions
Q1. Can I read the Kindle Books as PDF?
Yes, it's possible to read your Kindle books as PDF, but you need to convert it first. You can use the options we have discussed above for the Kindle to pdf conversion.
Q2. Can I edit the PDF file Which is Converted from Kindle?
Typically, it is not possible to edit your PDF books. However, some apps and websites let you edit PDF files. These include FoneGeek PDF Editor, EasePDF, Adobe Acrobat Reader, etc. You can perform a variety of customization, including adding watermarks, passwords, signatures, rotating pages, and much more.
Q3. Is It Possible to Read a PDF File on Kindle?
Absolutely yes; you can read PDF ebooks on Kindle. In fact, Kindle supports a variety of document formats, including PDF.
Q4. What to Do if the Converted Ebook Pages are Blank?
Well, it may happen if you keep the "odd and even pages different" option turned on while converting the book. So make sure that you are unchecking this option to avoid the blank pages.
Q5. Is It Possible to Save the Kindle ebooks as PDFs on iPad?
It's not possible to download the Kindle books as pdf. However, you can download the kindle books in their usual format and then convert them into PDF using the apps or websites discussed above.
Q6. How to Smaller a PDF Size?
Sometimes ebooks come in a large size, and they occupy a lot of data on your device. In such cases, you can use tools like Compress PDF and Delete PDF to make them smaller.
Compress PDF lets you reduce the size of a PDF file.
Delete PDF enables you to remove the blank pages from PDF to make them smaller.
Conclusion
If you are interested in reading Kindle eBooks on your computer or phone, the above-discussed tools and websites are some of the best options for you. Most of them are free and let you convert kindle books to PDF with some easy steps. There are both free and paid options. The free converters may show you some ads, but they work efficiently in most cases. Besides, the paid one assures ad-free, effective conversion and sometimes brings additional features.

Joan J. Mims is interested in researching all tips about iPhone, iPad and Android. He loves to share useful ideas with all users.

Home
>
PDF
>[6 Tools] How to Convert Kindle Books to PDF Online & Offline