One of the conveniences of PDF documents is that they come with colored pages and visual effects, making them more interactive. However, the color and visual effect might be an issue when you want to print the document. Moreover, some users enjoy reading the PDF in B&W as they find the colors distractive. In such cases, you need to convert pdf to black and white.
In this guide, we will introduce you to some of the simple ways to convert PDF books using different methods. Keep reading to explore the techniques.
Part 1. Convert Color PDF to Black and White with FoneGeek PDF Editor
The FoneGeek PDF Editor can be one of the most efficient tools you can utilize to convert colored pdf to black and white. You can easily convert the colored book into grayscale using this tool. Along with converting the book, it enables you to edit and customize your PDF easily. Let's know more about this editor.
Key Features of FoneGeek PDF Editor:
Add, remove, or customize the text in the PDF files easily. Customize the fonts, font color, and background color.
You can protect your documents by locking them with a password. It also enables you to create, customize, or fill forms.
Convert your Docx, JPEG, PPT, Excel, BMP, etc., files to PDF with the built-in document converter.
Convert the files efficiently without causing distortion or data mismatch. Easy to use interface.
Feel convinced? Let's see how to install and utilize the FoneGeek PDF Editor to convert your PDF to black and white:
Step 1: Visit the official website of FoneGeek PDF Editor and download the program for your Mac/Windows OS. Complete the installation and launch the program.
Step 2: Press "Open File" to export the pdf you want to convert to black and white. You can also drag and drop the file from your computer's file manager.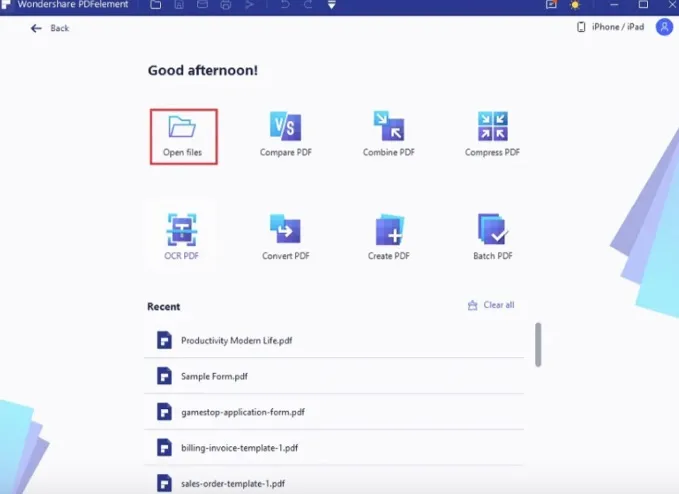 Step 3: Now go to "Print" from "File" and pick "FoneGeek PDF Editor" as Printer. Now, select "Grey" instead of "Multicolor" from the "Color" option. Press the "Print" button to convert the PDF to black and white.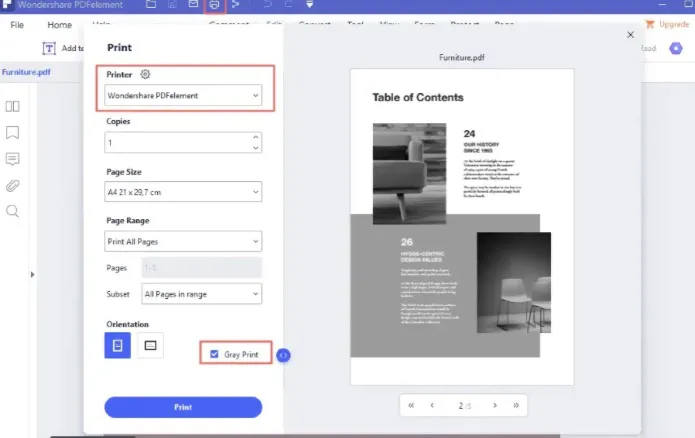 Part 2. Make PDF Black and White with Adobe Acrobat XI Pro
Adobe Acrobat is the most popular tool that professionals use for creating and editing PDF documents. You can use this tool to turn PDF files into black and white. Note that it's a paid tool. But you can use the trial version for seven days free of charge.
Below we will list the steps you need to follow to turn your PDF files into black and white using the Adobe Acrobat XI Pro:
Step 1: Download and install the Adobe Acrobat Pro from their official website. Then, launch the program and browse the PDF file you want to convert.
Step 2: Now click on "Print Production" from the tool section. Then press "Convert Color" which you should find under "Print Production".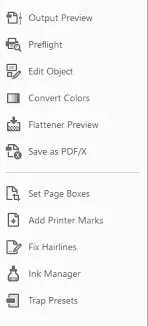 Step 3: Now you will find a lot of settings. Simply select "Any Object" under "Object Type". Now for the "Conversion Attributes", for the "Conversion Profile" pick "Gray Gamma 2.2" Press "Ok" to preview the pdf file in B&W and then click on "Yes" to complete the conversion.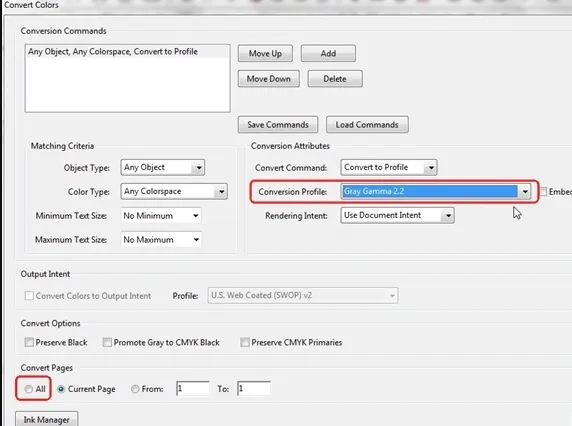 That's it; now you should find the PDF file in black and white.
Part 3. Convert a Color PDF to Black and White in Preview on Mac
If you use a Mac computer, you don't need to download any third-party application to convert the color pdf to black and white. You can easily do this by using the built-in "Preview" app that arrives with the Mac OS. It enables you to preview and do basic edits on your PDF and image files. You can even password-protect your pdf and image files from copying with Preview.
Here is how to use the Preview tool to convert PDF to black and white:
First, launch the Preview app on your Mac and import the file you want to convert.
Find and press the "File" button on the top toolbar and select "Export".
Now you need to set the name for the file and then move to "Export As".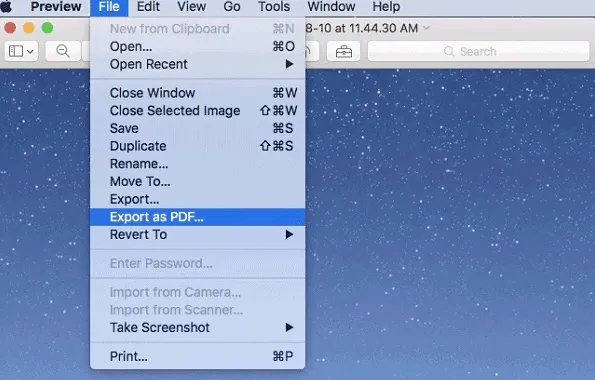 Pick "PDF" as the file format and then browse the "Quart Filter" and select "Black and White".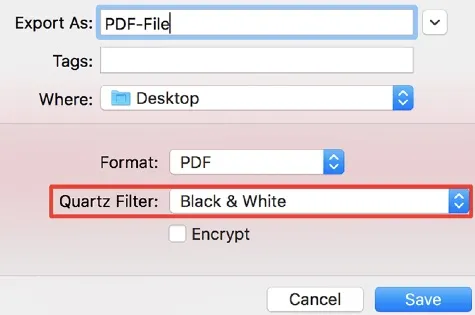 That's it. You can save the converted PDF in the preferred folder by pressing the "Save" button.
Part 4. Convert PDF to Black and White Online
4.1 Sejda
If you want to convert PDF to black and white without downloading, the Sejda website can help you to do this. Let's see how to do this:
First, open the Sejda website and click on "Upload PDF file".
Upload the preferred PDF file that you want to convert to B&W.
Now press on "Convert to Grayscale" and wait a few seconds.
When the file is ready, click on "Download" to save it.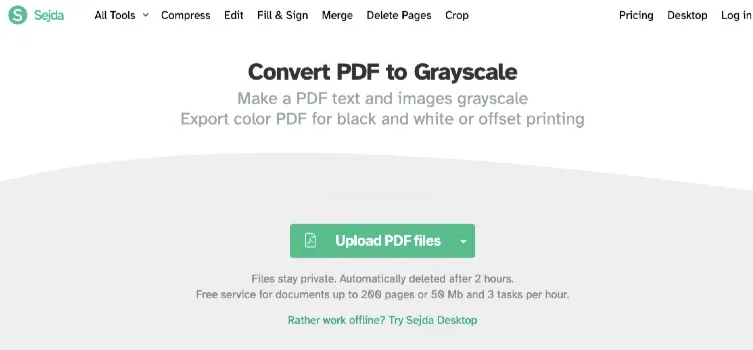 4.2 online2pdf
The Online2PDF is another tool to turn your PDF into black and white. Here is how to use it:
Visit Online2PDF website and press on "Select Files" to export the file. Select the file format as PDF.
Make sure the selected option under "Compression" is set to "Black and White (Gray Scale).
Now press on covert. The file will be converted to B&W within a while and automatically downloaded to your device.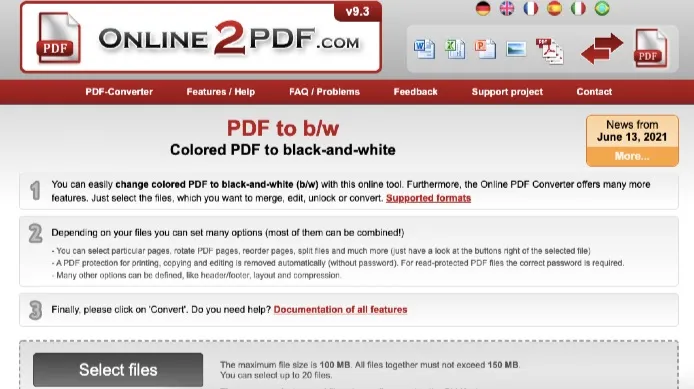 Part 5. FAQs about PDF Files
Q1. How do you create a PDF?
There are different ways to do this. Such as, you can write the file in MS word and then save it as a PDF. You can also use FoneGeek PDF Editor or Adobe Acrobat tool to create PDF files.
Q2. How do I print my PDF?
Open the PDF file and press "CTRL+P" to print it on Windows PC. If you want to print the PDF from Adobe Acrobat, simply open the "File" menu and select the "Print" option. If you want to print the PDF in black and white, make sure to open "Advanced Options" and select "Composite Grey" under "Output".
Q3. What are the differences among black-and-white, monochrome and grayscale?
As the name suggests, the black-and-white photos or documents consist of two colors which are white and black. Besides, the Greyscale images consist of these two colors and the whole gray shade scale. On the other hand, the Monochrome photos consist of a single color which is from the brightest end to the darkest.
Conclusion
There are several ways to convert PDF to black and white as well as in greyscale. If you often require converting PDF files to black and white, we recommend you use the FoneGeek PDF editor or the Adobe Acrobat Pro (expensive) for the best experience. On the other hand, if you need to convert the file just once, the online tools might be best for you. However, be aware as they include advertisements and sometimes redirect you to scam sites.