PDF documents that contain sensitive information are often secured with passwords to protect the file from unethical access. You cannot directly print the file without entering the password. But what can you do when you forget the password or don't know it?
Fortunately, there are some effective ways to print a password-protected PDF without the credentials. Keep reading to find out how to print a secured PDF without a password.
Part 1. Is It Possible to Print Secured PDF without Password?
Most users might ask: Is it possible to print PDF successfully if I forgot the password? The answer is YES. However, you may need to find a profession tool to remove password from PDF first. You can find different online or offline tools to remove or recover your secured PDF documents, choose the most reliable one to unlock the PDF file.
Part 2. How to Print Secured PDF?
Below, we will discuss some easy and effective methods that you can utilize to print a secured PDF online & offline.
2.1 Using Google Docs
Good Docs is a popular online word processing tool that many of us use to view and edit word files. However, Google Docs requires you to print secured PDF with password. Here are the steps you need to follow:
Step 1. Open your browser and go to Google Docs. Sign in to your Google account.
Step 2. Now press the Open file picker button and press Upload from the "Open a file" window.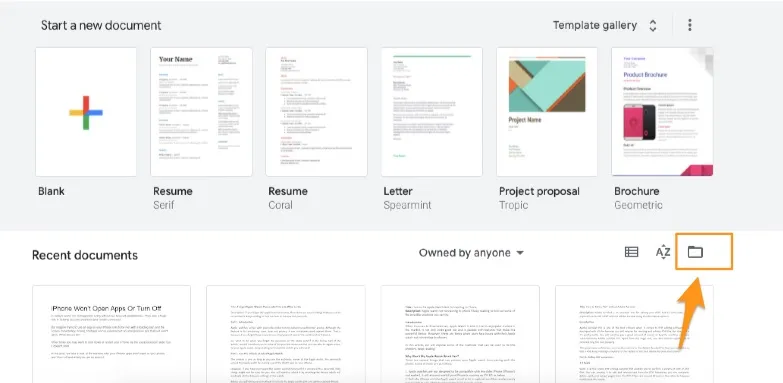 Step 3. Press on "Select a file from your device" and then select the PDF you want to print.
Step 4. Now you can view the PDF file in Google Docs. Press the Print button from the top-right.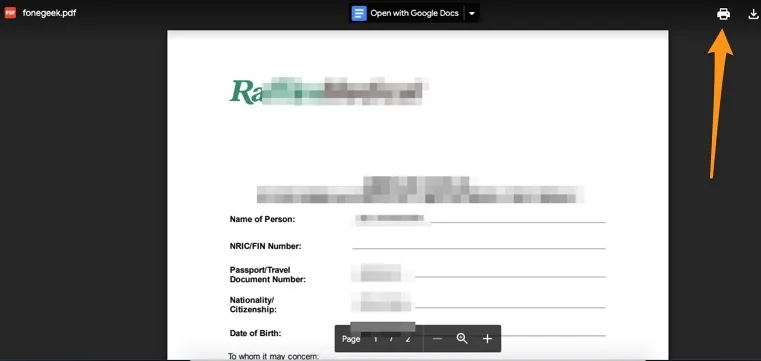 Step 5. The print window will open in a new tab. Press on Print and select a location to save the PDF file with a new name.
Step 6. Now you will find the PDF as an unsecured file in the designated folder, and you can print it without a password.
2.2 Print Secured PDF with Google Drive
You can use Google Drive to print a secured PDF file without any issues. Let's see how to do this:
Step 1. Open Google Drive from your browser and log in to your Gmail. Press "New" and then "File upload". Select the secured PDF from your PC.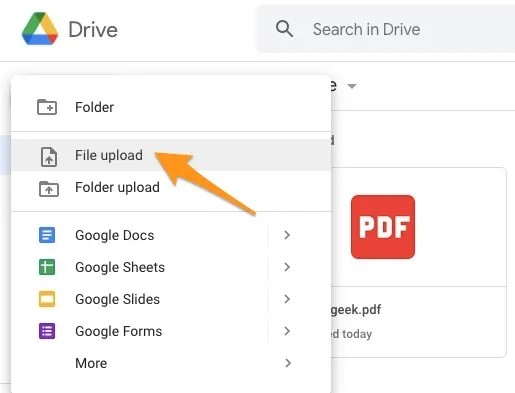 Step 2. After opening the PDF, right-click on the file name with your mouse and then press "Preview". Now the file will open in Google's integrated PDF viewer.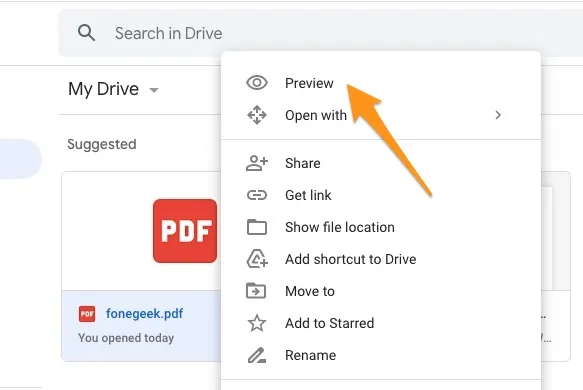 Step 3. Find the Print option in the top-right of the screen and press it. Now you will be able to print the PDF without any password.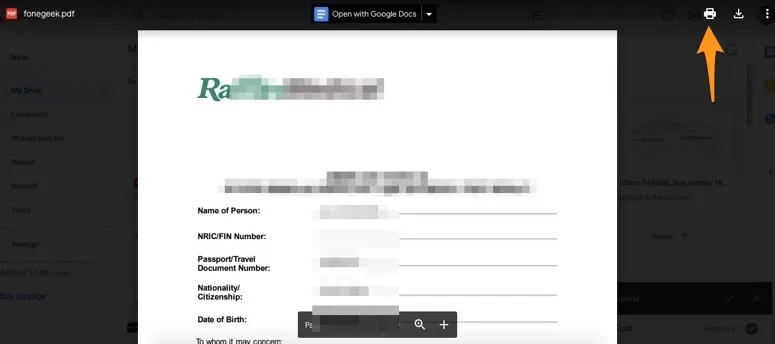 2.3 Print Protected PDF with Google Chrome
Google Chrome can also be used to print the protected PDF. Here is how to do it:
Step 1. Find the PDF file on File Explorer and left-click on it with your mouse. Select "Open with" and then "Google Chrome".
Step 2. After opening the PDF on Chrome, you will find the Print option at the top of the preview screen. Press on the Print icon and you will be moved to the print window.
Step 3. Now choose the first option as "Save as PDF" and then press the "Save" icon below.
Step 4. An unsecured version of the PDF will be saved on your hard drive. You can now print it like a normal PDF.
2.4 Microsoft PDF Writer
Microsoft PDF writer is a virtual PDF printer that you can use to print a password-protected PDF file. Follow the below steps to print your PDF using this method:
Step 1. Locate the PDF file on file explorer. Left-click on the file name and then "Open with" and select "Microsoft Edge".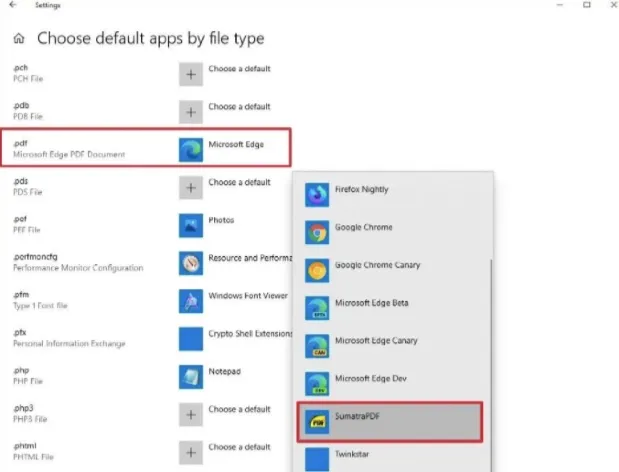 Step 2. Now the PDF will load in the Edge browser, and you will find the Print option on the top toolbar. Press the Printer icon.
Step 3. Now you will find a dialog box. Select "Microsoft Print to PDF" under Printer and then "Print".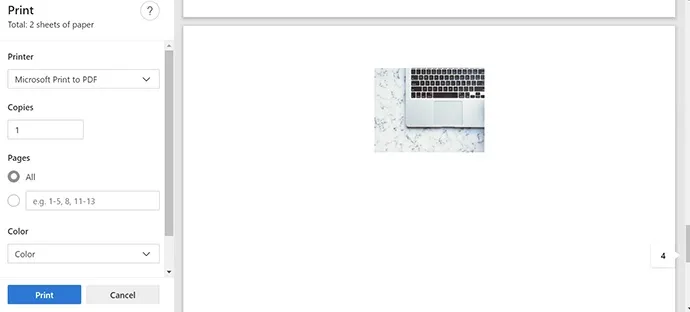 Step 4. A copy of the protected PDF file will be generated and saved on your PC as an unsecured file. You can now print it like a normal PDF.
2.5 FoneGeek PDF Editor
FoneGeek PDF Editor is not a PDF printing tool, but it is more like a full suit for editing and creating PDF files. However, the powerful tool also enables you to remove password-protection from PDFs. But how does it work?
Password-protected PDFs come with a password that is required to view, edit, or print the file. We can say that it is like an access code for permitting users to view or copy the PDF file. The FoneGeek PDF Editor can help you to quickly and efficiently remove the password from your PDF in some easy steps.
Below, we will show you how to use the FoneGeek PDF Editor to remove password protection from a secured PDF:
Step 1. Download and install the FoneGeek PDF Editor on your Windows/Mac PC. Launch it after the installation.
Step 2. Press the "Open file" option from the FoneGeek software interface. Now select the protected PDF file from your File Explorer and press "Open".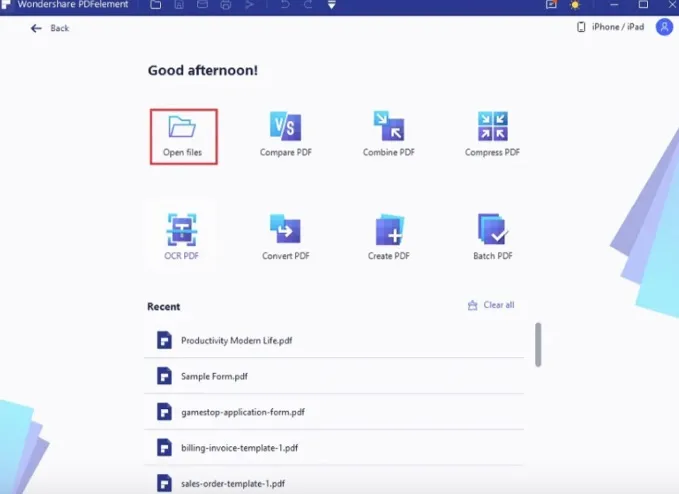 Step 3. After opening the file, the FoneGeek software will detect if there is any password protection in the file. If it finds any, you will require to enter the password to go to the next step. Move forward to the next step if it doesn't detect.
Step 4. Press the "Start" icon at the bottom of the dialog box. Once you press the button, the tool will instantly remove the password. After that, you can press "OK" to view the unprotected PDF file.
After opening the file, you can print it just like the usual unprotected PDF.
2.6 Adobe Acrobat
You can use Adobe Acrobat to remove the password protection from the PDF if you know the password key. Here is how to do this.
Step 1. Launch the Adobe Acrobat DC and open the secured PDF. Now press "File">" Properties".
Step 2. From the Properties window, go to Security. From there, find the SecurityMethodand select "No Security".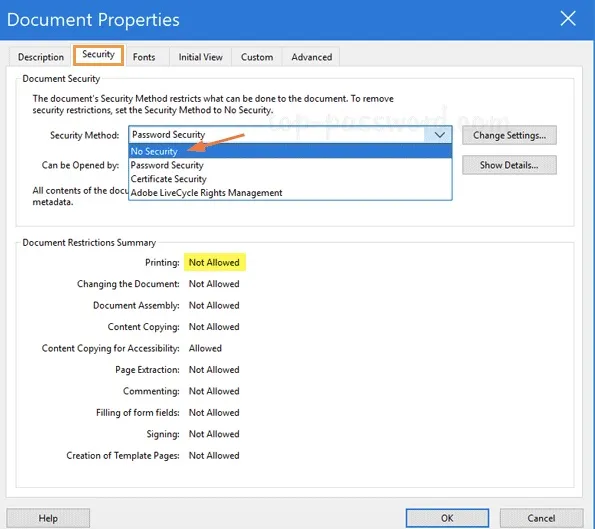 Step 3. Now press "Change Settings". A popup will occur and ask you to enter the permission password. Do this and press "Ok" Done! Your PDF is now unsecured.
Conclusion
It can be very intimidating when you need to check an important secured PDF, but you forget the password. However, thanks to the above method we have discussed above, you can now deal with the issue within a few minutes. All the above-discussed methods work efficiently to let you print a protected PDF file.
If you often require dealing with password-protected PDF files, the FoneGeek PDF Editor is something you should really consider. It not only allows you to print the protected PDF but also lets you entirely remove the protection and even edit the PDF if needed. Overall, it can be a great companion for dealing with both protected and unprotected PDFs.

Joan J. Mims is interested in researching all tips about iPhone, iPad and Android. He loves to share useful ideas with all users.

Home
>
PDF
>How to Print a Secured PDF without Password 2023