iPhone still dominate the smartphone market in many countries. Their high price tag usually makes many people flinch, though. That's why sometimes others would find getting a second-hand or a refurbished iPhone to be a better option, especially when on tight a budget. But, while purchasing a second-hand iPhone is indeed a good way to save money, more often than not such iPhones still tend to be passcode locked by the previous owner.
If you don't know the passcode or failed to ask the original owner for it during the purchase, this can be very frustrating as it means you can't use the phone. No need to worry though if you've found yourself in this predicament. We'll help you solve this for good. Below, we'll tell you exactly how to unlock a second hand iPhone, completely without knowing the passcode. There are various methods to do it and we'll share all of them. So, let's get straight into it.
How To Unlock Second Hand iPhone
Using Siri to Unlock Refurbished iPhone (For iOS 10.3.2 and 10.3.3)
All iOS devices nowadays come with Siri which is a voice assistant service that you can also use to unlock an iPhone. This little trick is temporary, though, and only works on iOS 10.3.2 and 10.3.3. With that in mind, here's how to unlock iPhone bought second hand using Siri.
Press the Home button of your second hand iPhone and keep holding it until Siri is activated. Ask Siri "What's the Time Now?" When the Clock widget appears, tap it.
A list of time zones will show up. When it does, go to the top right corner of the screen and tap the "+" icon to add another clock.
Next, select a city. Simply type what you want and then choose "Select All".
You'll see many options popping up. So, tap the "Share" button and then select "Message" from the new window that shows up.

Head to the "To" field and type anything. Now tap the "Return" button on your phone's keypad.
The typed text will turn green. Tap the "+" icon and then tap on "Create New Contact" from the new window that appears.
Finally, tap on "Add Photo" and then tap "Choose Photo" so that you can access your phone's photo library without unlocking your screen lock. Now this means you can unlock the second hand iPhone even without using the passcode.

NB: While this method may not delete your iPhone data, it's challenging to unlock the phone's screen lock each time, plus it only applies on iOS version 10.3.2 and 10.3.3.
Unlock a Second Hand iPhone Easily Without Password
Some of the best-advertised methods online usually don't work when you try them. So, to save your precious time and energy, we would recommend using FoneGeek iPhone Passcode Unlocker. This is an effective and quite advanced password unlocker designed for iOS devices. It includes high-level password bypassing technologies that have been tried and approved by top tech. Moreover, despite using advanced technology, it's still pretty simple to use hence you don't have to worry because anyone can handle it - it doesn't need expert skills.
Easily Unlock a Second Hand iPhone with FoneGeek iPhone Passcode Unlocker
Unlock Screen Lock of Second-hand iPhone: very simple to remove various screen locks, including 4/6-digit passwords, Touch ID, and Face ID. You can get into any locked, disabled, or broken iPhone.
Use iCloud to Unlock Second-hand iPhone: get rid of Apple ID, Find My iPhone, and iCloud account from iPhone without the passcode. You can then set up your own iCloud account and begin enjoying all the functionalities of the phone without any worries.
FoneGeek iPhone Passcode Unlocker is a remarkable tool for removing the lock screen of iPhone. There's no doubt about that, plus its interface is very simple to understand and use. Whether you're tech-savvy or not, you'll quickly learn how to use it. Just follow these steps to unlock your second hand phone.
First Get The Tool: Download the FoneGeek iPhone Passcode Unlocker and install it on your Mac or PC. With a USB cable, connect the screen locked iPhone to the computer.
Launch the FoneGeek iPhone Passcode Unlocker and click on "Unlock Screen Passcode" to continue.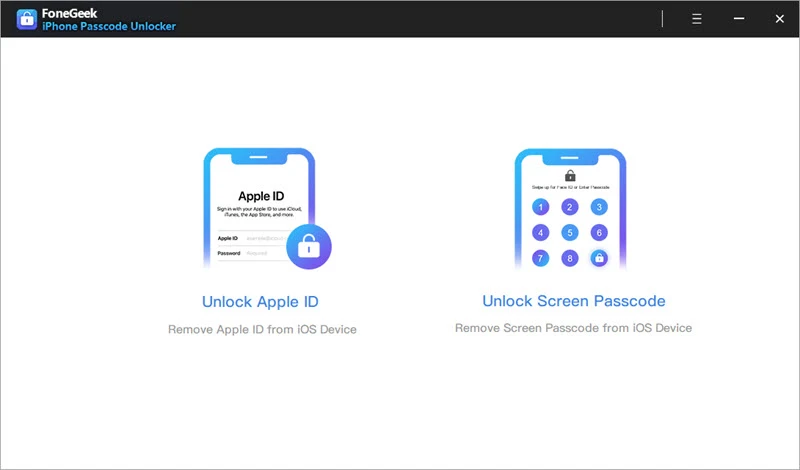 Click on the "Next" button to proceed. FoneGeek iPhone Passcode Unlocker will identify your device. Hit "Download" when it does for it to download and verify suitable firmware for your iPhone.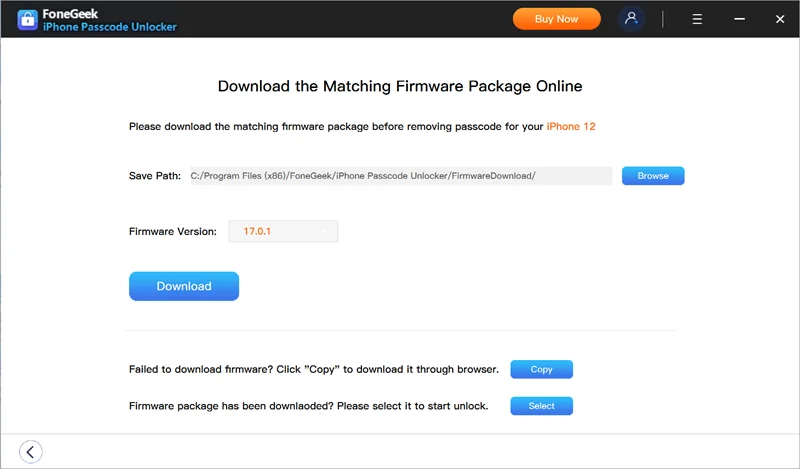 Once it's done verifying the firmware, hit the "Start Unlock". When the next page shows up, head to the confirmation box, type "000000" and finally click "Unlock" to complete the process.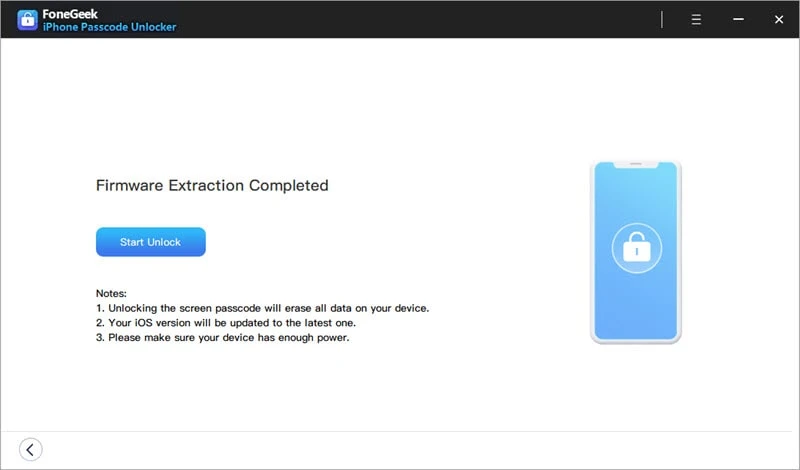 Unlock Second Hand iPhone Using Find My iPhone
Find My iPhone is a feature that offers various advantages, such as locating a missing/lost phone and keeping your data protected in case the phone is stolen. You can as well use it to erase your phone to deal with the screen passcode lockout. However, you have to have the Apple ID that's signed on to the phone for this method to work. Besides that, the "Find My iPhone" service must have been enabled on the phone. If all that is taken care of, here's how to unlock second hand iPhone through Find My iPhone.
Open your browser on your Mac or PC and visit the iCloud website. With the second hand iPhone's Apple ID credentials, sign into the iCloud website.
Choose the "Find My" option and click on "All Devices" to view all the devices connected to the Apple ID.
Select the locked second hand iPhone.
Now select "Erase iPhone" from the various options displayed.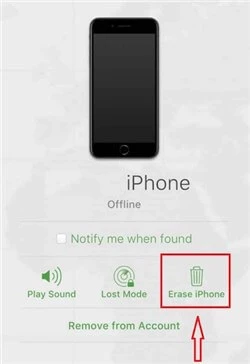 Note: This method will delete everything, including the passcode, hence guaranteeing entry to your phone.
Unlock Bought Second Hand iPhone Using Recovery Mode
You can also use the recovery mode to unlock the locked iPhone. The process varies a little based on the iPhone's model as you'll see in the guidelines below. Keep in mind that this method is only for unlocking the iPhone's screen lock but not the iCloud lock. In case the iPhone has been linked to an iCloud account, you'll be required to provide the activation lock details on the phone once the process is done. With that in mind, here's how to unlock iPhone bought second hand using recovery mode:
Step 1. With the second hand iPhone connected to your PC, open the iTunes program.
Step 2. While the device remains connected, place it into recovery mode by following these steps.
If it's iPhone 8/8 Plus/iPhone X
Quickly press and release the Volume Up button.
Do the same on the Volume Down button.
Now long-press the Side button. Release it when the iTunes logo appears.
If it's iPhone 7/7 Plus
Simultaneously press the Side button together with the Volume Down button and keep holding them.
Once the iTunes logo shows up, release them.
If it's iPhone 6S or an earlier model
Press the Home and Side/Top buttons together and keep holding them down.
Once there's an iTunes logo on the screen, release both buttons.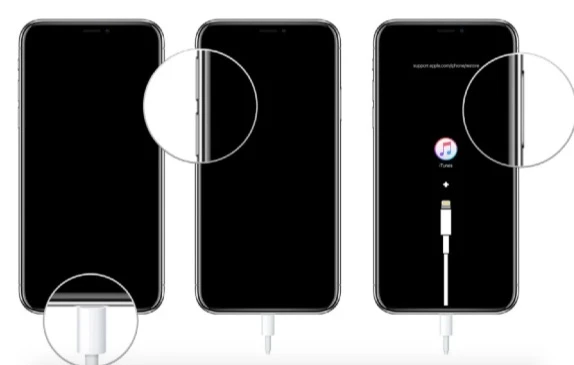 Step 3. After the iPhone has entered recovery mode, a window will appear on iTunes. Head to the window and click on "Restore" to download the ideal firmware for your device. In case it takes longer than 15 minutes, your iPhone will exit the recovery mode. When that happens, you have to repeat the 2nd and 3rd steps.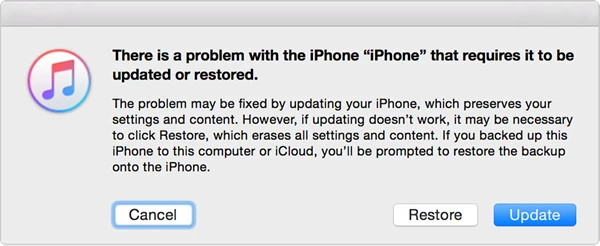 Allow the process to complete. Once it's done, you can proceed to set up the device.
While it takes more time than FoneGeek iPhone Passcode Unlocker, this recovery mode method will definitely work. It's that simple to unlock your second-hand iPhone. There might not be much to this method, but if something is unclear, you can find lots of guidelines to help you out.
Get the Carrier to Unlock the Used iPhone
The carrier may have locked the second-hand iPhone you've just bought. If you manage to unlock it, then it's possible to use it with different carriers. So, you can try unlocking the second hand iPhone by contacting your carrier and asking them to unlock it. Here is how to go about it:
You first need to find out whether the carrier offers such a service. It's only your carrier who can assist you in unlocking the iPhone.
Proceed to contact them and ask them to unlock the phone. There are some requirements you'll need to meet, but that's manageable.
Once they receive your request, it will take some days for them to comply.
You can still contact them to check the progress of the request. Once they unlock the iPhone, they will inform you.
Ensure you have your IMEI number ready. The IMEI basically stands for International Mobile Station Equipment Identity. It's a number that every device has and serves as the primary identification medium for valid devices. To know your iPhone's IMEI number, launch Settings, go to the General menu, and tap on About.
If you're using a different SIM Card:
If you're using a SIM card from another carrier, you can still easily unlock the second-hand iPhone even if it was already locked when you purchased it. Follow these steps.
Remove the old SIM card from the phone and place the new one in the slot.
Now simply set up the iPhone once more.
Note: This only works if the second hand iPhone wasn't locked to a particular network carrier. In case it fails to work, you should see error messages such as "Insert Correct SIM Card", "Invalid SIM", "SIM Locked", and so on.
If you're not using a SIM Card from another Carrier:
You don't own any SIM card from a different carrier? Well, you can still have the second hand iPhone unlocked for any carrier by following these steps:
Start by backing up the iPhone first to ensure your data is saved. You can do this using iCloud Backup. Open Settings and tap on your name. Proceed to iCloud and then enable iCloud backup.
Now, wipe out the whole iPhone by going to Settings and opening the General menu. Tap on "Reset" and then finally tap "Erase All Contents and Settings".
Restore the backup you initially created. As you set up the phone, you'll see the Apps & Data screen. From the screen, select "Restore from iCloud Backup" and type in your Apple ID plus the password. Select the recent backup you created and the process will begin right away.
What to Look out for When Purchasing a Second-Hand iPhone
Is it safe to purchase a second-hand iPhone?
Well buying a second-hand iPhone is generally considered safe provided the seller can trace its source to any trusted merchants. Doing so helps you avoid issues arising from buying an iPhone that has been stolen. In case you plan to buy from an individual, ensure they can provide proof of ownership or confirm legal possession. Ensure too that you check the performance of the device carefully under all possible circumstances prior to buying it.
Did the original seller or owner erase data?
Of course, the seller or previous owner may clear out all the phone's data in a bid to make it brand new and ready for sale. If that's the case, a "Swipe to Being" or "Hello" message will show up on the screen every time you turn on the iPhone.
In case the seller never erased their personal data from the phone, you'll see their photos, videos, and all other files. If that's the case, you should ask the seller to erase their personal data from the device.
Conclusion
From the various methods we've highlighted above, we're certain you now know exactly how to unlock a second hand iPhone. With any of these methods, you should be able to unlock and use the iPhone without issues. FoneGeek iPhone Passcode Unlocker is definitely the best and most reliable method if you don't know the screen passcode and Apple ID of the previous owner or if you're unable to unlock the phone with any of the other methods. It's simply the easiest way to get into the locked iPhone, so we suggest you try it out first, especially if you want a quick solution.