How to Unlock iPad Passcode without Restore [2021 New]
Joan J. Mims
Last updated: Monday on Feb 01, 2021, 21:05:23
Unlock iPhone
Most readers have recently sought solutions for unlocking their iPad device without restoring the iPad system. Actually, you can search many solutions out there. And you may be confused a lot and have no idea which solution to choose to unlock iPad passcode without restore. In such a situation, you can follow the solutions highlighted below summarized by other users who are in the same trouble to find out the best method to unlock iPad without restore.
Part 1. How to Unlock iPad Passcode without Restore
1.1 Using Siri to Unlock iPad Passcode without Restore
With the help of Siri, there is a great possibility to unlock iPad passcode without restore iPad system. However, the only weak point of Siri is that it is not compatible to unlock passcode for iOS devices with new iOS versions.
For iPad running the iOS version of iOS 12/13/14, try the steps below:
Activate Siri by long pressing the Home button.

Prompt Cellular Data by saying "Cellular Data" to Siri.

Disable Cellular data and the message of "Siri not available. You are not connected to the internet" will pop up on the screen.

You can then bypass iPad passcode now. No need to restore the iPad system.
For iPad running iOS version from iOS 8 to iOS 10, follow these steps:
Prompt Siri by holding and pressing the Home button on your iPad.

After activating Siri, ask the question of "what time is it now" to start the clock application on the iPad.

On the main interface of the Clock app, select the "+" icon and enter anything in the plank box and press what you entered to select all of them.

Click on "Share" and then "Message" app to have these messages shared via Message.

On the interface of the new message's info, select "Create New Contact" and click on "add photo" icon to import photos from the album on your iPad.
After opening the photo app on iPad, click on the home button and the iPad will be unlocked without restore.  
1.2 Backup iPad with iTunes Then Unlock iPad without Restore
Suppose that you fail to remember the iPad passcode and couldn't access to iPad anymore, the most effective way to get into the locked iPad is to restore iPad with iTunes. The central premise of this solution is that you shall back up iPad before restoring the locked device to avoid data loss.
You should sync the iPad with iTunes before the device is locked, or the iTunes will not recognize the device, let alone restoring the locked iPad.
Steps to Backup Locked iPad with iTunes:
Open iTunes and update it to the newest version.

Plug the locked iPad into computer using your original lightning cable.

After the locked device is connected, tap on "Back Up Now" button.
Unlock iPad Passcode with iTunes:
You can then click on "Restore iPad" to restore iPad system. After the restore is finished, the passcode will be removed.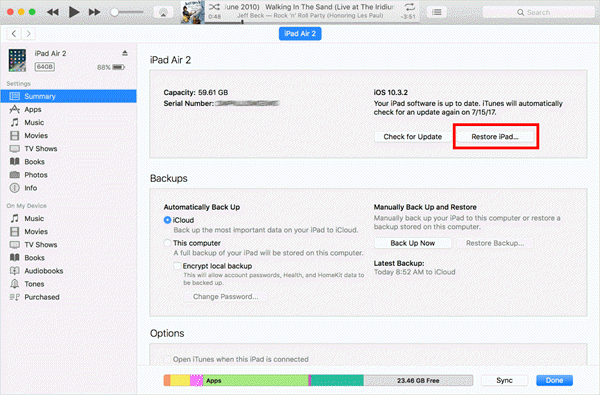 Note: The iPad data will not be overwritten or erased after iTunes restore. After all, you have previously created a full backup of the whole content in the locked iPad.
Part 2. Other Useful Tips to Unlock iPad Passcode
The above 2 tips will help you unlock iPad passcode without restore, while the other tips below will help you simply bypass the screen passcode.
2.1 Unlock iPad Passcode without Restore and Passcode
Since the method to unlock iPad without passcode using Siri is only workable on limited iOS devices, we are delighted to tell you that FoneGeek iPhone Passcode Unlocker is capable of unlocking iPad/iPhone without restore. And it is workable for all models of iOS devices.
Features of FoneGeek iPhone Passcode Unlocker:
Better than iTunes: It is much more simple to use than iTunes. The passcode can be easily unlocked in a few clicks.
Unlock All iPad Passcodes: Are you locked out of iPad? You can instantly bypass the 4/6-digit passcode on disabled or locked iPad with FoneGeek.
Remove Apple ID on iPad: No password is required to remove Apple ID from iPad using FoneGeek. The iPad will then be disconnected with the previous iCloud account.
How to Unlock iPad Passcode without Restore Using FoneGeek
Step 1. Firstly, you have to install FoneGeek iPhone Passcode Unlocker and launch it on your computer. Once it is finished, click on "Unlock Screen Passcode"  on the welcome interface.
Step 2. After the selection of the unlocking mode, get the iPad connected to the system and FoneGeek will detect the iPad. 
Step 3. The new window will pop up requiring you to get the most appropriate firmware downloaded onto iPad. You need to click on "Download" to proceed.
Step 4. You have to wait for a while until the firmware is downloaded. When it is completed, press the "Start Unlock" tab to unlock the iPad.
You will soon be notified when the unlock process is finished.
2.2 Unlock iPad Passcode with iCloud
You can also consider using iCloud to unlock disabled iPad without passcode as long as Find My iPad service is turned on.
On the iCloud site, log into your iCloud account using your Apple ID and password.

Select "Find iPhone" from the main menu.

After loading the page of Find My iPad, hit "All Devices" and choose the locked iPad.

Choose "Erase iPad" from the main options and type the Apple ID passcode to confirm before erasing.

The iPad will soon be remotely erased afterwards.
Conclusion
For more methods to unlock iPad passcode without restore, you can require for the technique support from Apple or the device carrier. And we will appreciate it a lot if you could share this article with your friends or colleagues.

By Joan J. Mims
Posted on Dec 12, 2019, 23:07:41
Joan J. Mims is interested in researching all tips about iPhone, iPad and Android. He loves to share useful ideas with all users.