Owning an iPhone or MacBook is considered a luxury by their owners, but activation locks in iCloud might be annoying. However, its impregnable security features are a blessing and a curse, as they can get their owners into trouble.
You'll need to watch for methods to circumvent the activation lock if you've lost your device's iCloud password. This becomes challenging because many users do not know how to activate the lock. The Open My iCloud app provides a workaround for these people.
There are several helpful apps out there, but this easy unlock tool has shown to be the most efficient. To better understand its effectiveness, keep reading our Open My iCloud review.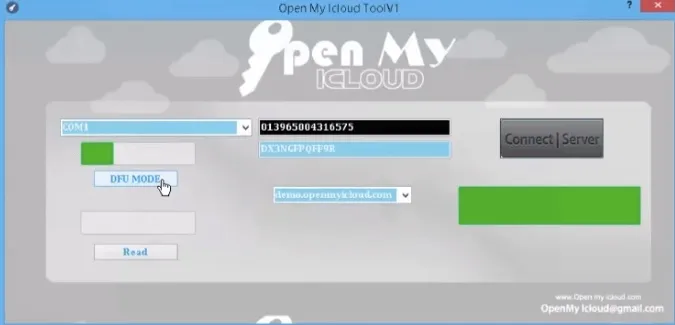 What is Open My iCloud and Its Pros/Cons?
Open My iCloud is a program that can bypass iCloud activation by entering the device's unique IMEI number. According to the developers, the program can access an iCloud account without the user's Apple ID password by connecting to a private server and obtaining a Key.
It's simple to use this program. Open My iCloud must be installed on your computer before it can be used. Connect your iPhone to your computer, and the app will bypass iCloud.
Pros
Fast and efficient (10 minutes) in its effects.
Downloads are available at no cost.
The software is intuitive and simple to operate.
All iOS devices are supported.
Cons
The download speed can be sluggish at times.
There is currently no web-based version of this tool.
A low success rate can be linked to many consumer complaints.
Users report it doesn't function on iOS 9 and later.
Is Open My iCloud Unlock Tool Free to Download?
The full version of Unlock My iCloud tool is not free. But, customers can try out the software for free to get a feel for its performance and explore its features. Some websites claim to offer full access to this tool without any paid subscription. Make sure you avoid downloading any tool from such sources.
Does Open My iCloud Really Work?
Whether or not Unlock My iCloud is successful in bypassing iCloud activation locks is unknown. Why? Several factors contribute to this conclusion. Unlock My iCloud is useful for bypassing Apple's iCloud Activation Lock. It's free to start and can unlock your iPhone in 15 minutes.
On the other hand, installing Open My iCloud on your computer could be a hassle. First of all, the tool's official website will not be accessible. You'll need to register and log in to any sites that provide the program's download link.
You'll have to sit through many adverts before accessing a download link, and most of those you locate will be bogus. The smartphone can be unlocked in as little as 15 minutes with the use of activation lock remover software. But contrary to that, our experiments have shown.
Finding a download link for the tool was quite difficult at first. Unlock My iCloud failed to unlock any iOS devices we tried to use after successfully downloading and installing it on the PC.
Best Alternatives to Open My iCloud
If you're looking for a more trustworthy, efficient, safe, user-friendly, and secure program for your iOS device, you don't need to rely on the Open My iCloud application full version free download. FoneGeek iPhone Passcode Unlocker is the program you need.
You can use it with any iPhone, from the 5s to 14 and other newer models, regardless of who previously had it. Some of UltFone Activation Unlocker's most unique capabilities include:
This method lets you delete your Apple ID without knowing the associated password.
Create an Apple ID in the App Store to access wireless app updates.
Activate iPhone without the Apple ID of the previous owner
You can change your Apple ID without worrying about your history being accessed by your old Apple ID.
How to Use FoneGeek iPhone Passcode Unlocker?
On your PC, launch FoneGeek iPhone Passcode Unlocker application. Link your activation-locked iPhone to your PC via the fast connection. The "Start" button becomes available once UltFone determines the phone is compatible. Carefully read the license agreement that the application will display, and then click "Next" to continue.
UltFone will begin downloading the jailbreak tool immediately. To begin jailbreaking, use the downloaded tool and click the "Start Jailbreak" button.
At this point, a page detailing your device's specifications should have loaded. Verify the details are correct, then click the Delete Data option. Wait patiently till the work is done. When the process of unlocking has been completed successfully, the software will notify the user. A software interface has been added to access your Apple ID.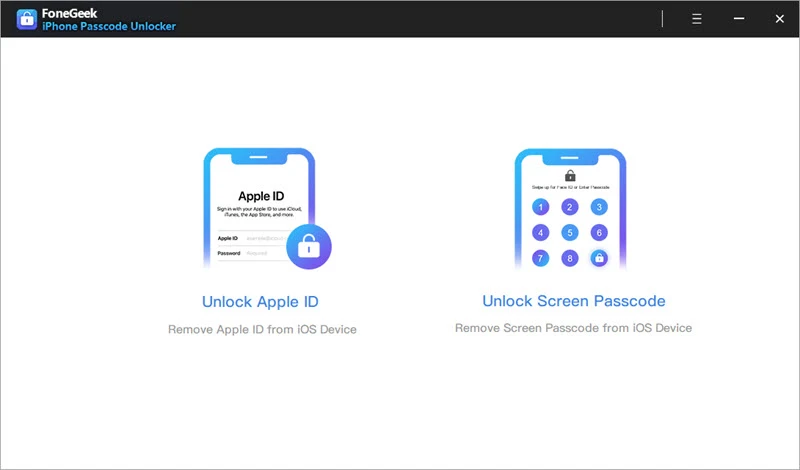 As soon as it's finished, you'll get a notification that the iCloud activation lock has been successfully disabled. Using your Apple ID is now a seamless part of the software setup process. If you flash your device's firmware or restore it to factory settings after the bypass, you'll lose access to it again. Don't log into iCloud from the Settings screen, either.
Frequently Asked Questions
Q: Is It Safe to Use Open My iCloud?
Open My iCloud Quick Unlock Tool claims to bypass iCloud Activation Lock and unlock an iPhone quickly. While the technology has the potential to be useful, there are concerns about its security and efficacy. Information security is at risk if the app's official website leads users to a page that requests sensitive information.
The tool employs a brute-force approach to unlocking iCloud, which could compromise the integrity of the user's iPhone data. Further evidence from user reviews shows that the app is incompatible with iOS 9 and later. Thus, it is wise to take precautions by only logging into your iCloud account through Apple's official website or approved third-party apps.
Q: Is It Free to Use Open My iCloud?
There is no cost associated with using the trial version of Open My iCloud, but you must pay for further use. However, Open My iCloud is incompatible with Apple Notes or other iCloud services and may be difficult to download to your computer.
Conclusion
Unlock My iCloud is a tool that, as stated by its developers, can unlock iCloud by entering the device's unique IMEI. Yet, its efficacy and dependability have been questioned and have received much negative feedback. FoneGeek iPhone Passcode Unlocker is a suggested alternative that provides a reliable, risk-free, and efficient method of evading the activation lock and erasing the Apple ID without the password.
By using FoneGeek iPhone Passcode Unlocker, a new iPhone owner can set up their device without entering the Apple ID of the prior owner, and the old owner will have no way of tracking the new owner's activity. Last thoughts on selecting a reliable, efficient, and secure method for bypassing an iCloud activation lock.