iMessage is an instant messaging software launched by Apple that can send text messages, pictures, videos, etc. When we need to use iMessage, we need to activate it on the iPhone or iPad first.
If you are facing an iMessage activation error or iMessage won't activate on iPhone, you can refer to the methods in this tutorial to solve it.
Different iMessage Waiting for Activation Errors
There are different iMessage activation errors you may have encounter when you activate iMessages on iPhone, iPad.
Waiting for activation.
An error occurred during activation.
Activation unsuccessful.
Unable to contact the iMessage server. Try again.
Could not sign in, please check your network connection.
Reasons Why You Get An iMessage Activation Error
The iMessage activation error will appear on iPhone due to various reasons.
The cellular data or Wi-Fi may not be workable.
The date and time may not be correct.
Something may be wrong with Apple's server.
There is no sufficient balance to send the iMessage activation text message.
The device settings may fail to send SMS messages.
...
Though we cannot provide the definite reasons for this error, we have provided the step-by-step methods to fix this iMessage issue.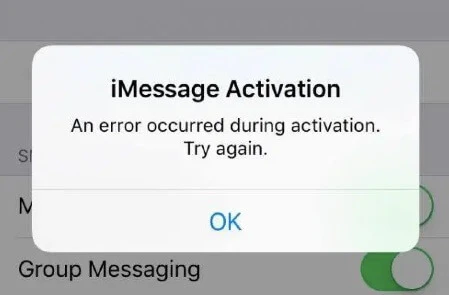 Possible Solutions to Fix iMessage Activation Error on iPhone
1. Ensure That Airplane Mode is Turned Off
As we all know that the iPhone will not be connected with WiFi or cellular data when Airplane mode is enabled. Start your iPhone Settings to ensure that Airplane Mode is turned off.
If it is turned on, then slide the switch next to Airplane mode to turn it off. In general, this method can not only fix iMessage activation error, but also other WiFi related issues.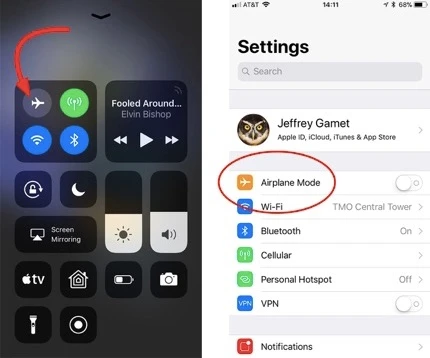 2. Check iPhone Settings
iMessage activation will be unsuccessful when the date and time set on the iPhone is not correct. It happens a lot for users who always go abroad or neglect to automatically update the time zone. Here is what you can do:
Open Settings app on iPhone and choose "General".
Click on "Date & Time" and toggle on the option of "Set Automatically", then the time zone will be updated on time.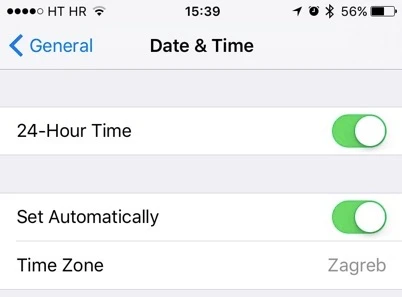 3. Check Network Connection
An error will occur during iMessage activation if your iPhone is not connected to stable cellular or WiFi network. Ensure that your device is connected to network before activating the iMessage.
Upon opening the Settings app, hit "WiFi" to check if the device is connected to WiFi network. If it has already been connected with WiFi, then slide the switch to turn off and turn on again.
For cellular data, head over to Settings and click on "Cellular". Ensue that "Cellular Data" is toggled on.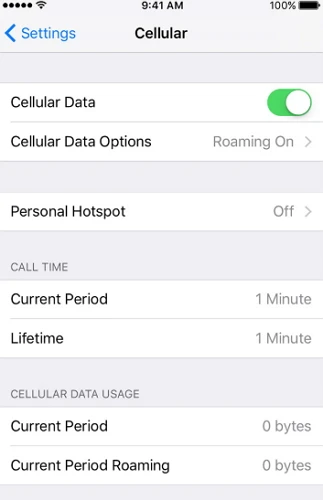 4. Disable and Enable iMessage
Perform the fresh to iMessage settings on iPhone is also useful for several users. Thus we hope that it will also be effective for you to bypass the iMessage activation error on iPhone.
Step 1. Head over to Settings > Messages to toggle on iMessage.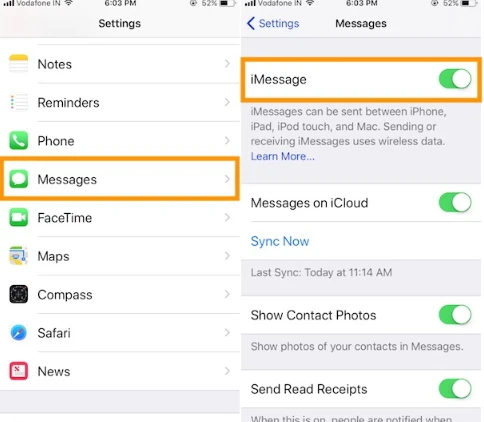 Step 2. After turning on the iMessage, hard reboot your iPhone now:
For iPhone 6 and earlier versions: Simultaneously press the power button and home button for 8 to 10 seconds.
For iPhone 7 and iPhone 7 Plus: Simultaneously press the home button and volume down button.
For iPhone 8 and later versions: Press and quickly release the volume up tab, then press and quickly release the volume down button. Wait for a few seconds, hold and press the power button.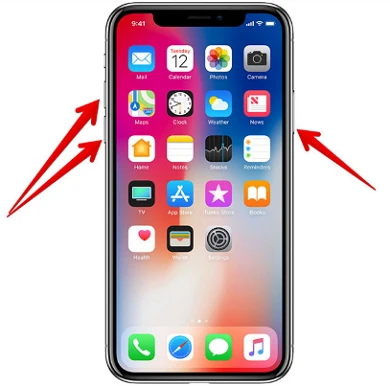 When your iPhone is turned on, you should now get rid of this iMessage activation error. Don't let yourself down if this error still persists, here are still other tips for you.
5. Sign Out and Sign into Apple Account
You can log out of and log into Apple account if the above tricks are not successful for this issue. We are not attempt a joke, this trick is approved to be workable for some users.
Go to the Message settings interface from iPhone Settings, then click on "Send & Receive".
Click on the Apple ID account to sign out of this account.
Toggle the switch near the iMessage to turn it off. Then turn it on after a few seconds.
The iPhone will require you to sign into the Apple ID account to activate the iMessage.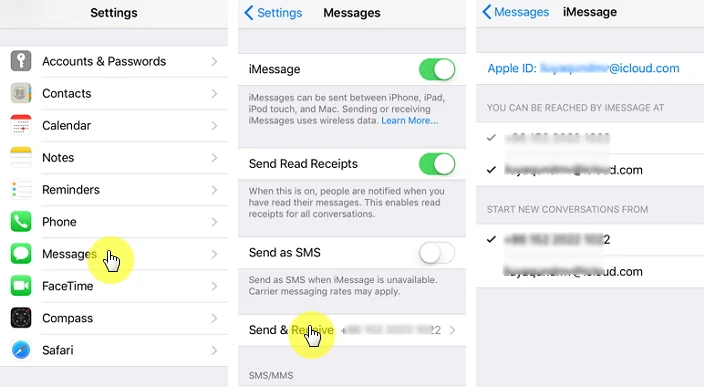 Now, check if the iMessage is still not activating or not. If this problem is not gone, keep reading the tricks below.
6. Update Carrier Settings
Few users may know that the iPhone carriers will be updated regularly by Carrier provider to get rid of some minor bugs and improve the device performance. If your iMessage is waiting for activateion on iPhone, check the following steps to eliminate this issue.
Click on "About" from iPhone Settings, an update will be available if your iPhone carrier is not updated yet. Update the carrier if possible.
7. Update iOS Version
If your iPhone prompts you to update the iOS version to the latest iOS 16, just go through the steps below to perform the software update.
Plug the iPhone in power and connect the device to WiFi network.
Go to Settings > General > Software Update and tap on "Download and Install" to update the software version.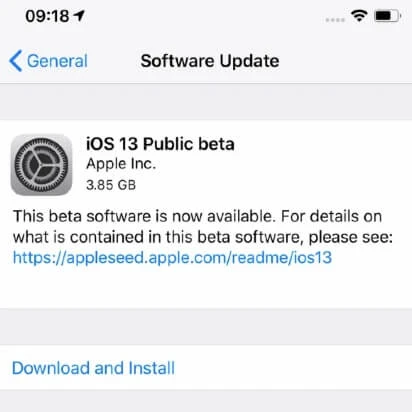 The latest iOS 16 released recently will be installed on your iPhone to wipe off the iMessage activation error.
8. Remove Restrictions from iPhone Settings
iPhone restrictions passcode is usually used to lock some features for parental control, such as songs or movies, etc. Sometimes, it may be the reason of unsuccessful iMessage activation. Consequently, remove restrictions from iMessage settings could be helpful.
Click on Settings > Screen Time.
Hit on "Turn Off Screen Time".
Enter the passcode you set to turn off the screen time.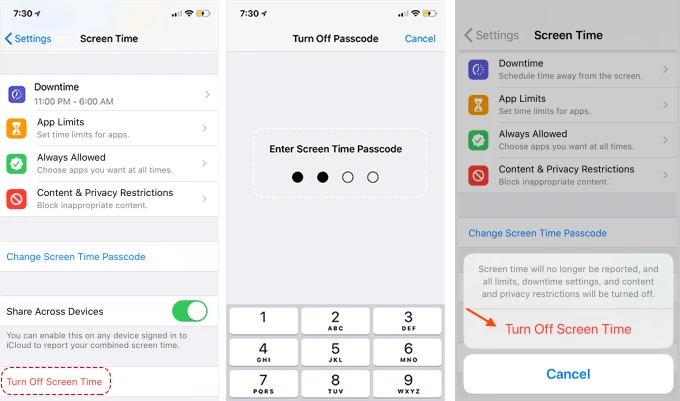 9. Reinstall iOS System
The most realistic approach to repair most software related issues is to reinstall the iOS system. To install iOS system, you can use FoneGeek iOS System Recovery (iOS 16/15 supported), a trustworthy program to bypass iMessage activation error and other common issues without affecting the current data on iPhone.
Easy to use for every user even though you know little about this software and professional knowledge on technology.
All software related issues such as iPhone black screen of death, iPhone won't turn on, iMessage awaiting for activation, etc can be resolved.
Secure to download, some high ranking sites such as Mobile Mall, GetDroidTips, Inspirationfeed, Techjury, Pakainfo, think highly of our software.

How to Fix iMessage Activation Error by Reinstalling iOS System
Step 1. Install the iOS System Recovery software on a computer or laptop device. Connect iPhone to the computer and then choose "Standard Mode" to continue. Then connect the iPhone to PC.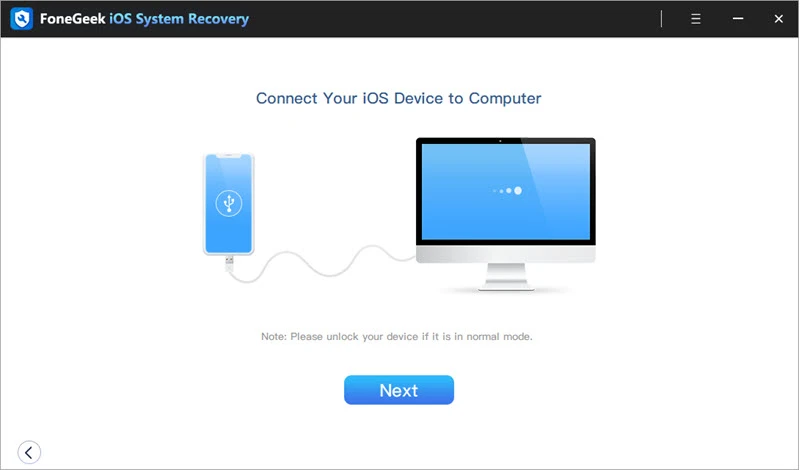 Step 2. Click on "Download" and follow the instructions on the screen to locate and download firmware package.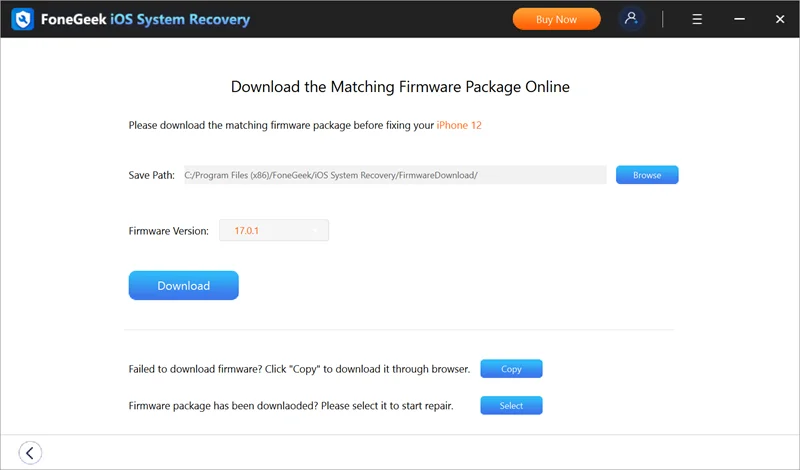 Step 3. Click on "Fix Now" and your iOS system will be reinstalled after the process is completed.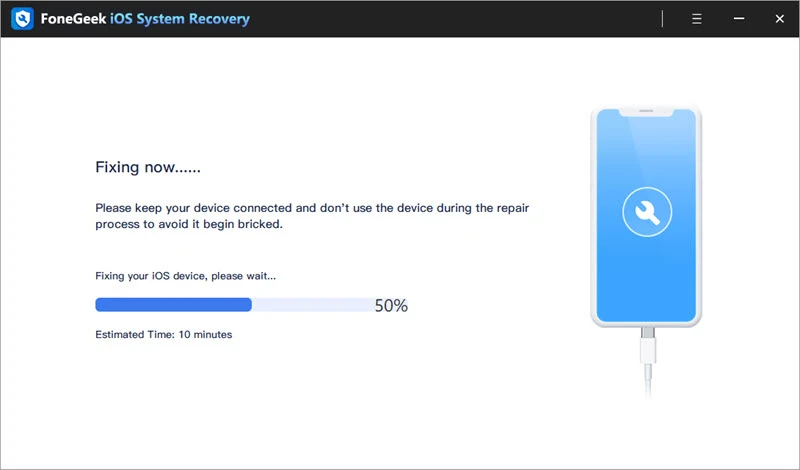 10. Try to Wait for 24 Hours
If there are still iMessage activation errors, you should wait for a few more hours since iMessage may take up to 24 hours to activate. It means that it is normal if iMessage is not activated at certain times.
If the problem still exists after 24 hours, you may contact Apple support for help. After the fully testing, all the potential and safe ways are listed in this post to remove iMessage activation error. You can have a try.