Nothing is as frustrating as watching an amazing video on YouTube, and then ads keep on popping. You install a YouTube adblocker to block those annoying ads, but still, those ads still pop up on your screen.
Have you ever wondered what went wrong? Or perhaps you have given up on YouTube adblocker, tagging them as a pure scam? We understand your predicament!
The good news is that there are solutions to this issue. Continue reading to learn why your YouTube adblocker is not working and different ways to fix it.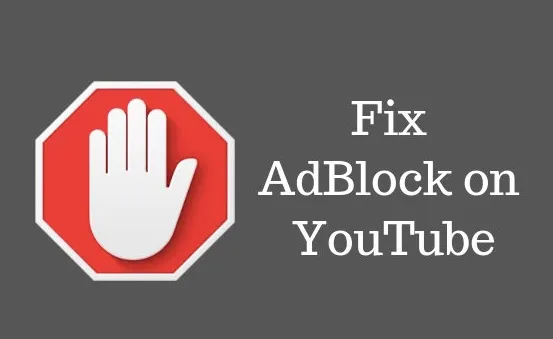 Part 1. Why is AdBlock Not Working on YouTube?
YouTube Adblockers are primarily available as extensions that you can easily install on browser (Chrome, Firefox, Edge, depending on your preference).
One reason behind the malfunction of YouTube adblockers is the conflict between the adblocker extension and other extensions. When you install too many extensions on browser, there is a possibility that YouTube adblocker might not work properly. You may also experience sluggish browsing speed.
Another reason might be YouTube cookies and cache. Cookies and cache are stored on browser, and it affects how browser accesses YouTube. The browsing history might also affect the function of YouTube adblockers.
Several other factors like the version and brand of the YouTube adblocker, version of your browser, data collected from your Google account also play a role in the malfunction of YouTube adblockers.
Now you've understood why adblocker stops working; It's time to learn how to fix your adblocker issue on YouTube.
Part 2. How To Fix Adblock Not Working On YouTube
Since Adblock not working on YouTube is caused by different factors, it's the best to try more than one method.There is no harm in trying different easy methods to enjoy a seamless, exciting, and ad-free watching experience again!
2.1 Turn Off and Reopen AdBlock Extension
The 1st solution is to quit and reopen the Adblock extension. However, the method to close and reopen the YouTube AdBlock extension differs with browsers. Here are the steps to turn off and reopen Adblock extension for different browsers.
For YouTube Adblock not working on Safari:
Launch your Safari browser and on the homepage, locate and click on the Menu button.
Select Preferences, then go down to the tab that you will find extensions.
Look out for Enable this extension, untick the box before it. This is how to deactivate your Adblock extension.
Close Safari browser and open it after a while.
Follow the steps outlined above. You'll see an empty box in front of the Enable this Extension option. Click on it to tick it. This will reopen your Adblock extension.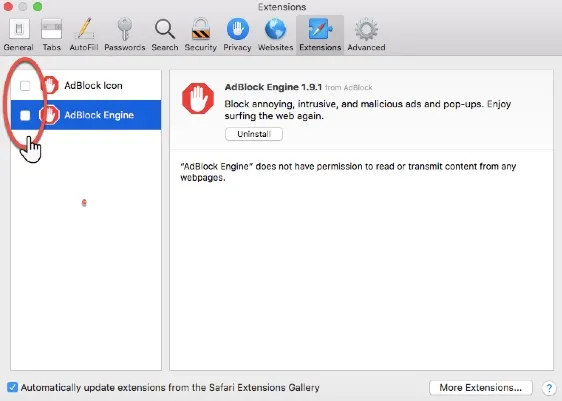 For Chrome YouTube Adblock not working
Launch your Chrome browser and select the three vertical dots showing on the upper right angle of your chrome screen.
A list will load. Look out for the Extension tab and click it.
In the extension dropdown, scan Adblock from the list of extensions displayed.
Please make use of the toggle at the end of Adblock to turn it off.
Exit the Chrome browser and stick to the same instructions to reopen the Adblock extension.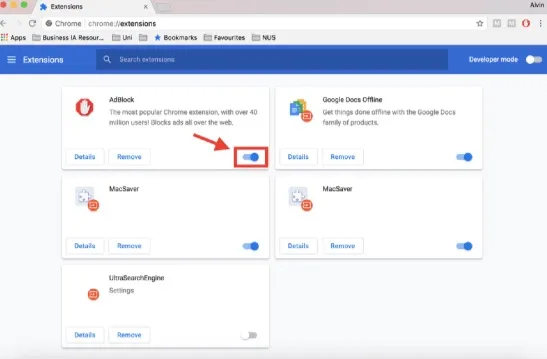 For Firefox YouTube Adblock not working
Select the three vertical lines or hyphens on the top right side of your firefox browser.
A list will be shown. Check out for Ad-ons and Themes and click on them. Alternatively, you can use a shortcut by pressing Ctrl+Shift keys simultaneously.
The Firefox extension tab will load. Find the Adblock extension.
Make use of the toggle to switch off Adblock.
Close Firefox and follow the same steps outlined. Click the same toggle to reopen the Adblock extension.

2.2 Sign Out of Google Account
Sometimes Google collects data. These data include your browsing history, goods purchased online, and your general interest. They customize ads that fit the data collected from you.
Signing out and signing into your Google account while streaming videos on YouTube will help to fix adblockers not working issue. Many users have stated that it has helped them.
Follow these steps to sign out of your Google account:
Click on the YouTube logo on video page or any YouTube subdomain to open the YouTube homepage.
Locate and click on the arrow next to the name of your account on the right side of the page's navigation bar.
Click on the Sign-out option to sign out from YouTube.
You will see a Sign-in button at the upper right side of the browser when you access YouTube. Click on it and fill in all the required details to sign in. Watch a video to see if ads still shows.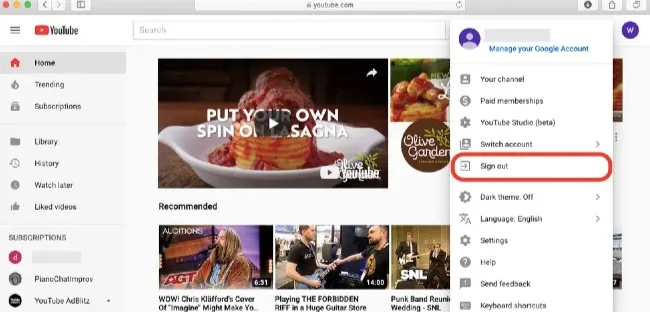 2.3 Clear Cache and Cookies
Over time, cache and cookies stored on browser affect YouTube adblocker. Therefore, clearing cache and cookies will resolve the YouTube adblocker issue. Follow these steps to clear cache and cookies on your browser:
Click the Menu button on the upper right side of your taskbar.
Choose History from the dropdown list.
From the history tab, select "Clear browsing history data" or whatever your browser says.
Another list will pop up. Make sure that you tick the right button to delete cache and cookies.
Click "Ok" to clear your browser data.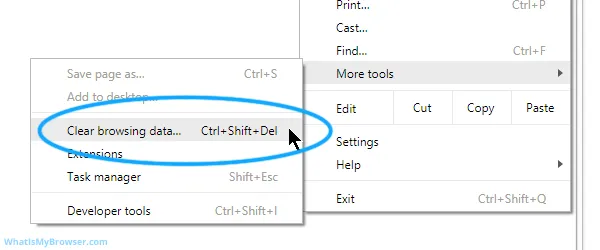 2.4 Update YouTube Ad Blockers Extension
Most YouTube Adblockers developers regularly update their extensions to fix bugs and issues affecting the extension. When you update YouTube adblocker extension, you will get all the new features added to the update. You'll also have a solution to YouTube Adblocker not working.
However, all browser extensions update automatically. You can also update it manually or confirm if it's updated from your browser's extension store. To update or confirm if your browser is updated, follow the following steps:
Go to your browser extension store and search for the YouTube adblocker.
If it's updated, you should see it.
If it's not updated, you should click on the Update button showing beside the Adblock extension.
Alternatively, you can uninstall and install it again.
2.5 Update AdBlock Filter List
The primary function of the Adblock Filter list is to help the Adblock extension determine which websites and apps to work on. Sometimes an outdated Adblock filter list will not make YouTube adblocker work as normal. Here are the steps to update Adblock filter list:
Look out for the Adblock icon on the toolbar (or click the Menu icon to see it).
Once you find it, click on it to open its setting label.
Click on the "Add a new filter list" option.
Type in YouTube URL and name into the space provided
Next, click on Add a filter list to save the information you provided.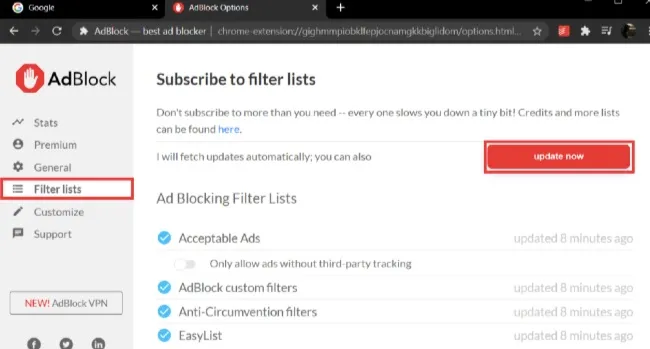 2.6 Check for Incompatible Extensions
Other extensions might affect the functioning of YouTube Adblock. The best way to resolve this is to disable all other extensions since it's hard to tell which one is incompatible with Adblock.
Reload the YouTube page or skip the video to see if the ads show. If you don't see any ad, this implies that one of the extensions is affecting the functioning of the Adblock. Activate each extension after the other (reloading or skipping) to figure out which one is responsible for the adblocker malfunction.
2.7 Reinstalling AdBlock
If ads are still popping up on YouTube, reinstalling Adblock might be the solution. To remove and reinstall your YouTube ad blocker, follow these steps:
Go to your browser extension page and locate the adblocker.
Remove or uninstall it by selecting the Remove or Uninstall button and ensure that you confirm your decision.
Go to the browser extension store and search for Adblocker.
To reinstall, click the "Add to extension" or "Install" button.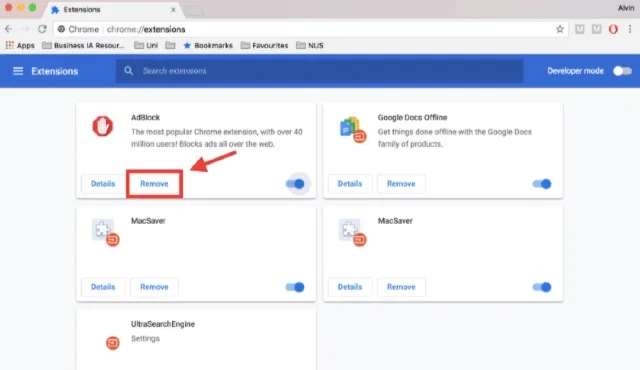 2.8 Update AdBlocker to the Latest Version
Old versions of adblocker tend to have glitches. A simple trick to update AdBlocker to the latest version might do the magic!
Locate the adblocker extension and toggle the Remove or Uninstall button to uninstall it.
Go to your browser extension store and fill in Adblocker in the search bar.
Click the Download or Add button to add the extension. Please wait a little while for it to be ready.
2.9 Use Another Ad Blocker
Some browsers do not support a particular adblocker extension, and it will function poorly on YouTube. However, the simple way to fix it is to use another adblocker.
There are effective, trusted, and guaranteed ad blockers out there. So, don't worry about finding a replacement.
Part 3. What Are The Best YouTube Ad Blockers In 2022?
Many users desire to find answers to the best and reliable YouTube Adblocker in 2021. The list is increasing, and we've taken time to draft out a list of topnotch YouTube ad blockers:
Hola ad remover
Adblock plus
Adblock
Easy ad blocker
Adblock
Adblocker Ultimate
Ublock Origin
Comodo adblocker
Adguard
Fair Adblocker
These ad blockers have their terms and conditions. Ensure you read them before installing any of them.
Bonus: Fix iOS System Issues If YouTube Not Working on iPhone
iOS errors affect the functioning of YouTube on iPhone. A repair program is a solution to the problem. FoneGeek iOS System Recovery is a reliable, fast, and effective recovery program that fix iOS software issues, including this YouTube issue. Here are some features:
Almost all iOS issues can be repaired with 100% success rate, and the data will not be affected.
It is easy to use for all the beginners who are not familiar with this software.
All iOS versions and all models of iOS devices are supported, including iOS 17/16, iPhone 15/14/13 models.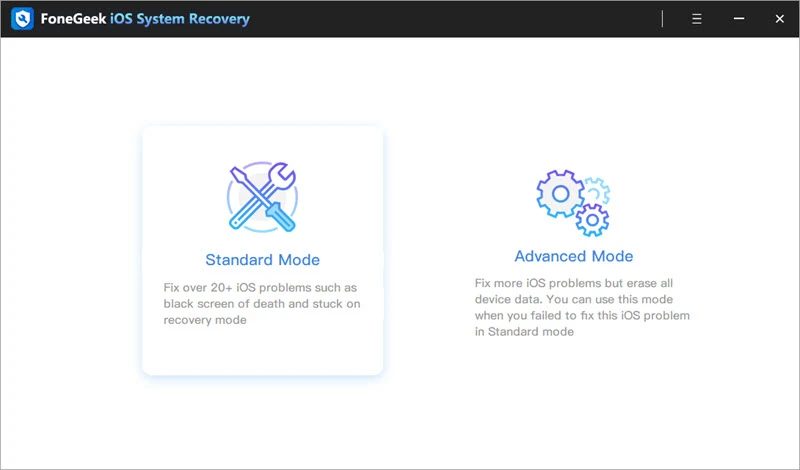 Conclusion
Undoubtedly, a YouTube ad blocker is essential for a fun, smooth, and uninterrupted video-watching experience. Fixing your YouTube ad blocker takes patience. However, with the proper steps, you'll fix them faster than you imagine. We've outlined different methods that will help fix your YouTube ad blocker not working. If you have run into issues or have any questions, please don't hesitate to contact us.