AirPods connectivity on iPhone devices, like most wireless connections, can be problematic due to software and hardware flaws. This connectivity issue can be annoying especially when you're trying to relax after a stressful day with cool music.
In this article, we'll look at why your AirPods won't connect to your iPhone as well as the true solutions you can adopt to resolve the issue.
Why Won't My AirPods Connect to My iPhone?
The following are some possible causes for your AirPods not connecting to your iPhone:
Your AirPods Are Old: They may be malfunctioning because they are nearing the end of their shelf life. AirPods are one of Apple's most widely used accessories, and as a result, they will wear out over time.
Blockage Due to Dirt: If you don't clean and maintain your AirPods, dirt and debris will accumulate in sensitive areas, interfering with how the device charges and the sound quality.
You're Using Fake Products: Genuine AirPods are expensive, and you may be tempted to save money by purchasing counterfeits from shady web retailers. Fake products, no matter how well they work for a while, inevitably fail.
Damage Caused by Water: If your AirPods are submerged in water or exposed to rain, they will lose connectivity. If this happens, you can use a dry cloth or a desiccant to dry the AirPods.
How to Fix AirPods Won't Connect to iPhone
1. Set Up AirPods Using Your iPhone
Before you can use your AirPods, you must first connect your iPhone to them. As soon as you open the Charging Case, AirPods will automatically connect to your iPhone.
To set up your AirPods, follow these steps:
Unlock your iPhone and open the Charging Case with your AirPods inside.
Place the Charging Case close to your iPhone, the device will display a setup animation.
Click "Connect" and wait for the Bluetooth pairing to take place. Then click "Done".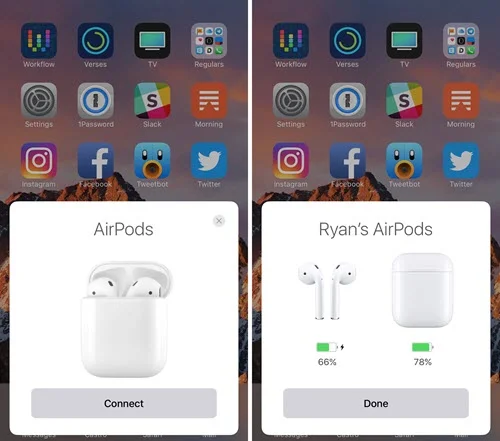 2. Restart Your iPhone
When you turn off your iPhone, the operating system terminates all of the background processes that keep it working. When your iPhone reboot, all of those background processes start over, and this can sometimes help to fix minor software issues like AirPods won't connect.
Follow these procedures to restart your iPhone:
Press and hold the Power button (for iPhones without Face ID) or the Side button and either Volume button (for iPhones with Face ID) until the screen says "slide to power off."
Swipe the red power icon to turn off your iPhone. It could take up to 30 seconds for this to complete.
To restart your iPhone, press and hold the Power button or the Side button until the Apple logo displays on the screen.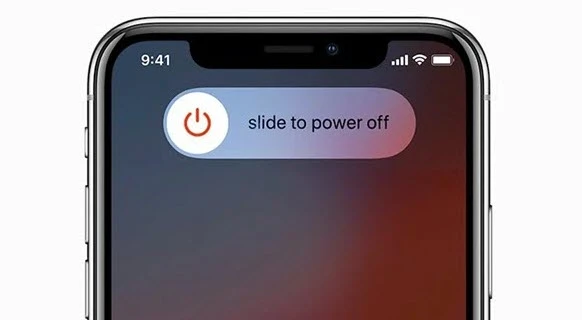 3. Turn Off Bluetooth and Turn It Back On
Occasionally, simply turning Bluetooth off and on will resolve minor connectivity issues between your iPhone and Bluetooth devices like AirPods.
Bluetooth can be turned off and on in three different ways:
In the Settings App: Go to Settings > Bluetooth, tap the switch next to Bluetooth to turn it off. To turn Bluetooth back on, tap the switch again. When the switch goes green, the Bluetooth is turned on.
In Control Center: Open Control Center and tap the Bluetooth icon. When the icon is black with a gray backdrop, you know Bluetooth is turned off. To reactivate Bluetooth, tap the Bluetooth symbol once again. When the icon is white with a blue backdrop, you know Bluetooth is on.
Making Use of Siri: Press and hold the Home button (for iPhones without Face ID) or the Side button (for iPhones with Face ID) until Siri appears, or speak "Hey Siri." Say "Turn off Bluetooth" to turn Bluetooth off. Then say "Turn on Bluetooth" to turn Bluetooth back on.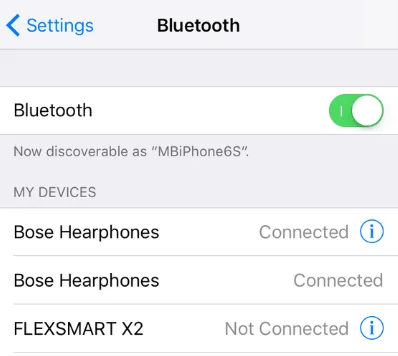 4. Update Your iPhone Software
Updating iOS is another approach to fix any software issues that are preventing your iPhone from properly connecting to AirPods. Apple publishes updates on a regular basis to address any bugs that arise over time. You have the option of letting the updates run on their own or manually installing them.
Open the Settings app and select General.
Tap "Software Update" and if an update is available, tap "Install Now" or "Download and Install".
If asked, enter your passcode. Once it has been verified, the update will begin.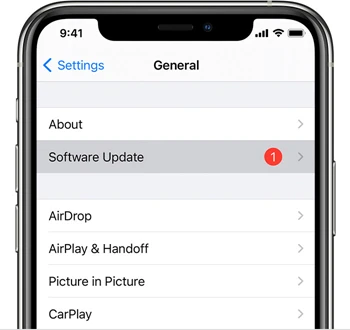 5. Charge Your AirPods
When you connect your AirPods to your iPhone, you should guarantee that they have an adequate battery life to work properly. If you're experiencing difficulties to connect, try charging them to capacity first before attempting to use them again.
Simply place your AirPods in the Charging Case. The Status light on your AirPods will indicate how much charge they have. When your AirPods are fully charged, the Status indicator will turn green.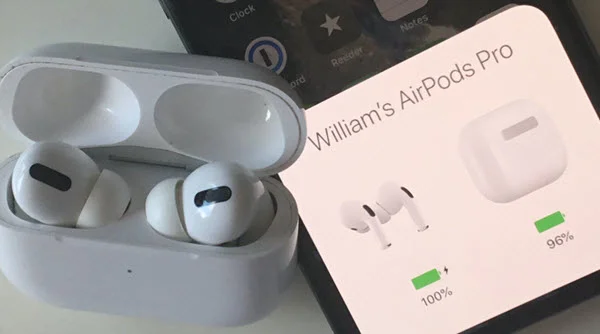 6. Charge the AirPods Charging Case
The Charging Case must be charged in order to charge your AirPods. Connect a Lightning cable to the lightning connector on the Charging Case. Then connect the Lightning cable's opposite end to a USB port or a power charger. It may take a few hours for your Charging Case to fully charge.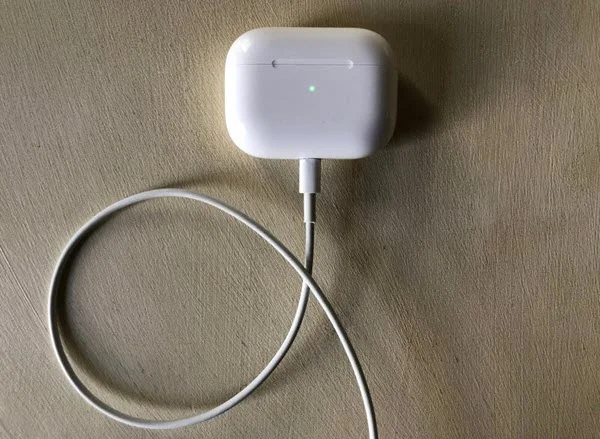 7. Clean Your AirPods and Charging Case
AirPods may collect dirt and other particles over time, and if nothing is done, it can interfere with their performance and cause hardware issues.
You can get a lint-free and soft cloth to wipe your AirPods and Charging Case gently. Or you can clear up more compact debris with an anti-static brush or a new toothbrush.
8. Let Your AirPods In the Range of Your iPhone
They won't be able to connect to each other if your AirPods are not within the range of your iPhone. AirPods pair with your iPhone through Bluetooth, which works only when both devices are within a specific range of each other.
Follow these simple steps to see if your AirPods are within range or not:
Open the Control Center and tap the Audio Output icon, which looks like a triangle with three circles coming out of it.
If your AirPods aren't listed here as a source of audio output, they're out of range.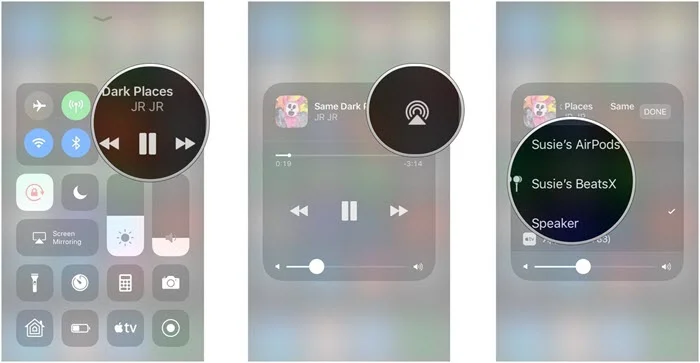 9. Put Your AirPods Into Bluetooth Pairing Mode
You'll need to put your AirPods into Bluetooth pairing mode if your iPhone isn't logged into your iCloud account. Here's how:
Place your AirPods in the Charging Case and keep your Charging Case's lid open.
On the back of the Charging Case, press and hold the setup button.
Your AirPods are in Bluetooth pairing mode when the status light begins to flash white.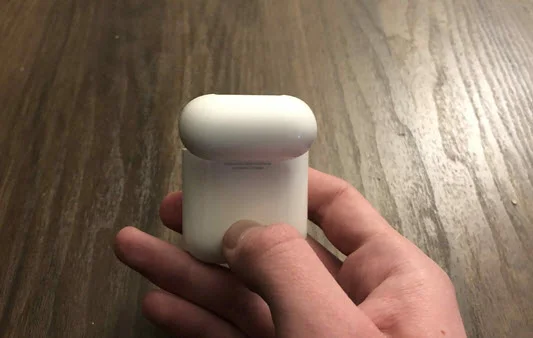 10. Ensure Your AirPods Are Connected to the Right Device
AirPods aren't made to receive audio from two different devices at the same time. If you have your AirPods connected to another device, they may be getting sounds from that device. So, please make sure your AirPods are connected to the correct device.
11. Reset Network Settings
Deep software issues, particularly those involving network settings, might be difficult to locate. Rather than trying to figure out what's wrong, you can reset your iPhone's network settings and start over.
Open the Settings app and select "General".
Tap Transfer or Reset iPhone at the bottom of the screen.
Tap Reset >Reset Network Settings. If asked, enter your passcode.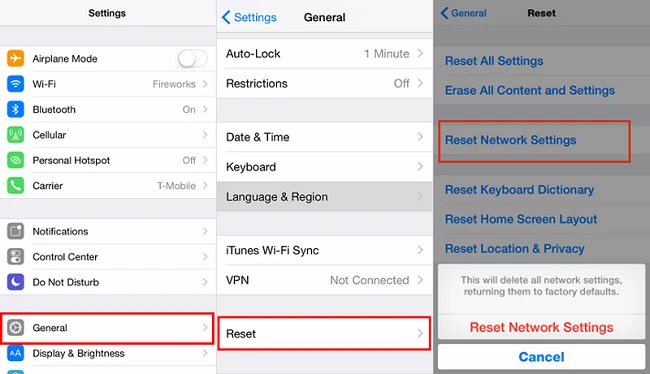 12. Reset All Settings
This is not the same as resetting your network settings. You're resetting the app, as well as everything else, to its default settings. This solves a slew of issues caused by a software flaw that would be impossible to trace down any other way.
Open the Settings app and go to the General tab.
Tap Reset > Reset All Settings.
You'll be asked to type in your passcode. To confirm the reset, press Enter.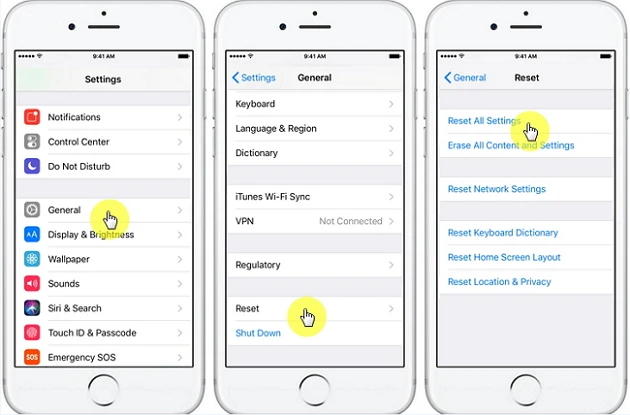 A progress bar will appear on the screen. Allow a few minutes for the process to complete. When the rest is complete, the phone will immediately restart, and you will be able to pair the iPhone with your Airpods.
13. Do A DFU Restore
If all of the steps above fail, a DFU Restore is the last resort that should resolve any software issues. A DFU restore has the ability to solve software issues by wiping all of the code that may be causing the issue.
When you restore your iPhone, it erases everything on it. Before doing a DFU restore, make a backup of your iPhone if possible. Once the restore is finished, you can restore all of your previously backed-up data on your iPhone.
Follow the procedures below to complete a DFU restore on iPhone 8 or newer:
Step 1: Connect your iPhone to your PC through a USB cable and open iTunes or Finder.
Step 2: Quickly press and release the volume up button. Then quickly press and release the volume down button. Hold the side button down until the screen becomes dark.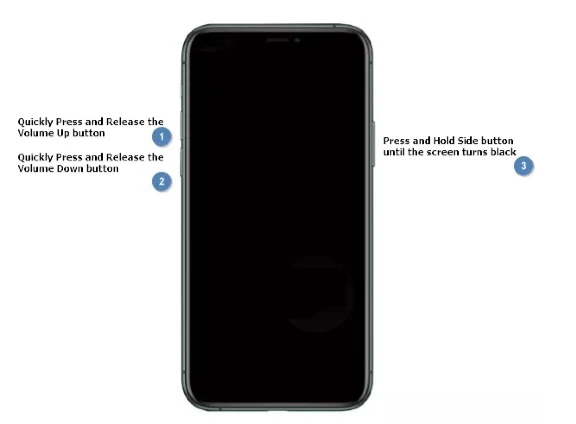 Step 3: Press and hold the volume down button alongside the side button for about 5 seconds when the screen goes dark.
Step 4: Release the side button while continuing to press the volume down button. Hold down the volume down button until Finder or iTunes identifies your iPhone.
Step 5: Use iTunes or Finder to restore your iPhone.
14. Repair iPhone without Data Loss
FoneGeek iOS System Recovery, unlike the DFU restore method, allows you to repair iOS issues on your iPhone/iPad without losing any data. The software targets a variety of iOS related problems, including iPhone stuck on Apple logo, black screen, boot loop, Bluetooth not working, AirPods won't connect, etc
Here are the steps to fix AirPods won't connect to iPhone:
Step 1: Install and launch FoneGeek iOS System Recovery on your computer. Connect your iPhone to the PC via USB cable and select "Standard Mode."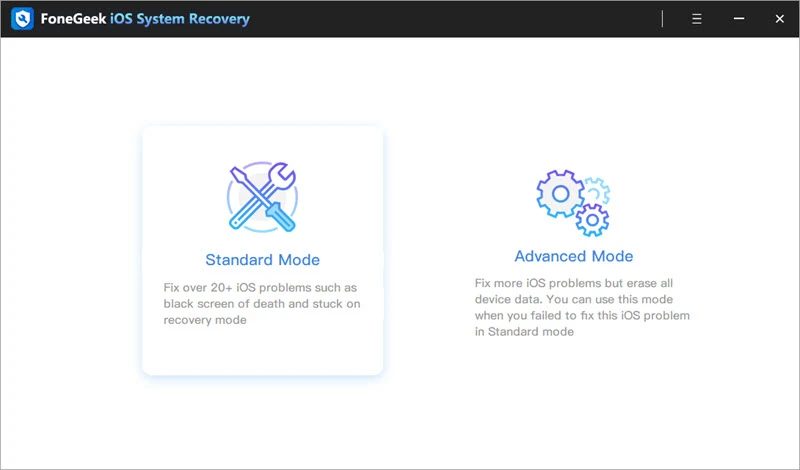 Step 2: Select the firmware version that corresponds to your device, then click "Download."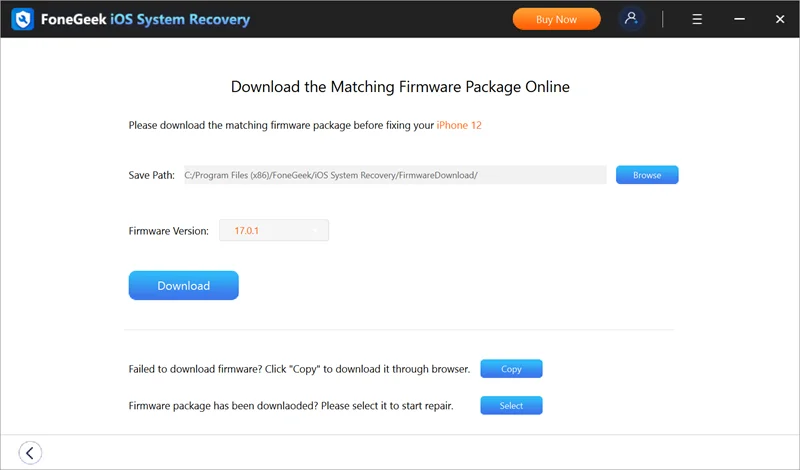 Step 3: To begin system recovery, click "Fix Now" once the firmware package has been downloaded.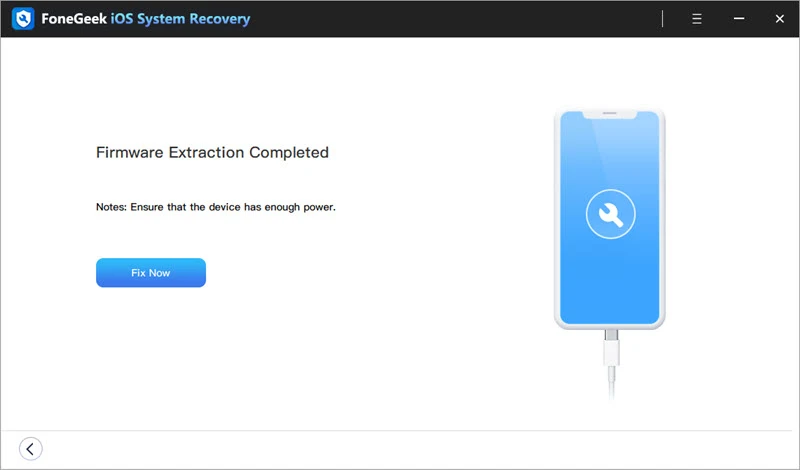 15. Check Your AirPods for Physical Damage
If your AirPods still won't connect, it's possible you're dealing with a hardware issue. This could be the result of a fall or the AirPods accidentally coming into contact with water. AirPods that have been damaged will need to be replaced. To do so, contact your local Apple Store to get your items checked out and for advice on what to do next.
Your AirPods Are Connected to iPhone!
You now have a clear understanding of how to maintain your AirPods connected to your iPhone. So, you can use your AirPods freely now without worries! Do not hesitate to try out the troubleshooting strategies above-mentioned whenever connectivity issues surface!