Apple introduced Always On Display in the iPhone 14 Pro series, a feature that helps minimize power consumption. It's not really a new feature as it has been present in many Android phones for years.
However, Apple's implementation is quite different. In Android, it turns off the screen and displays just the time and notifications, but in Apple, it simply dims the screen, then brings down the refresh rate to 1Hz. You're able to see all essential information including the time, widgets, recent notifications, etc. on your Lock Screen.
Despite being such a handy feature though, there have been many complaints of Always-On Display not working on iPhone. Below, we've covered some of the possible methods you can try to fix it. Check them out.
Why Always-On Display Not Working on iPhone 14 Pro?
There are certain scenarios that can lead to the Always-On Display feature to turn off or not to work on iPhone. Some of these potential reasons include:
When your iPhone is positioned upside down: when you have your phone lying face down such that it comes to contact with the surface, it will detect that orientation and automatically disable the Always-On Display feature.
You've put the iPhone inside a pocket/backpack: iPhone comes with a built-in proximity sensor that detects when you put the phone inside a pocket or a backpack/bag and then turns off the phone's display completely to minimize battery draining.
The Sleep Focus mode is enabled: when you don't check up on your iPhone and you have the Sleep Focus mode turned on, the phone will disable the Always On Display feature to save battery.
The Low Power mode is on: enabling the Low Power mode puts restrictions on some of your iPhone features like Always-On Display in order to save battery. It turns off the Always On Display feature.
Continuity Camera is on: if you've set your iPhone as your camera input on your macOS device, then Always On Display will be disabled whenever your Mac device uses your iPhone as Continuity Camera.
Your Apple Watch is far from your iPhone: when you pair your iPhone with your Apple Watch and you wear the watch or leave it behind, the phone will detect that you've moved away from it and turn off Always On Display. It will turn it on again when the watch is closer to the iPhone.
Your iPhone has been dormant for a while: when you don't use your iPhone for a long while, Always On Display will automatically turn off. iPhone as well tends to monitor your activity pattern hence it can turn off the display or turn it on occasionally like when you set an alarm or a sleep schedule.
These are the common circumstances that can lead to Always On Display not working on iPhone 14 Pro. Now that you know them, let's see the solutions that can help fix this problem.
1. Ensure Always-On Display is Turned On
The Always-On Display feature in iPhone 14 Pro is usually turned on by default straight from the box. Still, though, it's good to first check if it's enabled before trying out anything else. You or someone else may have accidentally turned it off while playing around with settings. So, check if it's turned on by following these steps:
Go to Settings, then tap on Display & Brightness.
Now, tap the toggle that's beside Always On to enable it if it's off.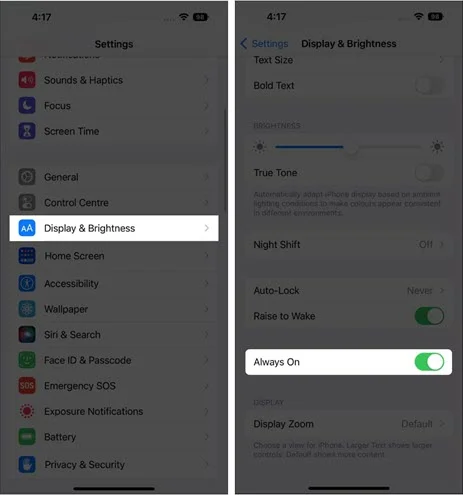 If you find that it's on, still toggle it off and turn it back on again. Confirm if the problem is resolved. If not, try the next fix.
2. Update iOS to the Latest Version
iPhone 14 Pro series runs on iOS 16 which comes with many features that enhance user experience. However, like other previous iOS versions, the iOS 16 can have many uninvited bugs that could affect user experience.
Such software bugs could also be causing this iPhone 14 Pro Always On Display not working issue. Fortunately, Apple always releases an update once they spot a bug or software glitch. Therefore, ensuring your iOS is always updated to the latest version is essential as it guarantees performance improvements and bug fixes.
To update your iPhone 14 Pro, open Settings and head to General. Now, tap Software Update. If any new update is available, tap Download and Install to get it. Alternatively, you can choose to enable automatic updates so that your iPhone always runs the latest iOS update.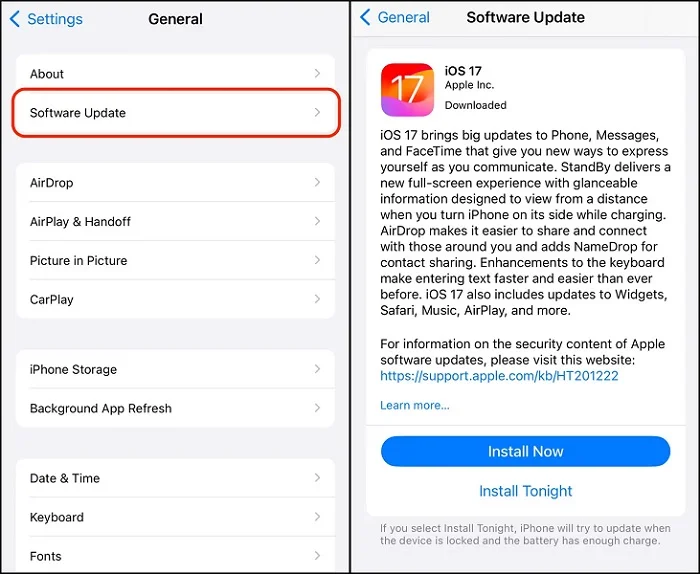 3. Toggle Off Low Power Mode
As we mentioned earlier, the Low Power mode does affect the battery life of the iPhone 14 Pro. It disables all the background activity including features that consume additional battery. Therefore, if you have it turned on, we recommend you turn it off so that you can use the Always-On Display feature. You can do this by:
Opening Settings and tap Battery.
Next, tap the toggle next to Low Power mode to turn it off.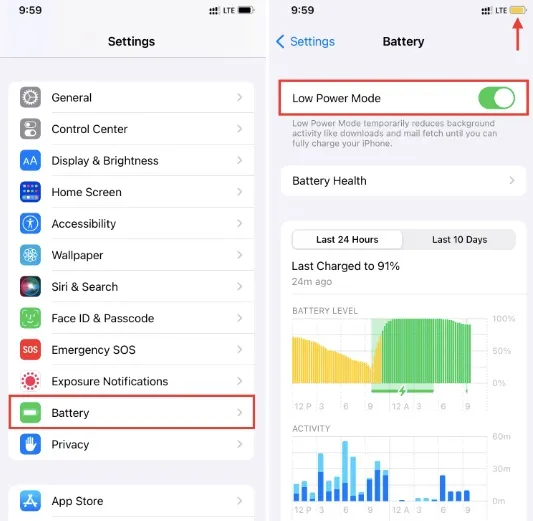 4. Change Sleep Focus on iPhone
Your iPhone automatically disables Always-On Display when in Sleep mode. It does so because Apple knows you wouldn't want your iPhone's screen to light up throughout when you're asleep. You can fix this though by doing any of the following:
Turning off/changing the Focus from the Control Center.
Change the Lock Screen in case you have your Lock Screen linked with Focus.
These changes can also be effected right from Settings: Open Settings and tap Focus. Now, Select your preferred Focus mode or tap the toggle next to it to turn it off.
5. Disable Continuity Camera
When you have the Continuity Camera enabled on your iPhone, the Always-On Display feature won't work in case your Mac is still using the iPhone camera. The only way for it to work is to disable the Continuity Camera. To do this:
Open Settings, then tap on General.
From the General page, tap AirPlay & Handoff.
Now, toggle off the Continuity Camera.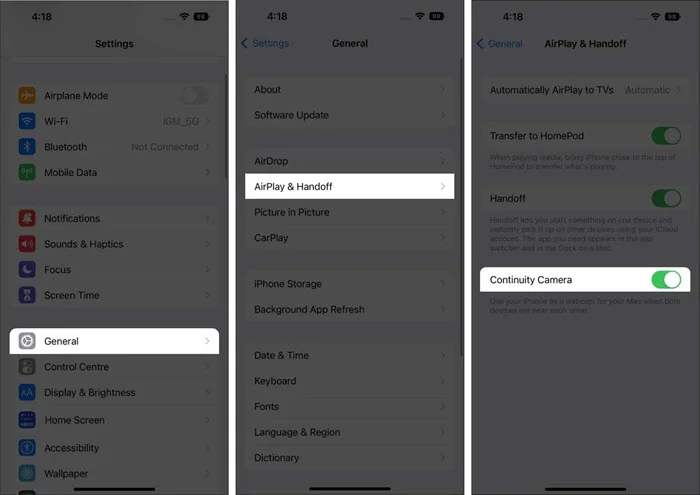 6. Turn On/Off Raise to Wake Up
The moment you lift up your iPhone, it wakes up from Always On Display and when you put it back down, it usually returns to Always On Display. However, sometimes it may not return to AOD because of some bugs. You can fix this though by:
Opening Settings and tap Display & Brightness.
From the next page, tap the toggle next to Raise to Wake to turn it off.
Tap the toggle to turn it back on again.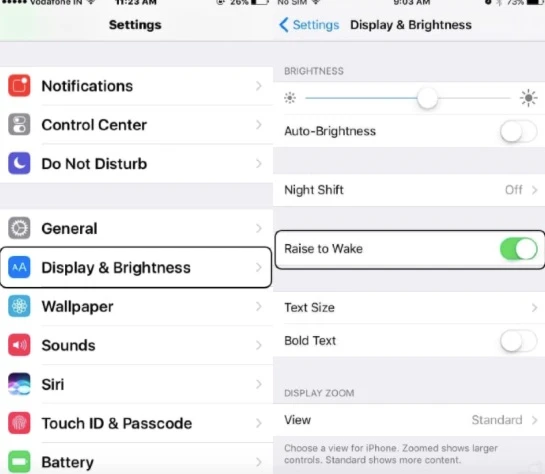 7. Disable CarPlay on iPhone
Always-On Display automatically turns off once your iPhone is connected to your car when you enable CarPlay so that you can use your car's FM display. Thus, you need to turn off CarPlay so that the Always On Display feature is available on your device. To do that:
Launch Settings. Open the General option.
Tap on the CarPlay option. Then, pick the vehicle that you wish to remove.
Tap on Forget This Car to complete the process.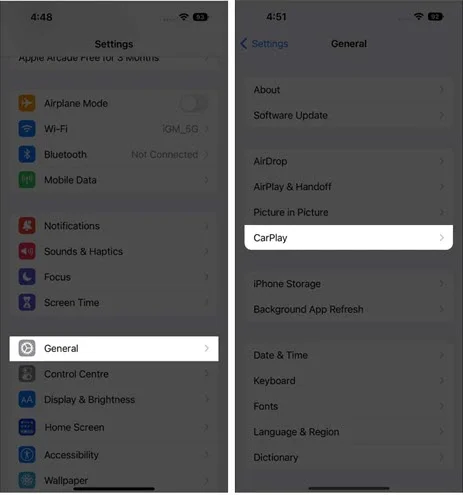 8. Restart Your iPhone
Most of the time when faced with some bugs or issues with an iPhone, all you need is a simple restart. If it fails to work, you can take it a step further and force-restart your iPhone.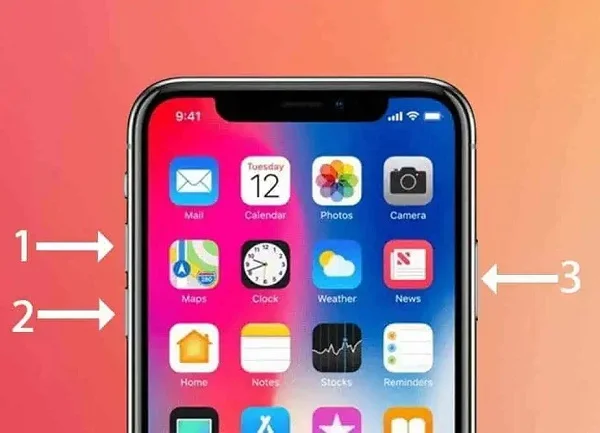 Doing this will clear out your iPhone's cache, together with the bugs. It may even work effectively to resolve complex problems and also fix this iPhone 14 Pro Always On Display not working issue. So, give it a try.
9. Factory Reset iPhone
This is another trusted solution that can put an end to Always On Display not working on iPhone 14 Pro. When you factory reset your iPhone, you give it a fresh start, meaning any glitch or bug that stops the AOD feature from functioning properly will get removed too.
However, before you clear out your iPhone's memory, ensure you back up all your files. Otherwise, you run the risk of losing all your data such that you may need to look for an iPhone data recovery program to get back the lost data. So, back up your iPhone and then force-restart your iPhone.
10. Repair Your iPhone
You can repair your iPhone using an iOS repair tool to fix this Always On Display problem if you find no success with the above solutions. FoneGeek iOS System Recovery software offers an all-in-one solution to resolve 200 different iOS system issues and errors.
It's a simple yet very reliable program, which can detect the problem causing the Always On Display not to work and fix it completely. This tool takes just a few clicks to do that. No technical skills are needed to use the program. Moreover, it works with all iOS versions (even iOS 16) and all iPhone models (even iPhone 14).
How to resolve Always On Display not working on iPhone 14 Pro using the FoneGeek Software:
Click the right link above to download and install the FoneGeek iOS system recovery tool onto your PC. After the installation, launch the software and click the "Standard Mode" option from the home page.
Have your iPhone connected to your PC and click "Next". Use the original Apple USB cable. The FoneGeek software will detect your device once connected, then open another page showing your device model and all matching iOS firmware versions.
Choose the firmware package you want and then download it by clicking the "Download" button.
Verify the iOS firmware package once the download completes and then click "Fix Now". At this point, the program will begin repairing your device. It will then alert you when it's done.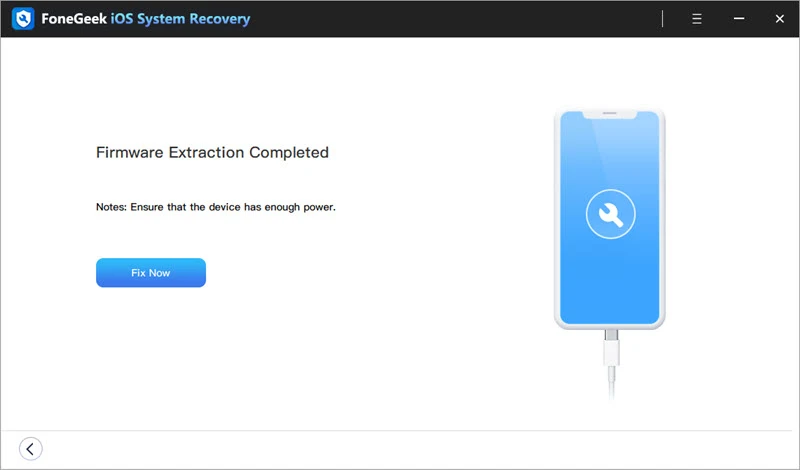 11. Contact Apple Support
In case Always-On Display still doesn't work, it would be prudent now to seek assistance by contacting Apple Support or visiting your local Apple Store. There's a high chance that it's a hardware issue. The Apple technicians will be able to carry out a thorough diagnosis and let you know what the problem is and fix the iPhone if needed.
Frequently Asked Questions
How to turn off AOD on iPhone 14 Pro?
It's easy to turn off the AOD feature. You just open Settings and tap on Display & Brightness. On the next page, head to the Always On option and tap the toggle to turn it off (left position/gray in color).
Once you do that, your iPhone 14 Pro won't enter into the Always On Display mode whenever the screen is locked and the iPhone is put to sleep. If you find the AOD feature more distracting and more troublesome than its worth, then doing this would be an ideal choice.
Does the Always On Display turn off automatically?
Yes, the Always On Display feature can turn off automatically when you put your iPhone inside your pocket or when your Apple Watch is far from your iPhone. This does help conceal your wallpaper and widgets so that no one can accidentally see them when you leave your iPhone behind.
Can I customize the iPhone Always On Display?
Unfortunately, iOS 16 currently doesn't provide a customization option for the Always On Display feature. The only option is turning it on or off. Maybe Apple will consider introducing a customizable AOD feature in future updates, but at the moment that remains just a dream.
Does AOD impact iPhone battery life?
We can't really conclude that Always On Display affects the battery life of an iPhone 14 Pro considering that we've only tested it for a short while. Nonetheless, it may have a noticeable impact on the battery life because the Always On Display on Apple Watch tend to have some effect on the battery life of the watch.
Conclusion
Hopefully, the solutions we've provided above have helped put an end to the Always On Display not working on iPhone issue you're facing. All of them can work very well but the FoneGeek iOS System Recovery is the best option we would recommend, especially if you want a sure fix that's fast to implement. It's highly effective and will resolve the Always On Display issue without requiring you to try another solution unless the cause is hardware-related.