Trying to update an app or download a new one on your iPhone when all of sudden, your App Store displays blank white screen or simply gets stuck on loading?
If you have experienced this, then you have logged into the right place. Here we will guide you through thirteen (13) things you can do whenever you experience this App Store opens blank problem.
Are you ready? Let's get right into it.
1. Restart the App Store
The App Store can sometimes be bugged, which can cause a temporary setback. So, the first thing you can do is to close the App Store and restart it.
To restart the App Store;
Press the home button twice to open the app switcher, or swipe from down to the center of your screen and hold until the app switcher pops up, depending on your iPhone version.
Swipe to see apps that are open. When you get to the App Store, swipe it upwards, off the screen to close it.
Then go back to your Home screen and open the App Store again.
If after this restart, you still experience the issue, you can try out other ways.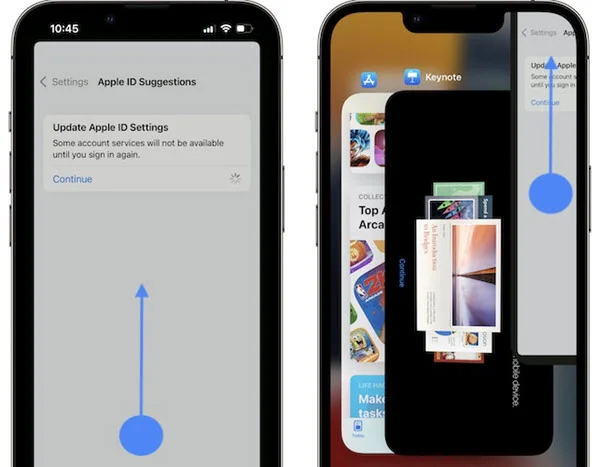 2. Clear the App Store Cache
Clearing your App Store cache helps to resolve many issues with the App Store. This simply involves clicking on any icon (like Today) beneath the page and tapping this icon ten (10) times in a sequence without pausing. After this, close the App Store app, then open it again.
In most cases, it helps to fasten the process and prevent blank white screen interference.
3. Check Apple System Status
Like all technologies, the Apple servers can sometimes experiences troubles that can make it go down. But this is only temporary and doesn't last forever. When you're faced with the issue of the App Store displaying a blank white screen, you might just have to check the Apple System Status page.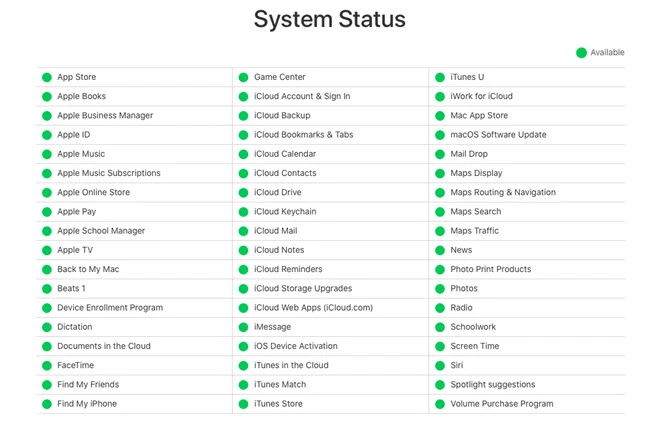 If there's a problem here, it will be highlighted in yellow, and you can simply tap on it to check what is wrong. Once the issue is resolved, the App Store will be up and running again.
4. Check iPhone Date & Time Settings
If the date and time on your iPhone are not correct, it will affect most of your activities needing a connection to the internet, including this.
Simply go to your iPhone's Settings and tap General.
Scroll to Date & Time.
Then set this to Set Automatically.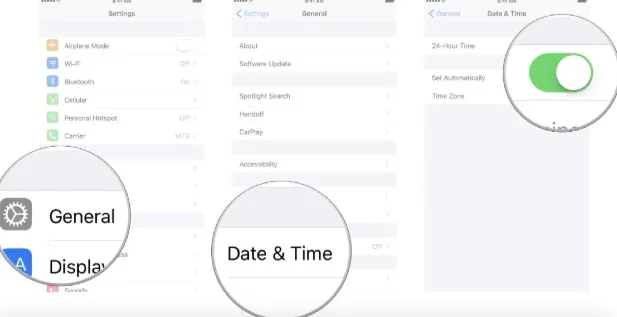 5. Check Internet Connection
This is one of the steps you should take immediately when you notice such problems, because a network failure will lead to App Store loading problems that show up as blank pages.
Ensure that you have sufficient data, or your Wi-Fi is very strong. Also, try as much as possible to ensure that you're not performing other activities on the internet at the same time you're trying to download or update an app from the App store.
Moreover, you can disconnect your network settings, connect back, and try again.
6. Restart Your iPhone
Restarting your iPhone can solve a lot of problems, including this one. After restarting your phone, all apps close and network connections refresh. Here's how to do this;
For iPhone X, 11, 12 and 13
Long press the Side button and either Volume button together, until the power off shows up.
Drag the slider to turn off your iPhone.
Long-press the Side button again till the Apple logo shows up.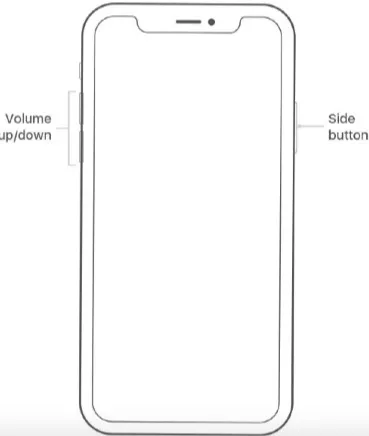 For iPhone 8 and lower versions
Press and hold the Side button and Home button until the power-off slide shows up.
Drag and wait 30 for your device to turn off.
Long pressure the Side button again until the Apple logo appears to restart.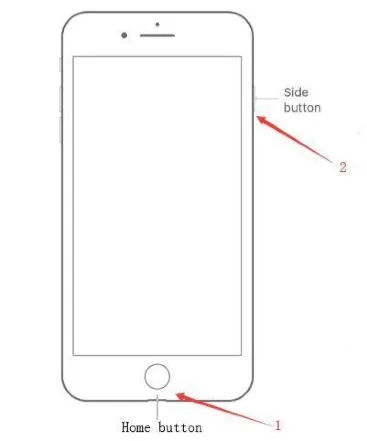 If the iPhone App Store shows a blank white screen again, then you can try the next step.
7. Update Your iPhone
The App Store opens blank error can be caused by software malfunction. Hence, it's better to update your iPhone to the latest iOS version, as it will fix any software problem that can make the App Store not function properly . To do so;
Scroll to your phone's Settings and go to General.
Then tap on Software Update.
Next, click on Download and Install.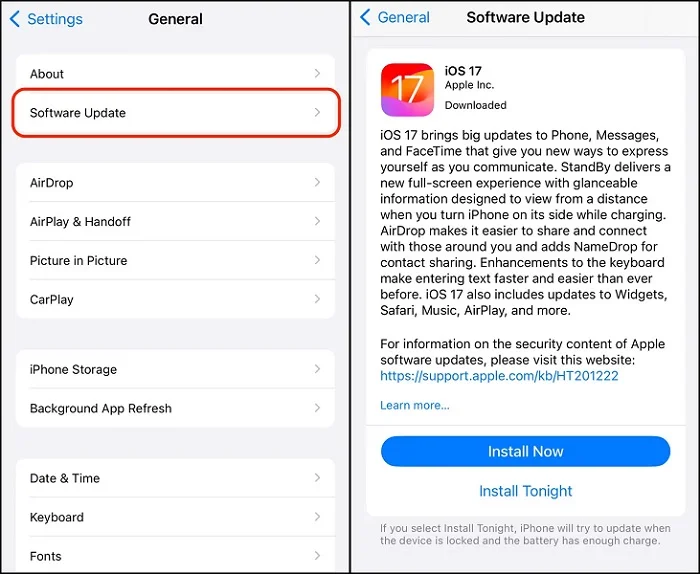 If this issue was caused by a software malfunction, your App Store will begin to work smoothly after upgrading to the latest iOS version. If it doesn't, then try the next step.
8. Sign Out of App Store and Sign Back In
You can also tackle the problem when the App Store displays a blank white screen by signing out of the App Store and signing back in with your Apple ID. You can do this from your iPhone's settings;
Scroll to your iPhone Settings. Your name appears on top of the page, tap on it.
Scroll to the bottom of the page and click Sign Out.
Next, click on the Sign In button that appears and re-enter your Apple ID and Password.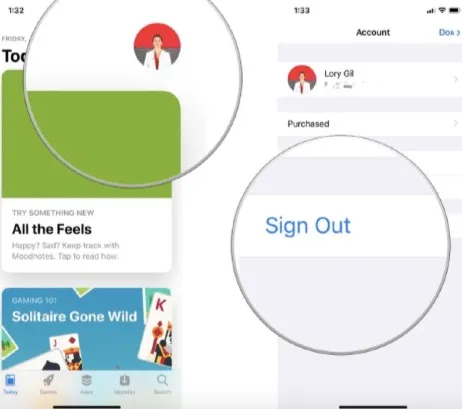 Open your iPhone App store, and try again to download or update apps.
9. Forget WiFi Network
When you connect to a Wi-Fi network, your iPhone saves this record and automatically recognizes and connects to it the next time. If you are experiencing the problem of iPhone App store displaying a blank page, and you are using a Wi-Fi network, then it is safe to forget the Wi-Fi network. You can do this by following these steps;
Under your iPhone Settings, click on Wi-Fi.
Click on the blue highlighted "i" (Information) icon that is at the right of the Wi-Fi.
Next, click on Forget This Network. Click on the Forget icon that pops up.
Then refresh and establish a new Wi-Fi connection.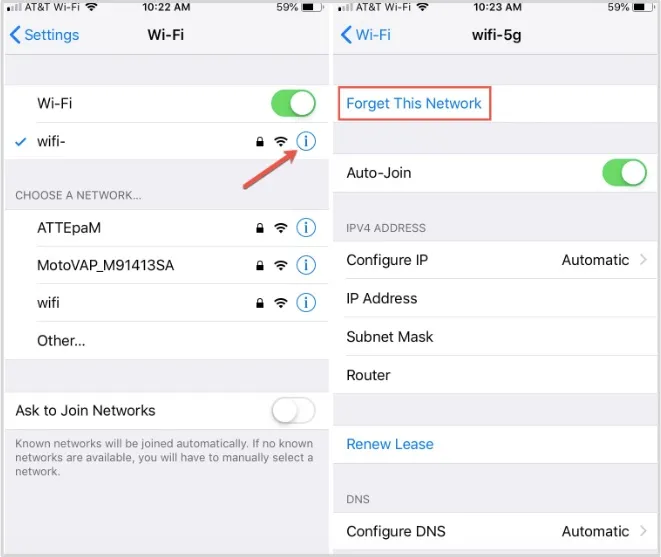 10. Reset Network Settings
Just like the previous step, resetting network settings also refreshes or forgets all other Wi-Fi networks on your iPhone, including every other form of connectivity like Bluetooth and VPN. After doing this, you'll have to reestablish connections with external Wi-Fi to be able to use them again. However, this often solves a lot of connectivity problems including that of the iPhone App Store not working. To do this, simply follow the following steps;
Under Settings, go to General.
Scroll down to Reset or Transfer. Under this, click on Reset.
Then click on Reset Network Settings.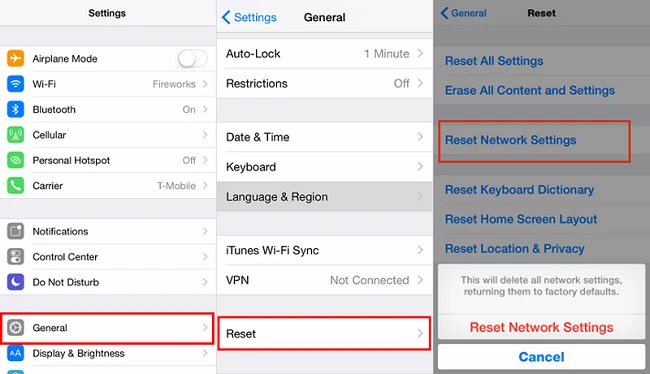 11. Use A Different DNS
If this problem persists, you can also try this strategy. Change your phone's DNS settings to Google's. Follow these steps;
Go to WiFi under Settings.
Click on the Wi-Fi network you are currently using.
Click on the DNS space and enter the following Google's public DNS servers: 8.8.8.8 and 8.8.4.4.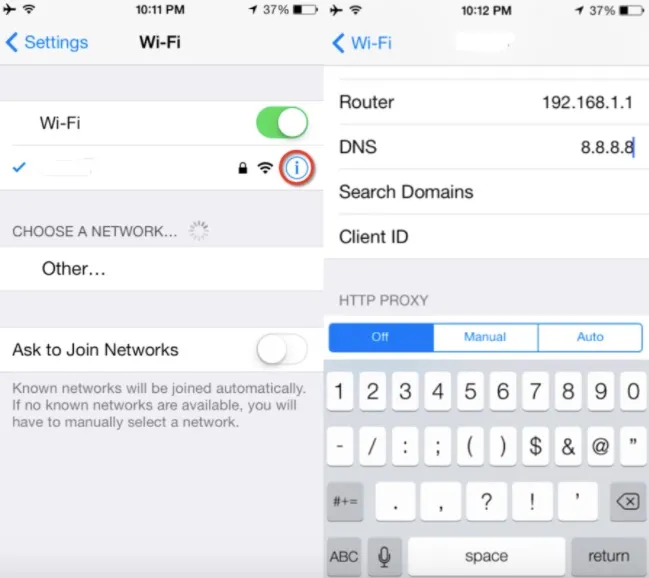 After this step, try working on the iPhone App Store again.
12. Fix iPhone App Store Not Working without Data Loss
iPhone App Store not working properly can be caused by a problem with the iOS system. In such a case, it is advisable to install an iOS system repair tool to help fix this problem. One of the most trusted tools is the FoneGeek iOS System Recovery. It is embedded with distinct features to help fix all iOS system problems and have your iPhone working like new.
To fix App Store not working on iPhone without data loss, follow these steps;
Step 1: On your personal computer, download and install the FoneGeek iOS System Recovery tool. After launching this firmware, tap on Standard Mode on the home page.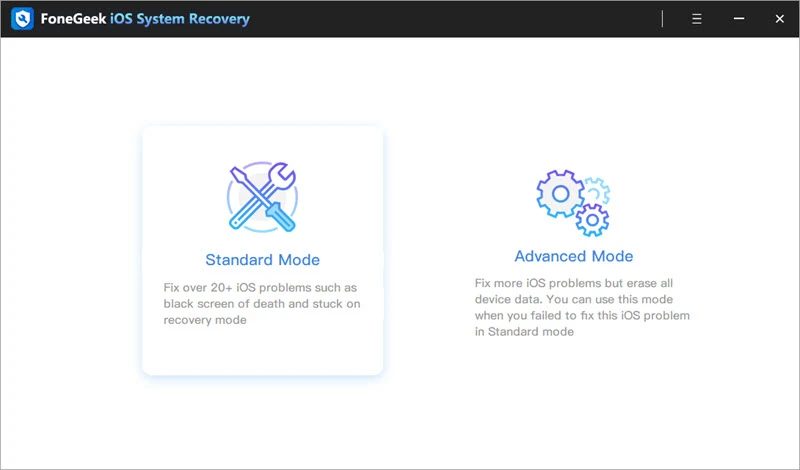 Step 2: Using a USB cord to connect your iPhone to your computer, click on Next. If the device is not detected, simply follow the instructions on your screen to put it in DFU or Recovery mode.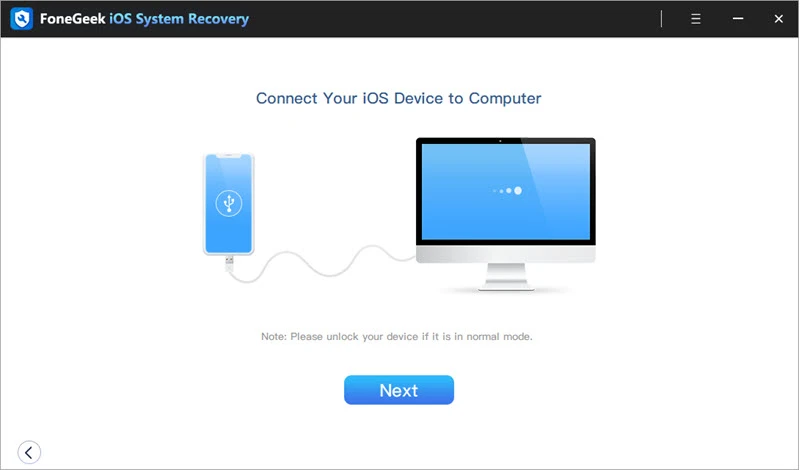 Step 3: From the firmware versions listed, select which is most suitable for your iPhone, then tap on Download.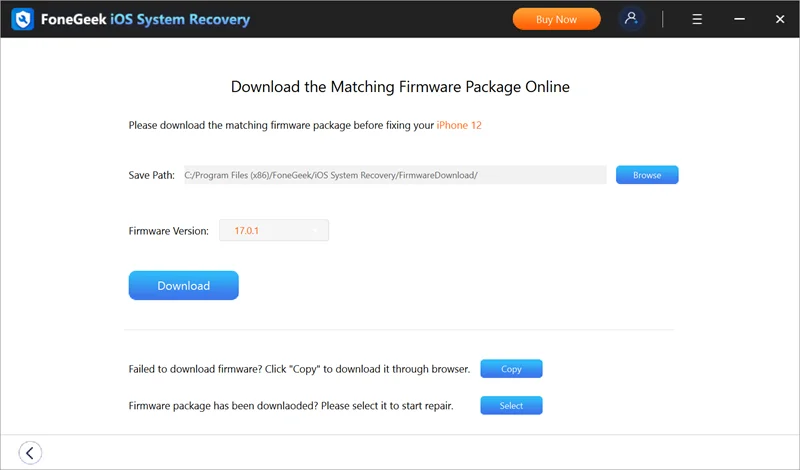 Step 4: After downloading, click on Fix Now, to fix all iOS system issues. When the repair is done, your iPhone will restart and the App Store should work normally again.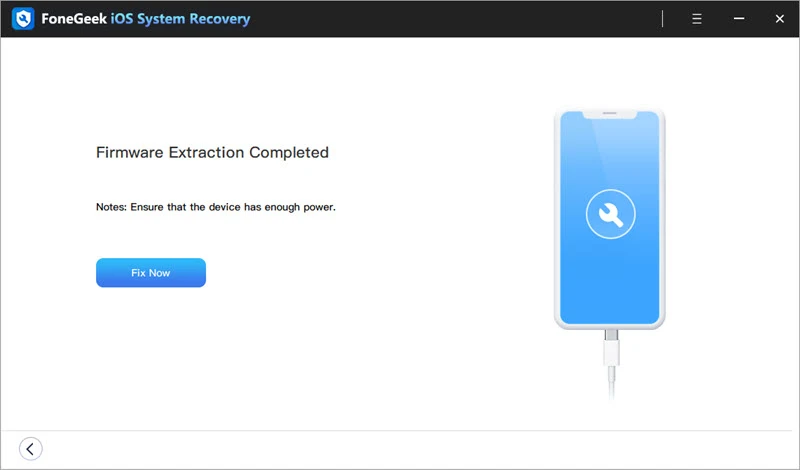 13. Get Help from Apple Support
If after trying all the steps above, your iPhone App Store still shows a blank white screen, then you have to get help from Apple Support. Visit Apple's official website, lay a complaint, and make an appointment.
Conclusion
Your iPhone App Store may not work for different reasons, ranging from a network problem to issues with your iPhone's software. When next you experience such, simply follow the strategies explained in this article. Remember that it is always safer to ensure that there's no software malfunction, so fixing your iOS system with the FoneGeek iOS System Recovery tool should be your first step.