It can be confusing when you put your Apple ID password to unlock your iPhone or iPad, and instead, the Apple ID sign in requested keeps popping up, and you don't know why.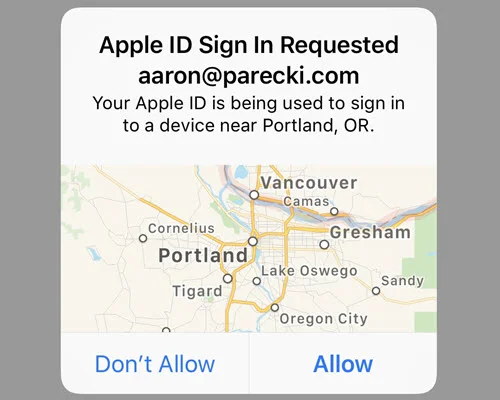 If you're facing this issue, don't fret! We'll let you know exactly why your iPhone behaves this way and what you can do to resolve it. We'll walk you through that in this article, so read on.
Why Does Apple ID Sign In Requested Keep Popping Up?
If you're constantly getting the Apple sign in requested pop-ups on your iPhone, chances are someone might have used your Apple ID to sign in on either a new device or a web browser.
If you've enabled the two-factor authentication, then normally, Apple would send a confirmation code of six digits to one of your separate "trusted" devices, which you need to enter to login in with your Apple ID.
Therefore, if you signed in on a new device or a web browser using your Apple ID, there's nothing to worry about. You just need to tap Allow and put the six-digit passcode to complete the login process.
However, if you're not the one that signed in on a new device or web browser using your Apple ID, then your account is likely compromised. Here's how to stop Aple ID sign in requested keeps popping up;
1. Turn Off Two-Factor Authentication
Turning off the two-factor authentication can help stop the constant Apple ID sign in requested alerts. However, doing so means your Apple ID would be less secure. Besides, it's only possible to turn off the two-factor authentication for Apple ID accounts that were created before iOS 10.3. If you created your Apple ID after that, the following steps to turning off the two-factor authentication wouldn't work for you.
Open any web browser on your computer, go to the Apple ID login page, and sign in.
Head down to Security, then click Edit. Now, click on Turn Off Two-Factor Authentication.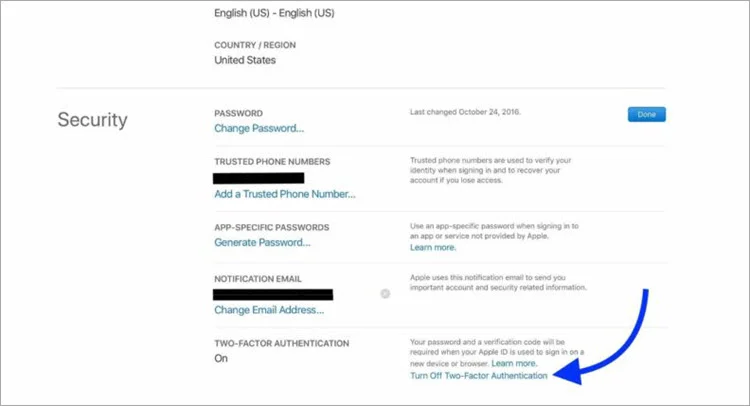 2. Change Apple ID Password
Changing your Apple ID password is yet another way to help resolve the issue of Apple ID sign in requested repeatedly on your iPhone. It's a viable solution, especially if you suspect your Apple ID might be compromised. Try first to sign into your Apple ID account on Apple's website. If you can log in, then we recommend you change your Apple ID password.
The shortest way to do this is on Apple's website where you can click the Change Password option in the Security sections.
The alternative way is to change the password on your iPhone. Launch Settings, then tap on your Apple ID Name. Next, tap Password & Security and then Change Password.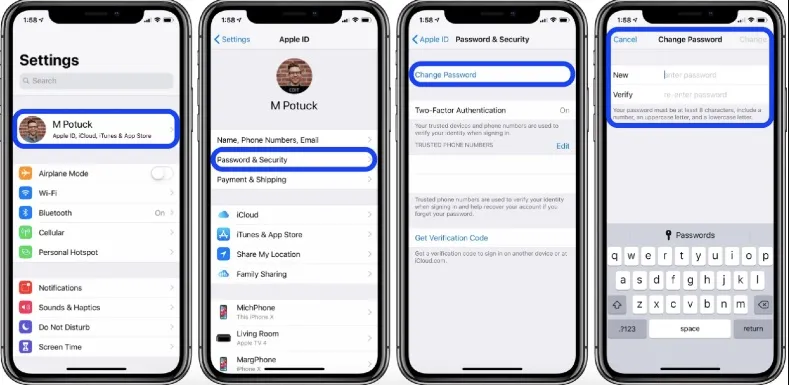 3. Reset Apple ID Password
If you find that your account is locked when you try to sign into your Apple ID account, you'll need to verify your identity to unlock it. There are a couple of ways you can do it (unlock your Apple ID) if you enable the two-factor authentication. First, you can reset your Apple ID password at iforgot.apple.com using the recovery key you set up when turning on the two-factor authentication.
Don't panic in case you didn't set up any recovery key. It's not like many people do anyway, plus Apple even stopped creating them anymore.
The other way is resetting the password with the assistance of a friend or your family member. Just request that they download the Apple Support app on their iPhone or iPad - even iPod can work. Once they have it, tap on the Get Support tab, followed by another tap on Apple ID.
Next, tap Forget Apple ID Password and then Get Started under Reset Your Password. Follow the displayed prompts and reset your ID password.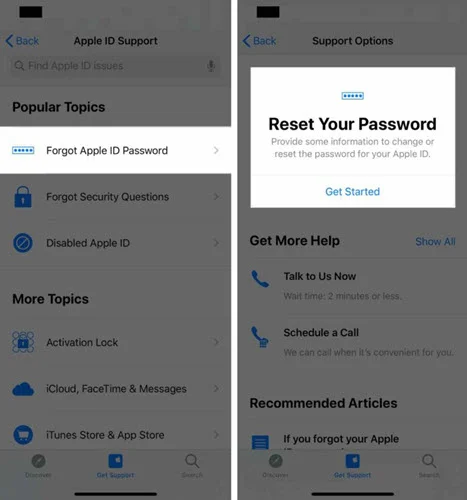 If you didn't enable the two-factor authentication, head to https://iforgot.apple.com/. Answer the security questions that you set to confirm your identity, and from there, you should be able to unlock your Apple ID account using your current password before resetting it.
If you still have trouble unlocking your account or resetting your Apple ID password, we recommend contacting Apple directly.
4. Check Your Account Information
One of the reasons that the Apple ID sign in requested keeps popping up on your iPhone could be a recent change of your Apple ID details (such as security questions, phone number, email, etc.). As such, once you sign in back into your account, double-check all your Apple ID details and ensure they are up to date.
Confirm that your phone numbers, primary email, recovery email, and security questions you set up are all accurate. Double-check even your trusted devices and ensure they're up to date if you've enabled two-factor authentication.
5. Restart iPhone
Many people overlook this simple fix, but it works in resolving different kinds of software problems, even this one. When the Apple ID sign in requested pop-up returns, tap Settings (If it doesn't, then just tap the Settings icon on your iPhone's Home Screen).
When the Settings menu opens, tap General, then Shut Down. A Slider will appear.
Drag it to shut down the iPhone. Once the phone completely shuts down, wait for a minute, then switch on the iPhone by pressing and holding down the power button.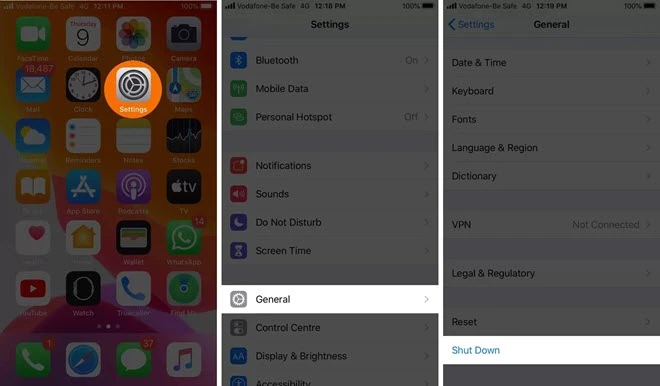 6. Sign Out of Apple ID and Sign Back In
You may have Apple ID sign in requested repeatedly due to a glitch or error in your iCloud account. If that's the case, signing out of your Apple ID and then signing back in can help fix the problem.
Launch Settings, then tap Apple ID Name.
From the Apple ID screen, head down and then tap Sign Out. Put your Apple ID password should you be prompted, and tap Turn OFF.
Finally, tap Sign Out to confirm once the confirmation pop-up appears.
Wait around 30 seconds, then open Settings to Sign in again to your iPhone.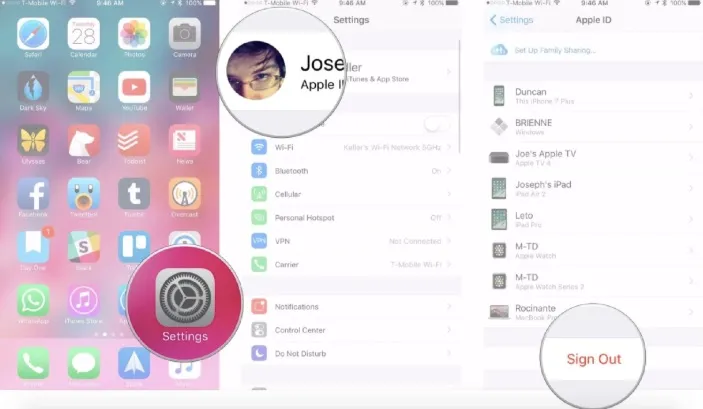 The iCloud glitch causing the constant Apple ID sign in requested pop-up should now be fixed.
7. Check for iOS Updates
An outdated iOS version on your iPhone will likely cause constant Apple ID verification pop-ups. Therefore, updating your iOS to the latest version can resolve it because Apple often releases multiple bug fixes with each new iOS version.
Open Settings, go to General, and then tap Software Update.
Now tap Download and Install on the next screen if there's an update available.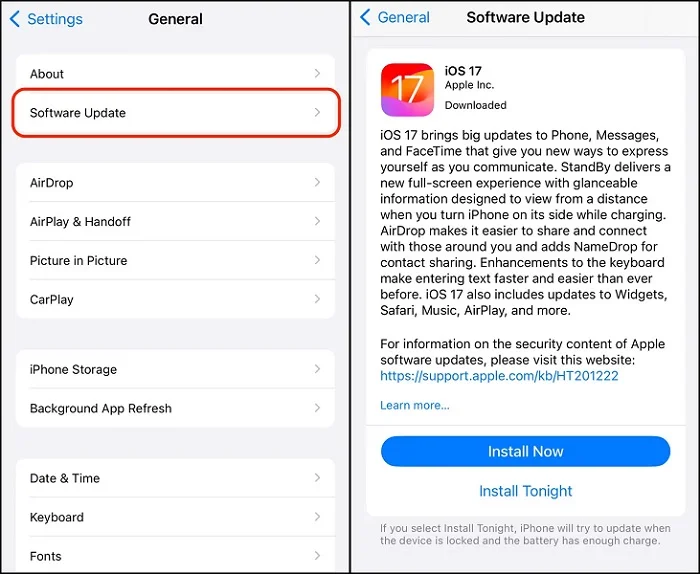 8. Reset All Settings
Improper or corrupt settings can as well lead to this issue. This is why resetting all your iPhone's settings can help to resolve it. Ensure you write your Wi-Fi Network Password somewhere if you don't remember it, and then Reset All Settings to the original Factory Default Settings by following these steps.
Open Settings and tap General. Next, tap Transfer or Reset iPhone. From there, tap Reset. On the next screen that appears, tap Reset All Settings.
When your iPhone restarts, connect it to your WiFi Network by putting the Wi-Fi Network Password. Now, check if you can turn off Find My iPhone.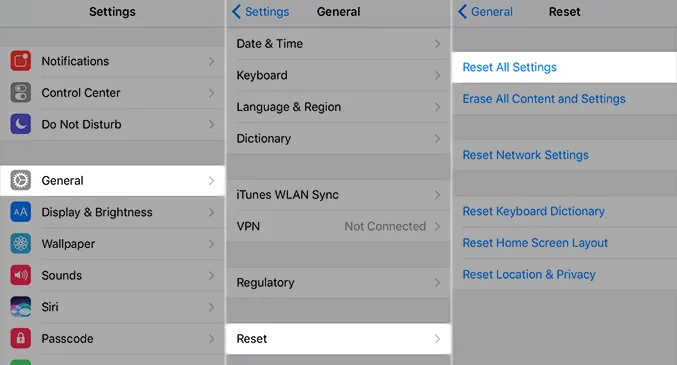 Remember that while this will most likely fix your Apple ID issue, it will remove your WiFi, Bluetooth, VPN, Notifications, Wallpaper, Brightness, and Privacy settings. However, it will not erase any of your data including apps, videos, photos, music, files, etc.
9. Perform A DFU Restore
If resetting all settings doesn't help, your iPhone's software or firmware may be corrupted. To solve this, you need to perform a DFU restore. First, backup your iPhone to a computer (Mac or Windows) and perform the DFU Mode restore.
Doing so will erase almost everything from your iPhone (data and all the software) and reload a newer iOS and firmware version. When the DFU Mode restore process is finished, you can restore your iPhone data using the backup you made to your computer before the restore process.
10. Contact Apple Support
In case still, Apple ID sign in requested keeps popping up, there's a high chance that your Apple ID account might have an issue. The only way to solve it is by contacting someone at Apple Support.
Bonus: Apple ID Verification Keeps Popping Up with Wrong Email
Now, if you can't remember your Apple ID password or email, changing it or accessing your Apple ID account to confirm if the details are accurate can be complicated. Fortunately, FoneGeek iPhone Passcode Unlocker offers a simple way to remove your Apple ID without a password and fix the Apple ID sign in requested issue.
This multipurpose iOS unlocking program is also effective and efficient for removing other locks like the screen locks (4-digt/6-digit passcode, Touch ID, and Face ID) and bypassing the Screen Time passcode and MDM Lock Screen.
FoneGeek iPhone Passcode Unlocker Key Features
Removes Apple ID fast and easily without a password.
Remove screen locks (Face ID, Touch ID, 4-digit/6-digit passcode).
Can resolve disabled iPhone, iPad, or iPod touch without iCloud or iTunes.
Broad compatibility - iPhone 6 to iPhone 15 and iOS 7 to iOS 17 or iPad 17 Beta.
Steps to removing Apple ID without password using FoneGeek iPhone Passcode Unlocker;
Download the FoneGeek iPhone Passcode Unlocker program on your computer. Install and launch it. Select the "Unlock Apple ID" option on the resulting home interface.
Using an original Apple USB cable, connect your iPhone to the computer. The program will prompt you to unlock your iPhone screen. Unlock it and then tap "Trust."
Finally, click the "Start Unlock" button on the program interface to remove your Apple ID and iCloud account from your iPhone.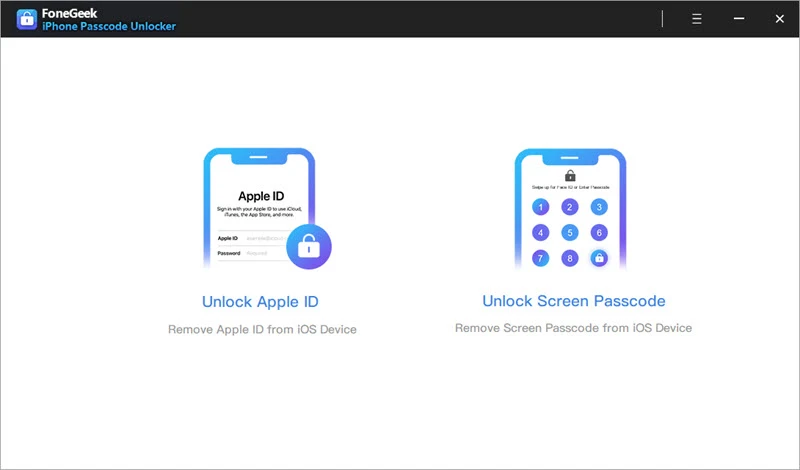 The process will take less than a minute, after which the software will alert you that your Apple ID is removed.
The Bottom Line
Being constantly bombarded with Apple ID sign in requested pop-ups can be extremely inconvenient. We understand that very well and are certain that the solutions we've listed above can help put an end to it. If the problem persists and you can't unlock your Apple ID, you can use FoneGeek iPhone Passcode Unlocker to remove your Apple ID without a password.