Part 1. Why Is Apple Maps Not Talking?
Apple Maps not talking is a common problem and it can be quite frustrating and possibly even dangerous when it happens while driving. Here are the reasons that often lead to Apple Maps not talking.
Ensure You've Enabled the Maps Voice Navigation On Your iPhone
First, we have to consider the obvious reasons behind Apple Maps not talking on your iPhone. Generally, Apple Maps can only provide the talking voice navigation service on iOS 16 device if you enable the function from settings.
Therefore, head to Settings. Click on 'Privacy' option and then tap 'Location Services'. Check the toggle bar which is off. Now ensure the toggle is set to on position (toggled to the right).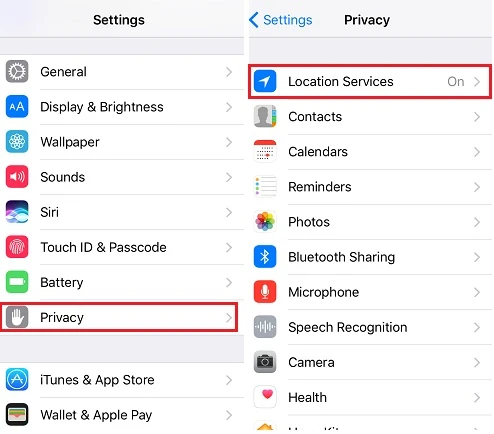 Should you note that the toggle bar next to the Location Services is already set to on position (green), we advise you to turn it off and restart your device. Once you do that, re-enable it by tapping the toggle next to it to on position. Now test Apple Maps to confirm that the error is resolved. In some cases, doing a simple restart can fix many iPhone issues. If it doesn't though, try these solutions.
Part 2. Basic Ways To Fix iPhone Maps Not Talking
It doesn't have to be that way though. There are various ways you can restore your Apple Maps to its normal functioning state. We'll look at several solutions that can help you fix the issue completely.
Check the Volume Level
Although it may seem obvious, this is the first thing you should do because most people often forget that they put their phone into silence previously which is probably the reason for their Apple Maps not talking. So, check your iPhone volume level by simply pressing the Volume Up button to see if you lowered the volume before without knowing.
Check Bluetooth Connection
The other thing you need to check is Bluetooth connection. If your iPhone is connected to your headphone, then you won't hear the voice on any other device. You need to as well ensure the phone is properly paired with your car or truck.
Open Settings. Tap on Bluetooth.
Head to the "My Devices" list. Go through it to see the device that's paired with your iPhone.
Select the right device in case it's not paired.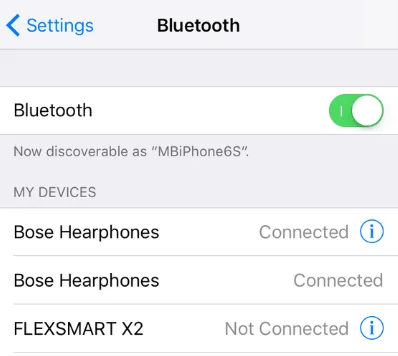 Increase the Volume On iPhone Maps
You should also try resetting the volume of iPhone Maps navigation voice. Sometimes, you won't hear anything even if your iPhone Maps volume is on because it's set at the lowest level.
In such a case, open Settings and tap Maps. Next, tap on Driving & Navigation. Select the Normal or Loud volume option. Now try launching the iPhone Maps once more to see if it's talking now.
Ensure that you also turn up your car's radio volume if you've connected it to your Phone via Bluetooth because it's easy to turn off the voice without knowing by turning off your car's speakers.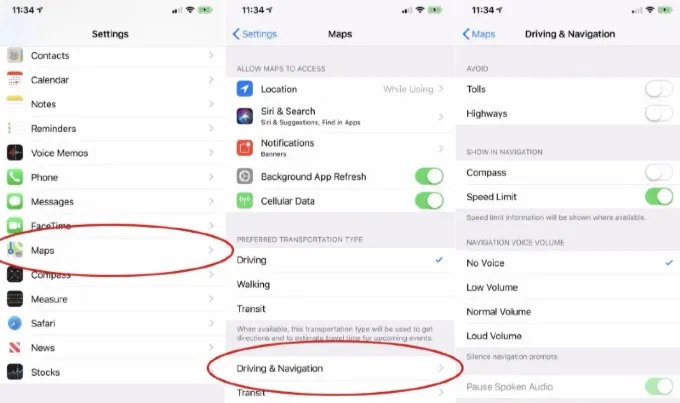 Redownload The Voice Directions
You'll undoubtedly face the iPhone not talking issue if you've not downloaded voice directions onto your iPhone. Therefore, you need to download the voice navigations.
To do that, have your iPhone connected to the internet and tap Get directions. After several minutes, open your Maps App normally. Now you can get voice directions for navigation.
Ensure Cellular Data or Wi-Fi Is Enabled
Check whether your device has access to an internet connection or not as this could be the cause for Apple Maps not talking. If the device doesn't have internet access, you'll definitely have problem running apps that depend on the internet. Thus, you need to carefully verify your phone's network status as well as the signal strength.
Go to Settings and tap Wi-Fi. Tap the toggle next to Wi-Fi to turn it off and tap it again after a while to turn it on.
Go to Settings again and tap Cellular. Turn off the Cellular connection by tapping the toggle and then reconnect again after a few minutes.
Once you connect the device again to the internet, allow the Map app to load data and check if the issue has been fixed.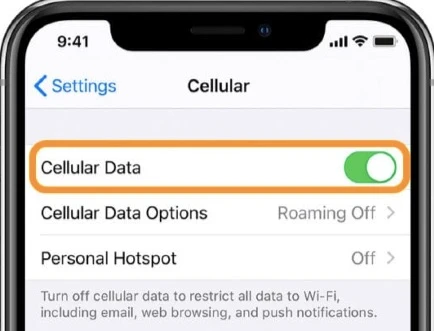 Pause All Spoken Media During Navigation Prompts
If you're listening to podcasts, audiobooks, or pdf over music, then you won't be able to hear the Apple Maps talking. Therefore, you need to pause all spoken media or anything else you may be listening to so that you can get to hear the navigation voice.
Open Settings. Tap Maps. Scroll down to Driving & Navigation and tap it.
Head down to "Pause Spoken Audio" and toggle it on. Now all spoken audio will pause during navigation.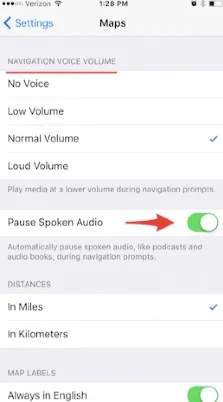 Part 3. More Effective Ways for iPhone Maps Voice Not Working
Fix Apple Maps Not Talking Without Losing Any Data
If you're still facing the same issue after trying all the basic methods above, then you need a powerful iOS repair tool that's able to fix iOS issues. We recommend the FoneGeek iOS System Recovery. It's an excellent all-in-one iOS repair tool that fixes nearly all iOS issues, even this one. It's able to fix issues with iPadOS and tvOS too. It has a simple user interface, so you can solve any iOS issue on your own - you don't need the help of an expert.
Moreover, if you select Standard Mode, no data on your device will get lost while fixing the Apple Maps not talking issue or any other iOS issue. However, using the Advanced mode to fix issues like a forgotten password/passcode will result in data getting erased.
How to use FoneGeek iOS System Recovery to resolve Apple Maps not talking:
Download FoneGeek to your computer. Launch it once you've installed it. From the four options on the home screen, select 'Standard Mode'.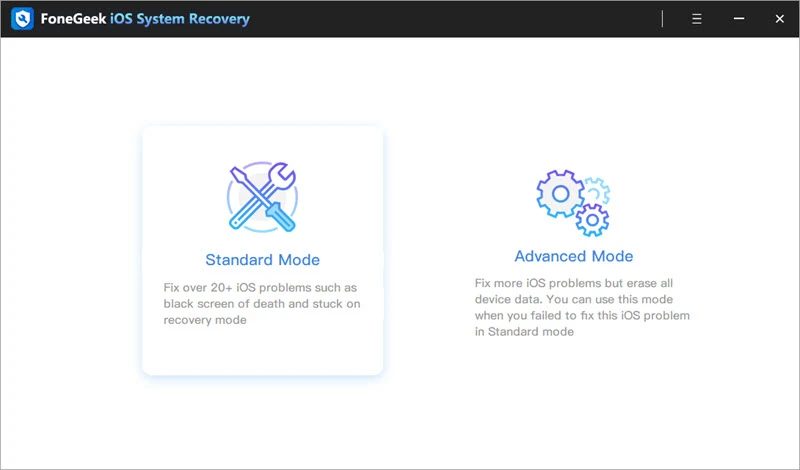 Use a USB cable to have your iPhone connected to the computer. Ensure you've unlocked the phone first and then click Next. In case your phone doesn't get detected, put it in DFU/Recovery Mode by following the instructions shown on the screen.
Umendit will automatically identify the firmware for your iPhone. Click 'Download' to get the firmware.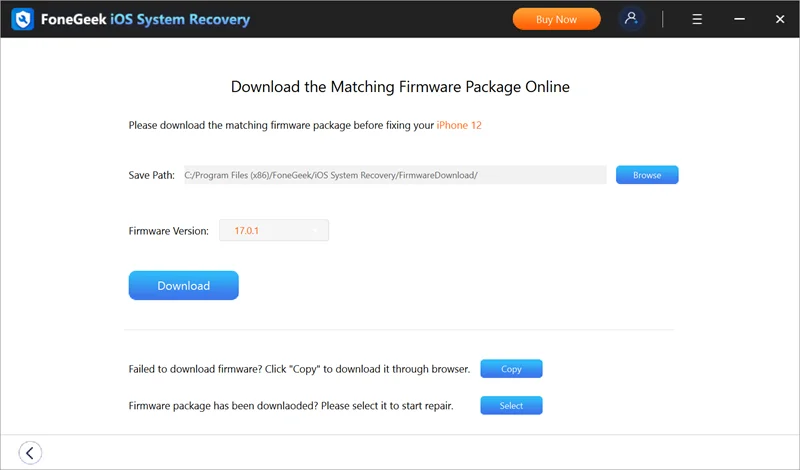 When the firmware download completes,you can fix the Apple Maps not talking issue. Click the 'Fix Now' button and allow the program to fix your device. After a couple of minutes, you'll see a notification that your device is successfully fixed.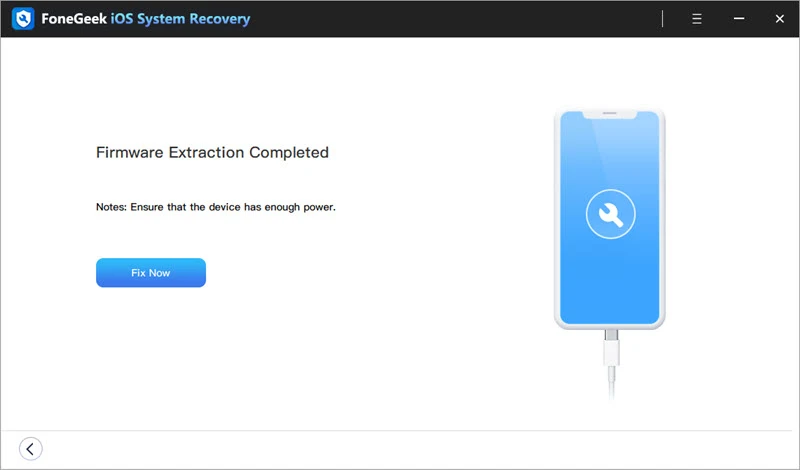 Reset All Location and Network Data on iPhone
If there's an issue with your iPhone location and network data settings that is causing Apple Maps not to talk, then you can try resetting the settings and see if it will start talking.
Head to Settings and tap General. Tap on Reset.
Now tap Reset Network Settings. All your network settings including Wi-Fi networks, cellular settings, passwords, and VPN and APN settings will be reset.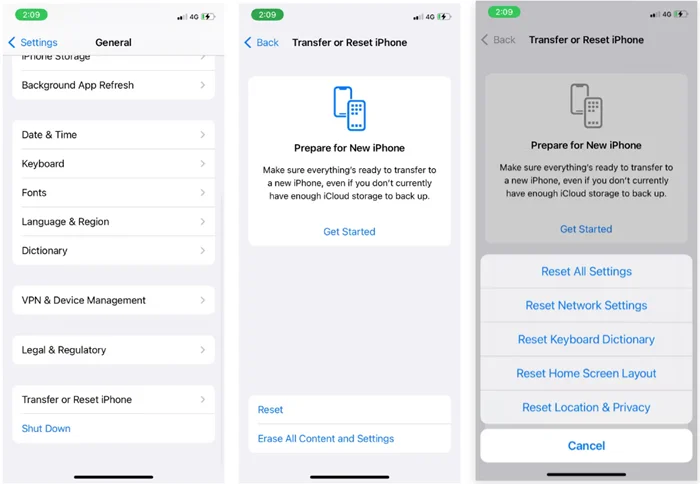 Next, tap on Reset Location & Privacy option.
Once you do that, open Maps and see if you can hear the voice navigation.
Uninstall and Reinstall the Apple Maps
It's possible to uninstall iPhone's built-in apps if it's running iOS 10 or a later version. So try uninstalling and re-installing your iPhone's Apple Maps and see if it helps. It may revert any unwanted changes in Settings that were causing the Apple Maps not talking issue.
Head to the Home screen and locate the Apple Maps icon. Tap the icon and hold on to it.
An (X) button will appear on top of it. Tap the button.
Next, tap the 'Remove App' option to confirm that you want to remove the app.
Now re-install the Maps app from the App Store.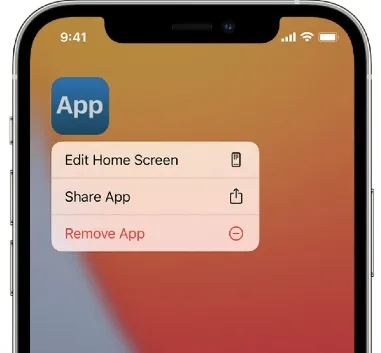 Restore iPhone via iCloud
You can effectively get rid of many different iPhone problems by just restoring the iPhone. Moreover, it's very easy to restore iPhones through iCloud. It's actually the simplest method. Note though that you'll need to create a backup first prior to trying this method because you'll likely lose all your device data after resetting it.
Open icloud.com on your browser. Sign in to your account - complete the two-factor authentication.
Head to Find iPhone and click on it.
All Devices option will appear at the top. Click it and then select your device.
From the three options you'll see, click Erase iPhone. Confirm as requested. Once you do that, your device will now reset. After that, set it up again like a new device.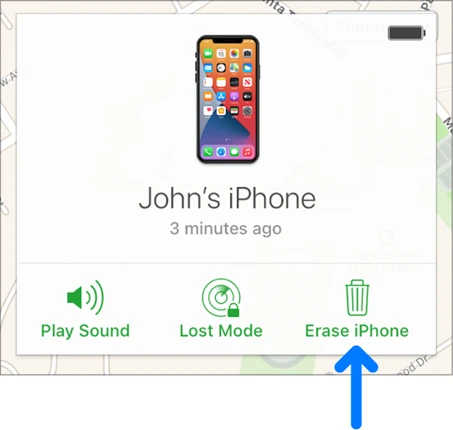 Conclusion
As you've seen, there are many ways you can solve the Apple Maps issue. You can try all of them beginning from the basic steps until your issue is fixed. The basic steps may fail but the advanced solutions will certainly work. Of these, the easiest and most effective solution is using FoneGeek iOS System Recovery.
This powerful iOS repair tool will fix this Apple Maps not talking issue quickly and completely with just a few clicks and none of your data will get lost. It's the best option if you don't want to lose any important data on your device while fixing it. Moreover, it's simple to use and can fix many other iOS issues besides this one. We recommend it if you want 100% success rate and also if you don't want to waste a lot of time trying other methods.