When it comes to smartwatches, Apple Watch is one of the most popular choices in the market. It not only looks good but also is packed with features that make it a powerful device. However, there are times when users face issues with their Apple watch not connecting to phones.
Have you encountered Apple Watch won't pair with iPhone issue when you try to connect them? You may ask, "Why is my Apple Watch not pairing?".
In this article, we will explore some methods that you can try to fix this problem and get your Apple Watch paired with iPhone. Keep reading!
Why Won't My Apple Watch Won't Pair?
There are several things that can prevent your Apple Watch from pairing with your iPhone. Some of them are as follows:
Apple Watch is not compatible with the older iPhones (iPhone 5 and earlier). It will also not work if your iPhone is running on iOS 8.1 or below.
Both the iPhone and the Apple Watch need to be in optimal condition and properly functioning to pair. Make sure that they have enough power.
Apple Watch connects with the iPhone through Bluetooth, and the distance between them should be 10 meters (33 feet) or less. Sometimes the range can vary because of Wireless interference. Make sure both devices are close enough.
Before You Begin: Check Your Apple Watch and iPhone Settings
In addition to the above reasons, there are many other things that can cause connectivity issues between the Apple Watch and iPhone. Here are some of the primary solutions that you can consider trying when the Apple Watch won't pair with iPhone.
1. Move Your iPhone Closer to Apple Watch
Before doing anything else, make sure that both devices are within 30 feet or 10 meters. As mentioned earlier, Wi-Fi interference can prevent them from connecting even when they are in the range. So, try to bring them as close as possible.
2. Check If Your iPhone's Bluetooth Is Turned On
Make sure that the Bluetooth is turned on in the iPhone by heading to Settings> Bluetooth. The Bluetooth icon in Control Center will be gray if it is turned off, and it will become blue when turned on. You can turn on the Bluetooth either from Settings or Control Center.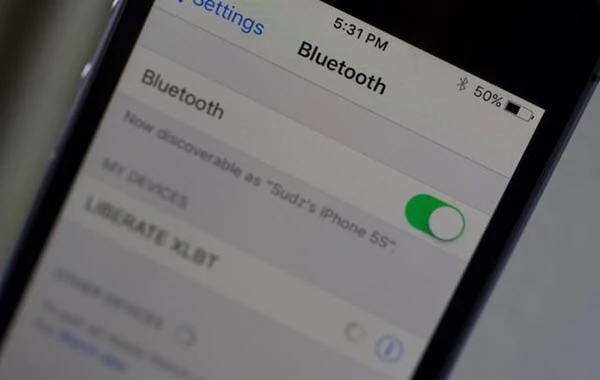 3. Try Disconnecting iPhone form Other Bluetooth Devices
If there are any other Bluetooth devices connected to the iPhone, they can also prevent the Apple Watch from connecting. You will need to disconnect them to fix the Apple Watch not pairing issue.
To do this, go to Settings > Bluetooth and press the "i" button next to each device, then press "Disconnect."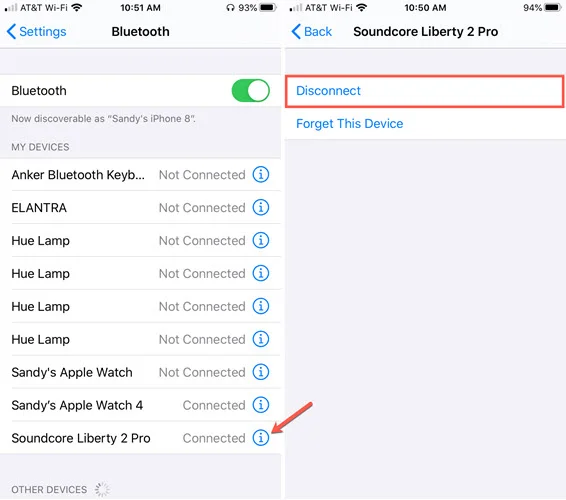 4. Ensure the Airplane Mode Is Turned Off
As Airplane Mode disables all the wireless transmission, including Wi-Fi and Bluetooth, you need to keep it off while connecting the Apple Watch. Simply open the Control Panel by swiping up/down the screen.
Now find the Airplane mode icon and make sure that it is gray. If the icon is orange, then the mode is on. In this case, you can turn it off by pressing the Airplane icon for once.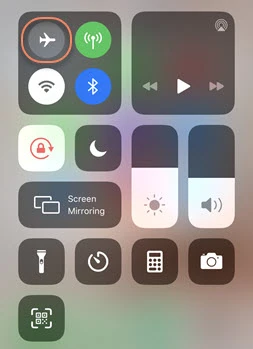 5. Ensure the Apple Watch Isn't Already Paired
Is your Apple Watch already paired with another iPhone? If so, you will need to unpair it from the old phone, then connect to the new iPhone. Here is how to unpair Apple Watch:
On your old iPhone, open the Watch app and go to "My Watch > All Watches".
Click the "i" icon next to the watch that you want to unpair, then click "Unpair Apple Watch".
Click again to confirm and wait till the watch is unpair.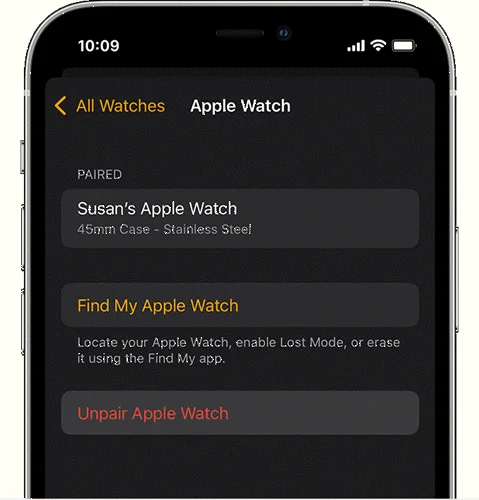 Now you can pair it with the new iPhone. You will need to unlock the activation lock using your Apple ID and passcode.
7 Tips to Fix Apple Watch Won't Pair with Your iPhone
Here are some advanced tips that you may find useful when unable to pair an Apple Watch with your iPhone.
Tip 1: Check Your Apple Watch Connection
If you are not getting any calls or notifications on the watch, it might be disconnected from the phone. Here is how to check the connection status.
Slide the Apple Watch screen app to bring on the Control Center.
If you see a green icon, the phone is connected and if it is red, then it's disconnected.
You will need to reconnect the device if the icon is red.
Tip 2: Turn iPhone Bluetooth Off and Back On
Sometimes restarting the Bluetooth might help to solve the issue. Here is how to do this: head to Settings > Bluetooth and tap the toggle bar for Bluetooth twice to turn it off and back on.
After doing that, try to reconnect the watch again. It should work now if the problem is with Bluetooth.
Tip 3: Restart Your iPhone and Apple Watch
Restarting devices sometimes help to solve the pairing issue. Consider restarting both iPhone and Apple Watch if they are not pairing.
To restart the iPhone:
Tap and hold the power button. If there is no power button, press the side button along with either volume button.
Hold the button until the slider occurs. Once you see the slider, slide the red icon to the right.
This will turn the phone off. Then turn the device on again by holding the side button or power button.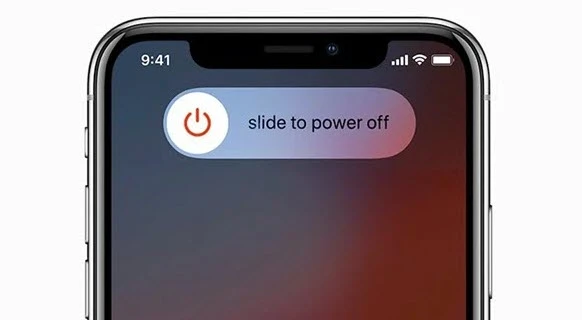 To restart the Apple Watch:
Tap and hold the side button until the "Power Off" slider occurs.
Slide the red icon from left to right to power down the device. Press the side button again to turn it on.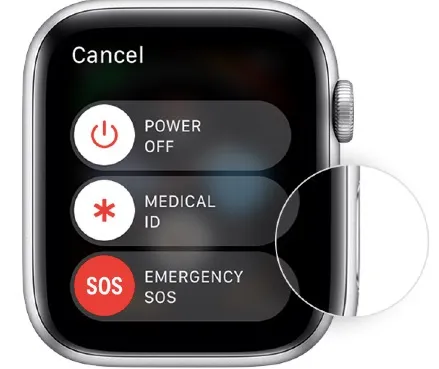 Tip 4: Update Your iPhone and Apple Watch
If you are still unable to pair the devices, consider updating them to the latest version.
To update your iPhone, open Settings and go to General > Software Update. Press "Download and Install" or "Install Now" if there is any update available.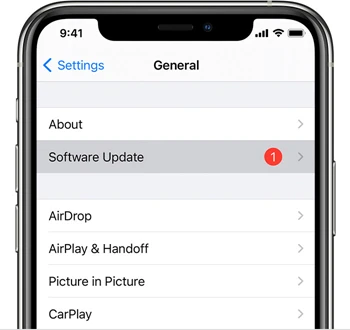 To update the Apple Watch, open the Watch app and then tap General > Software Update. If a watchOS update is available, press "Download and Install".
If you are using WatchOS 6 or newer, you can also update it directly by going to Settings > General > Software Update on your Apple Watch.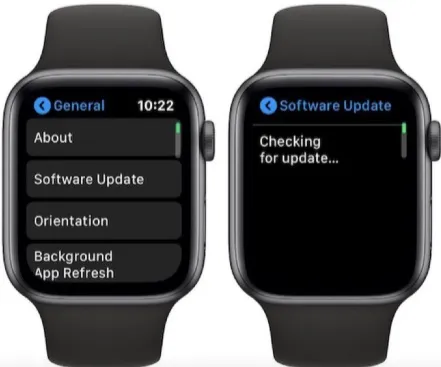 Tip 5: Reset iPhone Network Settings
Resetting iPhone Network settings sometimes may help to solve the Apple Watch not pairing issue. Here is how to do this:
Open Settings of the iPhone and go to General.
Then open "Transfer or Reset iPhone" and go to "Reset".
Find and press on "Reset Network Settings". Enter the passcode and confirm the operation.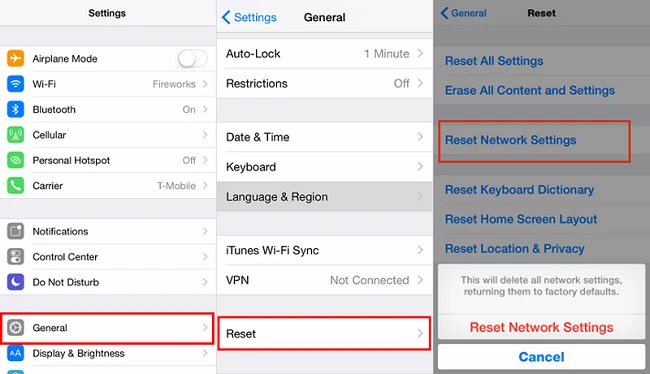 Tip 6: Erase Your Apple Watch
If the problem still persists, consider removing all settings and content of your Apple Watch. If it is because of a software bug in WatchOS, this might help to solve it.
To do this, open the Watch app from your iPhone and go to General. Then tap Reset and press on "Erase All Content and Settings".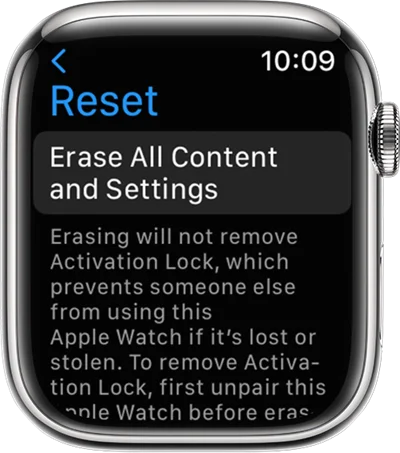 Tip 7: Reset Your Apple Watch
If you have tried all the solutions above and still cannot solve the pairing issue, consider resetting the Apple Watch. Here is how to do this:
Connect the watch with a charger.
Bring the Power Off screen by pressing and holding the side button.
Tap and hold on to the Digital Crown and then select Reset.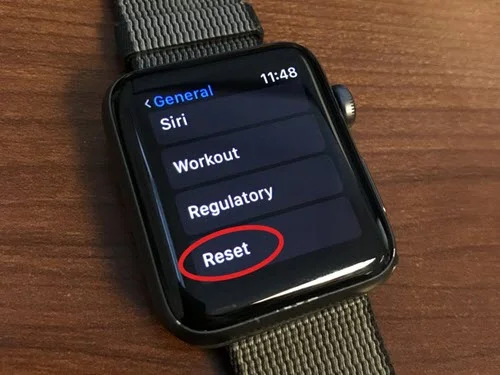 The Apple Watch will be reset, and you will need to reconnect it with your iPhone once it turns on. Please note that you will need the Apple ID and passcode for this.
My Apple Watch Won't Pair: What's Next?
FoneGeek iOS System Recovery is professional software that is designed to fix all the system issues of iPhone, iPad, and Apple Watch. It can help you to bring the device back to its normal state without any data loss. You can fix a variety of issues with your Apple devices using this software, such as iPhone black screen, stuck on Apple logo, boot loop, etc.
It is also pretty easy to use FoneGeek iOS System Recovery, and it performs efficiently in most cases. Follow these simple steps:
Step 1. Download and install FoneGeek iOS System Recovery on your Windows/Mac PC.
Step 2. Launch the program and press "Standard Mode." Connect your iPhone with your PC using a USB cable.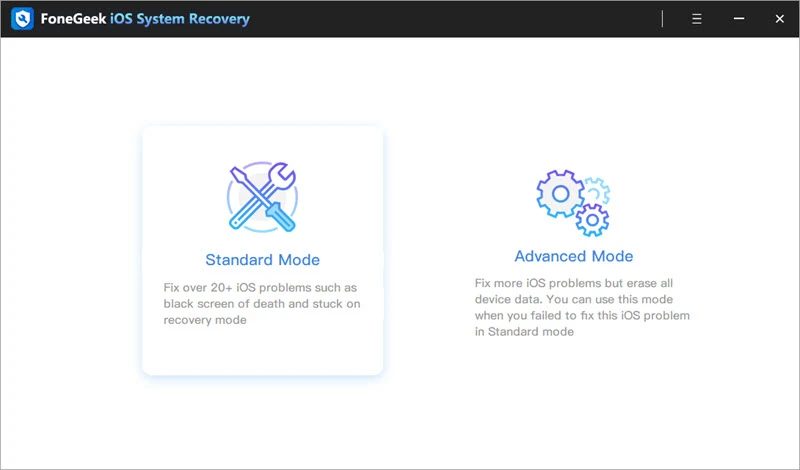 Step 3. After the PC detects the device, it will show available firmware versions. Select the preferred firmware, and press "Download."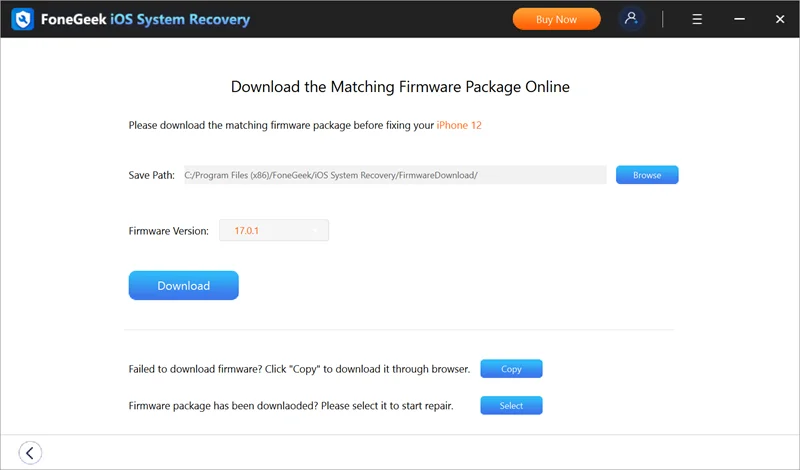 Step 4. After the download is completed, press "Fix Now" to begin solving the Apple Watch not pairing issue.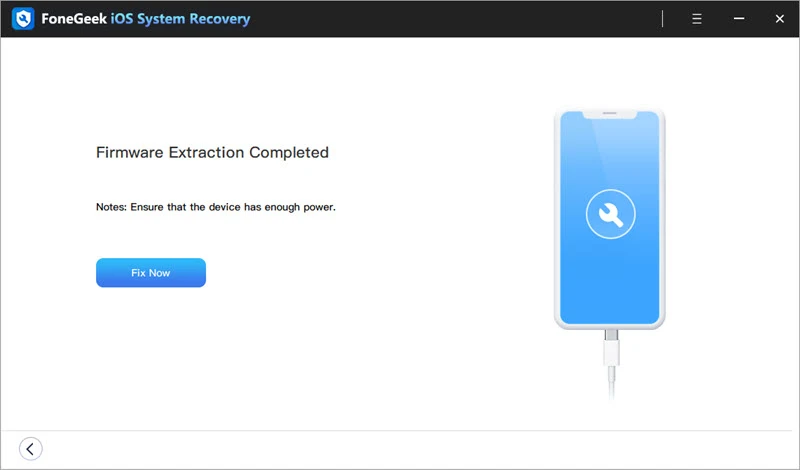 Your Apple Watch Is Paired with iPhone!
In the above, we have discussed some of the best solutions you can try when your Apple Watch isn't pairing with your iPhone. We recommend you using FoneGeek iOS System Recovery software, which can solve the problem quickly and efficiently. We hope you will be able to solve the issue with the help of the guide.