Auto-correct helps ensure the words you type are spell-checked and error-free. That's why when it fails to work as intended, you may feel a bit stuck, especially if you rely on it a lot when typing. The chances of getting words misspelled increase significantly, and it even becomes somewhat hard to input your sentences.
A glitch or bug in the iOS system is often the main cause of this problem, but there are various other reasons, as you'll find out below. You don't need to worry much if you're in such a situation. The solutions we've shared in this article can effectively fix this Autocorrect not working on iPhone issue and have it functioning as well as before. So, check them out.
Why Is My Autocorrect Not Working on iPhone?
Similar to many other iOS issues, this problem of Autocorrect on iPhone not working often occurs due to a glitch in the iPhone system itself. You can also face the same problem when the Auto-correction settings and other keyboard settings on your iPhone aren't set properly.
These are the most common causes of iPhone Autocorrect not working. Now, let's check the solutions.
1. Restart Your iPhone
It's highly likely that Autocorrect is not working due to some small glitches that can be easily fixed by rebooting your iPhone. So, turn off your iPhone and then turn it back on and see if it fixes the issue.
2. Enable Auto-Correction from Settings
The Auto-correction feature is usually turned on on iPhone or iPad when you first set it up. You or someone else with access to your device may have mistakenly or intentionally disabled it. Follow these steps to turn it on:
Launch Settings, then open General.
From the General page, tap Keyboard.
Now, tap the toggle beside Auto-Correction to turn it on.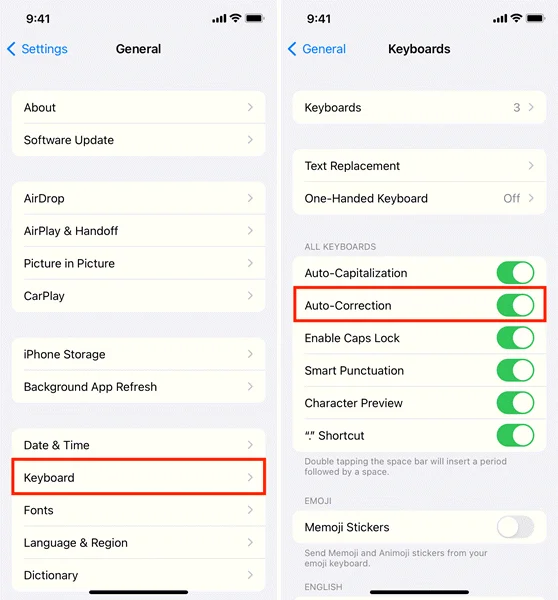 3. Enable Check Spelling and Predictive Text
Spell check uses the dictionary on iPhone to correct misspelled words you type, while the predictive text feature recommends words according to your past typing patterns. Once you type a few words, the predictive feature will use machine learning and AI to suggest or show words you can type next to complete the sentence. To enable them, follow these steps:
Launch Settings, then open the General option.
From the General page, tap Keyboard.
Next, tap the toggle beside the Check Spelling and Predictive options to enable them.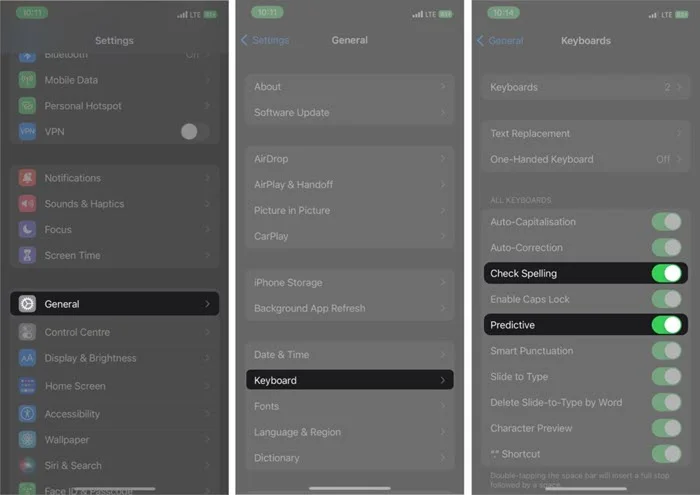 4. Remove Text Replacement Shortcuts
If you're seeing some phrases or random words getting expanded, corrected, or replaced with other words, phrases, or even sentences when you type something, there's a high chance it's due to the text replacement shortcuts feature. Therefore, you can remove or manage text replacement shortcuts by:
Launching Settings and then opening General.
Tap Keyboard from the General page.
Next, tap Text Replacement.
If there's an entry/text you want to remove, swipe left on it, then tap Delete.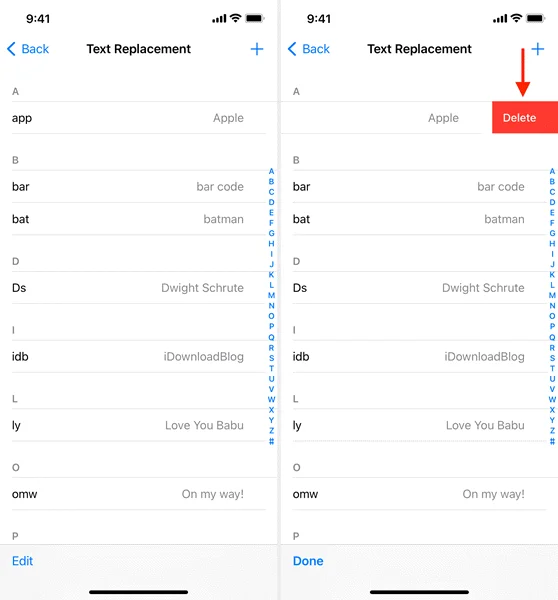 Once you do that, your iPhone won't expand, correct, or replace the phrase or shortcut you type with something else.
5. Add A New Keyboard for Another Supported Language
The iPhone Auto-correction feature is only available in a handful of languages. So, you may be facing the iPhone Autocorrect not working issue because you're using a language that's not supported by Apple.
If, for example, you're using Tibetan or Korean, you won't get the auto-correction feature. However, if you use Gujarati or Telugu, auto-correction will be available on your iPhone. Follow these steps to select a language that supports the Autocorrect feature:
Launch Settings. Open General and tap Keyboard.
From the Keyboard page, tap the Keyboards option.
Next, tap the Add New Keyboard option.
Select one language that supports Autocorrect, then set up the keyboard.
6. Reset Keyboard Dictionary
iPhone usually learns a lot of words over time as per your typing. Sometimes it may even end up remembering incorrect spellings that you previously typed, and auto-correct didn't change.
Hence, you may need to reset your iPhone's dictionary to refresh it and eliminate all these misspelled words so you can start again with a clean slate. Here's how to reset the keyboard dictionary:
Launch Settings, then open General.
Navigate down to Transfer or Reset iPhone option and tap it.
Next, tap Reset.
From there, tap the Reset Keyboard Dictionary option and confirm to finish.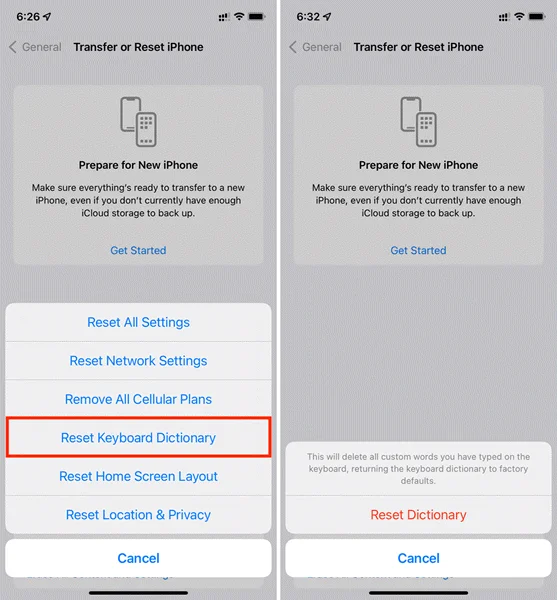 After resetting the keyboard dictionary, the Autocorrect feature should work normally.
7. Update Your iPhone
The reason for your iPhone Autocorrect is not working could be that your iOS version is outdated. If you haven't yet updated your iPhone/iPad, you should update it to get the latest iOS version, as there's a high chance it might fix bugs causing the Autocorrect issue.
To do this, go to Settings, open General and tap Software Update. Wait for your iPhone to check for a new iOS update. If it finds one, click Download and Install to get the latest iOS version.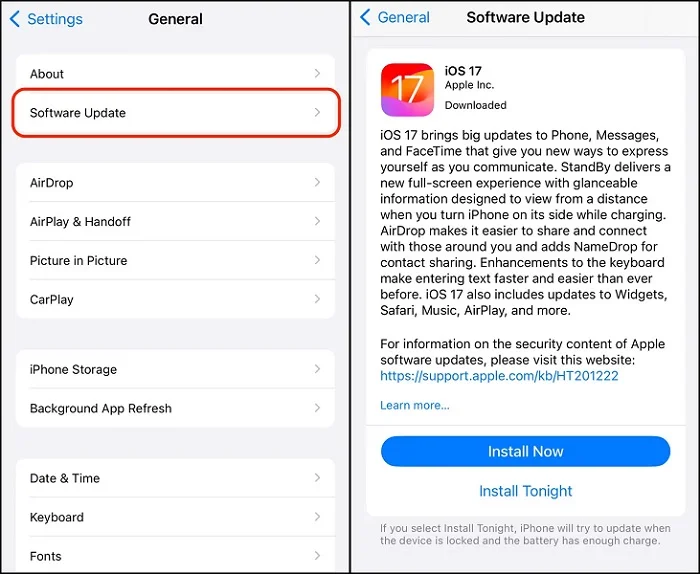 8. Use A Third-party Keyboard
If the issue persists even after updating your iPhone, you may consider using a third-party keyboard instead. Apple's App Store offers several good options, such as SwiftKey, Gboard, and Grammarly, which can replace the iOS keyboard with an Autocorrect issue. Some of these third-party keyboards even offer other extra functionalities. You can download one and see if it suits you better.
9. Factory Reset your iPhone or iPad
Should the above solution not work, you can consider resetting your iPhone. Doing so will reset all the phone's settings back to their default state, including Auto-correction, and most likely fix the issues causing it not to work. To do it, head over to Settings > General > Transfer or Reset iPhone and then tap Erase All Content & Settings.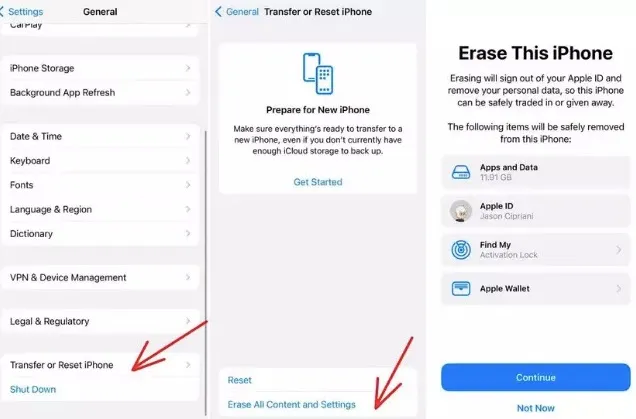 10. Use iOS System Recovery Tool (No Data Loss)
This is the last but most effective solution that you should try if all the others fail to solve the Autocorrect issue. Chances are the problem emanates from the iOS system itself. It would be best if you had an iOS system repair tool to get the device and the Auto-correction feature working normally again.
The best option here is FoneGeek iOS System Recovery, which is ideal because it's a professional iOS system repair tool that can fix many iOS system issues. It can resolve this Auto-correction problem once, and none of your data will be removed. Moreover, it's a simple and easy solution that's ideal even for a novice user. Moreover, it Works with all iOS devices (even iPhone 14 models) and iOS versions (even iOS 16).
Steps to using FoneGeek iOS System Recovery to fix the Autocorrect on iPhone not working issue:
First, download the FoneGeek iOS system repair tool. Install it on your PC. After successful installation, launch the program. Now, click the Standard Mode option from the home page.
Using a USB cable to have your iPhone connected to the computer. Unlock the phone. If the program fails to detect it, you may need to put the phone in DFU/Recovery mode. Follow the provided on-screen instructions to do that.
When your iPhone is detected, the program will display the model of the device plus various matching firmware options. Select one of the firmware packages and click Download.
Once the firmware is successfully downloaded, click Fix Now. From there, FoneGeek will start repairing your iPhone immediately.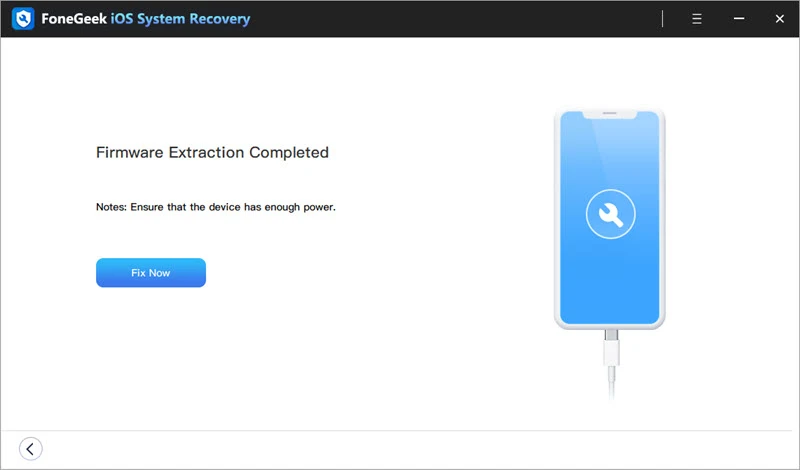 After the repair process is done, your iPhone will restart. The auto-correction issue will now be fixed.
Conclusion
These 10 solutions are enough to fix the problem of Autocorrect not working on iPhone. Try each step carefully one after the other if the initial one doesn't work. If the Autocorrection feature still fails on your iPhone, we recommend you utilize the FoneGeek iOS System Recovery tool. It will repair the iOS system and completely fix the Autocorrection issue. You won't need to implement any other solution. Moreover, it's a pretty simple solution, so even novices can use it.