Why am I unable to delete apps on my iPhone? I long press the app icon but it just jiggles. Neither the 3D Touch Menu nor the "X" symbol appears. Even when they do and I tap the X icon or the "Remove App" option, nothing happens - the screen just freezes.
What's the matter? Well, the fact that you can not delete apps on iPhone should cause you no worry. It's a fairly common issue and we've got the fixes you need. First, we'll outline why you can't delete apps on iPhone and then provide some effective solutions to fix the matter. So, read on to learn more!
How to Delete Apps on iPhone?
Deleting apps on iPhone should be a pretty straightforward task, now let's first see how to go about it before we jump into the fixes. The standard way is gently tapping and holding on the icon of the app for 2 to 3 seconds to bring up the "X" button which you then tap to uninstall the app.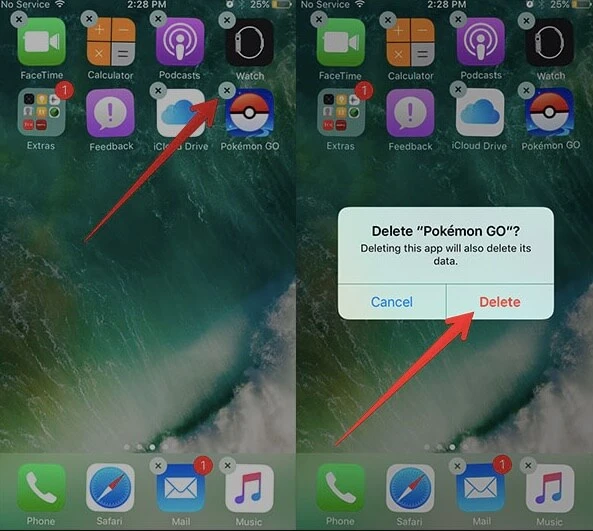 You can as well simply delete iPhone apps in Settings. Launch Settings, go to General, and then iPhone Storage. Then, you just tap on the icon of the app you want to remove and then finally tap Delete App.
Why iPhone Won't Let Me Delete Apps?
The reasons as to why you cannot delete apps on iPhone are many. However, the most common ones are:
None-removal Built-in Apps - All third-party applications as well as some built-in Apple apps can be deleted. However, the native system apps such as Settings, Phone, Messages, Camera, Photos, Safari, Clock, App Store, Health, Wallet, and Find my iPhone can't be deleted. You can only hide them, but not delete them.
Restricted by Screen Time - if you've mistakenly enabled Screen Time on your apps or someone else with access to your iPhone has done it, then this might be what's preventing you from deleting apps.
Restricted by MDM - MDM (Mobile Device Management) restrictions might also stop you from deleting apps on iPhone. This is true especially if you were issued or given the iPhone by someone else like your school or workplace. It may feature a certain profile that's meant to prevent the deletion of some apps. You can't uninstall them without administrator rights.
Incomplete App Download - If an app freezes during download or installation because of error like internet or technical issues, then it's hard to delete it as it's not on or off the iPhone. It's basically stuck in the waiting state.
Can't Delete Apps on iPhone? How to Fix
If you are still asking yourself, "Why can't I delete apps on my iPhone" Ask no more. Here are several methods that can help you get rid of that app you really want to delete.
1. Disable App Deletion Restriction
You probably can't uninstall apps on iPhone because there are restrictions that prevent you from doing so. It's likely that you've disabled app deletion on the iPhone using Screen Time and maybe you didn't remember to enable it back later. If that's the case, then you just need to remove the restriction by following these steps;
Go to the Setting menu, then tap on Screen Time.
From the Screen Time menu, tap Content and Privacy Restrictions.
Next, tap the iTunes & App Store Purchases option and put the Screen Time password when prompted.
From there, just tap Deleting Apps and then choose Allow.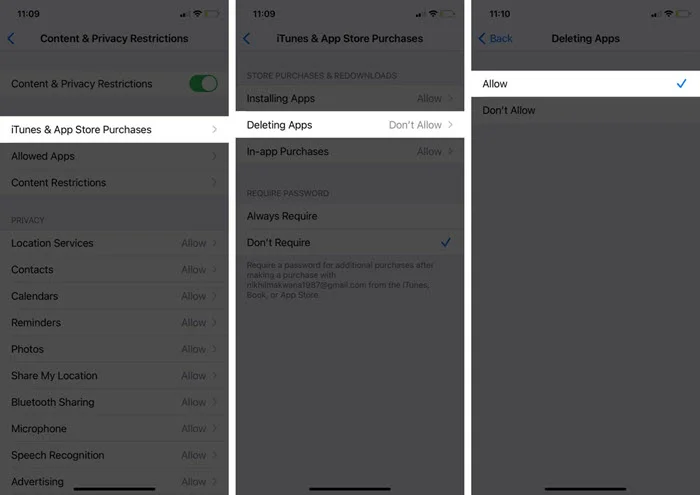 Back to your iPhone home screen and see if the issue is gone by trying to delete the app you wanted to delete.
2. Remove Waiting Apps from iPhone
If the app(s) is stuck on "Waiting…" then it can't be deleted until the download, update or installation process is complete. If it's so, then you have to wait for the app to finish first so that you can successfully delete it. Make sure your iPhone is well connected to a stable Wi-Fi network and has ample free space for the app.
Alternatively, you can cancel the app download or installation process and remove the app. Just long press on the icon of the app until a popup menu appears and then select "Cancel Download" to get rid of it. This option can fail to appear though, so when that happens, just keep pressing the icon until you activate the jiggle mode.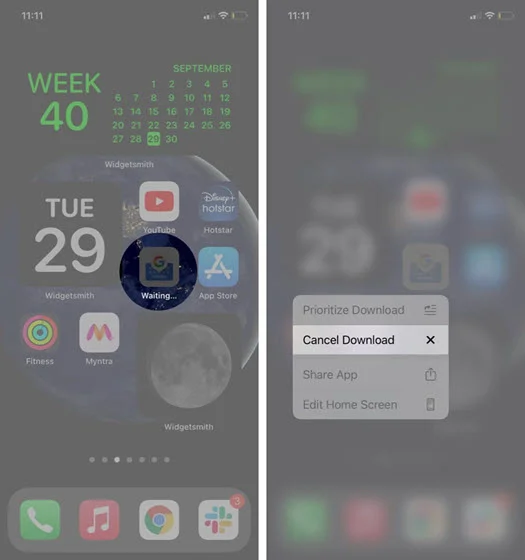 For iPhone running iOS 14 or 15, tap the minus (-) icon that appears next to the waiting app icon, and then tap the resulting "Delete App" option, then the "Delete" option.
For iPhone running iOS 13, the jiggle mode will result in a cross (X) icon next to the app, so tap it and then tap the resulting "Delete" option.
3. Reboot the iPhone
A simple restart might just be the answer to the "why can't I delete apps on my iPhone?" question you've been asking yourself. It's one sure solution to dealing with this problem effectively. So, restart that iPhone as you normally do with the buttons or do it in the Settings;
Head to the Settings menu, then General, and then tap the Shut Down option.
Give the iPhone a minute once it shuts down completely and then switch it on. Now, try deleting the app.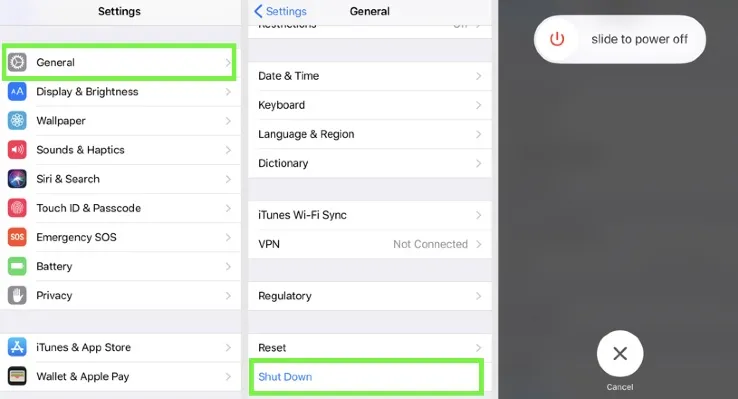 4. Force Restart iPhone
If the issue still persists, then force-restarting the iPhone can resolve it. This hard reset trick has saved me many times, especially when dealing with unexpected or weird problems like this one. I would recommend you try it too.
iPhone 8 and newer models with no Home button: Press Volume Up button and then release it quickly. Do the same for Volume Down button and then long-press the Side button (Top on some iPhone) until there's an Apple logo on your iPhone screen.
iPhone 7 or 7 Plus: Long-press the Side button and Volume Down button at the same time until there's an Apple logo on your iPhone screen.
iPhone 6s and the earlier models with a Home button: Long-press Side or Top button and Home button at the same time until there's an Apple logo on your iPhone screen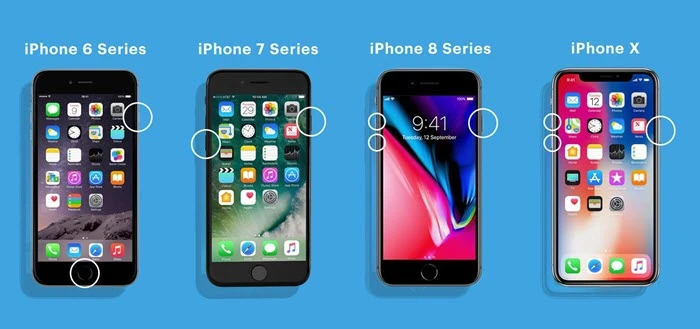 5. Adjust 3D Touch Settings
When you press and hold on an app icon, the Home Screen should jiggle and the 3D Touch menu should pop up so that you can delete the app. If this doesn't happen, then adjusting the 3D Touch, aka Haptic Touch sensitivity can help to settle the matter.
Head to the Settings menu, then Accessibility and to Touch where you'll see the 3D/Haptic Touch option.
From there, adjust the sensitivity to Fast or Slow.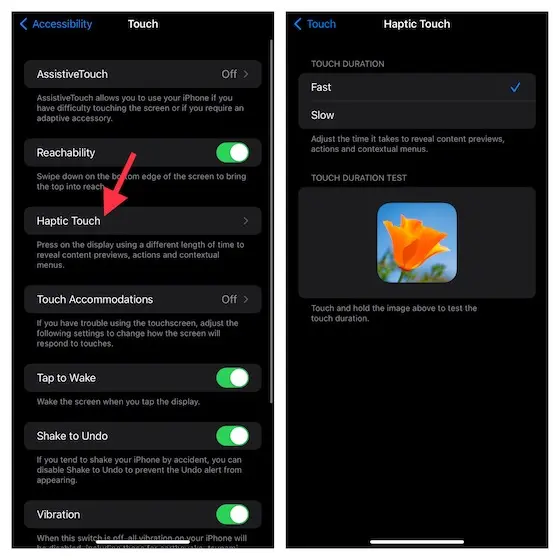 When done, now touch and hold the image that's on the screen to see the duration of the touch.
6. Update iPhone
This is more of a last resort measure when you really can not delete apps on iPhone after trying out the methods above. You may not need to use it in most cases. Still, though, if nothing has worked so far, then try updating your iOS to the latest version, especially if you haven't done it for a while now.
Head to the Settings menu, tap General, and then Software Update.
Give iOS time to check if there are any available updates.
In case there is, tap Download and Install to update it right away.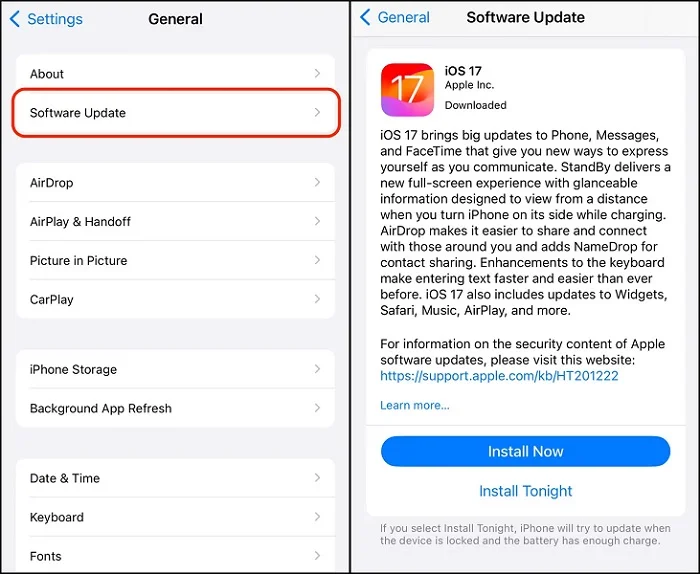 7. Reset All Settings
This is yet another last resort solution if nothing help. It's a nuclear solution for fixing almost all complex iOS issues. Therefore, if you're still stuck on can't deleting apps on iPhone, this will help you out. Note: You will lose your current settings including the saved Wi-Fi networks, passwords, and preferences. To do it;
Proceed to Settings, tap General and then go down to the Reset option.
Tap it and then the Reset All Settings option.
When the process is done, you should now be able to uninstall the apps you want.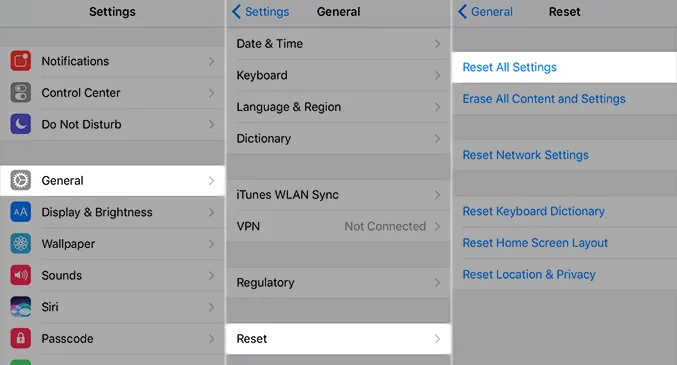 Bonus: Backup Apps Data Before Deleting
Uninstalling an app on iPhone will delete all the app data and settings. So, it's very important to back up your app and keep the data before deleting. We would recommend using the FoneGeek iOS Backup & Restore software. It's very flexible and effective, which can back up an iPhone, iPad, and even an iPod Touch.
It supports over 20+ file types and you can make a full or selective backup to PC/MAC - you can choose to back up only the files you want like Messages, Contacts, Certain Apps, e.t.c to save time. You can also choose to fully restore the backup or selectively restore just specific data. Here's how to use it;
First download and install the FoneGeek iOS Backup & Restore software on your computer.
Next, connect your iPhone to the computer using USB cable. Once detected by the software, select "Backup & Restore" from the software (at the top panel).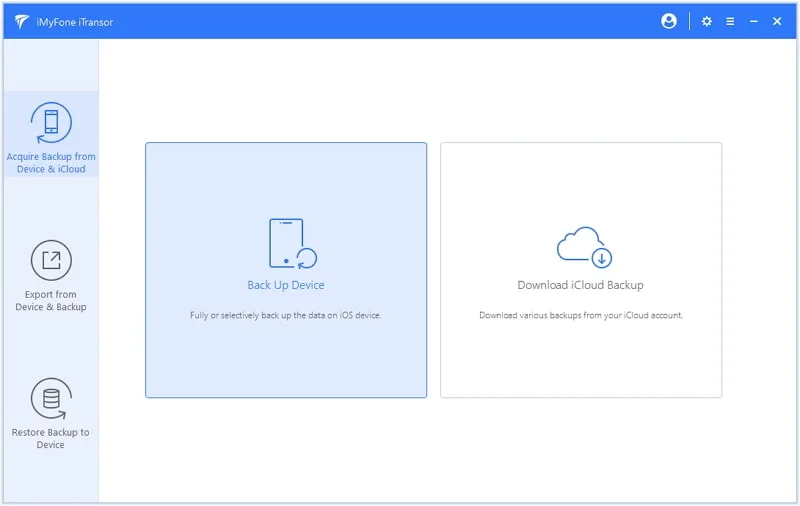 You can then select the file(s) you wish to backup and then click the "Backup" button to continue.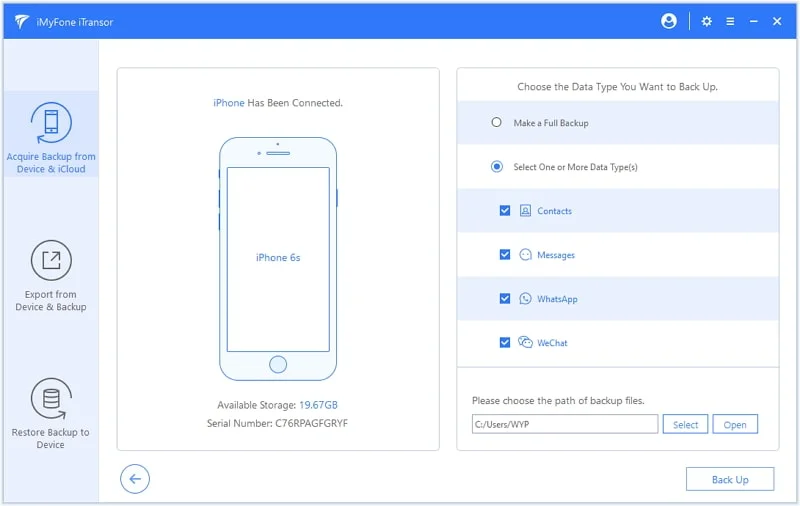 Once the backup process is done, click the "View Backup Data" option to view the backup data that you've made with FoneGeek.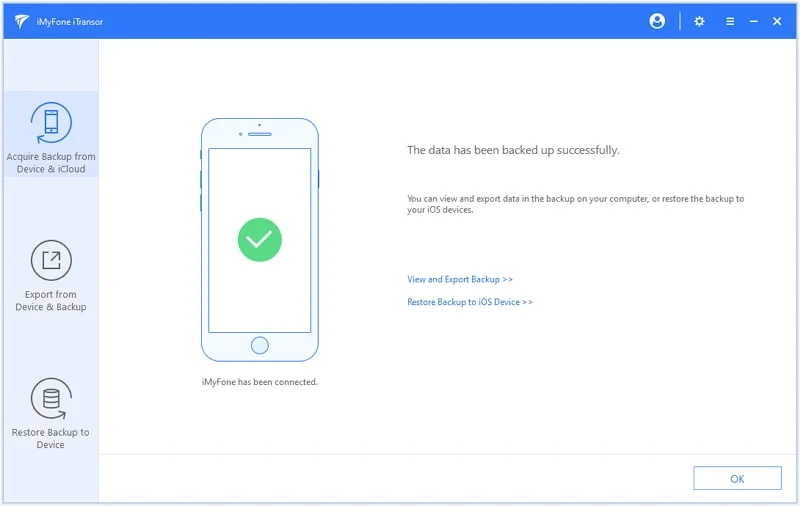 The Final Words
These are reliable quick fixes that can help you resolve the can't delete apps on iPhone problem you're facing. Try them and let us know which one has worked for you. We would like to hear your feedback. Also, feel free to let us know if none of them work.
Before trying these methods, we would recommend you use the FoneGeek iOS Backup & Restore software and back up all the data and apps you don't want to remove from your iPhone. Don't lose your apps and data when you can save them.