When you import photos from your iPhone to your Mac computer, you not only get to view them on a larger screen but also get to back them up. In addition, you can free up a decent amount of space on your iPhone.
Importing photos form iPhone to Mac, in most cases, is pretty simple. Just plug the device to your Mac, then pick the photos from Photos or iPhoto app and drag them to Mac. However, you may get problems when importing iPhone photos to your Mac.
For instance, the Mac cannot successfully detect your iPhone, only a partial photos are imported or the importing process gets stuck. Whatever the reason is, we will show you several methods to bypass the issue of can't import photos from iPhone to Mac.
Why Can't Import Photos from iPhone to Mac?
There are several reasons that can cause photos not to get imported from iPhone to Mac. The most common ones are:
Wrong connection - your Mac may not recognize your connected iPhone because of a faulty cable.
Added too many photos at a time - the Photos app can get stuck when you import a lot of photos (like 1000 photos) from iPhone to Mac all at once.
Possible software/system glitches - you may end up with the same problems because of software glitches or operating system errors.
You've enabled Optimize iPhone Storage - when the iCloud Photos is activated and you also turn on the Optimize iPhone Storage feature on your iPhone, then your iPhone photos will get stored in iCloud rather than in your iPhone, hence you can't import the photos directly from your iPhone to Mac.
These are the usual culprits behind can't import photos from iPhone to Mac. Now that you know them, here are steps you can take to fix the issue.
1. Restart Both Your iPhone and Mac
It may not seem much but a simple restart is often effective to get rid of most small system glitches on devices. Therefore, try restarting both the iPhone and the Mac if you're unable to import photos to Mac. Once you do that, try importing the photos once more.
2. Disable iCloud Photos
We mentioned before that importing photos from an iPhone to a Mac computer might not work if you have the "Optimize iPhone Storage" feature turned on in iCloud. So, disable it to fix the issue. Follow these steps to do it:
On your iPhone, head to Settings and choose Profile.
Go to iCloud and tap the Photos option. Now tap the toggle next to Photos to disable iCloud Photos.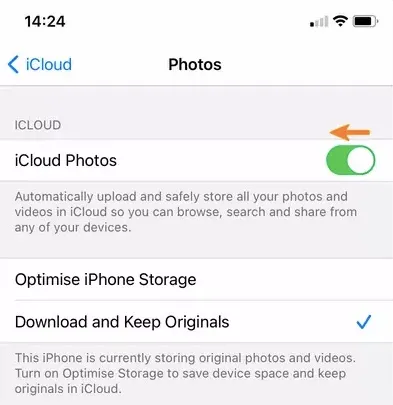 3. Reset Location & Privacy
This small glitch could also be repaired by resetting location & privacy on your iPhone. So why not give it a try if you can't import photos from iPhone to Mac.
Open Settings app on your iPhone, go to General > Reset > Reset Location & Privacy. After that, connect your device to Mac and click on Trust on iPhone when prompted.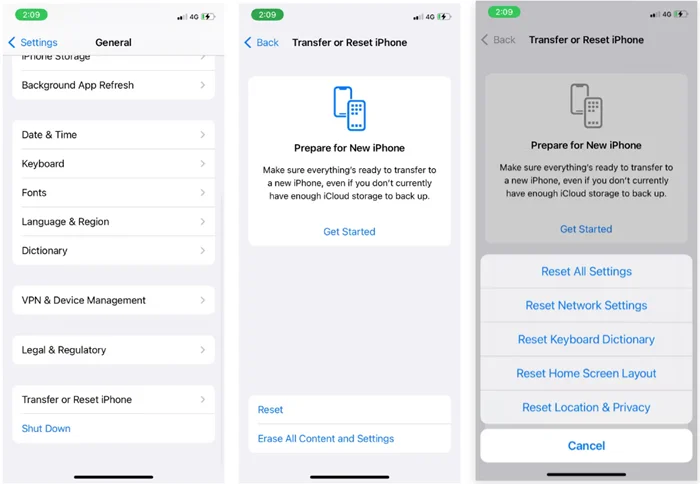 4. Check for Update on iPhone and Mac
Your Mac or iPhone could be running on an old operating system or software that doesn't support photo transfer and that could be the reason why you can't move photos from the iPhone to your Mac. You can solve this by simply updating the system as well as the related software.
Start by installing the latest version of the photo-management App - iPhoto, Photos, and Image Capture.
Next, update your iPhone's iOS operating system to the latest version by opening Settings, tapping General, and then tapping Software Update. Tap on Download and Install if there's any update available.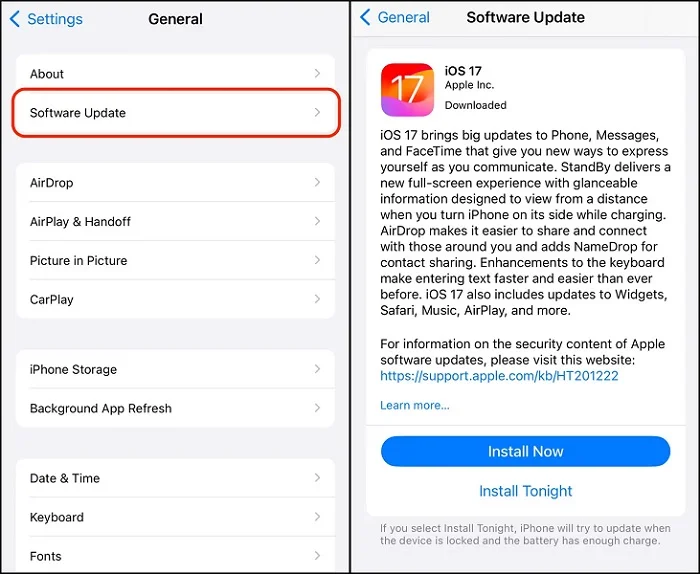 Finally, update the operating system of your Mac. Open the Apple Menu and click System Preferences. Next, click Software Update and then thick the Upgrade Now or Update Now option.

5. Don't Import So Many Photos At Once
You might be uploading too many photos (like hundreds of photos at once) which is what's causing the photos can't import issue you're facing. The best solution, in this case, is to ensure you only choose a small number of photos to upload to your Mac at a time to enable the Photos app to easily manage the importing task.
It's really not the ideal or most convenient option when you have a lot of photos to import, so you may as well consider getting a third-party tool that can help you out.
6. Use Image Capture
With Image Capture, you can easily transfer your iPhone's photos directly to your desktop or download them. It's a very handy tool and although it's not actually a solution, it's a viable alternative that you can try, especially if you need to import the photos fast and there's not enough time to fix the problem. To use the Image Capture:
Get your iPhone connected to the Mac using a cable and then unlock your iPhone when prompted to do so.
Open Image Capture on your Mac and select your iPhone in the Devices or Shared list.
Choose the photos that you intend to move to the Mac.
Now, click the Import To menu right at the bottom part of the window. When the menu pops up, select where you want to save the photos. Alternatively, you can create a webpage or a PDF with these images.
Finally, to transfer the images to Photos, select Other and then Photos. That's it!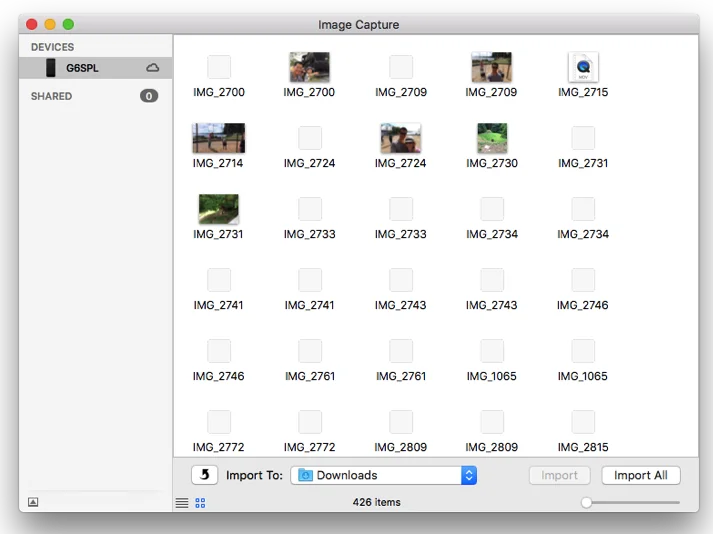 7. Use AirDrop
Another fast way to fix this can't import photos issue is to use a wireless method like AirDrop and Mail to send the photos on your iPhone to your Mac. First, turn on the Wi-Fi and Bluetooth connections on your iPhone and Mac, then follow these steps:
Open Settings and tap the Bluetooth option. Now enable Bluetooth on your iPhone.
Launch the Photos app. Choose the photos you intend to import to your Mac.
Head to the left bottom and click on the Share button, then select AirDrop.
Next, select your Mac to move photos to. In case your Mac doesn't show up, check the Bluetooth settings again.
Wait for the photos to be transferred from the iPhone to your Mac.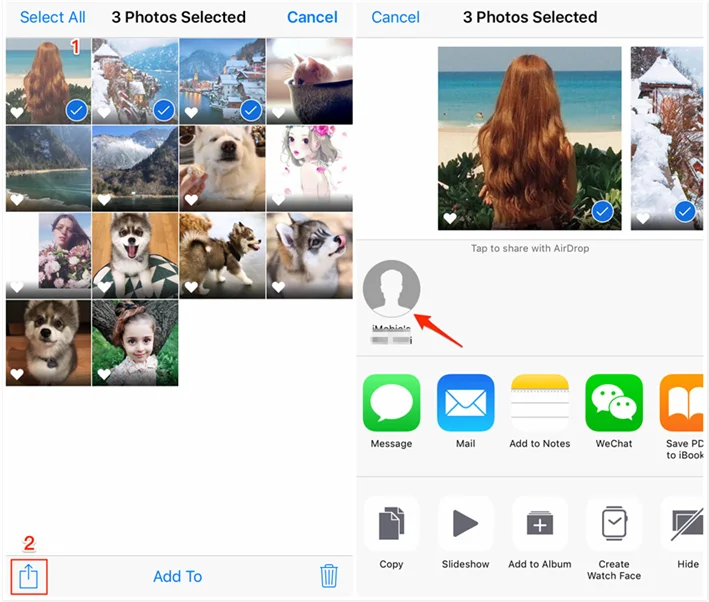 8. Import Photos from iPhone to Mac with 1 Click
I guess that you have searched for a great many tips to import photos from iPhone to Mac. But what if you still have other types of data to import to Mac? We highly recommend an expert in this industry: FoneGeek iOS Backup & Restore. It helps to access and import different types of iPhone data to your Windows or Mac computer.
Import 22+ types of data from iPhone/iPad to computer, for example, photos, videos, notes, contact, WhatsApp messages, safari history, etc.
Directly import files from iPhone to computer or extract data from iTunes/iCloud backup without restoring iPhone system.
The whole procedures are very simple and straightforward. You can import photos from iPhone to Mac with just one click.
Fully compatible with the latest iOS version and iPhone models, even the latest iOS 16 and iPhone 14.
How to Import Photos from iPhone to Mac Using FoneGeek
Download and launch FoneGeek iOS Backup & Restore on your Mac and connect iPhone to the computer using original USB cable.
Once the device is detected, choose "One-click Export Photos to Computer" to start transfer.
When the transferring process completes, click "Open Folder" and check iPhone photos on your Mac.
Conclusion
These basic solutions are more than capable of fixing the can't import iPhone photos to Mac issue you're facing. All of them can work, so you need to try each of them in case one doesn't solve the issue. However, FoneGeek iOS Backup & Restore is a much better option compared to these basic fixes, especially when it comes to importing many iPhone photos to Mac. You won't run into many problems when using it, so try it out if you want a smooth transfer.