There are many situations when you fail to reset your iPhone. Maybe it has become unresponsive or it freezes frequently or, perhaps you just want to sell it and need to get rid of all your personal files. A factory reset might certainly help solve these problems and more.
But what happens when it doesn't work and, instead, you're left asking yourself, "why can't I reset my iPhone?" How do you fix that? What do you do? Well, there are several useful tips you can try when you can't reset iPhone and we're going to share them in this post as you read on.
Part 1. Why Can't I Reset My iPhone?
There are quite a number of things that can be causing you not to be able to reset the iPhone to its default factory settings. Let's look at a few of them and then some possible solutions below:
Not knowing the password to the iPhone. You may be required to enter the iPhone passcode during the reset process, so if you don't have it, then you can't reset iPhone. This can happen especially when you forget your passcode or when you get a second-hand iPhone, purchased from someone else. If you didn't get the passcode too when you purchased the iPhone, then you won't reset it.
Problems during connection. If there's an error or hardware problem when connecting the iPhone with iTunes through either the network or USB cable, then the connection may not work and as such, you can't reset iPhone.
You've allowed Find My iPhone on your iPhone and you don't know or you've forgotten the iCloud password. The Find My iPhone option is usually linked with iCloud, so failure to set the correct iCloud password will likely lead to failure in resetting the iPhone.
A possible glitch in iOS or iTunes. Your iPhone may fail to reset simply because bugs present in the iOS or iTunes are preventing it.
Part 2. One-stop Solution to Factory Reset iPhone
While there are many factors that may cause this issue, there's an effective tool that can get you out of this problem. It's more of a one-stop solution, known as FoneGeek iOS System Recovery. This special software is purposely designed to fix all sorts of iOS/iPadOS/tvOS issues without any difficulty. Among many other things, it allows you to upgrade or downgrade your iPhone's iOS version. Most importantly, though, you can use it to easily reset your iPhone. Some of its main features are:
Fix over 130 iTunes issues and over 200 iOS system issues
Upgrade or downgrade your iOS version after reset.
Hard Reset mode, requires no screen passcode.
Fully compatible with the latest iOS 16 and iPhone 14.
Here are the simple steps to reset your iPhone using this tool.
Download and install FoneGeek iOS System Recovery on your computer. Launch the software, connect your iPhone to it and then select 'Standard Mode' from the main interface of the software.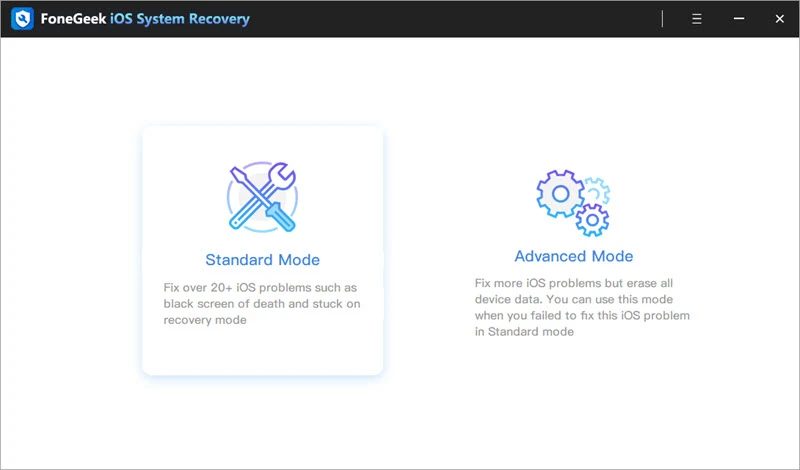 Next, follow the displayed instructions to put the iPhone in Recovery Mode.
Then download the firmware according to your iPhone model. Wait for the download process to complete.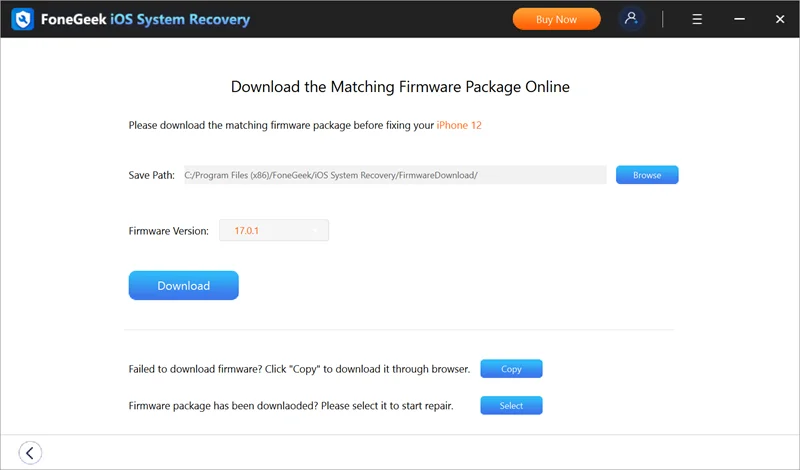 From there, the FoneGeek software will automatically reset your iPhone to factory settings.
Part 3. Other Tips for Can't Reset iPhone to Factory Settings
Restart Your iPhone
A majority of phone issues are able to get fixed by just a simple restart or hard reset. It's a very effective method that you should try out first if you've been asking yourself why can't I reset my iPhone. Note though that the force restart method is not the same for difficult iPhone models.
For iPhone 8 and the other newer models, you should use the Side button and Volume button to force restart the iPhone.
First, press Volume Up button very fast and release it. Then repeat the same thing with the Volume Down button. Next, long-press the iPhone's Side button, at least for a couple of seconds to display the "Slide to Power Off" slider.
From there, just power off the iPhone by placing your finger over the slider and sliding it from left to right. Wait for about 30 seconds and then turn the iPhone back on.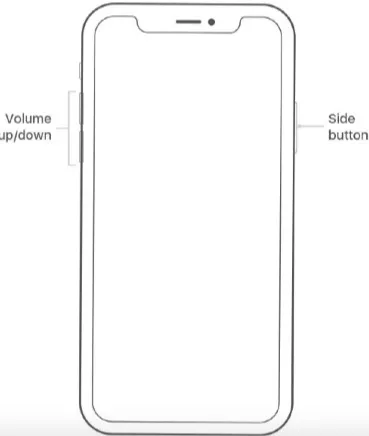 For iPhone 7 and previous models, use both the Sleep/Wake button and Home button simultaneously.
Force restart by pressing the two buttons at once for a couple of seconds to display the "Slide to Power Off" slider.
Power off the iPhone by sliding the slider from left to right. It may take several minutes for the phone to reset. Once it does, wait at least 30 seconds before turning it back on.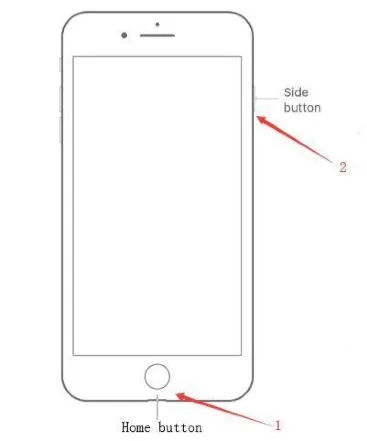 You should be able to fix the issue with this method, especially if it's an iOS problem. In case it fails to work, try out the next method below.
Update iPhone System
Updating iPhone iOS system to the latest version may be the solution you need if it's still refusing to reset or fails to show functionality after resetting it. The older iOS version may not be compatible with iTunes which could cause them to show glitches and not be able to hard reset the iPhone. So, try updating your iPhone's iOS system by following these steps.
Click on "Settings" on the home screen. Go and click on "General" and then on the "Software Update" option from the list that appears on the screen.
The iPhone will automatically search for an update and display it if available. Click the update if displayed and let it Download and Install.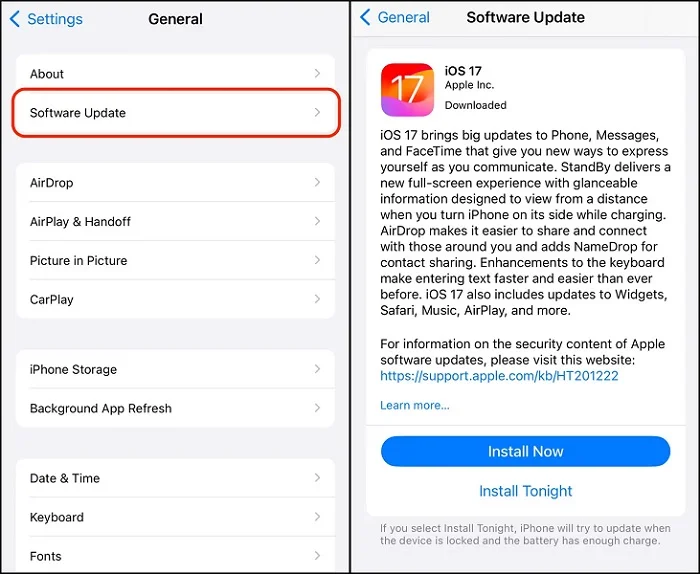 Restore iPhone System with iTunes
Still can't reset iPhone? Try restoring the iPhone system with iTunes. This is an effective method that you can use to reset an iPhone, especially when it's stuck or frozen because of some software issue.
Download and install the latest iTunes version on your PC. Launch iTunes and then connect the iPhone to the PC.
Wait for it to be detected by iTunes, then click the displayed iPhone button on iTunes window (top left corner).
Click the "Summary" tab right under the "Settings" menu. Head to "Restore iPhone" on the Summary page (top right) and click it.
You'll see a prompt screen that requests you to back up the iPhone before you restore it. Do the backup because all the data on the iPhone will get erased upon restoration. When done, go to the "Restore" option and click it once more.
iTunes will commence the restoration process immediately. It should take a few minutes. When it is done, the iPhone will be totally restored to its default factory settings.
You can now switch the iPhone on and simply follow the provided instructions to use it.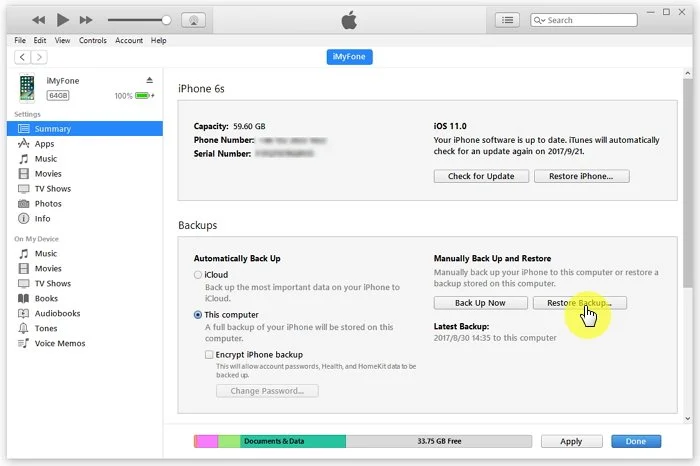 Note that all the data will be removed from your iPhone when you use this method. So, backup is necessary if you don't want to lose some important files. Once the iPhone is reset, disconnect it from iTunes to ensure no one accesses your data.
Reset iPhone in Recovery Mode
The last attempt you can try when force restarting or any of the other methods fail to work is putting the iPhone into recovery mode, then resetting it with iTunes.
Ensure that you have the latest version of iTunes on your PC. If not, check for available updates on iTunes, then download and install it.
Connect the iPhone to your computer. Put it into recovery mode first before connecting.
Once iTunes detects your iPhone is set in recovery mode, head to "Restore" button and tap it.
Your iPhone will get restored to its original factory setting after which it will restart and now you can start afresh.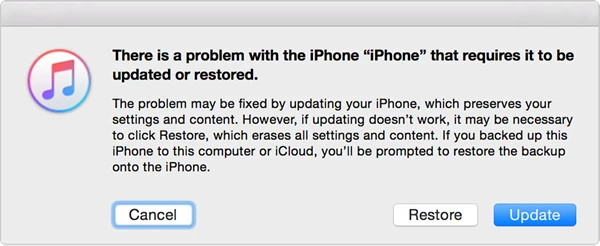 Conclusion
It's not uncommon to encounter problems when resetting an iPhone. Try one of these simple methods to fix the problem behind the scene and you can reset your iPhone just like you want. Use FoneGeek iOS System Recovery if you want a simple and quick way to factory reset th iPhone and also fix other iOS issues on your iPhone.