The com.apple.mobilephone error 1035 is actually a voicemail-related error that can occur after setting up your voicemail greeting or due to various other reasons like an issue with your network or the visual voicemail itself.
Visual voicemail here is basically an iPhone feature that lets you view all the voicemail messages you receive every day. So, when this error occurs, you can't see the voicemail messages that you have on the phone or use the voicemail feature.
However, this is not something that should cause you much worry. You can easily fix this voicemail error by performing some basic troubleshooting procedures that we're going to show you in this guide. Before we jump to the fixes though, let's first find out the origin of this error.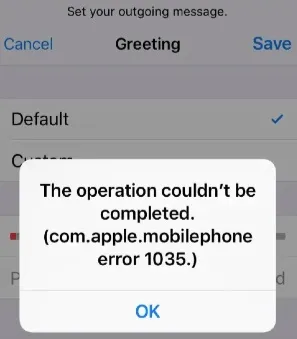 Do You Know What "com.apple.mobilephone error 1035" Is?
If you are already aware of this error and its major causes, you can skip this section of the article and go straight to part 3 for solutions. If this is your first time encountering with this error and you have no idea what it means, you may need to understand visual voicemail and how it relates to the occurrence of this error.
What is Visual Voicemail?
Visual Voicemail is an iPhone feature that allows users to see a list of messages they have received from others. The user can then choose to play or delete directly the messages without listening to them. But as convenient as this feature can be, you will need to set up your own voicemail greetings to get access to it and use it.
What is "com.apple.mobilephone error 1035"?
Most people will experience the 'com.apple.mobilephone error 1035' when they try to set up the voicemail greeting message to access Visual Voicemail. When you see this message when trying to set up this voicemail message, it is possible that there are problems with the voicemail setup and your voicemail doesn't work normally.
Like most errors that may occur on your iPhone, there are various ways that you can fix this issue. But the easiest to implement and often effective solution is a simple restart. Restarting the device will refresh its memory thereby removing any bugs that may be causing the issue.
What Causes "com.apple.mobilephone error 1035"?
You may get the error message "operation couldn't be completed com.apple.mobilephone error 1035" on your iPhone due to various different reasons which prevent you from accessing your visual voicemail. Some of the most common reasons are:
Internet Connection Problem - you're likely to see this error if you're using your Wi-Fi connection to access your voicemail. If indeed this is the cause, you can resolve the error by simply disabling your Wi-Fi connection and switching to cellular data.
A Glitch On Your Cellular Service - sometimes, connectivity to your carrier may fail or not function well due to some glitches or different other reasons and as such, prevent you from accessing your voicemail. The solution here is disconnecting your iPhone from all available.
A Glitch On Network Settings - in some cases, the voicemail error can occur because the network settings on your device are glitched hence causing the voicemail feature not to function properly. Resetting the network settings should help fix the issue in this case.
Your Voicemail Is Not Yet Set Up - if you haven't set up the voicemail, then there's no way you can access voicemail messages on iPhone. Therefore, go through the carrier to set up the voicemail. It's actually the best method if you can't set up voicemail through your phone settings.
Now that it's apparent why you're getting this com.apple.mobilephone error 1035 voicemail error, here are fixes you can try to resolve it.
How to Get Rid of "com.apple.mobilephone error 1035"?
Shift From Wi-Fi Connection to Cellular Data
As you've seen above, it's highly likely that you're getting this error because of the Wi-Fi connection. Probably it's the reason why you can't set up your voicemail greeting. Many users that have had the same issue have been able to solve it by turning off their Wi-Fi and instead, choosing to use their Cellular data. This can work because it's your carrier that usually provides the cellular data which makes it a more suitable choice for voicemail settings.
To switch to Cellular data, follow these steps:
Start by turning off the Wi-Fi connection if it's on.
Open Settings, tap on the Wi-Fi option and simply toggle the switch off.
Go back to Settings again and tap on the Cellular/Mobile data option.
On the next page, tap the toggle next to the Cellular Data option to turn it on.
Now, try to use your voicemail again and see if the error pops up.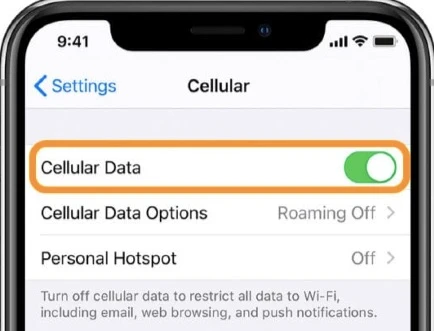 If the error is still there, keep the cellular data on and try the next method.
Enable The Airplane Mode
It's possible that your iPhone is having some connectivity problems that might be preventing you from accessing your voicemail. The easiest and fastest way to solve this is to turn on Airplane mode - it disconnects all networks/wireless services on your device. To do that:
From your iPhone's main screen, swipe down the notification bar to get to the Control Center.
Locate the Airplane mode icon and tap it to turn it on.
Wait for at least a minute, and tap the Airplane mode icon again to turn it off.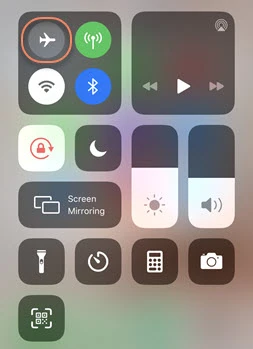 Once you do this procedure, check if you can now use your voicemail.
Set Up Your iPhone's Voicemail
Of course, there's no way you can access your voicemail when you haven't set it up on your phone in the first place. Therefore, if the above methods fail to work, set up the voicemail is recommended. You have to ensure the network provides voicemail service that's compatible with your iPhone and also that the subscription plan that you're on as well includes voicemail service.
Follow these steps to set up the voicemail through your carrier.
Turn on the Wi-Fi network on your iPhone.
Tap the Phone app on your iPhone home screen to open it.
Press the 1 button and keep holding it.
Let go of the button when the Voicemail setup starts (goes through as a call).
Now, just follow the instructions given to set up the voicemail.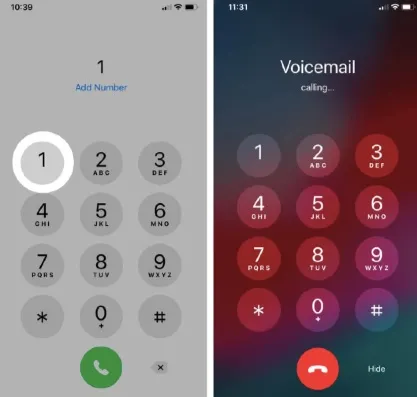 When you're done, hang up the setup, restart your iPhone, and then see if the error still occurs. If it shows up, move to the next solution.
Disable Wi-Fi Calling On iPhone
It's possible that you're seeing the com.apple.mobilephone error 1035 voicemail error message because you've turned on Wi-Fi calling on your device. If it's so, then turn it off and try using voicemail once more to check if the error is gone.
To turn off Wi-Fi calling, open Settings and tap the Phone option.
Now, tap on Wi-Fi calling and then tap the toggle next to the Wi-Fi Calling on This iPhone option to disable it.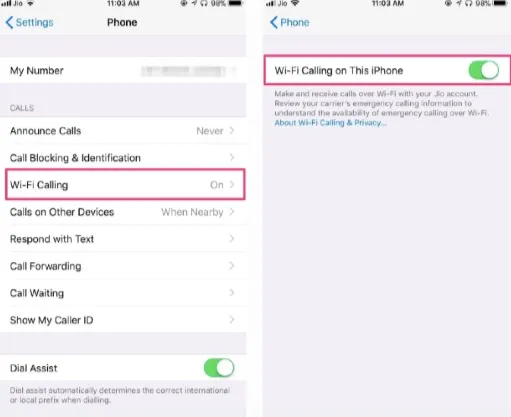 Once you do this, try to use voicemail again and see if it works.
Reboot Your iPhone
You can fix many issues that your phone may have by just restarting it. It's a simple method that can help clear the cache files or background processes responsible for your iPhone's voicemail not running smoothly.
For iPhone 6s or Older Version
Press and hold both the Home and the Volume Buttons
When you see the Apple Logo appear on the screen, release both buttons and allow the device to complete the restart.
For iPhone 7 and iPhone 7 Plus
Just press and hold both the Power and the Volume Down buttons at the same time.
Continue to hold down both buttons until you see the Apple Logo. Release them and allow the device to restart normally.
For iPhone 8 and Newer Versions
Press and release both Volume Buttons in quick succession (one after the other)
Then keep pressing the Side button until you see the Apple Logo.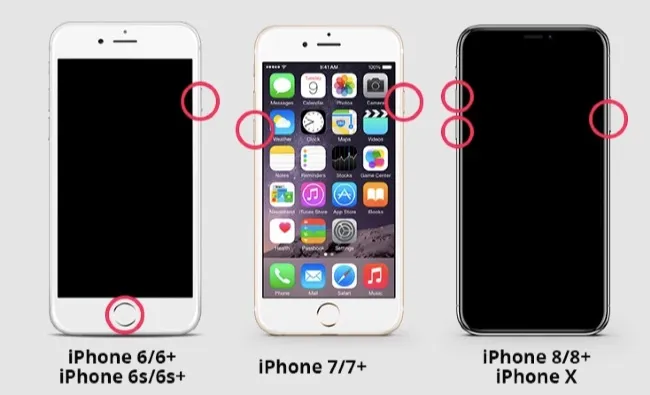 We recommend you give it a try because it's one effective way of resolving errors such as the com.apple.mobilephone error 1035.
Reset Network Settings
The iPhone's network settings could be the culprit causing the error message you're seeing when you try to use the voicemail. At times, the network settings can just block your phone from accessing your voicemail hence leading to this error.
There are users who were able to resolve this by simply resetting their network settings. So, you can also do it to fix the same issue on your iPhone. Resetting your network will basically renew all the network information stored on your device. Here are steps you can follow to reset your network settings.
Open your iPhone's Settings App.
Go to the General option. Tap on it to open it.
From the General screen, tap the Reset option at the bottom.
Next, tap the Reset Network Settings option from the menu.
Enter your passcode if prompted to do so.
Now simply tap the Reset Network Settings option (in the color red) again to finish.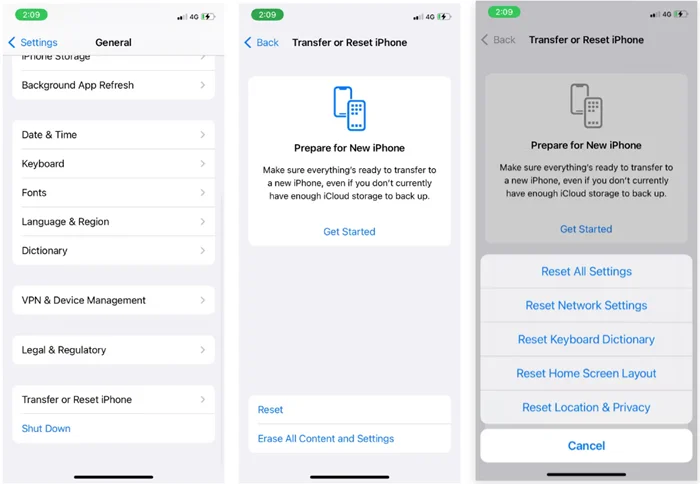 Your iPhone will now reset and in the process, fix the voicemail error that you've been seeing. From there, you can try using your voicemail again and see if it now works properly.
Update iOS Version
If you are unable to set up the voicemail greeting on your first try, you should check if your device is running the latest version of iOS. Updating iOS can easily resolve the 'com.apple.mobilephone error 1035' error.
If you have already updated your device to iOS 17, you may want to check if there are other versions of the update released to fix bugs. To check if you have the latest version, go to Settings > General > Software Update.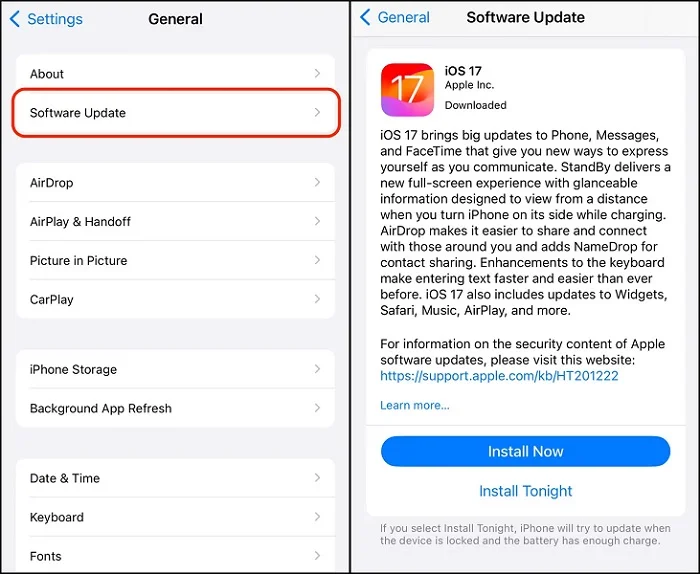 Fix Your iPhone System
Many iOS-related problems often get fixed quite easily by just updating the system. The problem is that most users rash to do it through the iTunes app yet this method is usually slow, complicated, and buggy.
The best option is to do it via professional software that is able to easily and securely complete the update for you. One such program is FoneGeek iOS System Recovery. It's very effective and simple to use. Here's how to use it:
Install FoneGeek iOS System Recovery onto your PC once you download it. Run it and then connect your device to the PC. From the main interface of the FoneGeek program, click the "Standard Mode" option.
The program will direct you to the firmware page. Now, select where to store the firmware by clicking on Browse and then saving the path. Then, click "Download" to begin downloading the firmware.
When it completes downloading, just click "Fix Now". Immediately you do that, FoneGeek will repair your iPhone and update its iOS to the latest version.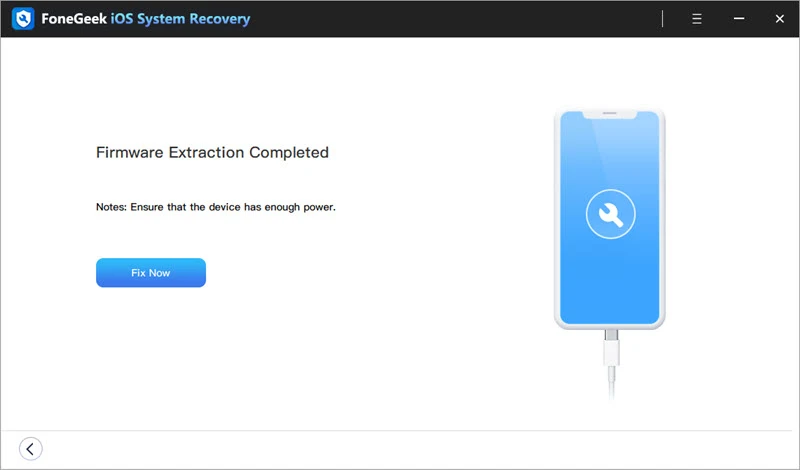 The whole process will take around 10 minutes to finish. When it's done, your voicemail should function properly on the new iOS.
FAQs About "com.apple.mobilephone error 1035"
Q1. What should I do if I keep seeing the error even after troubleshooting?
At this point, it may be a good idea to contact Apple Support for more assistance or visit an Authorized Apple Store. Apple technicians will be able to get to the bottom of the issue and find solutions.
Q2. Can I prevent "com. apple.mobilephone error 1035"?
While it may not be possible to prevent this error or any other error that may befall your device, keeping your device's software up to date may be very helpful. You should also avoid downloading apps from unauthorized sources and restart your device regularly to keep it in good working order.
Conclusion
You shouldn't really freak out when you see com.apple.mobilephone error 1035 popping up on your iPhone. It's an easy problem to solve. You just need to follow the solutions we've provided above one by one until the error is solved. They will definitely work on your iPhone.
However, in case they all fail or you can't update the iOS on your iPhone (not with iTunes though), we recommend you use FoneGeek iOS System Recovery. This great tool will fix any issue with your iOS system and even update the iOS to the latest version. It will easily and quickly fix the voicemail error. So, go for it!