The iPhone dictation feature is quite helpful, especially when you need to type a vast paragraph. It provides an easy way to convert speech to text on iPhone without using your hands and it usually does a pretty good job. The new and updated function in iOS 16 even adds emojis nowadays. However, using this feature hasn't been that smooth for everyone.
The reports of dictation not working on iPhone or having errors in some cases are quite many and it seems to happen after an iOS update. So, if you've been wondering, why is dictation not working on iPhone, this could be the cause.
It could also be due to problems with the internet connection, microphone, restrictions, or even your keyboard choice. Whatever the cause though, don't fret because this post shall help. Below are several quick and easy ways you can troubleshoot your iPhone's dictation feature and have it up and running again.
Ensure Dictation Is Enabled In Settings
The Dictation feature which is iPhone's keyboard voice typing feature cannot work unless it's enabled in your iPhone's settings. That's the first thing you need to do, so follow these steps to do so:
Launch Settings and then open General.
Tap the Keyboard option.
Head down to the "Enable Dictation" option and tap the toggle next to it to turn it on.
When a prompt shows up, tap again "Enable Dictation".
In case it's already on, then tap the toggle to disable it and then tap it again to enable it.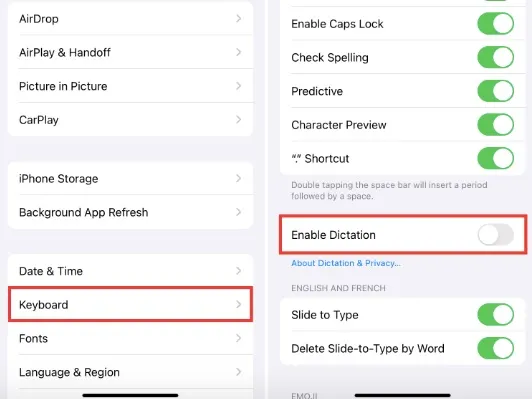 Enable Dictation Language
You can only use the Apple Keyboard speech-to-text feature for languages that are added under the Keyboard settings. It won't work in case you use it for any other language that's not added or enabled under the keyboard settings. As such, you need to first add the dictation language you want to speak and then enable it as follows:
Launch the Settings app. Open General and tap Keyboard.
Now tap the Keyboard option and then tap on 'Add New Keyboard…'.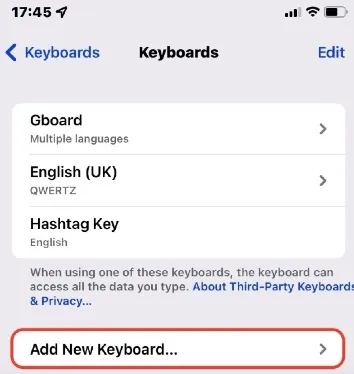 Choose the language you wish to add.
Head back to Settings again. Open General and tap Keyboards. Navigate down to Dictation Languages and tap it.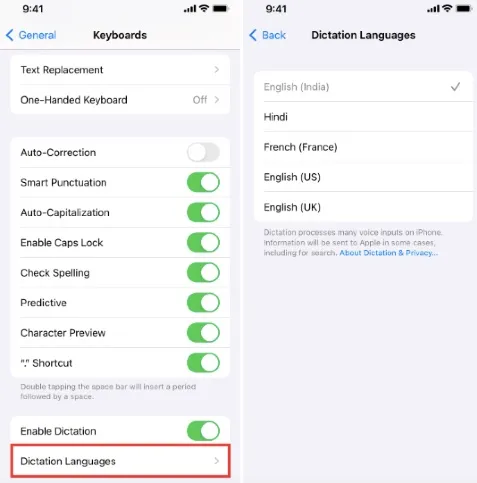 Choose the dictation languages you'll be using.
If you want to change a particular dictation language, just touch the microphone icon you see on the Apple Keyboard and then choose the language you wish to switch to.
Turn Off/On Cellular Connection
Apple's dictation function needs a strong and stable internet connection for it to function properly. You'll notice that the microphone icon is grey if your iPhone isn't connected to the internet and dictation isn't working either. So, ensure your device has a strong and stable internet connection.
Head to Settings and then turn off the Cellular Data connection.
Now, restart your iPhone.
After it reboots, turn on the Cellular Data again.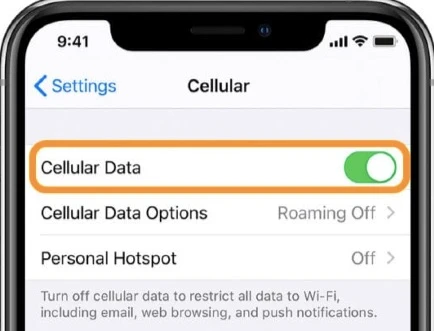 Doing this soft reset may fix the dictation issue you are facing and also any other connection issues.
Refresh the Siri Settings
If the internet connection is strong and stable, and your iPhone's microphone works just fine but you're still facing the issue of dictation not working on iPhone, then try to refresh the Siri settings. It seems simple but it can actually work.
Launch Settings and open Siri & Search.
Next, turn off Press Home for Siri and also Listen for "Hey Siri".
Wait for a few seconds and then turn them back on. Now try the dictation feature again.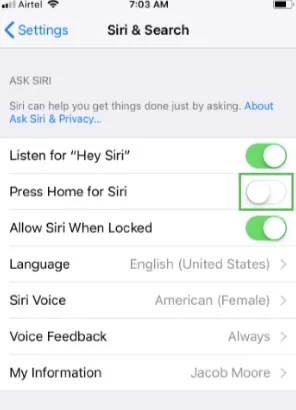 Ensure Siri & Dictation Are Enabled In Screen Time Restrictions
With the Screen Time feature, you can control the content that your children can access on their iPhone and iPad. However, enabling Screen Time could lead to dictation on iPhone not working because it's possible that Siri and Dictation features are equally disabled through these Screen Time restrictions. To fix this:
Launch Settings and open the Screen Time option.
Tap Content & Privacy Restrictions.
Next, tap on the Allowed Apps option.
Head to Siri & Dictation and turn it on by tapping the toggle next to it.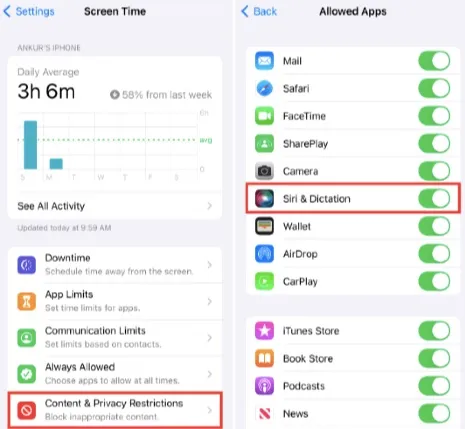 Alternatively, you can remove the restrictions by turning off Content & Privacy Restrictions.
Head to Settings and open the Screen Time option.
Tap on Content & Privacy Restrictions.
Now, turn off Content & Privacy Restrictions by tapping the toggle next to it.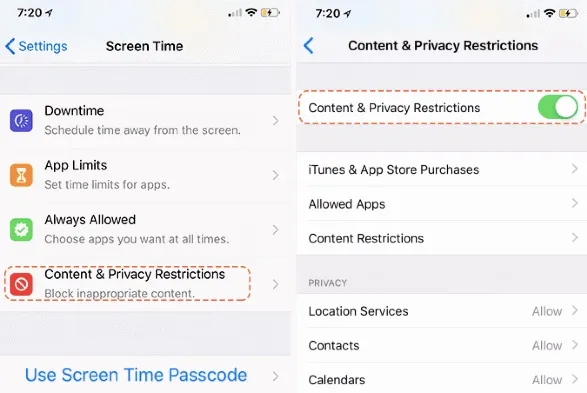 Note though that once you disable Content & Privacy Restrictions, the restrictions for all the apps/features will be removed.
Remove or Don't Use Third-Party Keyboards
Unlike the Apple keyboard, third-party keyboards such as Google's Gboard don't usually have the Dictation feature. Therefore, you have to switch to your iPhone's standard keyboard or remove the third-party keyboards altogether in order to use Dictation. You can get these third-party keyboards on the App Store and install them on your device. From the Keyboard settings on your iPhone, you can easily add or remove them. You can even switch from one keyboard to another anytime you want using the Globe icon.
How to switch keyboard on iPhone/iPad:
Launch the keyboard by tapping on a text field in Messages, Notes, or Safari.
Tap the Globe icon and hold on to it to view available keyboards.
Choose the Apple standard keyboard (named after your chosen language).
Tap the Globe icon again and hold on to it to switch between keyboards.
How to disable third-party keyboards on iPhone/iPad:
Launch the Settings app. Open the General option and tap on Keyboard.
Next, tap on the Keyboards buttons.
Tap the Edit option in the top right. Using the red circle, delete the third-party keyboards you want.
If the Edit option is disabled (grayed out), tap the Add New Keyboard option. Add Apple standard keyboard in your chosen language. Now try deleting the third-party keyboards once more.
Remove and Re-add Apple Standard Keyboards
Your Apple keyboard might have developed a fault and that's probably why you're having this dictation not working on iPhone issue. Removing that keyboard from your Keyboard settings and then adding it back again can fix this.
Go to Settings and tap on General. Tap the Keyboard option.
Tap on Keyboards next.
Tap the Add New Keyboard option. Add any third-party keyboard or select a different language, such as English (United Kingdom.)
Now tap the Edit option (in the top right) and remove the Apple Keyboard.
If you have the emoji keyboard, remove it as well.
Restart your iPhone. Long-press the Side button and one of the Volumes buttons, then drag the power off slider to right.
Once the iPhone reboots, follow the steps above from the beginning, but now add your Apple keyboard and delete the new one.
Reset Network Settings
If you notice that your mic icon is grayed out, chances are your iPhone's internet connection isn't working or you have some other latent network issues. The way to solve this is to reset your iPhone's settings. To do that:
Go to settings and click on the General option.
Tap Reset and then tap on Reset Network Settings.
Now tap confirm to finish.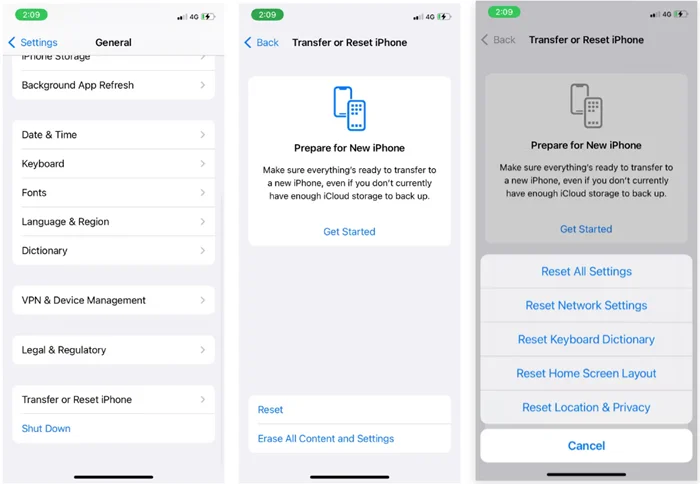 Update iPhone iOS
Sometimes, the cause of dictation on iPhone not working could be an adamant software bug which you can get rid of by updating your iPhone's iOS to the latest version available. Even if it's not actually a software bug, installing the latest iOS version can clean up your iPhone and correct various other issues.
Click Settings and open the General option.
Next, tap Software Update.
Now Download and Install the update (if there's any available).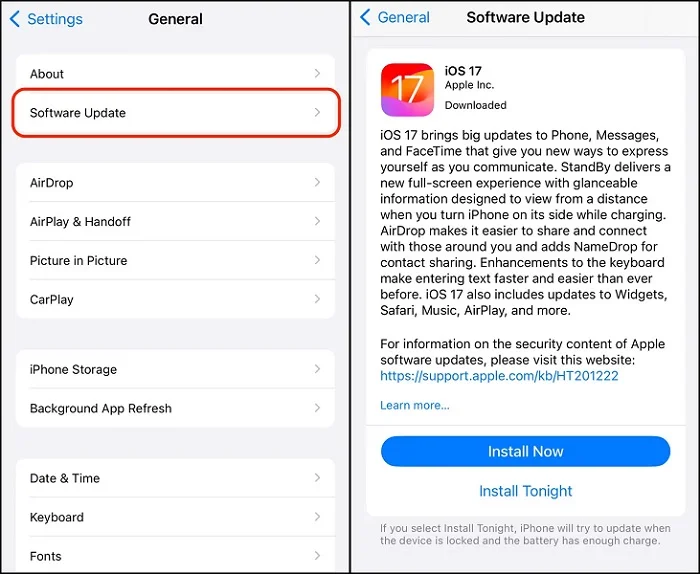 Fix iOS 16 Dictation Not Working In Just One Click
Many users have reported still experiencing dictation not working on iOS 16, even after updating their iPhone. This means that the issue is likely a software bug or glitch. The best way to handle this is to use FoneGeek iOS System Recovery which is an iOS system repair tool that can completely fix the dictation issue.
This tool is able to get rid of every iOS 16 issue within just a few minutes and will get the Dictation function up without data loss and running again. It totally reinstalls your iPhone's iOS system and eliminates all problems in it. Follow these steps to use it:
Download the FoneGeek program and install it. Then select the "Standard Mode" mode on the home page.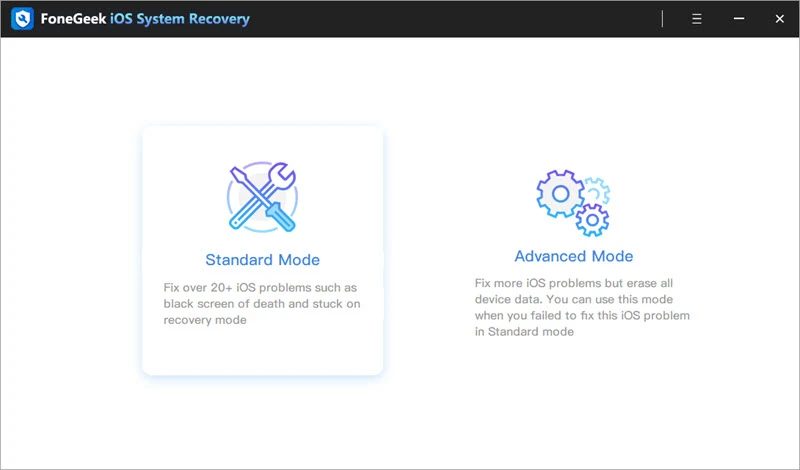 Click "Next" once you connect your iPhone to your PC when prompted to do so on the screen.
Download the latest firmware when the program prompts you to do so. Click the blue "Download" button to start downloading.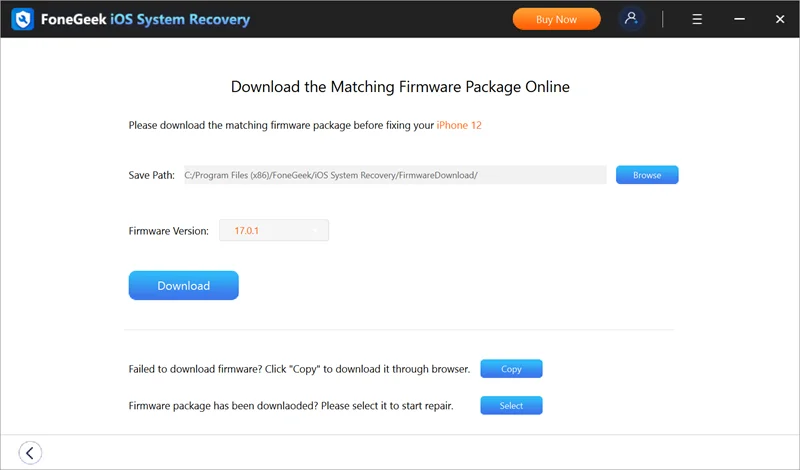 After the firmware download is completed, hit the "Fix Now" button.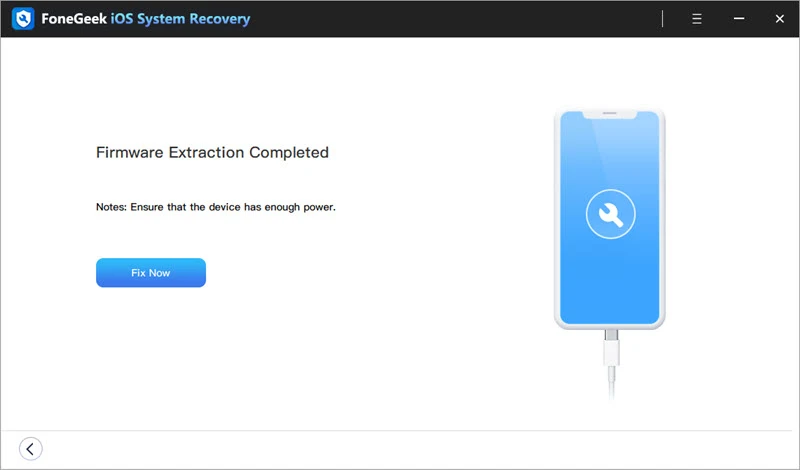 The repair process will take a while, so wait until it's done. That's it!
Your iOS 16 dictation feature should now function as well as before.
FAQs about iPhone Dictation
Q1. Why can't I find the Dictation feature in my iPhone settings?
When you restrict the Dictation feature, then the Enable Dictation button won't show up on your iPhone/iPad settings. However, you can head to Screen Time settings and change the restrictions.
Q2. How to reset Dictation on iPhone?
Since voice learning in Dictation is linked to voice recognition in Siri, it's possible to reset internal voice recognition on your iPhone by disabling Siri and Dictation simultaneously and then turning them on again. Follow these steps to do so:
Launch Settings. Open General and tap Keyboard.
Head to "Enable Dictation" and tap the toggle next to disable it.
Confirm that you want to disable Dictation.
Go to Settings again and tap Siri & Search.
Disable Listen for "Hey Siri".
Disable Press Home for Siri.
Now confirm that you wish to disable Siri.
Restart your iPhone and then head to Settings to enable Siri and Dictation.
Q3. How to change the volume for Dictation?
The dictation feature on iPhone/iPad/iPod touch works by converting speed to text. You speak into the keyboard for this to happen. So, adjusting the volume isn't necessary because no volume level is associated with it. Probably this question refers to Speak Screen which is an almost similar feature.
Generally, Speak Screen is an iOS accessibility feature that makes your iPhone/iPad speak the text that's on your screen. It's quite helpful for those that are visually impaired. You can as well use it to listen to eBooks such as audiobooks.
Unlike Dictation, you can adjust the Speak Screen volume using the Volume buttons on your device (on the side). Just activate Speak Screen, adjust the volume, and then deactivate Speak Screen.
Q4. Why is iPhone's microphone not working for Dictation?
Your iPhone microphone might fail to recognize your voice while using Dictation due to many reasons such as:
There could be grime and dirt blocking it.
The case or screen protector of your iPhone could be covering it.
Maybe your iPhone is trying to use your headphone's microphone.
The microphone might be having hardware problems that have to be repaired.
Try to test all your iPhone's microphones by recording messages with the Voice Memos, the front-facing camera, and also the rear camera. In case any of these recordings has poor sound, then the respective microphone might have a problem.
Conclusion
We hope you were able to resolve the dictation not working on iPhone issue you've facing after trying the solutions we've highlighted above. You can skip all that jargon though and directly fix the issue using the FoneGeek iOS System Recovery.This tool will completely resolve all software issues and bugs, and you can use it to reinstall your iOS system too so that you give your iPhone a fresh start and have the Dictation feature up and running again. It's very effective and simple to use, so give it a try.