User Concern
"I recently installed iOS 17 but when I opened my mail app yesterday, everything has disappeared. No inbox emails on any of my added accounts, including iCloud. I urgently need to restore all the emails from my inbox. Could some please help?"
Apart from calls and messages, email is another popular way of communication. It is mainly used for formal purposes such as making an application, applying for a job, sharing a document, etc.
As a result, it is vital to keep track of your emails. If your emails suddenly disapprared from iPhone, it can be very stressful and lead you to many problems.
Recently many users reported that their emails are disappearing from iPhone. If you are one of them, keep reading. This blog post will try to find out why your emails are disappearing from iPhone and what you can do to fix this issue.
Why Are My Emails Disappearing from iPhone Inbox?
Emails may disappear from iPhone for several reasons. Here are some of the possible reasons that can make your emails suddenly disappear:
Improper Mail Settings: Like any other smartphone device, iPhones also enable users to customize their mail settings. If the settings are not done correctly, you may end up losing the emails from the inbox.
POP3/IMAP Conflict: Typically, the mail applications on the desktop utilize the POP3 protocol while the smartphones utilize the IMAP protocol to access emails. Sometimes these two protocols can conflict and cause emails to disappear from the device.
System Error: Another reason behind the issue is system errors on iPhone. Although iOS has one of the most sophisticated operating systems out there, it often crashes and causes issues. These issues can cause the disappearance of the email from your inbox.
Outdated iOS Version: If your iPhone is running an older iOS version, this may also cause issues on the device including emails disappearing from inbox.
How to Fix Email Disappearing from iPhone
Change Mail Settings to Solve Conflict between POP3 and IMAP on iPhone
Before we begin discussing this solution, you need to know about the POP3 and IMAP protocols. The POP3 stands for Post Office Protocol 3, which lets you download the copy of emails and view/use them locally. Meanwhile, the IMAP protocol enables you to sync the emails on all your devices. Your iPhone utilizes the IMAP protocol, and if you somehow change it to the POP3, the email may start disappearing.
Below, we will show you how to customize Outlook 2016 that might help you solve the problem.
Step 1: Launch Outlook 2016 on your PC, go to "File", and then "Info". Find "Account Settings" from there and click on "Account Settings…".
Step 2: Then you need go to "More Settings" from "Change" after that, open the "Advanced" tab from there. Tick the box that says "Leave a copy of the message on the server". You should find this under the "Delivery" section.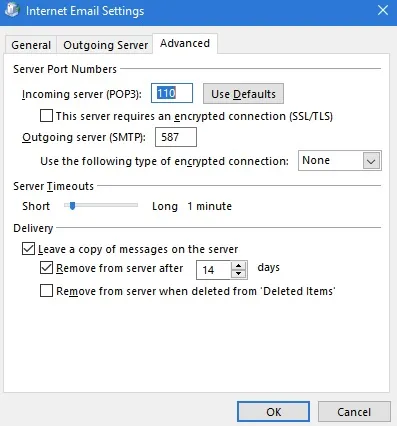 Step 3: The last thing you need to do is to uncheck the box before the "Remove from server after 10 days". Also, you can set it to any limited date as you like. That's it; you are done!
Force Restart Your iPhone
As we mentioned earlier, the emails disappeared from iPhone error can also occur because of system issues. So the quick and easy way to fix such issues is by hard rebooting the phone. Don't know how to do this? Don't worry; the process is pretty simple. Here is what you need to do:
If you are using iPhone 6 or older devices: Tap and hold the power button and home button for around 10 seconds until the screen goes black. Release the buttons once the Apple logo occurs on the screen.
If you are using iPhone 7/7 Plus: Tap and hold the power button along with the volume down buttons for 10 seconds. Like earlier, the display will go black, and the phone will restart. Simply let go of the buttons once the Apple logo occurs.
If you are using iPhone 8 or later devices: First, tap the volume up button and release it quickly. Then, do the same for the volume down button. Now press and hold the side button until the Apple logo occurs.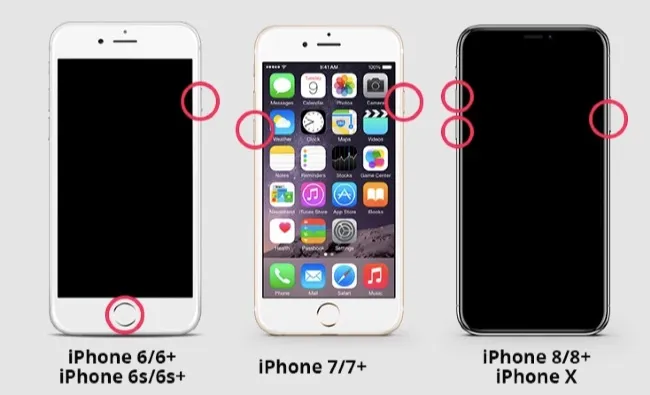 Delete and Re-add Email Account on iPhone
If your emails keeps disappearing after force restaring your iPhone, there may be errors with your mail account. Sometimes, deleting and re-adding the email account may help to solve the disappearing email issue. Here is how to do this:
Go to "Settings" on your iPhone and navigate to "Password & Accounts". Find your email account from there and select "Delete Account".
Now go to "Mail, Contact, Calendars" and then click on "Add Account". Enter the email address and password to re-add it.
After doing that, go to the mail inbox and check if the email is there.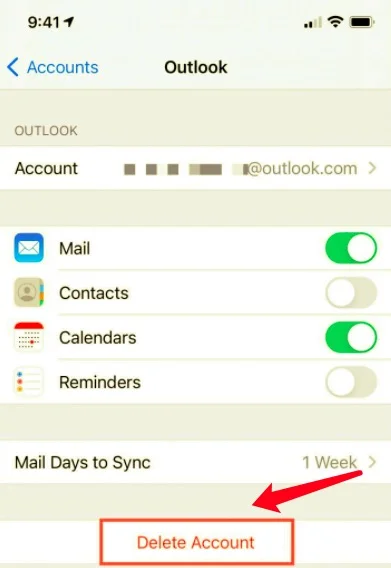 Set Mail As No Limit
Sometimes, your mail app may only sync emails within the last 30 days and your iPhone will only show these emails in the inbox. If the above methods don't work, consider setting your mail to no limit. Here is how you can do this:
First, open "Settings" on your iPhone and browse the "Mail" option.
Click on "Account" option and set "Mail Days to Sync" to "No Limit" in synchronization settings.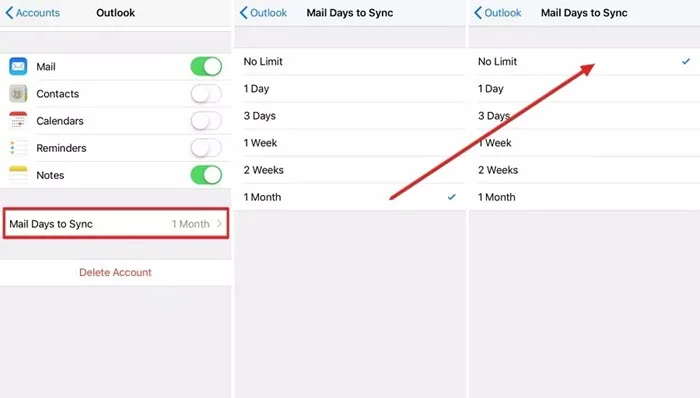 Note: If your host doesn't support it, this option will not show from iPhone settings.
Update iOS to the Latest Version
Sometimes the emails may disappear on your iPhone because of outdated iOS version. In such a case, you can update iPhone to the latest iOS version to fix this problem.
To check for iOS update, go to Settings > General. Under the General section, you should find the "Software Update" option. If there is an new iOS version available, you can download and install it instantly.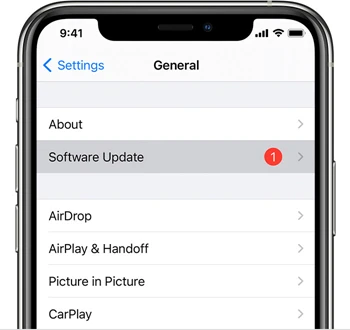 Use FoneGeek to Fix Common System Issues on Your iPhone
If none of the above fixes work, we recommend you use an iOS System Repair tool. There are a lot of them available online, but we will suggest you try FoneGeek iOS System Recovery. It can assist you in solving more than 200 system issues on your iOS deivces, along with the email disappearing problem.
Follow these simple steps to fix iPhone with FoneGeek iOS System Recovery:
Download and install FoneGeek iOS System Recovery on your computer. Run it and choose "Standard Mode".
Connect your iPhone to the computer via USB cable. Once it is detected, click on "Download" to get the matching firmware.
When the download is complete, click on "Fix Now". Your iPhone will reboot and you can check whether the disappeared emails are back.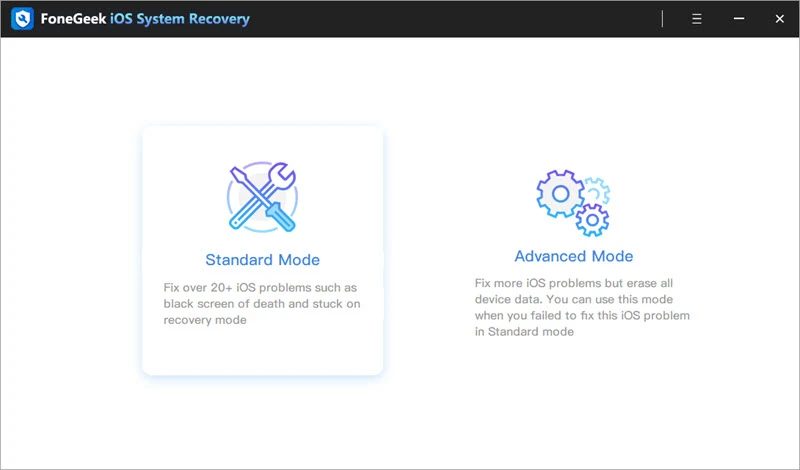 Here are some other features of FoneGeek iOS System Recovery:
Solve the system errors in iOS without losing any data.
Fix more than 200 problems in your iOS, iPadOS, or TvOS.
Compatible with all the iOS versions and devices, even iOS 17 and iPhone 15/14.
Update or downgrade iOS version without iTunes or jailbreaking.
Conclusion
Every day, we send and receive emails, and some of them can be very important. So, it can be a big hassle if the emails on your iPhone keep disappearing from the inbox. After reading the article, we hope that you should be able to get rid of the email disappearing from iPhone issue.
First, use the fixes we mentioned above and if they don't work, consider using the FoneGeek iOS System Recovery tool. It works efficiently to solve iOS system errors in most cases. After testing all the methods, if you still cannot sort things out, it would be better to contact Apple support center.