Entering safe mode on a jailbroken iPhone can help delete problematic extensions, add-ons, or apps causing system failures or some unwanted iOS issues. However, a jailbroken iPhone can easily end up stuck in safe mode and fail to boot in normal mode again.
If you've encountered a similar situation, don't fret. Herein, we'll show you how to exist safe mode on jailbroken iPhone so that you can have your iPhone back to normal operation. We'll actually look at four different solutions, so let's get started.
What Is iPhone Safe Mode?
A jailbroken iPhone goes into safe mode when an extension, add-on, or app behaves abnormally in the OS. It aims to protect the iPhone iOS from possibly malfunctioning and as well help avoid getting the device damaged. When in safe mode, only the required extensions will start - the iPhone will disable all other substrates.
People also purposely put their iPhone into safe mode in order to troubleshoot a problem that they encountered while using their devices. The safe mode basically allows them to disable, uninstall, or delete the problematic extensions or add-ons. Now that you know what safe mode is, let's see how to exit safe mode on jailbroken iPhone.
How To Exit Safe Mode on Jailbroken iPhone
Restart iPhone from Safe Mode Notification
When iPhone enters safe mode, you'll get a notification window on the screen that says "SpringBoard crashed". Well, SpringBoard is basically the Home Screen manager for iOS. The notification shouldn't scare you though as there's nothing to worry about - you just need to know how to exit safe mode on jailbroken iPhone.
Head to that notification window and tap the "Restart" option. When the incompatible packages and problematic tweaks are removed, your device will reboot in normal mode. But if that doesn't happen, then try the other solutions mentioned below.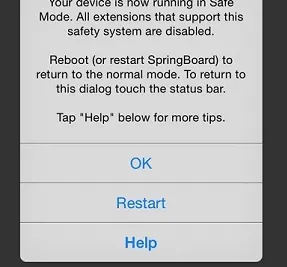 Hard Restart iPhone
If still your iPhone goes into Safe mode, press and hold both the Home and Power buttons until your device shuts off completely and reboots. You'll see a "Slide to unlock" after a few seconds of starting this process. So, just ignore it when it appears.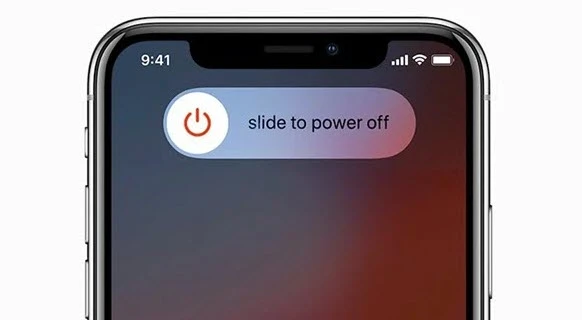 Remove Problematic/Incompatible Packages and Extensions
Still getting into Safe mode? Well, it's time to find the problematic extensions or packages that are probably causing this problem and then remove them.
You can do this easily when still in safe mode by heading to Cydia and uninstalling the packages or extensions you've recently added. After these problematic extensions and packages are removed, reboot the iPhone to see if it actually boots up into normal mode.
Reset iPhone
You've learned how to exit safe mode on jailbroken iPhone using the three above methods. However, if they fail to get your iPhone out of safe mode, then the final step is to reset the iPhone so that it can boot in normal mode. Ensure your device data is first backed up before you reset it. You can use two methods to reset the device and totally clear its data.
The first one is using the iPhone settings while the second one is through third-party applications. To use the first method, launch Settings and then open the General menu. Tap "Reset" in the menu.
Next, click "Erase All Content and Settings". Now put your passcode when prompted to do so. All your iPhone data and settings will get erased. Once that's done, restart the device and see if it goes into normal mode. Alternatively, you can use third-party tools such as FoneGeek iOS System Recovery to reset the device. We recommend you try it out.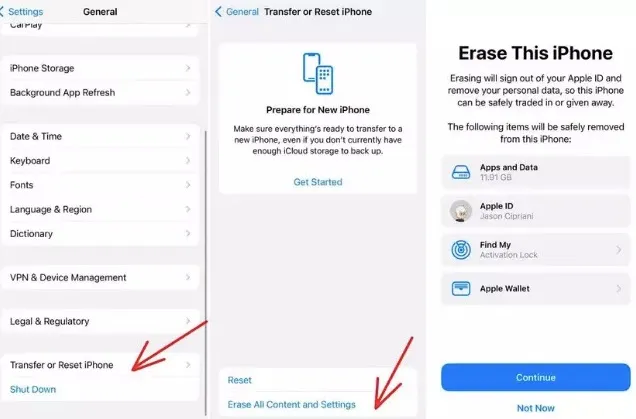 How to Deal With Safe Mode When the Cause is Complex
When iPhone gets into safe mode because of some unknown factors, it's hard to find the exact cause and resolve the problem. However, FoneGeek iOS System Recovery is able to easily and effectively handle such a problem, even when you don't know the real cause. It will repair the damaged or missing files in your iPhone's iOS system hence allowing it to boot up in normal mode. To use the recovery tool to restore the iOS system of your iPhone, follow these steps:
Download the repair software and have it installed on your computer. Launch the repair program. Head to the main interface and choose "Standard Mode".
Using USB cable to get the jailbroken iPhone connected to the same computer.
Ensure you've unlocked the phone's screen. In case the iPhone fails to get recognized by the program, then put it in DFU mode.
Now confirm your iPhone details when the tool recognizes it so that you can download the ideal firmware. Once that's done, click "Fix Now". After a couple of minutes, the tool will have removed the safe mode.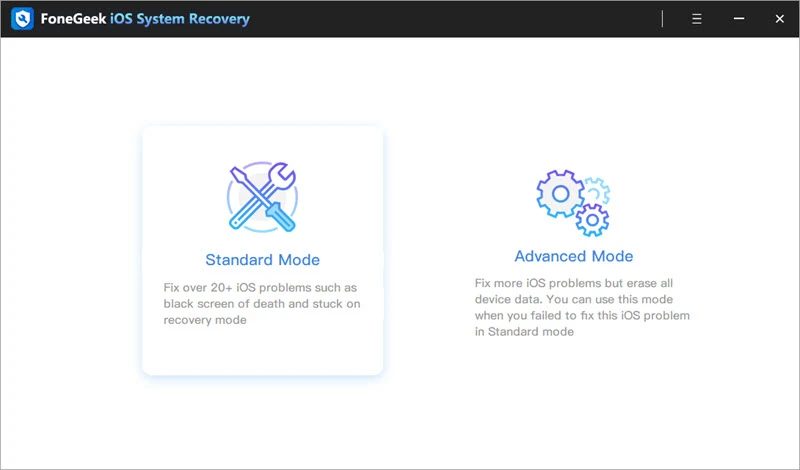 Conclusion
Now you know how to exit safe mode on jailbroken iPhone using various different methods. You don't have to get stuck in this mode anymore. Just implement the four methods we've mentioned. If they fail, then use FoneGeek iOS System Recovery. It will get your iPhone back to its normal mode in no time, even if it's a critical factor that's behind remaining in safe mode.