The introduction of Face ID unlocking with the mask on by Apple was really convenient during this COVID-19 pandemic time when wearing masks has been part of our daily lives. It not only made it easy to unlock your iPhone but also ensured that you remain safe while doing it - no need to expose your face for authentication.
However, the feature doesn't always work correctly. Numerous users have complained of Face ID with mask not working on their iPhones. Although there are various things that can cause this to happen, you can surely fix it with any of the following solutions.
1. Check Your iPhone Compatibility
A common reason for Face ID not working when wearing a mask is incompatible devices. Not all versions of the iPhone and iPad support this feature. Plus, Apple hasn't really made this fact apparent, leading to many people claiming that some hardware limitation could be the reason for the Face ID with mask feature not working in earlier iPhone models.
However, the fact is that the Face ID with mask feature is only supported by a few iPhone models which include iPhone 12 models (Mini to Pro Max), iPhone 13 models (Mini to Pro Max), and the iPhone 14 series. The older versions like iPhone 11 series as well as iPhone XS and iPhone X don't support this feature.
2. Update Your iPhone
Another common reason behind Face ID not working with mask is the iPhone's iOS not being updated. Note that this feature only became available after iOS 15.4 update. Therefore, your iPhone has to have this update or a later iOS version for it to work. If it's not running iOS 15.4, then you can check for the update in the settings. Follow these steps to do so:
Launch Settings and open the General option.
Tap Software Update on the resulting page.
The phone will check for an update. When it finds one, tap "Download and Install."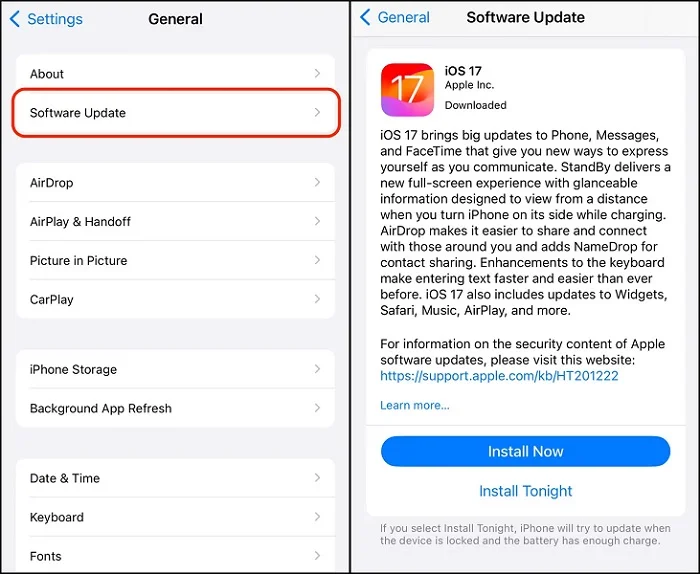 Even if your iPhone is compatible with the feature and utilizes iOS 15.4, you should still update the system software to the latest version as it can fix some bugs and glitches stopping the Face ID with mask feature from working.
3. Enable the Face ID with Mask Option
As mentioned above, the Face ID with mask feature is only available with iOS 15.4 and other newer versions of iOS. However, you have to enable it first, otherwise, you can't use it on your phone. To do this, follow these steps:
Open Settings, then tap on Face ID & Passcode. Put your passcode when prompted.
Head to Face ID with Mask and enable it by tapping the toggle next to it in the right direction.
From the two options on the pop-up menu, tap on "Use Face ID Mask".
On the new page, record your face in the displayed circle frame. That's it.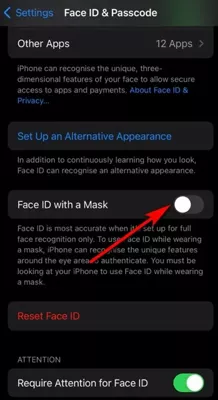 When you restart your iPhone, the feature should work just fine.
4. Restart Your iPhone
If you're still having your iPhone unlock with a mask not working even after installing iOS 15.4 or a newer version and enabling the feature, then it's time you try restarting the iPhone. It may seem simple but restarting any device often solves most of the minor iOS issues and glitches, so it can certainly work too in this case.
5. Ensure Your Eyes Are Not Blocked
You may have enabled this feature but your mask is quite high or positioned very close to your eyes hence causing it not to work. So, make sure that your eyes are not blocked when wearing a mask because Face ID has to clearly see and scan your eyes plus the area around them to authenticate your identity and unlock your device. Try holding the iPhone higher than when not wearing a mask, and see if there are any changes.
Note: The Face ID with mask feature won't work with sunglasses. The dark lenses of certain sunglasses block the infrared light from the TrueDepth camera hence causing Face ID to fail to authenticate your identity.
6. Look Down While Unlocking
The way you position your face matters when using Face ID with a mask to unlock your iPhone. You need to look down into the TrueDepth camera for the iPhone to unlock. In fact, your phone itself will display the message "Look down to unlock" on the screen, so make sure to do that.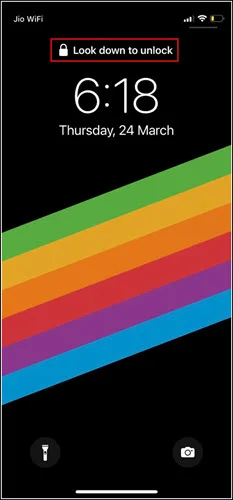 7. Ensure Nothing is Covering TrueDepth Camera
The TrueDepth camera can get covered by dirt or dust hence leading to this error. Therefore, ensure you remove anything obstructing the camera. Try also to remove the phone case and see if there's any improvement.
In case the issue of Face ID with mask not working started when you put on a new screen protector, then check that the TrueDepth camera isn't blocked. You should remove the screen protector if it's the cause of the problem.
8. Add an Alternative Appearance
Setting up an alternative appearance is one trick that you can also employ to unlock your iPhone while wearing a mask. It basically involves adding another appearance to your Face ID and you can do it by following these steps.
Open Settings and head to Face ID & Passcode. Put your passcode when prompted.
Next, tap "Set Up an Alternative Appearance."
Once the frame opens, try to position your face right inside the frame as you look straight into your phone's camera.
Complete the circle by moving your head. When the scan is done, tap the "Continue" button.
Move your head again to complete the circle once more and once the setup is finished, tap Done.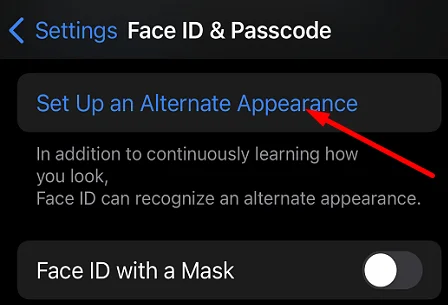 After you've set up the alternative appearance, select "Use Face ID with a Mask" and set it up again. Once you do that, check if the Face ID with mask feature works.
9. Reset Face ID
The issue of your iPhone unlock with a mask not working can as well be solved by resetting your Face ID and then enabling "Face ID With a Mask" once more. If there's any problem with your Face ID data, then this method will fix it. Here's how to reset the Face ID.
Open Settings and head to Face ID & Passcode. Put your passcode when prompted.
Now, tap the Reset Face ID option and follow the displayed instructions.
When done, set up the Face ID once more, then enable Face ID With a Mask.
Next, choose Face ID with a Mask and follow the displayed instructions to set it.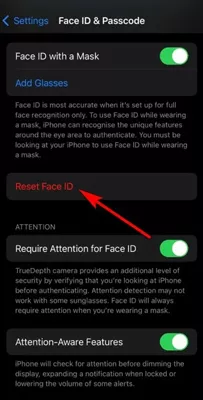 Once you have Face ID With a Mask set up, force-restart your phone. Press Volume Up button, then release it immediately. Repeat the same process with Volume Down button. Now, long press Side button and quickly release it when Apple logo comes up on the screen.
10. Reset All Settings
If the above solutions fail, try to reset all settings on your device. Doing so will fix the bugs and glitches within your phone's settings and most probably resolve the Face ID problem as well. Follow these steps to reset:
Open Settings, then tap General.
Head down to Transfer/Reset iPhone and tap it.
Tap the Reset option when the next page opens.
Tap Reset All Settings. That's it!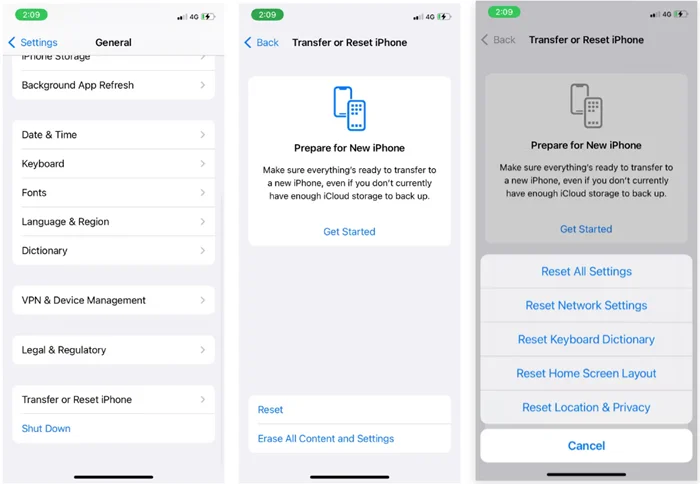 11. Repair iPhone with FoneGeek iOS System Recovery
When you finally reset all settings but still you're unable to unlock your iPhone with face mask on, then it's an issue with the firmware or iOS that's likely causing this problem. It's probably attacked by bugs hence needs to be fixed to get Face ID with mask feature working again.
The FoneGeek iOS System Recovery tool can help you easily do this. It's able to repair all kinds of software problems effortlessly, including this one. It doesn't require technical skills to operate it. Novices can easily navigate around the intuitive web interface. The tool is also compatible with all iOS versions and devices, even iOS 16 and iPhone 14 models.
How to use FoneGeek iOS System Recovery to solve the issue of Face ID not working when wearing a mask:
Start by downloading and installing the program onto your PC. Launch it after installation and click Standard Mode from the main page.
Take your device and use an Apple USB cable to connect it to the PC. When the new interface pops up, click Next.
When the software identifies the device, it will quickly search for compatible firmware for repairing your device. So, select the right firmware package and the path you want for it, then click Download to get the iOS firmware.
Once the firmware is downloaded, click Fix Now to initiate the repair process. From there, the program will right away start fixing the device. Give it some time to complete the process. When it's done, your iPhone should reboot automatically.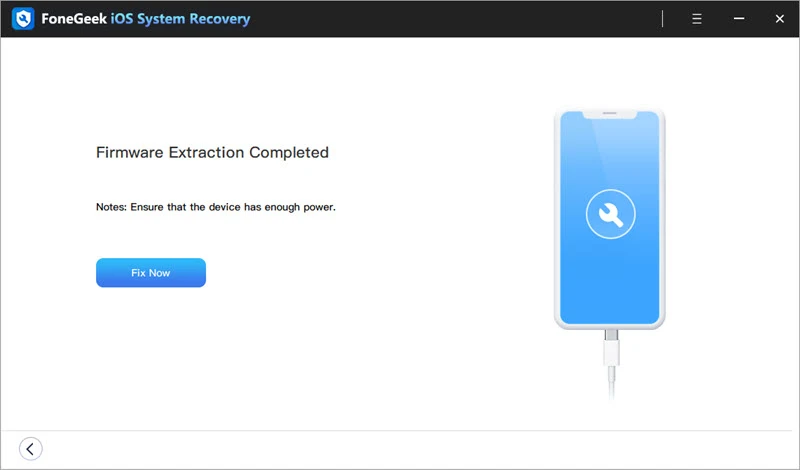 Final Words
All these methods can solve Face ID with mask not working. They are easy to implement. You don't need any technical skills. However, FoneGeek iOS System Recovery is undoubtedly the best option due to its effectiveness and efficiency in fixing iOS-related problems. Moreover, it's simpler to use and it doesn't remove any data from your iPhone when fixing this Face ID with a mask issue. If we had to pick one method from all of them, then we would recommend it.