Find My tracking feature helps locate Apple devices and it's often used to share locations among Apple users. However, it sometimes doesn't work, and users get an unexpected error saying, "Find My Unavailable. Unable to connect to server." When this happens, you won't be able to locate and find your lost iDevices anymore.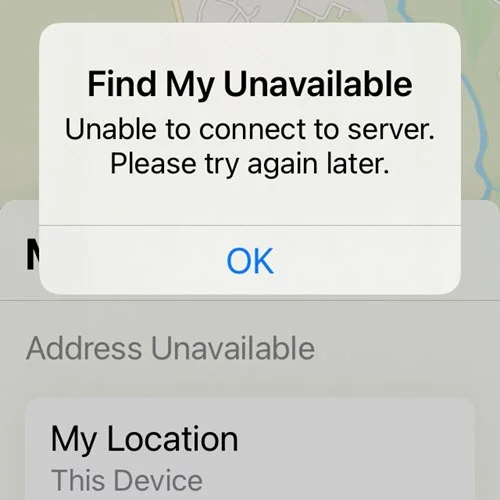 In most cases, you may encounter this error as a result of Apple's server outage. It could also occur because of bugs within the iPhone itself. Those are just a few examples of potential causes. In this post, we'll tell you exactly what causes this "Find My unavailable" error and then share viable solutions that can help you get rid of it. Let's get started.
Why Does My Find My iPhone Say Cannot Connect to Server?
"Find My iPhone" may unavailable due to several different reasons. Some of these reasons include:
Find My iPhone Is Disable - you have to manually enable the "Find My iPhone" feature on your phone. If the service is unavailable, try to check if you disabled it on your device.
Your iPhone Has Turned Off - the stolen or lost iPhone has to be on for Find My iPhone feature to work. If it's off, it wasn't able to locate or get connected to the server to send its GPS location to the tracking user.
No Internet Connection - if the lost device doesn't have an internet connection, then the server may not get connected to Find My iPhone. For GPS to work, it needs the internet so that it's able to send location traces.
SIM Card Is Removed - your SIM card is quite crucial when it comes to finding your lost or missing iPhone. It facilitates cellular connection which enables location tracing, especially when Wi-Fi is unavailable.
Incorrect Date/Time - the wrong date/time can also trigger the "Find My unavailable" error. The time and date on your iPhone can prevent the Find My iPhone feature from establishing a connection with the server.
Regional Restrictions - the Find My service is not offered in every country. This could probably be the reason you're getting the "Find My Unavailable. Unable to connect to server" error.
Incorrect Apple ID - you need the same Apple ID that runs on your device to be able to find your lost iPhone. If you use a different one, it won't help in finding the phone.
Now that you know some of the reasons why you may be receiving the error message "Find My Unavailable. Unable to connect to server", here are fixes that can help you resolve it.
1. Restart Your iPhone
When you restart your device, you force the system to quit any currently running task, and in doing so, the "Find My unavailable" error can get fixed if there are any minor bugs preventing it from functioning. It's a simple yet effective method that you can try without much effort.
Simultaneously press and hold Volume Up and Side buttons until you get a Power off menu on the screen.
When the menu shows up, shut down the iPhone by sliding to the right.
Give the phone a few seconds. Now, press and hold the Side button. Release it when the Apple logo comes up on the screen.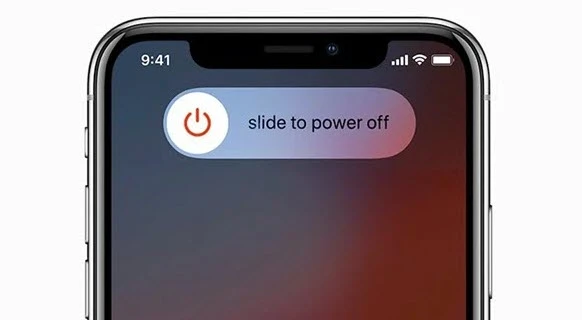 2. Refresh the Internet Connection
Optimizing the iPhone's internet connection is one way you can eliminate the internet-related problems that might hinder the iPhone from accessing the Apple or Find My app servers. You can do this in several ways, but the simplest is using the cellular/Wi-Fi toggle and even the Airplane Mode toggle.
Turning Wi-Fi Off and On
Go to your iPhone Settings, proceed to the Wi-Fi menu, and then simply tap the toggle switch next to Wi-Fi to turn it off and on.
You can as well disable and enable Wi-Fi directly from the Control Center of the iPhone by tapping the Wi-Fi icon.
In case you're using cellular data, just toggle the Cellular switch to turn it off and on via your iPhone's settings.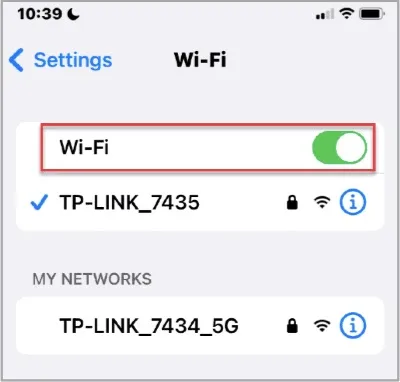 Enable and Disable Airplane Mode
Open Settings and then the Airplane Mode menu. Tap the toggle to turn off the switch and then, tap it again after a few seconds to turn it on.
You can also do this through the Control Center by tapping the Airplane mode icon to enable it and then tapping again to turn it off.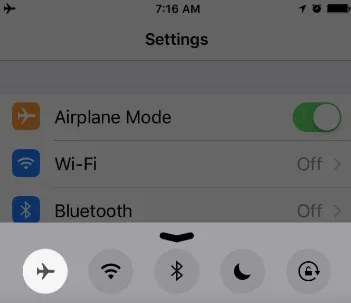 Switch To Another Network
If you have created multiple Wi-Fi networks, you can try to switch or connect to another network, and check if the error will disappear. It's not uncommon to get such server errors when you are connected to a corrupted Wi-Fi network.
Forget The Network and Then Re-Add IT
Another potential solution to this issue is forgetting and then re-adding your Wi-Fi network. When you do that, your current network will get deleted and your iPhone disconnected. Once the network is forgotten, add it back manually and get your iPhone connected to it like before.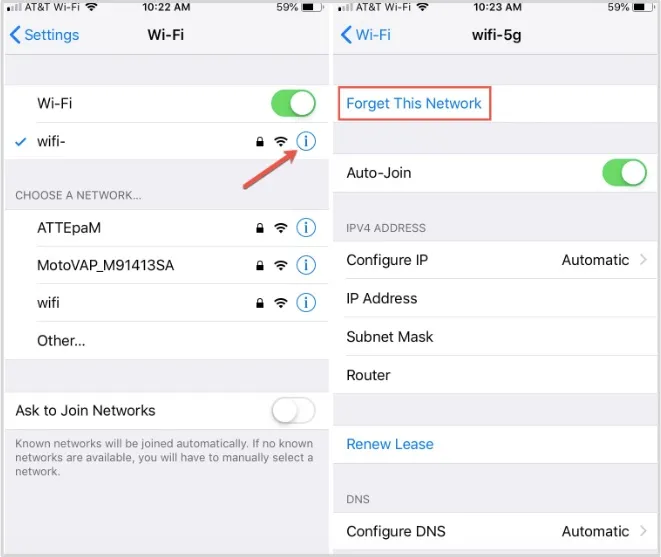 3. Ensure the Date & Time Are Set Correctly
Find My feature requires the correct time and zone for proper syncing with the Apple server. When the date and time on your iPhone are wrong, they can mess up its functionality, hence leading to errors such as "Find My unavailable unable to connect to server". Therefore, check and ensure you set your phone's date and time correctly based on your region.
Go to the iPhone's Settings. Proceed to General.
Next, tap Date & Time.
Now, ensure the option "Set Automatically" is turned on.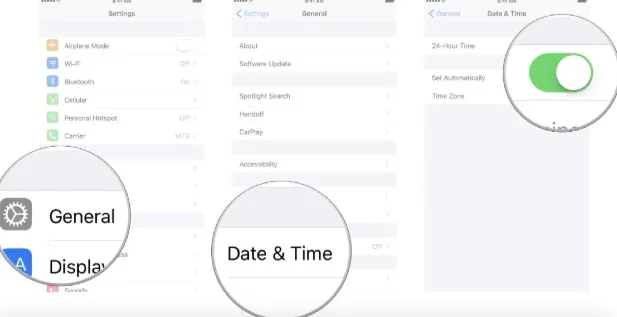 4. Sign Out of iCloud and Sign In Again
The Apple ID is vital in ensuring all your iDevices plus their features work properly. At times, though, your Apple ID could be what's causing "Find My unavailable' error. The solution to this is signing out of the Apple ID, which temporarily disables the Find My service and other features. When you sign in again and turn on the Find My service, it may now work normally. So, try out the method and see if it will fix the issue.
Tap the iPhone's Settings icon and open your Profile.
Navigate down and tap Sign Out.
Put in your Apple ID password and tap on Turn Off.
Now select the things you wish to create a copy of and then simply tap Sign Out.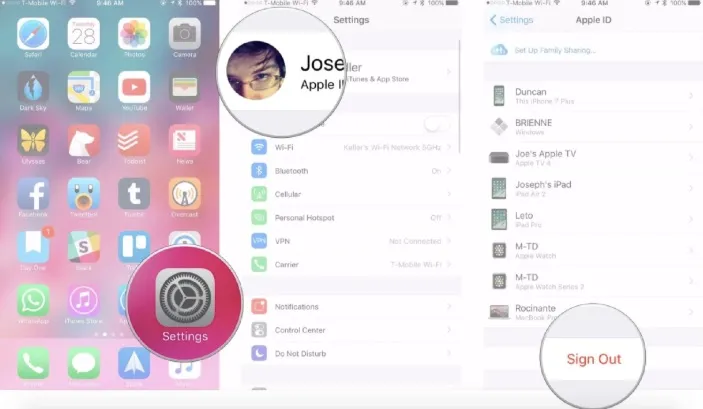 Follow these steps to login back the Apple ID:
Go to your Profile again. You'll be prompted to Sign In.
Input your correct Apple credentials (ID and password).
Tap on Next and then tap Continue. Follow the instructions on the screen to complete the set-up.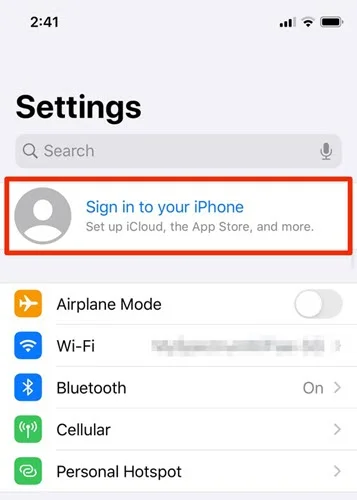 5. Reset iPhone's Network Settings
Are you still getting the prompt "Find My Unavailable. Unable to connect to server" despite trying all the other methods? Well, try resetting the network settings:
Open Settings and proceed to General.
Next, tap the Reset option and choose Reset Network Settings.
Now confirm your selection and reset the network.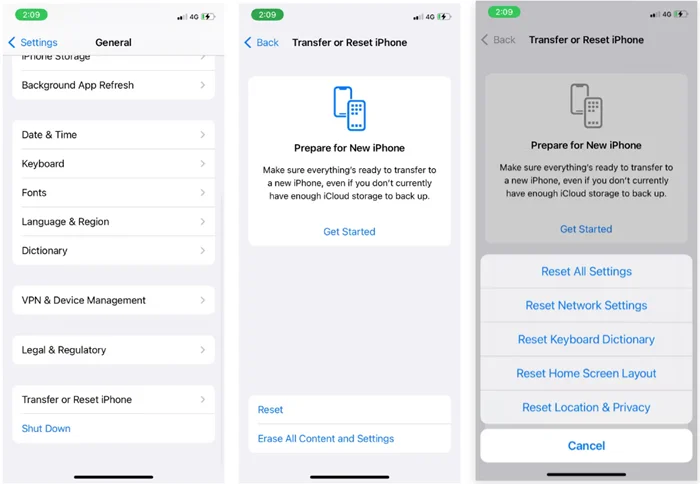 6. Reset All Settings on iPhone
If you're still getting the same error, it's time your reset all your iPhone's settings. Sometimes, when you modify the settings unintentionally or intentionally, it could affect the device's functionality. Therefore, if the problem is caused by some corrupt settings, you can fix it by restoring the default settings which means resetting all the settings.
Go to Settings. Open the General option.
Navigate down to Transfer or Reset iPhone. Tap it.
Tap on Reset. Next, tap on Reset All Settings. (put your passcode)
Confirm by tapping Reset All Settings again. (Your iPhone will now restart)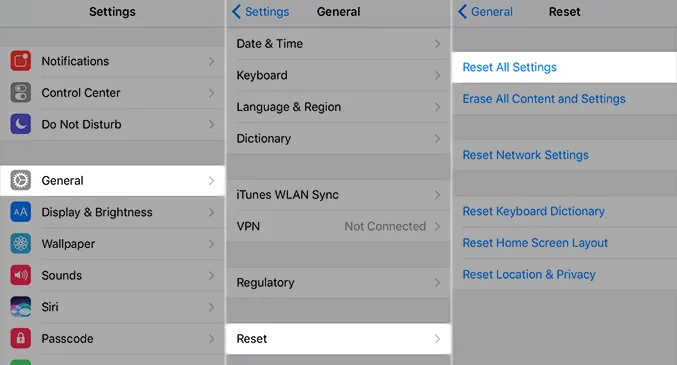 7. Update Your iPhone to the Latest iOS
If you are experiencing technical issues on your iPhone, installing a new update can help TO fix the problem. An iPhone update brings more than just new features and security updates. It also aids in resolving bug fixes and optimizing the overall performance.
Go to Settings. Open the General option.
Head to Software Update.
Next, tap Download and Install. (Put your passcode if prompted)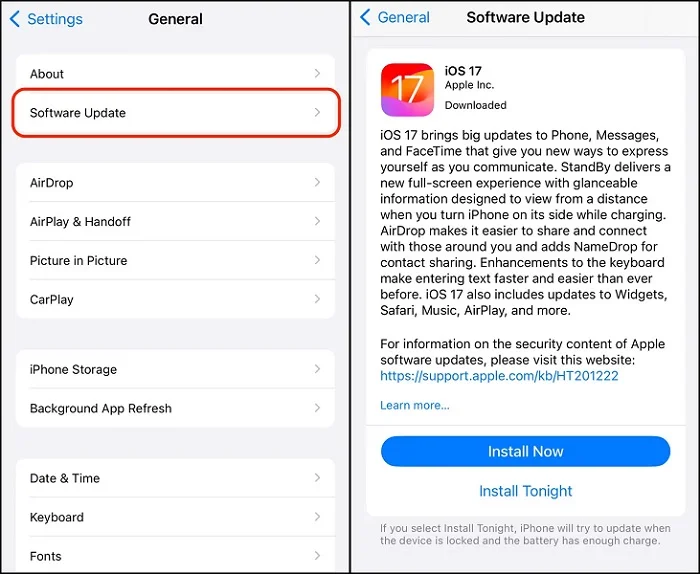 8. Factory Reset Your iPhone
A factory reset is a very effective solution, especially for stubborn system errors. As such, you can try it out if the previous solutions haven't fixed the error. Before doing it, ensure you have all your important data and files in your iPhone storage backed up through iTunes or your iCloud account. If you fail to do so, all your data will be permanently lost since this reset deletes everything from the iPhone.
After the backup is done, you can now proceed and factory reset the phone using the following steps:
Head to your phone's Home screen and tap on the Settings icon. Locate General and tap on it.
Tap on Transfer or Reset iPhone. Tap the Reset option and then choose Erase all Content and Settings.
Confirm that you want to erase the device when prompted.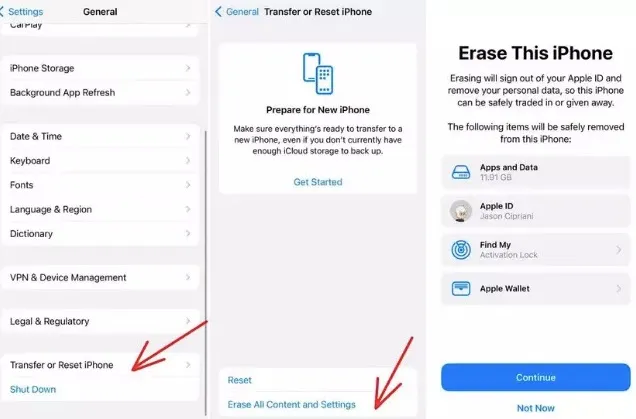 When you finish resetting, you can continue with the setup process and have everything on your phone set to new. In case you have iTunes on your Mac or Windows PC, you can use it as an alternative method to restore your device from a backup.
9. Best Way to Fix Find My Unavailable Connect to Server
Suppose you are wondering now why is the error message "Find My unavailable to connect to server" still appearing, even after trying out all the above solutions. Well, the culprit might be a system problem. In that case, the only solution that can help you out is the FoneGeek iOS System Recovery.
This professional tool is able to effectively fix all manner of iOS system problems. It can help you get rid of almost any iOS system issues your iPhone may be having, including this one. You only need to follow these simple steps to resolve this issue of "Find My iPhone unable to connect to server".
Download, install, and launch FoneGeek iOS System Recovery on your computer. To begin fixing, click on the "Standard Mode" button.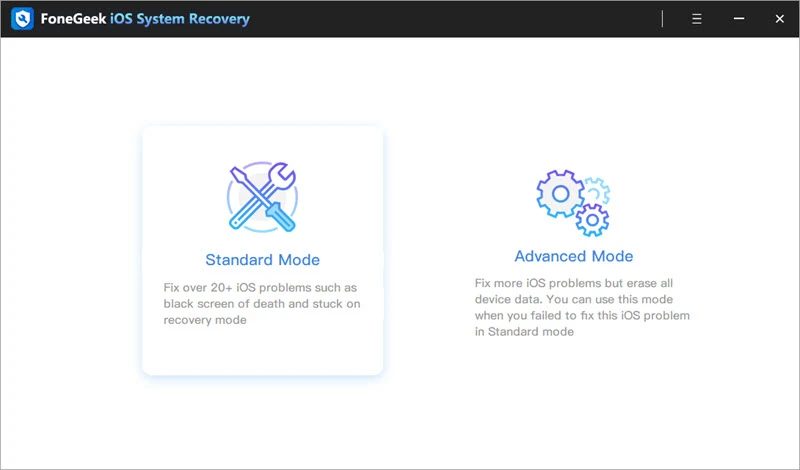 Connect your iPhone to the computer via USB cable. When the device is detected, the software will show you the ideal firmware package for fixing your iPhone's issues. Click on "Download".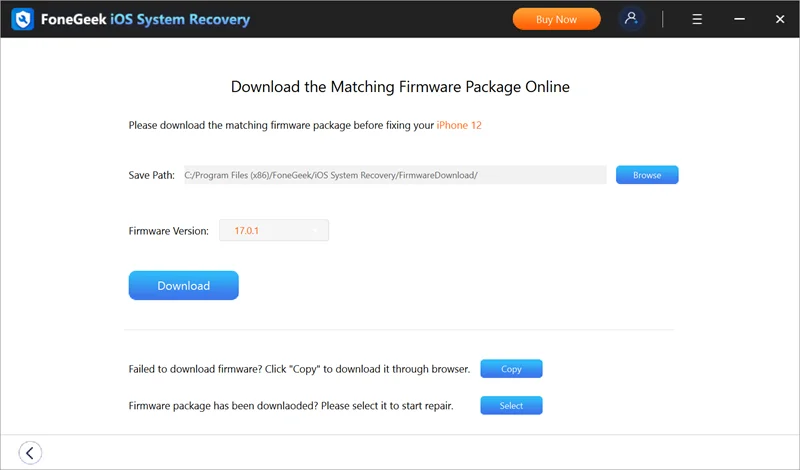 Once you have successfully downloaded the firmware, it's now time to fix the issues affecting your device. Just click "Fix Now" on the screen to start the repair process.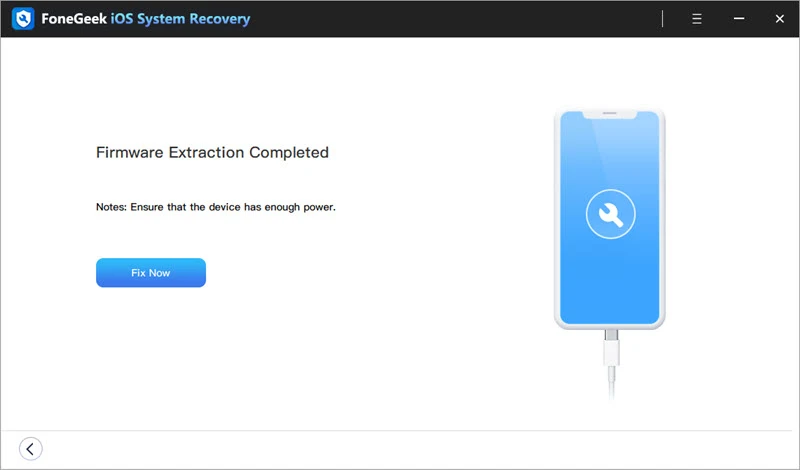 Conclusion
The "Find My Unavailable" error can be fixed by the various solutions we've highlighted above. However, If non of the basic methods work, then use the FoneGeek iOS System Recovery. It's the ultimate solution and will easily eliminate the error in no time without erasing the data on your device. It will even fix any other minor or severe issue that your iPhone has, hence allowing it to function properly as usual. So, install it and try it out.