Seeing your iPhone screen turning grey or half white and half black, especially after performing an iOS update is common among iPhone users. This change always seems like it has come to stay, and can leave you stranded if you have something urgent to do with your phone.
But not to worry, there are reasons why such issue occurs, and this guide explains 6 effective strategies on how to turn off grey screen iPhone.
Read on to learn more.
Why is the iPhone Screen Grey?
The iPhone screen is grey when it only displays pure black and white, or a mixture of both colors, and this appearance does not just disappear, neither can you do anything with your phone at this time. Several reasons can cause this to occur, such as:
When the home button is tapped three times in a row. This activity simply activates the grayscale mode on your iPhone. This can occur accidentally, or without you even knowing.
When there is a system problem or an internal malfunction in your phone, this will show up most often after an iOS update.
When you put on the Activate Grayscale Mode button in the accessibility settings of your iPhone.
Basic Tips to Fix iPhone Grey Screen Issue
Now, we know that the iPhone grey screen mode is something that can be activated unknowingly, or can pop up because of a system malfunction. However, it is not the end of your phone. You can have your iPhone working normally again by simply following one or more of the following strategies.
Have You Enabled the Grayscale Feature?
Whenever you notice this kind of problem, the first thing to do is to confirm whether or not your iPhone grayscale mode is activated.
Go to Settings.
Click on General and select Accessibility.
Tap on Color Filters.
If the grayscale mode is on, turn it off.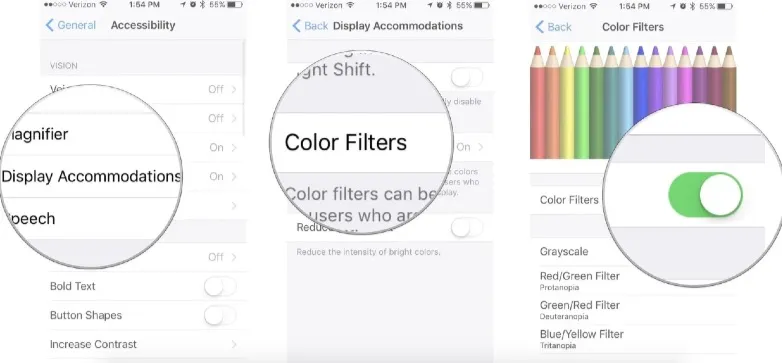 With this mode turned off, your phone screen should be back to normal. But if it doesn't reverse, then something else is responsible for the iPhone grey screen, which will require a different approach.
Turn off Reduce Motion
As a strategy to enhance battery life, iPhone manufacturers installed the function, "Reduce Motion". Turning this on can help to reduce screen motions on the phone, and of course, this can also bring about the iPhone grey screen effect. As a step to avoid this, it is good to turn off the "Reduce Motion" function, and you can do so by the following steps:
Go to Settings on iPhone.
Tap on General.
Click on Accessibility and scroll down to turn off Reduce Motion.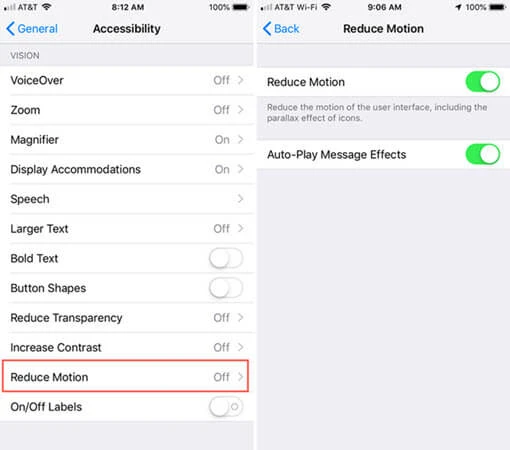 Force Reboot iPhone
You can also try to force restart your phone if you experience the iPhone grey screen issue.
For iPhone 6 and earlier versions: Simply press the power and the home button simultaneously.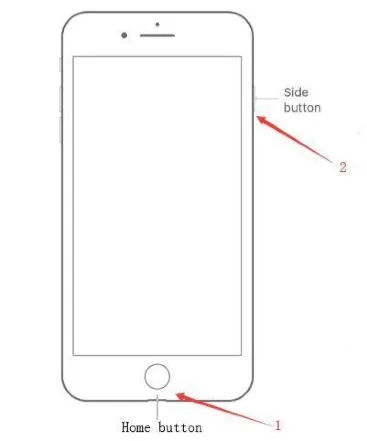 For iPhone 7 and iPhone 7 Plus: Simply press the power button and the lower volume button simultaneously, until the apple logo appears.
For iPhone 8 and later versions: Simply press the upper volume button, then do the same on the lower volume button, and repeat these steps almost immediately. After this, press the home button, until the Apple logo appears.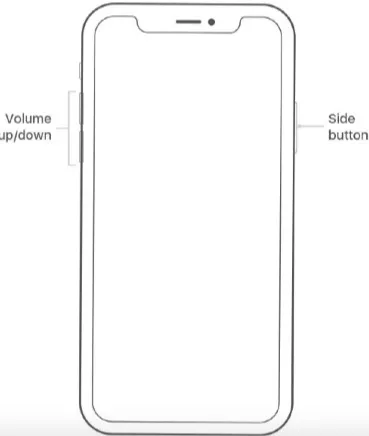 Try Other Effective Ways to Fix iPhone Grey Screen
If you've tried the basic 3 steps above and your iPhone grey screen still shows up, then you should try one of the following effective strategies to fix this problem.
Using The Most Reliable Tool
If the iOS system of your phone is malfunctioning, then you might not find the basic steps explained above useful. What you need is the most reliable tool for your iOS recovery, that will fix the problem completely. This tool is no other than the FoneGeek iOS System Recovery. It is very reliable in fixing iOS system problems, cheap, and effective. To use this package to fix iPhone grey screen issue,
Download and install the FoneGeek iOS System Recovery. Launch it and tap on the Standard Mode.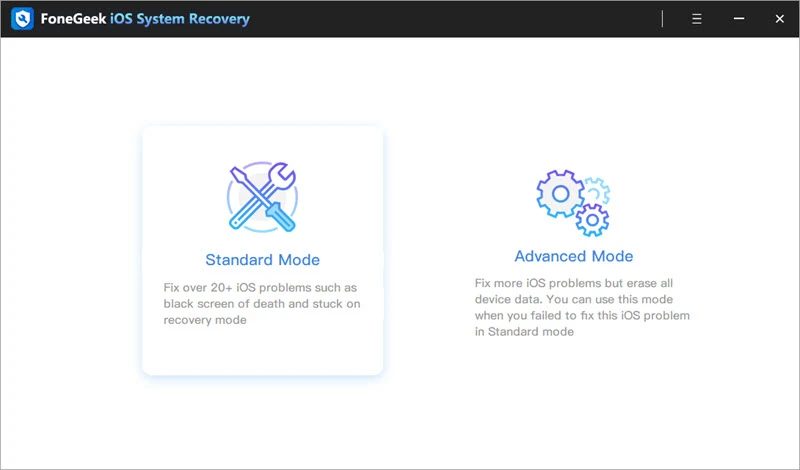 Connect your iPhone to your computer via a USB cable. Click on Next and FoneGeek will recognize your device.
Tap on the version that suits your iPhone and click Download to download the firmware package.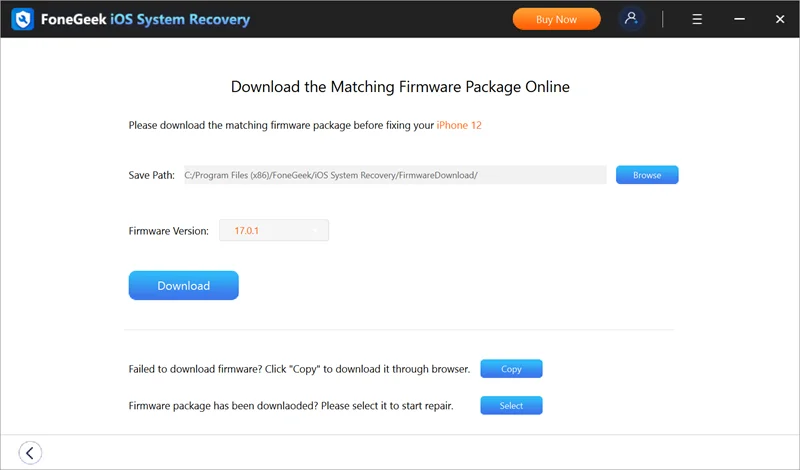 After completing the download, your phone will restart to be fixed, and the grey screen will be gone.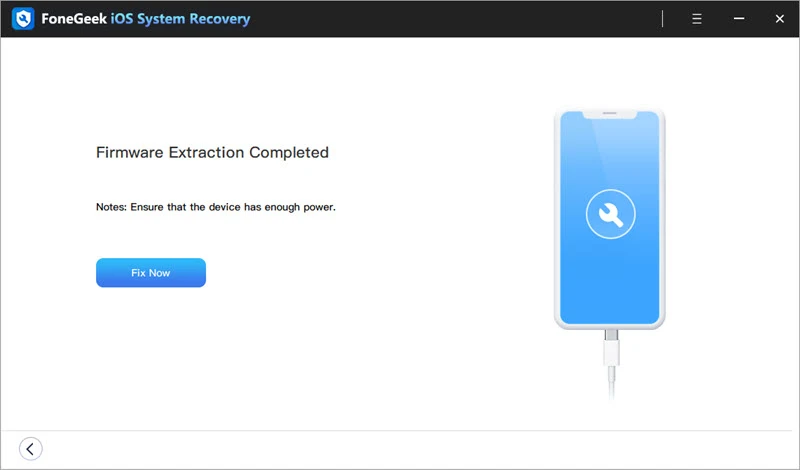 Update the iPhone System Version
If you keep your iPhone updated to the latest iOS version, then you will most likely not have a system malfunction that can bring about an iPhone grey screen. To update your iPhone:
Go to Settings on iPhone and click on General.
Click on Software Update.
If the new iOS version is available, click on Download and Istall to update the iPhone system.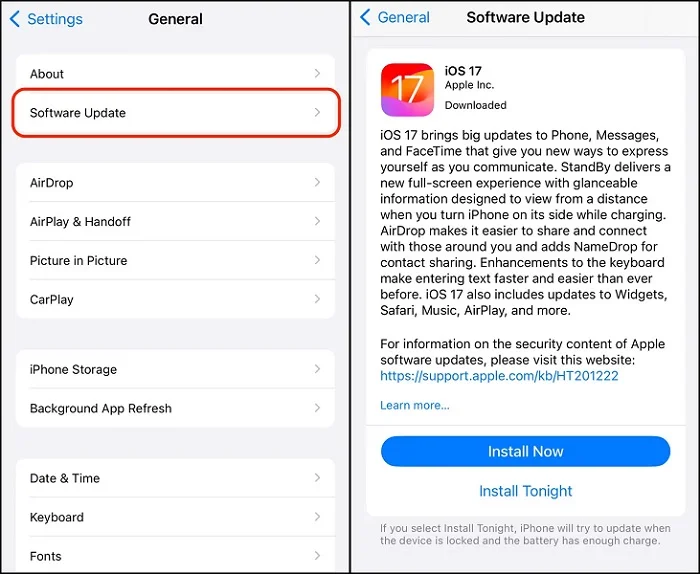 Factory Reset iPhone
Setting your iPhone back to its default mode can undo or remove the causes of the iPhone's grey screen. To factory reset your iPhone, simply follow these steps:
Go to Settings.
Tap on General.
Go to Reset.
Click on Erase all Content and Settings.
Enter your phone's passcode and Erase the device.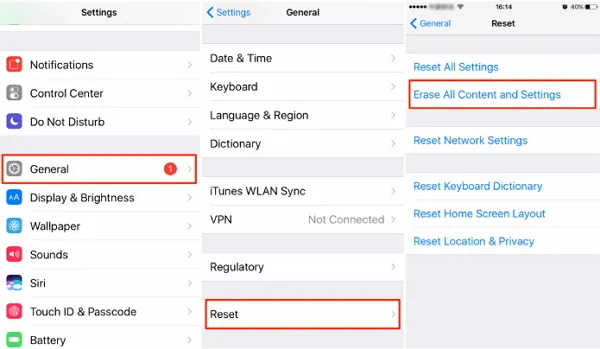 Restore iPhone with iTunes
Another method via which you can restore your iPhone is to do so through iTunes. This helps you restore your iPhone to the default settings, and of course, the grey screen issue will be gone. To do so, ensure you are connected to a strong WiFi and simply follow these steps:
Open the iTunes app on your computer.
Using a USB cable to connect your iPhone to your computer.
Click on the iPhone icon as soon as it appears on your system.
Select Restore iPhone from the summary column.
Select the Restore again, just to ensure you complete the process.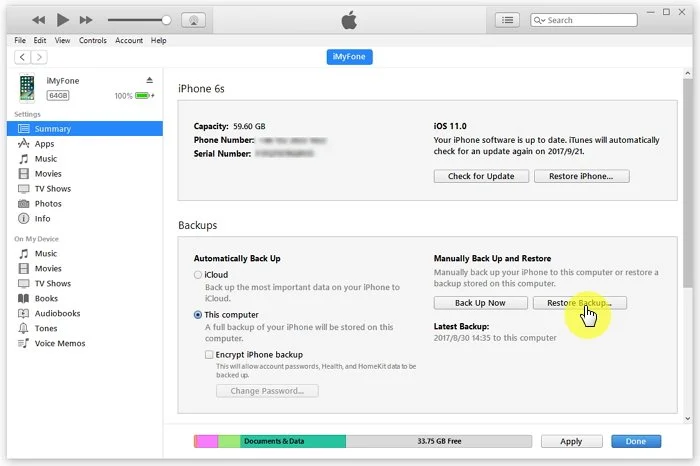 Remove Battery from iPhone
Another method on how to turn off the grey screen iPhone is to remove your battery from your phone, then put it back in place and restart your phone. This should however only be done after you have tried all of the other steps without success, and you shouldn't do this if you do not have the right tools due to the risk of damaging your phone hardware.
Fix iPhone in Apple Store
This is the last resort on how to turn off the grey screen iPhone. If you've tried other methods without getting a positive result, then simply take your phone to a trusted Apple store to have it professionally worked upon.
Final Words
iPhone grey screen is an issue that always occurs amongst iPhone users. It is best tackled by finding out the cause and working to prevent it. If however it is caused by a system malfunction, this can also be fixed by you, and in no time. Thanks for following.