User Concern
"I have broken my iPhone and have pictures on the phone that I want to keep. Trying to connect it to a computer that it has never been connected to. I need to press Trust on the phone. But I can not do it because the screen is dark, broken. Can somehone past this trust step? Thanks for any help!"
Is it possible to trust computer on iPhone when the screen is broken? How to bypass trust this computer on iPhone? You may ask these questions after dropping and breaking your iPhone's screen.
Well, if your iPhone or iPad screen is seriously damaged, you won't be able to interact with the display properly. As a result, you are unable to trust computer on your phone to backup data, restore a backup, or even erase the device through iTunes.
Don't panic, this article will introduce detailed information for this issue and show you how to trust computer on iPhone with broken screen.
Is It Possible to Trust Computer on iPhone with Totally Broken Screen
The answer is certainly NO. It is absolutely impossible to trust computer on iPhone with broken screen since the display does not respond. When the screen is completely broken, you will not have access to click on any option on the home screen, let alone click the "Trust" button on iPhone.
It is urgent to access and recover data from the broken iPhone before you take the device to Apple Store to get the screen replaced or repaired. Read on to get what you want to know.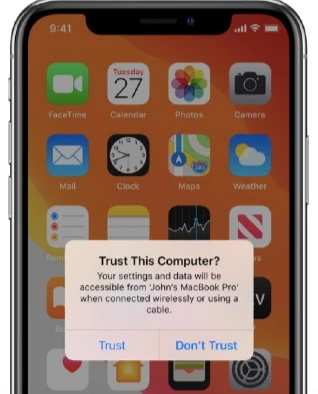 How to Trust Computer on iPhone with Broken Screen
To get your iPhone trusted on computer when the screen is broken, you can make use of Siri and VoiceOver if the device has a Home button and it still works. However, this method will only be effective for several devices. Just have it a try:
Keep pressing the Home button to activate Siri and say "Open VoiceOver".
Press the Home button for twice and the password screen will appear.
Swipe the screen from left to right and move the VoiceOver cursor to a special password number button.
As soon as the cursor is next to the password you need, double click "click" to select the password.
Once the iPhone is unlocked, use VoiceOver to click on "Trust" in the "Trust This Computer" dialog that appears when you plug your iPhone into computer.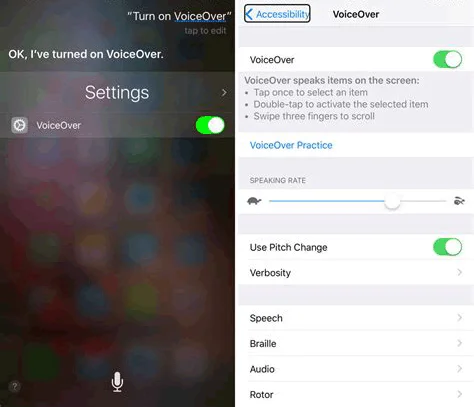 Now, you're able to transfer photos to your computer or backup your broken iPhone using iTunes. Then you say "Turn off VoiceOver" to Siri to turn off VoiceOver.
How to Recover Data from iPhone with Broken Screen
If you have made a backup of your iPhone before the screen was broken or damaged, you can rely on third-party data recovery tool like FoneGeek iPhone Data Recovery (supports iOS 17/16) to extract and recover data from iTunes/iCloud backup.
This iPhone Backup Extractor enables you to recover a variety of data types from backup, including photos, videos, contacts, messages, call logs, notes, WhatsApp, Viber, Kik, voice memos, voicemails, etc.
You're allowed to preview all files before recovery and selectively recover the data you need only. It is able to access backups of all iOS devices, including the latest iPhone 15/14/13 running on iOS 17/16.
Option 1. Recover Data from Broken iPhone via iTunes Backup
If you have synced iPhone with iTunes, the iTunes backup files will be saved on your computer's hard drive which is unreadable. Unless you have deleted them, the iTunes backups will always be there. You can use FoneGeek iPhone Data Recovery to access, scan and recover data from iTunes backup.
Step 1. Download, install and run this iTunes Backup Extractor on your computer, select "Recover Data from iTunes Backup" from the main interface displayed below.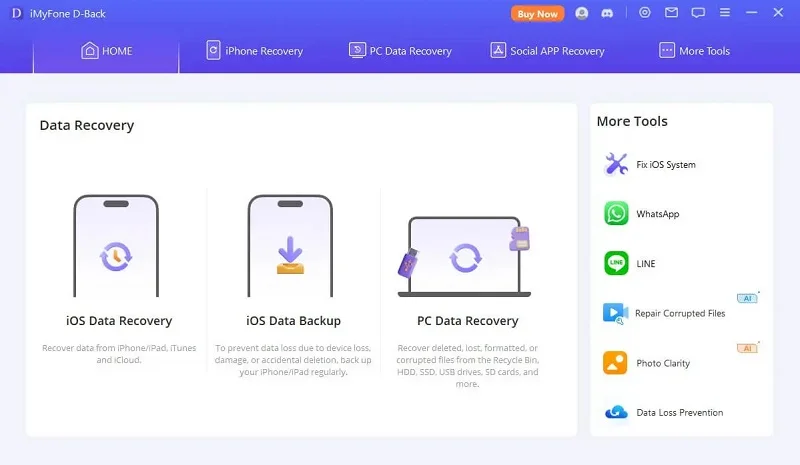 Step 2. All the iTunes backup files on your computer will be listed. Select any iTunes backup file that may contain the data you want and click "Next" to scan the files under the backup.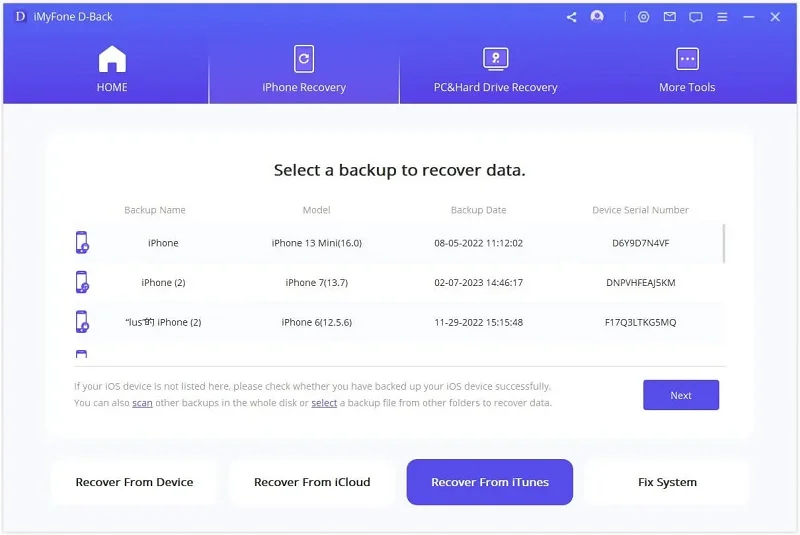 Step 3. After that, choose the data types that you want to scan and recover, then click on "Scan" to begin scanning.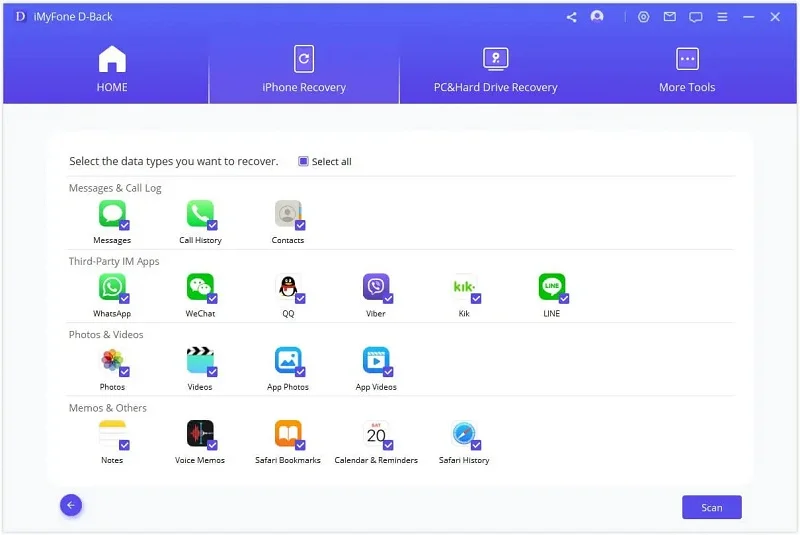 Step 4. After the deep scan, the preview of the whole iTunes backup data will be displayed on this interface. You can click each data type to check for the details. You can also click on "Recover" to store these file on computer.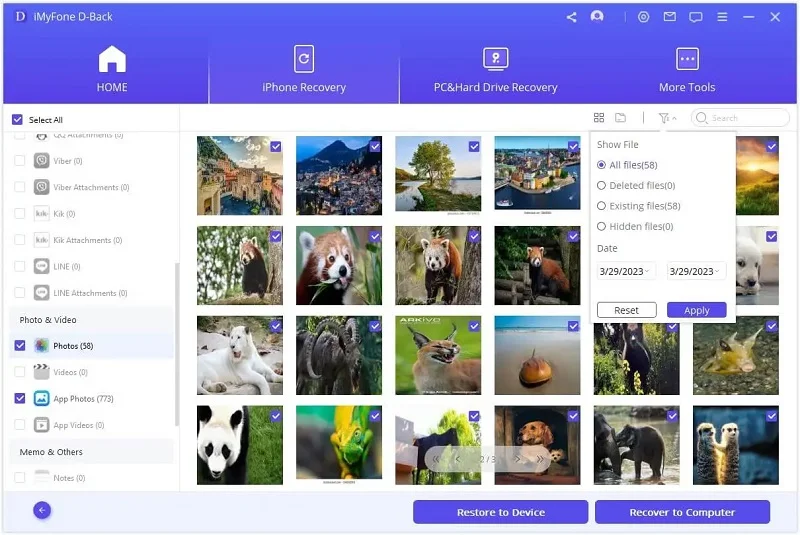 Option 2. Recover Data from Broken iPhone via iCloud Backup
In case of data loss, Apple provides iOS users with several cloud storage services to regularly back up data from iPhone, iPad and iPod touch, such as iCloud, Google Drive, etc. Bear in mind to check these cloud storage tools for important information if you have no access to your broken iPhone anymore.
If you find it complicated, you can also use the FoneGeek iPhone Data Recovery introduced above to extract and recover lost data from iCloud backup.
Step 1. Select "Recover from iCloud" option from the home interface, the program will prompt you to sign in iCloud with iCloud account information.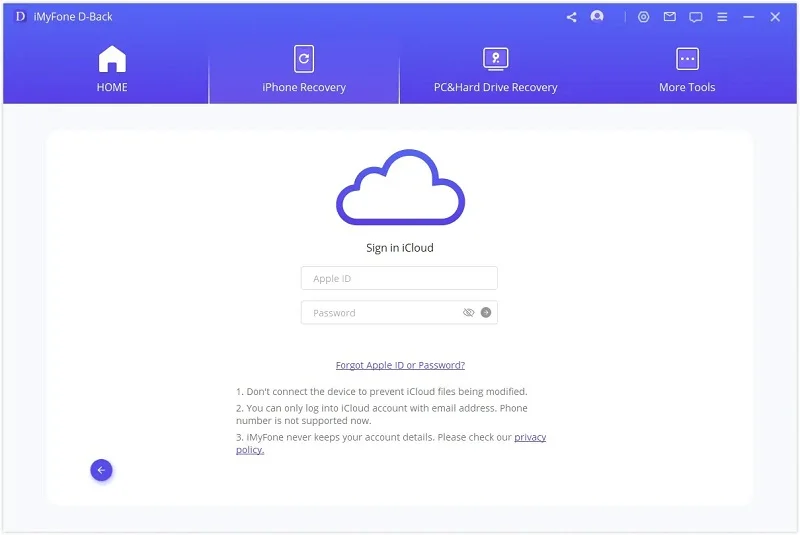 Step 2. After verifying and signing into iCloud, all the iCloud backup files saved on the iCloud storage will be listed. Select the data types and click on "Scan".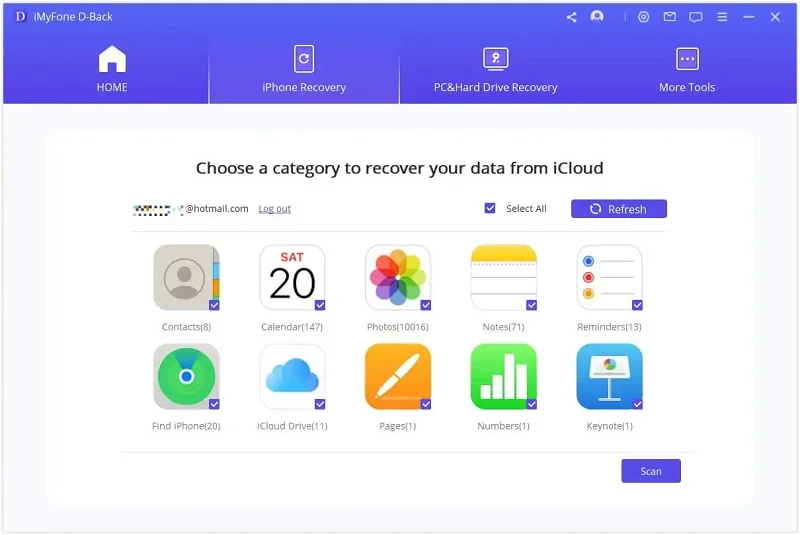 Step 3. The program will start scanning and downloading data from your iCloud backup.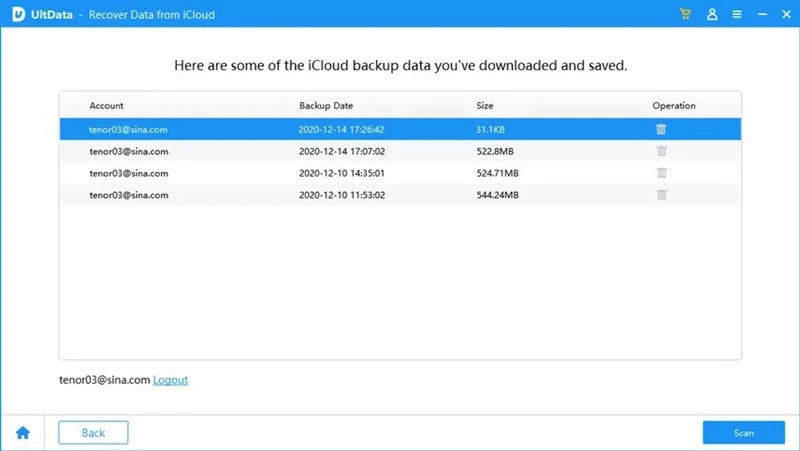 Step 4. After the scanning process, select what you want to save and click "Recover" to export the selected data to computer.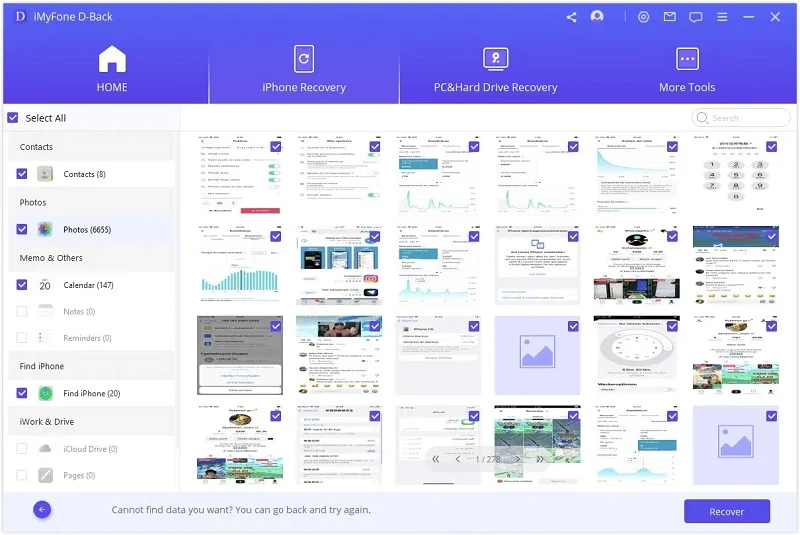 Backup/Recover Data If Your Broken iPhone Have Trusted a Computer Before
You're lucky if your iPhone screen is broken but still workable, or you have trusted a computer before your iPhone/iPad screen is broken. In such situation, you can simply connect your broken iPhone to your computer and use FoneGeek iPhone Data Recovery to backup and recover data. With this powerful tool, you can easily get all data off the broken iPhone to your computer and save them in readable formats.
Here's how to backup & recover data from iPhone with broken screen
Step 1. Launch FoneGeek iPhone Data Recovery and choose "Recover Data from iOS Device". Then connect your broken iPhone to the computer and wait for the program to detect it.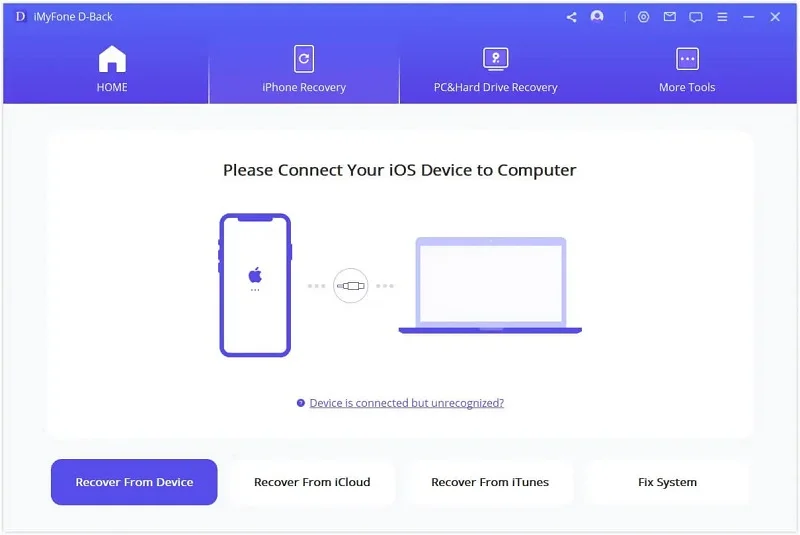 Step 2. Once your iPhone is recognized, select the data types you would like to recover and click on "Scan" to begin scanning the device.
Step 3. After scanning, all scanned files will be listed by category. Preview the files and choose what you need, then click "Recover" to save them to computer.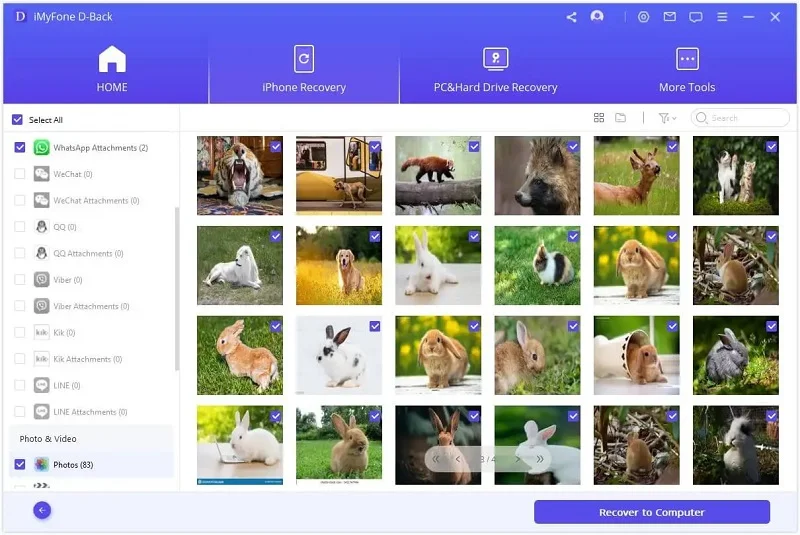 FAQs about Trust This Computer on iPhone
1. What does trust this computer mean?
When you connect your iPhone or iPad to a computer for the first tiem, you will be asked to turst the computer. The trusted computer can access the photos, videos, contacts and other content on your device.
2. How to change trust settings on iPhone?
Your iPhone will remember the computers you've trusted before. If you don't want to trust a computer anymore, you can go to Settings > General > Reset > Reset Location & Privacy to reset the trust settings.
Final Words
We often remember to back up our iPhone until the screen is cracked or broken. Regularly doing the backup can not only safeguard the device but also protect all the device data. But you may not search for the answers of 'how to trust computer oniPhone with broken screen' if you didn't do any backup before.
Fortunately, FoneGeek iPhone Data Recovery gives you the chance to bypass the section of 'trust' security and recover lost data from your iPhone directly.