As an iPhone or an iPad owner, you probably use iMessage quite often. After all, it's the primary messaging app for all Apple products. Through it, you can send and receive texts, photos, videos, and various other media. It even lets you edit and un-send messages you've already sent - two things you can hardly do with other messaging apps. But, despite its great features, iMessage does have its problems.
For quite a while now, I've heard users complain of images not loading in iMessage in some instances. The error often occurs after upgrading to iOS 17 and I can tell how frustrating it can be for those that rely on the service to contact with others. I will explain why this happens in this guide, plus various solutions that you can use to fix it. Keep reading.
Easy Way to View Pictures on iMessage
When you receive pictures in iMessage, you can view them right in the message thread. It becomes challenging though when you need to view a specific picture but the thread is long or has been going on for a while. You have to scroll through it to get to the photo which is tedious no doubt. The best way is to view all the pictures sent on that thread at once and that's possible if you follow these steps:
Launch the iMessage app and find the message thread that has the picture that you want to view.
Go to the person's name or the group chat name and tap it.
You can scroll down to view new pictures sent to you through iMessage.
Select the "See All" option and you'll see all the pictures sent under that thread.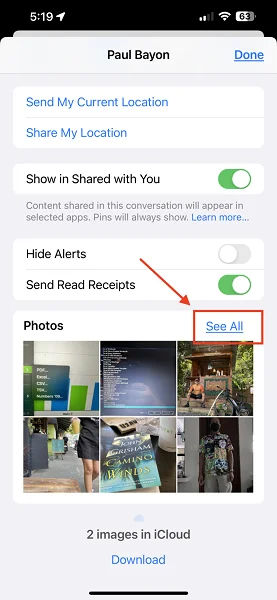 You should now be able to easily locate the particular image that you're looking for. You can save it to your phone's Photos Library, share or send it. Just tap the share icon to access these options.
Nonetheless, you can easily access any image via the message thread. As mentioned before, though, sometimes you can have images not loading in iMessage, but this is a problem you can solve easily as you'll find out later.
Why Aren't Pictures Loading in iMessage?
You may wonder, "Why can't I see pictures on iMessage? What's the problem?" Well, there's no one reason. Several things could lead to images not loading in iMessage, like insufficient storage on the iPhone to accommodate the pictures. It's also possible that you deleted the photos without knowing as you try to free up space on your iPhone.
If the iMessage service is down, then the pictures won't load either. Other causes include internet connection issues, iCloud settings errors, and iOS update failure etc.
How to Fix Photos Not Loading in iMessage
Reload the iMessage App
"Wait, what?" "Just restarting iMessage?" Yes, it usually works. If you've done an iOS update lately, then it could have made the iMessage app to stop working, especially if you never restarted iMessage. So, simply refreshing iMessage could get the photos loading again:
Tap the "Settings" icon to open the menu.
Select "Messages" and then tap "Send & Receive."
Select "Sign out" to log out of your Apple ID.
Give it a minute or two, and then sign in back to your Apple ID.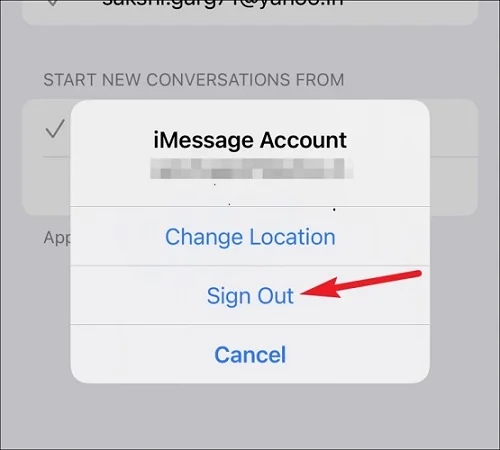 Reset Network Settings
Having a poor network is common and it leads to various problems, including pictures failing to load/show in iMessage. Confirm if it's so with these steps:
Get to your "Settings" menu and select "General" to access the "Transfer or Reset iPhone" option.
Tap "Reset." In the next menu, select "Reset Network Settings."
Provide the passcode you set for the phone and select "Reset Networks Settings" again.
Get back to your "Settings" menu. Tap "Wi-Fi" and set up your network again.
Now launch iMessage and reload it to check if the pictures load now.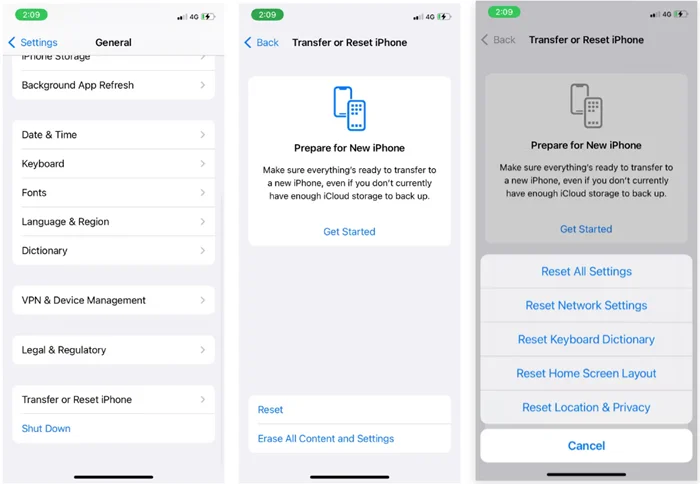 Clean Up iPhone Storage Space
Since insufficient space is likely to cause iMessage photos not loading or downloading, your next step should be to clear up your phone's storage. Start with apps you rarely use and then the files that you don't need. Remove all of them. If you wish to keep the files, then get an external storage disk and transfer them to it. Here's how to free up the space:
Start by opening the "Settings" menu and selecting "General". Then move downwards and select "iPhone Storage."
Go through the list to see the app that's using the maximum storage space. Select the app and tap the "Delete App" option.
Go to the "Photos" app too and clear the videos and images using up the maximum storage space.
Launch the Messages app now to see if the images load/download/show properly.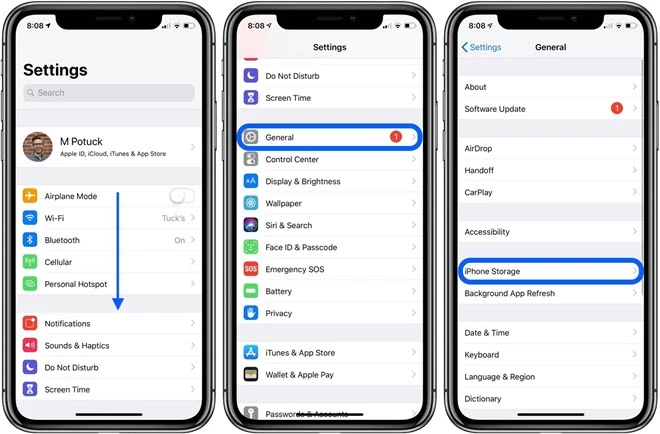 Ensure iMessage is Enabled
iMessage could be dis-activated and that's why the images are not loading. Note that iMessage is likely not to function as it should if certain settings are not active. You may have disabled it without knowing, so enable it by:
Heading to the "Settings" menu.
Scroll to "Messages" option and tap it.
Tap the "iMessage" toggle to the right to turn it on.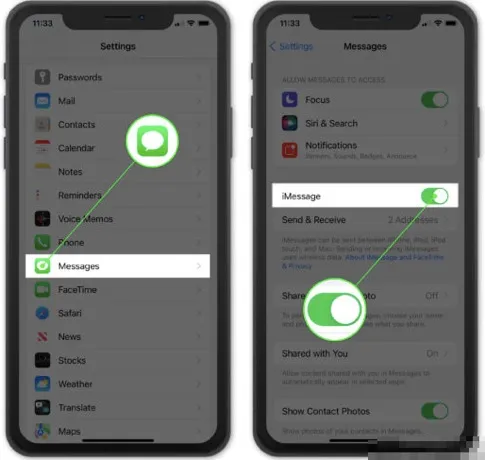 Repair Corrupted iMessage Cache Files
The problem of photos not loading in iMessage can sometimes occur because your iMessage cache files are corrupted. Cleaning up the cache files can get the photos to load again. Unfortunately, you can't do that directly from the iMessage itself, so follow these steps:
Launch the "Settings" menu.
Select "General" and go to "iPhone Storage."
Select "Messages" and then tap "Delete App."
Open Apple Store and download and install the Message app afresh.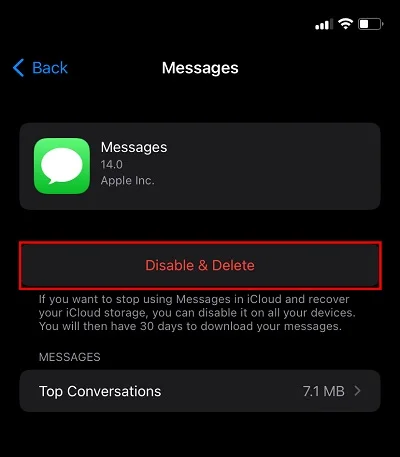 Recover Pictures from iCloud
You may fail to see your old pictures in iMessage right after upgrading to iOS 17. If it's so, then check iCloud to see if there's a problem with it and also if it has your old photos. Follow these steps.
Access your iCloud account by signing in with your Apple ID.
Select the "Message" app and tap the "info" button at the top.
Move downwards to the "See All Links" window.
You may now see how many saved photos are in iCloud. Tap "Download" under the number shown to get the photos.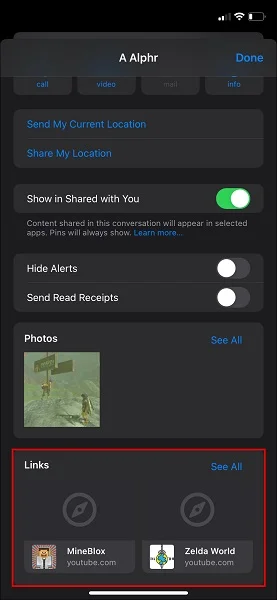 Check MMS Settings
Ever wondered how you're able to send or receive files likes photos, videos, and podcasts through text messages. Well, it's all possible because of MMS. That means if images don't show or load in iMessage, probably it's something to do with the MMS settings. Perhaps you disabled MMS by mistake hence photos couldn't load or download in iMessage. To confirm that, do these:
Get to the "Settings" menu. Open "Messages" and go to "MMS Messaging."
Check if MMS is enabled or disabled. If it's not active, tap the MMS app to activate it.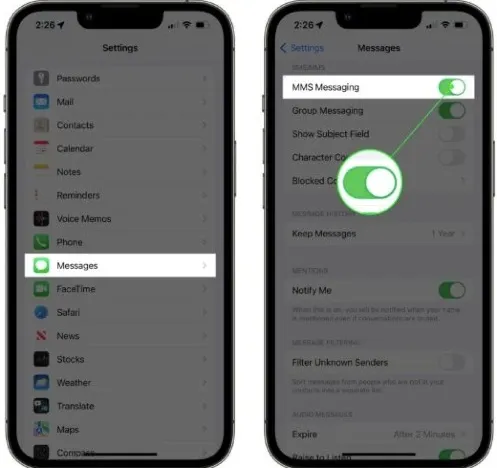 Bonus Tip: Recover Lost Photos in iMessage without Backup
The pictures may not be loading in iMessage because you already deleted them from your iPhone. Whether you did accidentally or not, don't worry. You can still get the images back. What you need is FoneGeek iPhone Data Recovery. This professional data recovery tool can help you restore those missing photos quickly. It can scan and recover all data without using any backup, even after jailbreaking an iPhone. Moreover, you can recover all or just a few select data from an application.
More Features of FoneGeek iPhone Data Recovery
You can restore more than 18 different data types, including photos, videos, messages, contacts, notes, call history, WhatsApp data, and Safari history.
There's no backup required to restore data. It can retrieve any lost data directly from the iOS device, even if you had jailbreak your iPhone.
It scans your phone fast and thoroughly, guaranteeing high recovery rate.
Allows users to preview the data to be recovered prior to downloading it.
It offers extensive compatibility. You can use it with all iOS versions (even iOS 17/16) and all iOS devices (even iPhone 15/14).
Anyone with no technical skills can find its intuitive interface easy to use.
Steps to recovering missing photos in iMessage using FoneGeek iPhone Data Recovery:
Install FoneGeek iMessage Recovery into the computer and connect your iPhone/iPad to the same computer. Select "Recover Data from iOS Devices" from the main interface and once it identifies your iPhone, hit "Next".
Select all the data types you intend to recover, including photos. Hit the "Scan" button next and FoneGeek will now do a thorough scan of all photos within your iPhone.
When the scanning is done, confirm that the photos you wish to restore are all there and then click "Recover to PC" to save them. The process can be a bit long, so wait until it completes.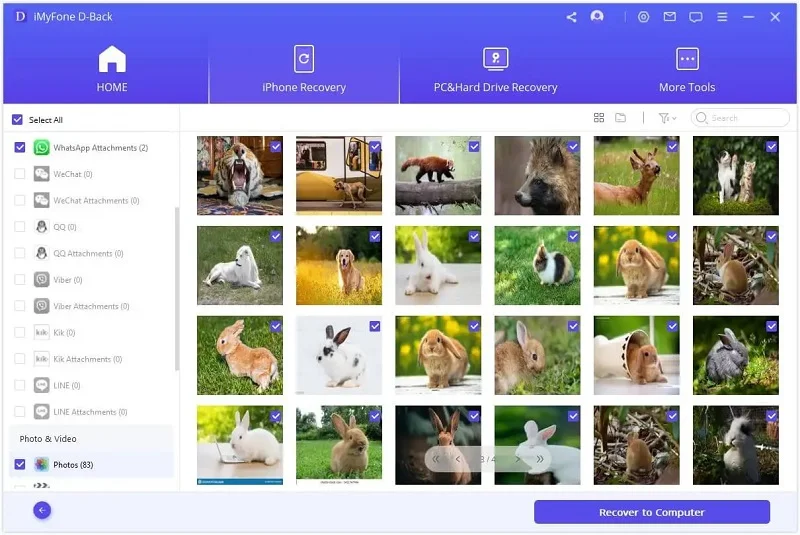 Conclusion
Images not loading in iMessage is one typical problem that you can solve with any of the basic solutions mentioned above. If they all fail, I suggest you move to recover the lost photos by utilizing an effective tool like FoneGeek iPhone Data Recovery. This software will get all your missing photos back without any struggle, even if you have no iCloud or iTunes backup. It's the last but the most reliable solution I would recommend.